Home | This Week | Update | Archive | Diary | Database
---
Previous | SchNEWS 110 | Next | Index | PDF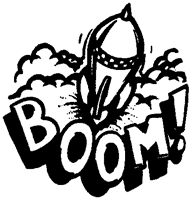 IT'S YER WHO'D YOU THINK YOU'RE KIDDING, NUCLEAR ELECTRIC?...

Published in Brighton by Justice? - Brighton's Direct Action collective
Issue 110, Friday 7th March 1997
"I've voted all my life. But never again. I'll never vote again. They're all criminals and crooks. They talk about Hitler and complain about the Nazis, but who sent all these forces here? They're as bad as the Nazis."
- A middle-aged German protestor.
Six containers of highly radioactive waste on their way to a storage depot to Gorleben. The biggest police mobilisation ever in peacetime Germany, involving 30,000 riot police at a cost of $40 million.
The third shipment to Gorleben in three years this week met with massive opposition. Over 60% of the population wants the country's 19 nuclear stations (generating a third of its electricity) closed down - and rather than sit on their bums complaining about it, thousands decided to get into some full-on direct action. From farmers to families, schoolkids to shopkeepers, everyone it seemed wanted a piece of the action.
Defying a decree banning demonstrations, ordinary people have burrowed under the 12 mile road to Gorleben. Protesters have built tunnels at eleven points along the route, to weaken the road and cause its collapse under heavy traffic. Others have laid explosives on railway tracks and handcuffed or cemented themselves to the line. Farmers in the region have welded tractors together, while the local fire brigade has been refusing to provide water for the police water cannon. Schoolkids staging sit-ins stuck two fingers up to the district authorities who wanted the schools to accommodate the huge police contingent, while shops and businesses in nearby Dannenberg closed down for the day in protest.
Meanwhile workers at the Gorleben temporary storage site and at a nearby saltmine - which is being examined for its suitability as a permanent waste depot - are being shunned by the local population.
Many expressed anger at what they saw, as riot police - operating at a snail's pace - bludgeoned their way through the mass resistance with water cannons and truncheons. One newspaper commented, "Tens of thousands of police may be able to protect the transport, but they cannot persuade the people and they can't cover up the inadequacy of German energy policy."
The shipment finally reached its destination on Wednesday afternoon, not much later than the authorities had originally anticipated.
"We may not have halted the shipment, but look how much money was spent on the police. The whole world now knows what is happening and will look more closely at what happens in their own countries."
Germany spends just £7 million annually on alternative energy.
Short article disclaimer
SchNEWS scribes were there to see what was going on...but haven't as yet faxed us with any information.

THE SLACK BASTARDS!
---
The Liverpool Dockers invite trade unionists, the unemployed, pensioners, people with disabilities, the homeless, refugees and asylum seekers, and environmentalists to a...
MARCH FOR SOCIAL JUSTICE
Saturday 12th April
Assemble 12 Noon
All welcome to organising meetings every Thursday 8pm, Kings Head Pub, Swinton St., Kings Cross. Phone 0181 442 0090.
---
"10,000 people have been killed since 1968 and another 100,000 forced into concentration camps. With their freedom fighters gone, the last of the Bougainville Revolutionary Army (BRA) could be killed next week."
Last Wednesday a small but dedicated group of activists descended on the Papua New Guinea High Commission in London to protest against the continuing war of genocide being carried out against the people of Bougainville. For the past nine years with a population of only 160,000 and an army with antique and homemade guns made out of water, piping and planks, they have managed to keep closed one of the biggest copper mines in the world. The mine - owned by the biggest and most destructive mining company in the world, Rio Tinto Zinc (RTZ) - was destroying the land, environment, society and culture of the small island.
But these considerations were not high on the list of priorities for the Papua New Guinea government who lay claim to the island (despite being 320 miles away) and whose mine was accounting for around 45% of PNG's total export earnings. They and RTZ have demanded action - and this has been backed by £150 million worth of aid from the Australian government. With British-based mercenary company Sandline International hired by RTZ to murder the few remaining BRA, time is running out for the islanders. For more info call PaRTiZans on 0171 700 6189.
Also readers, before voting for the Lib Dems (or indeed anyone else), bear in mind that their Campaigns Manager is the External Affairs director for RTZ (0171 930 2399).
---
For saying George! A Sussex man protesting outside the home of a Kent vet who signs live animal export certificates, was nicked for "causing alarm, distress and harassment". What did he do? He called a police officer by his first name, so was duly taken down the nick and given bail conditions not to go within a 20 mile radius of Dover.
---
Judith Beatrice Bari, American Earth First!er, died peacefully on March 2nd of the effects of breast cancer, aged 47. Throughout the course of her life she was involved in anti-Vietnam War protest, abortion rights for women, workers' rights and support for repressive regimes in Central America. But it was while working as a construction carpenter that she began to wonder about the beautiful tight-grained redwood boards she was hammering nails into. When she learned they came from 1000-2000 year old trees, she resolved to help preserve the remaining old-growth redwood forests.
Bari was involved in the fight for sustainable logging, and protesting against the devastation of the Pacific forests.
She began a lawsuit against the FBI, after a 1990 car bombing which nearly killed her. She was travelling with Darryl Cherney when a bomb blew up the car she was driving and nearly killed them both. The blast smashed her pelvis in 10 places, fractured her spine, left her with a paralysed foot and caused extensive tissue and nerve damage. The FBI insisted that she had blown herself up with a device of her making, and charged her with the explosion as she was recovering in hospital. The blast happened months after Bari and other Earth First! activists began receiving anonymous death threats - apparently from timber supporters. Counterfeit EF! press releases advocating violent tactics were created by a pro-timber actvist group and circulated to workers and the press by Pacific Lumber Company, among others, according to evidence developed in Bari's ongoing lawsuit against the FBI. When she reported the threats, and took the written ones to the police, she was told, "When you turn up dead, then we'll investigate."
Her attorney claimed, "The bombing was a clear, carefully designed, criminal attempt to stop and silence Judi Bari...to intimidate and weaken the movement she and Darryl Cherney were part of."
Cherney has vowed that the lawsuit will continue.
Betty Ball credited Bari with the feminization of Earth First!. "It has been incredibly male-dominated prior to Judi's entrance. There were women involved but none were as successful as Judi in putting the feminine spin into it, and getting rid of some of the macho chest-beating that had been prevalent in Earth First!. Judi's influence allowed many more women to get involved, in more influential ways than had been possible previously. Judi also innately understood the importance of community-based organising, as opposed to the nomadic style that Earth First! had before that."
Bari asked that her friends get together for a party (the word she chose) expected to happen next weekend.
---
Chilean police stopped 49 motorists in Santiago for using cellular phones while driving, only to find that a third were pretending to talk on fake phones!

An elderly man injured when ice the size of a sack of potatoes fell from an aircraft cannot sue for compensation - because he failed to take the plane's registration number!

Conscious Cinema have produced an A4 sheet containing "Useful media numbers for people on actions!" It gives TV and radio newsroom numbers across the country, and you can get a copy by sending an SAE to Justice?

Here at SchNEWS we're always asking for donations, and quite rightly so we hear you cry. This week we are requesting heavyweight contributions to the following freepost address: The Rt. Honorable Brian Mawhinney, FREEPOST SW3225, London SW1P 3BR.

The first construction project to be completed under DFBO (the new public money for private profit road building scheme) is the A1(M) expansion - Alconbury to Peterborough. One end of the route falls in John Major's constituency, the other in Brian Mawhinney's, so the opening ceremony should be interesting!

Meanwhile in Anglesley it's Euroroute alert! People are being asked to camp from 17th March in a show of strength at the beginning of a public enquiry which will decide the fate of all the usual SSSIs, wetlands, woodlands and sacred sites - again with our new friend the DBFO. Phone 01248 713604.

Fancy some 'Night of the Living Tonques'? Film, cinema and music at The Junction, Clifton Road, Cambridge, for £2.50. Box office 01223 511511.

Scientists in Palmer Station, Antartica, have found that some plants and molluscs are beginning to produce their very own sunscreens. The Antartic Pearl Wort develops a pigment to protect itself against UV assault, while some molluscs in the region produce UV absorbing amino acids which act in the same way as a good dose of factor 25.

It's not often that we give royalty the thumbs up here at SchNEWS, but this week we'd like to extend a hearty Nice One to King Hussain of Jordan. The regal one has decreed one of his palaces to orphaned and homeless children, after losing sleep following a visit to the al Hussain Social Welfare Foundation. The actions of the philanthropic King have led to calls for similar gestures by other royal figures. Hussain is known to be a close chum of our own dear Queenie...Perhaps Liz can do something decent for once and offer Buck House over for the same, instead of setting up a poncy website.
---
The co-founders of the Medical Marijuana Foundation (MMF), Robin and Adrienne Scott have been given jail sentences of four years and fifteen months respectively for the cultivation and supply of cannabis.
The couple set up the MMF in 1995, to make marijuana available to those would medically benefit from it. They decided to fund this project through illegal cannabis cultivation, but were thwarted in their attempts by a police raid last Christmas. Contact MMF at: The Old Farmhouse, Crylla, Common Moor, Liskeard, Cornwall, PL14 6ER. Phone 01579 346592.
---
In the wake of this week's shock news that the government covered up the state of Britain's abbatoirs, and the fact that they're riddled with e.coli, comes the latest from the twisted world of that mad old clown Ronald McDonald. McD's has produced a slick promotional campaign in the U.S. which says that kids can "climb higher and ride their bikes farther" if they eat foods from the "meat group".
However, the concept that meat improves endurance was abandoned more than 100 years ago. A spokesperson for the Physicians Committee on Responsible Medicine said that the statement was like "telling them they can get more homework done by watching TV."
Also in the States, McD's are launching a new scheme called Campaign 55, which is basically a major price war on their rivals Burger King and Wendy's. After the news broke, shares in many major fast-food chains were sent tumbling. Last year McD's saw its sales drop by 3.3%...Only another 96.7% to go...
---
Jack Straw, the man with the mission of making Michael Howard look like a cuddly softy, has had some new ideas. This time he wants to be seen to be tougher than Michael Howard against the latest - as seen on East Enders - scourge on society, 10-13 year olds. Jack's worried that "at present we have a medieval law which assumes that youngsters 10-13 are 'incapable of evil' unless the prosecution can prove the reverse." Jack doesn't like medieval laws - right to silence, not allowing the state to break into your house, that sort of thing - because medieval laws are too enlightened and left-wing for New Labour. Instead he wants to build more children's prisons ("streamline arrangements for secure accommodation") and put younger kids into them.
SchNEWS phoned New Labour to clarify these new proposals. If 10 year olds are assumed to know good from evil and can be tried in court by juries, then surely 10 year olds should be able to serve on juries? So do Labour plan to reduce the age you can serve on juries from 18 to 10 in line with the age juries can try people at? "We-have-no-such-proposals-at-present" repeats the press office Dalek. Silly old us for imagining New Labour might be consistent on this one - after all, the right to be tried by your peers is one of those boring old medieval rights that New Labour is so keen to update, modernise and get rid of. Expect much, much more from May 1st. Laptops! Laptops!
---
The SchNEWS advises all readers not to argue with people with big trains full of Plutonium. Instead, just note down its number and class in your notebook and zip up your anorak. Above all, never say nein (nein nein) when faced with 30,000 German riot police. Then you will gain a sense of tumour. Honest.
---
mail-out plea: help! we need more people to stuff envelopes on a Friday. please ring office for the job of a lifetime.

Subscribe to SchNEWS: Send us first class stamps (e.g. 20 for the next 20 issues) or donations (cheques payable to "Justice?"). Or £15 for a year's subscription, or the SchNEWS supporter's rate, £1 a week. Ask for "original" if you plan to copy and distribute. SchNEWS is post-free to prisoners. You can also pick SchNEWS up at the Brighton Peace and Environment Centre at 43 Gardner Street, Brighton.
SchNEWS, PO Box 2600, Brighton, BN2 2DX, England
Phone/Fax (call before faxing): 01273 685913
Email: schnews@brighton.co.uk Web: http://www.cbuzz.co.uk/SchNEWS/
---
Last updated 21 May 1997
@nti copyright - information for action - copy and distribute! SchNEWS Web Team (schnews-web@brighton.co.uk)