Home | This Week | Update | Archive | Diary | Database
---
Previous | SchNEWS 117 | Next | Index | PDF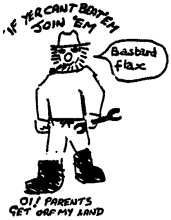 WAKE UP! WAKE UP! IT'S YER MUCKSPREADING...

Published in Brighton by Justice? - Brighton's Direct Action collective
Issue 117, Friday 25th April 1997
Justice? Meeting @ Albert Pub 28th April 7.30pm Ecological revolution on Bougainville!
"We won! And it was due to the willingness of locals to get off their bums and take part in direct action."
- Lewes resident.
The battle of Offham continued last week, as the Department of the Environment slapped a protection order on the land ploughed up by Farmer Harmer. The saga began when the farmer started ploughing up an area of the South Downs that is a Special Site of Scientific Interest (SSSI) rich in orchids and 33 species of butterfly, and rare flowers such as bastard toadflax.
However, thanks to that great bit of Euro legislation, the Common Agricultural Policy Harmer would get £189 per acre from subsidies if he grew flax - a crop that no-one wanted, but only £110 per acre if he left it alone. So for £9000, he decided to trash the area.
However a group of angry locals weren't too happy about this, and decided to jump in front of his tractor, and stop him ploughing. They then camped on the land to prevent him doing any more, and started returfing the bits that had been ploughed!
Thanks to the General Election local and national politicians then began turning up en masse to say how dreadful it all was, and get their faces on telly looking concerned. Even Tony Blair got his tuppence worth on the issue, as it became a good way to grab votes, talking about saving our countryside. However, despite the concern, none of the main political parties have shown much interest in protecting the South Downs before, and there has been little support for giving the area National Park status. In fact the South Downs is the only area in Britain that has been considered worthy of National Park status that has not yet been designated.
This all highlights how useless environmental protection laws in Britain are. Sites of Special Scientific Interest are supposed to be safe by law, but many get trashed every year, to build such lovely natural things as roads, supermarkets, and leisure developments.
Last weekend there was a mass picnic where over 100 people helped returf the land. So far nearly half has been re-laid but the rest needs to be done soon, as the grass is dying. So another retrufing picnic is being planned for this Sunday (27th), starting at noon. Bring gloves, spades, and watering cans. If you know any good rain dances, please do them, as it desperately needs water for the roots to re-establish.
---
Last weekend 500 animal rights activists beseiged Consort Beagles in Herefordshire. Such events are common place around Britain, but this was a demo with a difference. Police indiscriminately used CS spray at an action for what is believed to be the first time on the British mainland.
Coinciding with World Day for Laboratory Animals, protestors attempted to rescue the dogs where they are being used for vivisection. One eye-witness reported: "People were pretty upset at seeing the beagles and started ripping the fences apart. Riot police turned up as people got through the perimeter fence and into the building. The police got really violent and they started hitting people with their new batons which they flick out. There was quite a few arrests, and as they were taking them off in the vans we were standing in the road stopping them coming out."
Sixteen-year-old asthmatic Oliver Hill was sprayed in the throat. He told SchNEWS: "They came towards us and stood about ten feet away. Then they charged and hit us in the chest with the shields and sprayed CS over the top. I ran away and didn't feel the effects for about ten seconds then I collapsed in the field. I could hardly breathe, my eyes and nose were streaming. It was like I was having a fit. Someone called an ambulance, and was given oxygen, but they hadn't a clue what to do - they were asking the police how to treat it. They had obviously had no training. I recovered after about an hour."
"As the vans came through I noticed a haze in the air. I thought it was the dust from the wheels but I could smell something like nail varnish remover. Suddenly my nose and mouth was burning, like having chillies up my nose." said Sue Dickens. "Someone shouted `CS!' and I turned away. There were people of all ages including a couple of kids. Elderly people staggering around, people lying on the ground. I personally saw five people on the ground. One was having an asthma attack."
West Mercia police told SchNEWS: "Only one officer had cause to use the CS spray but it was seen to be inappropriate in having the effect of dispersing the crowd, so batons were used."
Lecturer Pat Hanshaw, 51, was another affected by the spray: "I definitaly know it was more than one, but I couldn't tell you how many. It was a stand-off at the time. I saw one of them moving his arm slowly from side to side, I wondered what he was doing. Then I heard the hissing and saw the vapour."
"Between me, you and the gatepost I think there is going to be an escalation at Consort Beagles like there was at Shoreham", said one West Mercia Police spokesman. You can call Hereford & Worcester police station on 01432 276422 and have a gas.
There'll be another demo at Consort on the 18th May at Midday. Go to the village of Harewood End, on the A49 between Hereford & Ross-On-Wye.
"CS Gas (O-chlorobenzylidene malonitrite) was banned this year at the Chemical Weapons Convention signed in paris by 131 nations yet fast-forward a year and Essex police could be using it against residents demonstrating at Brightlingsea or any other major flashpoint." - SchNEWS 19, April 1995
---
Channel 4 Programme Dispatches carried out a monitoring project on CS victims. Only 12% of those questioned said they received a warning before being sprayed. Two thirds said they were sprayed from a distance of less than three feet. One in four said they were not seen by a police doctor; a third were left unchecked and unattended in police cells.
Liberty knows of two incidents in which CS spray has been used and where someone has subsequently died. Two weeks ago Peter Sanpedro, 25, was killed when he walked into the path of a truck hours after being CS'd by police in Kent. Ibrahema Sey, 29, died in March 1996 after being sprayed whilst handcuffed in a police station.
---
50 workers have been sacked by Cleveland Bridge for taking a 10 minute teabreak. Workers have been doing 10-11 hour shifts to make up for delays on the contact at Avonmouth, and trouble had been brewing for 15 months over the right to stop for a mid morning cuppa. "The action by the steel erectors was in breach of their contract and in Breach of the Engineering Construction Industry. It meant they effectively dismissed themselves." SchNEWS reckons that she's got the 'ump because they didn't make her a cup!
---
This week saw actions against genetically engineered food, organised by the Pure Food Campaign.
50 activists occupied part of Monsanto's UK HQ in High Wycombe on Monday, hanging banners from the roof and occupying the board room, demanding a meeting "to discuss the implications of genetic engineering."
In Melbourne, Australian campaigners set up the Monsanto's Mutant Cafe `The Last Supper' - in Monsanto's Oz HQ! Mutated delicacies included Roundup Gene Beans and Porky Human Chops.
EU approval for genetically engineered maize got the thumbs up despite the fact that only one of the 15 EU states (France) wanted it, and even they were wavering!
Women's Environmental Network: 0171 247 3327
Greenpeace Info Pack: 0171 865 8234
---
"Global warming, abuse of workers' rights, dispossession of native people's lands, more cars and roads, global trade expansion..."
The oil industry has a lot to answer for. It is at the very centre of industrial capitalism, and permeates through its every part. But resistance is growing. Campaign groups around the world, ranging from the grassroots to the biggest NGOs, are gearing up to take on the oil industry.
But there remains a lack of cohesive understanding on how to tackle the monster. So on 10th and 11th May there will be a gathering, `Crude Operators', at the Hammersmith & Fulham Unemployed Workers' Centre, 190 Shepherd's Bush Road, London.
For details contact Corporate Watch on 01865 791391.
---
"The Home Secretary has caused me psychological torture... I can no longer take this torture of injustice and delay. If I die on my hunger strike for justice I blame Michael Howard and the Home Office."
Raphael Rowe one of the so-called M25 Three has been on hunger strike since 31st March in protest about the Home Office's misleading behaviour, suggesting that his case would be refereed to the Court of Appeal some time ago. During the trial even the judge said, "so much of the evidence is itself tainted for one reason or another, and there is considerable uncertainty and inconsistency in important areas." Such as the fact that police were looking for three men, two of whom were white, one with fair hair and blue eyes - while those who were convicted are all black. Letters of support to Raphael Rowe MP 3660, Swaleside Prison, Brabalon Rd, Sheerness, Kent, ME12 4DZ
M25 Three Campaign, 28 Grimsel Path, London SE5 0TB Tel 0171 735 2985
The Criminal Cases Review Commission are the new government bods who have taken over the investigations of miscarriages of justice. They are already complaining about the massive amount they are having to deal with!

Write letters to peace protester Tracy Hart, who was sent down to Holloway this week for 42 days for breaking her injunction at Menwith Hill SpyBase. Tracy Hart TG 3793, HMP Holloway, London N7
---
Were you at the March for Social Justice on April 11? Did you witness any arrests? People are facing trumped up charges of riot, affray and violent disorder. Contact: Legal Defence And Monitoring Group on 0171 837 6687/ Lydia Dagostino at Bindmans Solicitors 0171 833 4433.
If you wanna take a look at The Evading Standards that got confiscated, it's on the web at http://www.Mcspotlight.org/beyond/evading/
More party hassle. A couple of weeks ago we reported a raid by cops on a party in Putney on April 5th which resulted in the death of partygoer Ian Grant. Not content with this, another man, JJ, was singled out, pulled to the floor and seven old bill piled in on top of him before he was carted off to the cells. Once inside, he was trounced...and then charged for violent disorder. This could mean a sentence of up to five years. He desperately needs witnesses. Tel/fax JJ on 0181 244 8975, or call us at the office.
With the prison population Britain's (Booming) biggest growth industry, it's essential that those of you who get on the direct action tip or even just attend free parties get into a routine. If you see anyone being nicked - write it down and pass it on - it could save someone going down. Get clued up - get yerself a copy of "No Comment" available for a SAE from London Anarchist Black Cross, 121 Railton Rd., London, SE24 OLR
---
Do the Spice Girls really really get on your tits? Fancy taking a spot of non-violent direct action? Try the Slap A Spice Girl game at http://194.112.40.4/Urban75/spice.html.
Undercurrents - the alternative news video - needs your video footage. Rush any actions of a social and enviro nature to them ASAP to Undercurrents, 16b Cherwell St., Oxford, OX4 1BG. Tel 01865 203663.
May Dates1st Reclaim MayDay! The anarcho-syndicalist view 8pm Room E, Portsmouth Central Library, Guildhall Square
May 1st Reclaim the Flat Oak - no more roads. Meet 6pm Tescos car park A299 Whitstable 01227 771363
Sat 3 Hull Reclaim The Streets! Meet 1pm @ Pearson Park
Mon 5th Land Is Ours Anniversary action to commemorate the Wandsworth eco-village. Meet 10am South Park, Fulham SW6. Bring seed bombs, food, drums...01865 722016
Wed 14 - "Defending the Right to Peaceful Protest", 7-9pm The Battlebridge Centre, 2-6 Battlebridge Road. representatives from Bindmans solicitors, Earthrights, Legal Defence and Monitoring Group, Liberty, FoE, Greenpeace
Fri 16th "No more single issues, this time we take on the entirety of modern civilisation and stop those importers from hell" Anniversary Day of Action - the second battle of Shoreham Harbour - Meet 10am Hove Lagoon (Adur pub, 2 miles west of Brighton along seafront) Hampshire CID are already taking a keen interest - more homes in Chichester were raided this week, and a woman is now on remand.
---
One week to go and SchNEWS brings you the election news that really matters. The Sexual Freedom Coalition offer a General Erection Party (1st May, 8pm-2am, H20 Club, 130 Balls Pond Rd, Islington. £7 on door B4 11, £10 after) for those more interested in dirt boxes than ballot boxes. Bring your party whips. Meanwhile Paddy Pantsdown was in Newbury this week, on board the Lib Dem Battle Bus with David Rendle (the LibDem MP who just loves the Bypass) doing unspeakable acts (i.e. promoting the election). They were met by the Third Battle of Newbury Battle Bus, with their pantomime cow in tow, trying to present the pair with BBC Wildlife Grey Ribbon Award (for ecocidal politicians) which was won by Rendle earlier this year. The Tot Hill Circus was also in attendance, but the clowns were surplus to requirements... Elsewhere, gay activists Outrage! dipped their spoons in bubbling election soup by highlighting a new case of Tory sleaze: a huge banner strung up (!) in London read "Portillo screws queer soldiers."
---
The SchNEWS warns all readers to be wary of what is sprayed on them. Never confuse CS gas with Chanel No 5. Always turn down free deodorant samples from salesmen in blue uniforms, or risk being rendered tearful with gratitude. Then you will be happy, if smelly. Honest.
---
Help needed with conference - if you can loan carpets, chairs, sofas etc please ring the office.

Subscribe to SchNEWS: Send us first class stamps (e.g. 20 for the next 20 issues) or donations (cheques payable to "Justice?"). Or £15 for a year's subscription, or the SchNEWS supporter's rate, £1 a week. Ask for "original" if you plan to copy and distribute. SchNEWS is post-free to prisoners. You can also pick SchNEWS up at the Brighton Peace and Environment Centre at 43 Gardner Street, Brighton.
SchNEWS, PO Box 2600, Brighton, BN2 2DX, England
Phone/Fax (call before faxing): 01273 685913
Email: schnews@brighton.co.uk Web: http://www.cbuzz.co.uk/SchNEWS/
---
Last updated 21 May 1997
@nti copyright - information for action - copy and distribute! SchNEWS Web Team (schnews-web@brighton.co.uk)