SchQUALL
SchNEWS and SQUALL Back to Back
IT'S ALL HERE: genetically modified organisms, animal rights, freemasons, June 18th '99 international day of action against capitalism, Exodus Collective, Cuba, the November 30th '99 Battle for Seattle, climate change, parties and festivals, indigenous peoples' resistance to multinational corporations, the privatisation of everything in sight, crap arrests of the week, prisoner support and much more…the full lowdown on the direct action movement in Britain and abroad! The SchQUALL book is packed full of quality photos from top frontline photographers including Nick Cobbing, Ivan Coleman, and Ian Hunter, and crammed with cartoons by Pete Loveday, Polyp, Isy, Kate Evans and others - plus all the usual satirical humour, wry cynicism and a massive contacts database of over 700 grassroots organisations, campaign groups, websites, zines, people and places…
ISBN 09529748 3 5 £7.00 (or £8.50 inc. p&p direct from us)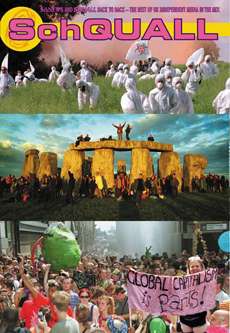 Guerilliavision film about the protests in Seattle against the World Trade Organisation conference in September '99. Front line coverage of the demonstration that finally pushed the anti-capitalist movement into the consciousness of the world. Interviews from people from the spectrum of the people that had the cheek to stand up and say no!
Only £5 + 80p postage on self addressed envelope to you mate.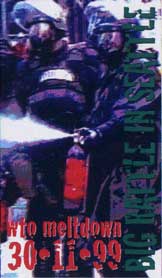 SchNEWS Survival Handbook
PROTEST AND SURVIVE
Read all about it! Genetic crop sites get a good kicking; streets reclaimed all over the world; docks occupied in protest of death at work; protestors rude about multinational corporations' plans for world domination...
SchNEWS gives you the news the mainstream media ignores. Tells you where to party and protest. Tries not to get all po-faced about what's going down in the world.
This book features issues 151-200 plus cartoons, photos and other articles designed to help you survive into the new millenium. Not forgetting a comprehensive database of nearly five hundred grassroots organisations.
Tune in, turn on, fight back.
ISBN: 0-9529748-2-7 £6.00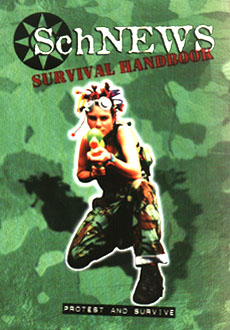 SchNEWS annual
With free radioactive cover... this is issues 101 to 150, which cover full-on anti-nuclear demos in Germany, the massive Reclaim The Streets that took back Trafalgar Square, and one bloke on Rockall... not to mention the fascinating saga of New Labour breaking each and every promise they ever made.
The SchNEWSannual also features lots of original artwork, including cut-out-and-glue McDonalds / McLibel stickers!
The book also contains the 1997 update of the activist's database. An updated version will be in the new SchNEWS collection of 1998 issues, due out in April 1999. Remember you can always get in touch with us for up-to-the minute details of activist groups, and the whereabouts of prisoners you might want to write letters of support to.
ISBN: 0-9529748-1-9 £6.00 0-9529748-1-9 £5.00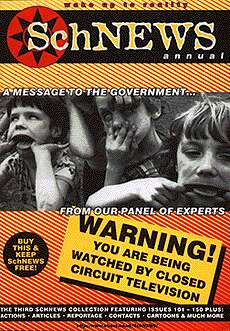 SchNEWSround
Reclaim the streets... Newbury... the Squatter's Estate Agency... as 'Direct Action' became media buzzwords, SchNEWS published the inside story from the activists themselves!
Along with copies of Issues 51-100, it includes a quarter of a million vital words plus excellent full-page photos, the 1996 activist's database and 60 extra pages of stuff!
Bonus game with this book: watch SchNEWS's amazing musical email address[TM] as we struggled with low-tech blags and high-tech favours!
'The national protest newsletter... with more correspondents than The Guardian.'
- The Guardian
ISBN: 0-9529748-0-0 £4.00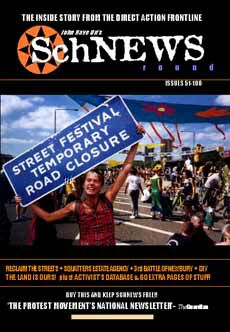 SchNEWSreader
Where it all began... this original SchNEWS book contains the single-sided pilot issue, and all the others from 1 to 50.
This was where 'Crap Arrest of the Week' was first seen, and the issues feature the famous Criminal Justice Act Arrest-o-meter! In between the SchNEWS issues are 60 pages of cartoons by Kate Evans.
We don't have any more copies of SchNEWSreader ourselves, but there are still a few copies lurking in cool radical bookshops around the country (world?) - so if you don't have one yet, watch out for it!