Home | This Week | Update | Archive | Diary | Database
---
Previous | SchNEWS 114 | Next | Index | PDF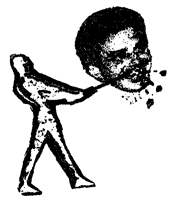 WAKE UP! WAKE UP! IT'S YER BANG ON YER GONG...

Published in Brighton by Justice? - Brighton's Direct Action collective
Issue 114, Friday 4th April 1997
Over a thousand acres of officially `protected' forest and farmland in East Kent are under threat from a huge development proposal by the Rank Organisation. The `Oasis Holiday Village' - the size of a small town - will have 350 waterside villas, 400 forest lodges, 78 studio apartments, a large village centre with shops, country club, `sub tropical waterworld', 9 hole golf course, a rubber lined artificial lake, parking for 3,400 cars and, of course, lots more roads. All this in part of the ancient Lyminge Forest in the North Downs Area of Outstanding Natural Beauty.
Some people, however, aren't exactly over the moon about this and have set up camp. "The Rank Organisation is one of the largest holiday and leisure companies in Europe, and part of its corporate development plan includes breaking into the UK's `Artificial Village in a Forest' self-catering holiday market, currently dominated by Centre Parcs. The newly appointed Chairman, ex-ICI boss Sir Denys Henderson (also currently a director of both Barclays' Bank and Rio Tinto Zinc) is determined to out-do Centre Parcs with bigger and better "oasis Villages' in more of the most beautiful and sensitive parts of the English countryside. We have been warned."
Unlike Centre Parcs*, who prefer to build their resorts on bare land - on which they spend around £1 million per site planting trees - Rank has opted to take advantage of the government's ongoing national asset-strip, which obliges the Forestry Commission to sell land whenever possible. Public land is being sold to a private developer for around 4 million.
If the West Wood development goes ahead, it will also worsen East Kent's already severe water shortage: the artificial lake will require an initial input of 17.5 million gallons, with an estimated daily consumption of 320,000 gallons for the `village' as a whole.
Despite all this, Shepway District Council invited Rank to develop West Wood after `balancing the needs of the countryside with the needs of jobs being created.'
Rank seem very sensitive to bad publicity. When SchNEWS rang for a wee chat, we got a curt "no comment" to our very polite questioning. Maybe you can do better? Call Julie Gould, Oasis Villages Ltd's Communications Officer 01293 658658. Be persistent.
Meanwhile, the Forestry Commission (who still own the land protesters are camped on) told SchNEWS, "We are not planning to evict at present, we are just monitoring the situation." Maybe something to do with the £20,000 it 'll cost to take campers to the High Court?
So, if housing benefit cuts are making life unbearable and you fancy some of that countryside fresh air stuff, why not join the camp in West Wood? Contact Flat Oak on 01227 261057
Rank subsidiaries: Odeon cinemas, Mecca and Top Rank Bingo, Rank Amusements, Associated Leisure, Hard Rock Cafes, Butlin's, Shearings and Warner Holidays. Anyone fancy hitting these venues with leaflets?
*SchNEWS is not sticking up for CentreParcs!
---
For not using a toilet. A Manchester Airport activist was charged with criminal damage for emptying the contents of his large intestine onto a piece of security fence. He was apprehended two days after the act after being caught on video surveillance. At least he didn't use the Section 6 to wipe with!
---
Herts Police Force are working on a synthetic version of pepper spray, the incapacitant used in the US. Chief Constable Peter Sharpe, worried about the effects of CS on their officers, said the research was important because "we can do better than what we've got at the moment". There have been at least 61 deaths by pepper spray in the US since 1990. Risks include gene mutation, cancer, toxicity of the major body organs and possible human fatalities.
"There has always been an element of cross-contamination from CS. We have always preferred pepper spray, but for some reason the Home Secretary just blanked out the idea of pepper spray trials." P'haps he hasn't heard that it can be fatal...
In the annual round of issuing the Old Bill with more gizmos and gadgets, Kent officers must be chuffed with their latest acquisition...whistles. Sgt. Mark Pearson explained, "It's assertive policing. We won't accept someone being abusive in the street or hanging around drinking alcohol. So we whistle at them..." (OK, we made that last bit up!)
---
Feeling secure in the knowledge that there's only about half an hours worth of natural oil reserves left, it's good to note that Drax Power Station (between York and Leeds) is starting trials of a new fuel. Petcoke is produced from the residue left over when all the useful chemicals have been extracted from oil. It is high in several heavy metals, many of which are cancer-inducing. Lovely. Info BREACH 01405 769375
---
AT THE CUBA
Wednesday 9th April
Superfast Oz, Supersexy Helen (Innerfield), Supershine Max Phasm + Darius £2 10 - 2 am supercheaptequiila
---
NEVER MIND THE BALLOTS -RECLAIM THE STREETS
TWO DAY FESTIVAL OF RESISTANCE - SUPPORT THE LIVERPOOL DOCKERS
Ding ding! All aboard the Anti Election Express - Reclaim The Streets `co-inciding` with March for Social Justice April 12th. Meet 12 noon Kennington Park, London. Coach from Brighton - tickets from Peace Centre, £5/£3
---
"The amount of tax-free fuel a typical uncatalysed Boeing 747 Jumbo carries could drive a catalysed family car round the world 60 times."
- The Guardian
Air transport is the most unsustainable form of travel, wreaking immense damage on the ozone layer. A recent study in Town & Country Planning magazine estimated that a single transatlantic return flight emits almost half the yearly CO2 emissions of the average person as from all other sources, such as lighting, heating, etc. The amount of carbon dioxide used is the same used by the average African in a lifetime.
Yet, in the ceaseless quest for higher profits at any cost, Manchester Airport have decided to build a second runway - causing more traffic through the town and more pollution over the heads of local residents, and destroying a thousand acres of greenbelt.
The DoT forecast that up to 163% more passengers will be using airports by the year 2010. And that's a Conservative, sorry, conservative estimate.
In this funny handshake world of ours, SchNEWS has discovered that there are very close links between Manchester Airport Plc. and the Labour controlled council. The Chair of the Airport's Board, Graham Stringer, was - until recently - head of the City Council.
"...In the past, he has denounced environmental protesters in the city on many occasions. To say that he is a power crazy, ecocidal bastard is an understatement." said one Manchester Earth First! activist.
The first camp to be set up was Flywood, quickly followed by six others, including Wild Garlic, Zion Tree and Cliff Richard (where Swampy lives - who this week April Fooled the press by announcing that he was standing for Parliament as a 'Never Mind the Ballots' candidate!)
Supporters of the airport say that it will create lots of jobs. In 1991, Manchester Airport claimed that the new development would create 50,000 new jobs. By 1995 this figure was reduced to 18,700; and by the time the Public Enquiry was held this was down to 8-9,000. In February, Manchester Area Chamber of Commerce estimated it to be merely 5,000. Many of these are going to be low paid, short term `McJobs' anyway. How much money per job is that, I hear you cry? Manchester City Council estimate that it will cost £76,464 to sustain a job at the airport each year, compared to £26,913 for one in education.
The Airport is also supposed to create jobs for local people. However, the local Wythenshawe estate has a 30% unemployment rate, but less than 10% of the airport's employees come from there.
But it's not just Manchester that is a cause for concern. The DoT have forecast a 300% increase in air traffic in the South East, a situation even worse than that faced in Manchester. Gatwick is being hyped as the new premier base for British Airways, which will mean despoliation of huge tracts of Surrey and Sussex. There is little doubt that the Manchurian protests will not be the last around this issue.
Deregulation of air transport industry is in the offing, which could well mean even more flights to more places by more earth destroying consumers for less money. The aviation industry is planely disgraceful. These air-soles need teaching a lesson, just as the dastardly roadbuilders have been. Muttley, do something!
Manchester Campaign Against Runway 2: One World Centre, 6 Mount St, Manchester, M2 5NS. e-mail: campaign@mfoe.u-net.com.
Save Our Skies, PO Box 248, TW1 3DG.
Flywood Camp mobile: 0958 451525. Food, equipment and support needed, of course.
Addresses of the Dark Side: Graham `Fat Bastard' Stringer , 65 Polefield Road, Harperhey, N. Manchester, M9 6FN.
Peter Dawson, Second Runway Department, Manchester Airport, Manchester M90 1QX. Tell the airport authorities what you think, their environment dept. phone . . . 0161 489 3638
Christopher Jackson, AMEC, Sandway House, Hatfield, Northwich, Cheshire, CW8 2YB. (AMEC are the main contractors for the scheme, and curiously seem to get a lot of the major projects in the city.)
---
Fancy a break but wanna do something useful? Then why not take a trip to the Sunseed Trust. Based in beautiful surroundings in southern Spain, the village is an experiment in sustainable lifestyles - everything from ultra-low cost solar cookers, organic gardening, dry land reclamation, compost toilets, hydroponics - and good company. It's about £60 a week and you'll be expected to work four hours a day in the week, but it includes food + board. Highly recommended. More info 97B Divinity Rd., Oxford, OX4 1LN Tel 01865 721530
---
Slightly belated congrats to our fave party crew, Exodus, who won their High Court Appeal last week. They have been given leave to stay at Long Meadow Farm...for the time being. Word has it that this is the 53rd court case won by Exodus! Is this true? Blimey, all those nice compensation costs should be really adding up now
Worst wishes sent out to Allan Stewart, the alcoholic imbicile Tory MP for Eastwood, Glasgow, who was sectioned last week. Bibble bibble. According to latest reports, his mind now resembles the mess that is the deceased Pollok Free State. Allan mate, may you dribble on your bib for many years to come!!!
Check out the latest issue of Greenline, solely written by wimmin contributors to celebrate International Wimmin's Day. Available from: Catalyst Collective, PO Box 5, Lostwithiel, Cornwall PL22 0YT for £1.50
Congrats to Conscious Cinema bod Dylan who has won first price at the Tyko Film Festival (chosen from 1,900 entries!) for his film `Celtic Enemy' about the protests against open cast mining in Wales. Catch the film on Undercurrents 5 01865 203662
Nice One! to the London Borough of Hammersmith, who have distributed free `green cones' to households in the north of the area, for the composting of food waste
Haringey Solidarity Group have lots of helpful leaflets with tips on how to fill in your Jobseekers Allowance Forms. A5 SAE to: Haringey Solidarity Group, PO Box 2474, London, N8
We are reliably informed that each job seeker is permitted two periods of self-declared sickness (i.e. without a doctors note) of up to 14 days a year. Of course, SchNEWS brings you this snippet for information purposes only, and advises you never to abuse the system...
Shout going out "Has anyone got a contact for Steve Johnson, who took a photo of Cath Ford at the No M11 Campaign? I really want to use the photo for the cover of the book." Contact Liz at Liberty: 0171 357 8689
10th April - Pain + Haywire @ Albert Pub, Trafalgar St, Brighton £3/£2.50 Proceeds to anti-bloodsports groups
12th - Justice for Women benefit gig @ Cumberland Arms, Byker, Newcastle with Maggot Colony, Milky Wimpshake, Cycle & Grudge
17th - `When should the photographer take political action?' Debate at 7pm, St. James' Church, Picadilly, London.
19-20 April - Big Gene Gathering, on a 40 acre organic farm in Hertfordshire. Camping £1.50/3 nights. Info & Booking 0171 865 8117
19-26th - Lab Animal Week. NAVS: 0181 846 9777. Visit Consort Beagles on the 19th, meet noon at Cosort, off the A49 (Ross to Hereford Rd.) at Harewood Park, Harewood End, Ross on Wye, Herefordshire
24th - World Day for Laboratory Animal Day of Action. Meet noon at Institute of Neurology, Queen Square, London. Details: 0171 278 3068
21-26th - Global Days of Action Against Genetically Engineered Food. Details: Pure Food Campaign 01218 226 4164
21st - Land Is Ours benefit with the Baghaddies @ the Tap + Spile, Grainger St, Newcastle
25-28th - Chernobyl Day Actions. Faslane Peace Camps: 01436 820901
25th - Clubversive Party at The Bedsit, 1 Park Drive, Glasgow. All proceeds to NVDA
30th - BAe AGM protest. Contact CAAT 0171 281 0291
---
19th April - Colchester. Meet 12.30pm @ Tescos, Greenstead Rd.
3rd May - Hull. Meet Pearson Park 31st May - York. Meet noon @ Clifford's Tower - this is gonna be acoustic.
17th June - National Car Free Day!
21st June - Bristol RTS... Watch this space.
---
SchNEWS has so far found one reason to vote Labour in the forthcoming General Election - mutant magician Paul Daniels has threatened to leave the country if Blair becomes PM.
---
The SchNEWS advises all readers not to live on protest camps during the summer months. Never watch the sun go down over ancient woodland, and never convulse with laughter around the camp fire. Always bear in mind that summers spent in an Oasis holiday Village are far superior. Then you will be (bucket and) spayed. Honest.
---
We've got lots of envelopes in need of SchNEWs stuffing. Got An hour or 2 spare on Friday? call on 01273 278018!

Subscribe to SchNEWS: Send us first class stamps (e.g. 20 for the next 20 issues) or donations (cheques payable to "Justice?"). Or £15 for a year's subscription, or the SchNEWS supporter's rate, £1 a week. Ask for "original" if you plan to copy and distribute. SchNEWS is post-free to prisoners. You can also pick SchNEWS up at the Brighton Peace and Environment Centre at 43 Gardner Street, Brighton.
SchNEWS, PO Box 2600, Brighton, BN2 2DX, England
Phone/Fax (call before faxing): 01273 685913
Email: schnews@brighton.co.uk Web: http://www.cbuzz.co.uk/SchNEWS/
---
Last updated 21 May 1997
@nti copyright - information for action - copy and distribute! SchNEWS Web Team (schnews-web@brighton.co.uk)