Home | This Week | Update | Archive | Diary | Database
---
Previous | SchNEWS 115 | Next | Index | PDF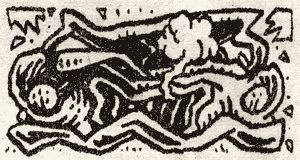 WAKE UP! WAKE UP! IT'S YER COINCIDENTAL...

Published in Brighton by Justice? - Brighton's Direct Action collective
Issue 115, Friday 11th April 1997
IF YOU GET ARRESTED ON SATURDAY RING 0181 5337116
"Taken together, the new provisions of the Police Act, the Knives Act, and the Social Security Administration (Fraud) Act are least as nasty as anything in the Criminal Justice Act. The bugging and burgling provisions are now well-known - but that's just the start. Employers will be able to insist that job applicants provide information about unspent convictions, and, more worryingly, non-conviction information such as cautions, bind-overs, or even any old unsubstantiated gossip from local police files. Stop and search powers will be increased, so that when the police have reason to believe that some people in their area may be carrying knives, they can stop and search anyone. The DSS will be able to swap information with other government departments, not just in specific cases where they suspect fraud, but in order to `check the accuracy of records' in general."
- Liberty
Welcome to democracy... on the last day of parliament 27 bills became law - in just one minute. Here's a taster of what's too come...
Bugging and burgling of anyone suspected of a serious offence. This is defined as "a large number of persons in pursuit of a common purpose." According to Lord Hutchinson that will mean "the protesters involved in the miner's strike, Greenham Common, Newbury and the Poll Tax would all be criminals under this act!"
Sponsorship of the National Crime Unit and National Crime Squad. And who can sponsor them? Anyone!!! "Acceptance of gifts and loans, in connection with the discharge of any of its functions, accept gifts of money, and gifts or loans of other property, on such terms as appear to the Authority to be appropriate."
Certificates of Criminal Records. In 1990, the House of Commons home affairs committee heard evidence that the criminal records provided to the courts were inaccurate, incomplete, out of date and contained extraneous or prejudicial material. The solution? Any person going for a job will have to produce a "Certificate of Criminal Records" (costing £15) if asked by a prospective employee.
Most women in prison are in for fine default - 68% for not having a TV licence! 34% of men under 35 have a criminal record.
This Act lets cops determine what material will be disclosed to the defence, (you can just imagine them trashing their own case, can't you?) they could burgle a defence lawyer's office or home, snatch the papers, then refuse to disclose them! If this had been law years back the Bridgewater Three and Guildford Four would all still be inside.
This changes the rules relating to privacy and data protection. The changes will allow the government to trawl through the files held on each of us by every department to look for inconsistencies. A mismatch, an error, an offence, an unpaid bill will domino through the system. Tax, driving licence, social security, National Insurance. It's the civil servants' snoopers' charter.
"Data matching is the hi-tech equivalent of a general warrant on the entire population," says Simon Davies of Privacy International. "It is no different to the notion of police being empowered to enter your home in your absence, search through your papers and take what they wish. It vastly increases the power of the state."
This silent, invisible data watching is worrying because in 1994, there were 655 reported incidents of Whitehall employees using their passwords to access records to pass to outsiders. Maybe to the sponsors of the National Criminal Intelligence Service, huh?
Gives the police new powers to close a club immediately if they suspect drug use/dealing is going on in the venue or at "any place nearby which is controlled by the holder of the licence."
Among other things means... Minimum 3 years for repeat burglars - Minimum 7 years for repeat drug dealers - Automatic life for repeat serious sex and violent offenders - Abolition of automatic 50 % parole - ban on under 18s drinking in public - discretionary naming of juveniles. This takes no account of changing circumstances. For example, a woman could get a mandatory life sentence for responding to years of domestic violence if she had a previous conviction for violence, even if that happened years before, and a third conviction for burglary could carry a heavier sentence than a first for rape.
Allows a police superintendent or above who "reasonably believes" that there will be serious violence to give authority to stop and search. Following such a decision, the police don't need to have a reason to search an individual! Home Office statistics show that even where the police have to justify a search on the basis of reasonable suspicion, a disproportionate number of ethnic minorities find themselves targeted. Read Simon Davies' book "Big Brother - Britain's web of surveillance and the new technological order", £5.99, Pan.
---
Alison Halford, former Assistant Chief Constable of Merseyside has taken her own force to the European Commission for bugging her while she was pursuing a claim for sexual discrimination against them. She believes that while under surveillance, all dialogue with the Equal Opportunities Commission, lawyers & friends was tapped and taped. If her complaint is upheld, bang goes (official) bugging in the UK! Judgement expected in a couple of months.
Charles Pollard, Chief Constable of Thames Valley and a former deputy assistant commissioner of the Met, said on Wednesday that Zero tolerance policing has and will continue to lead to riots.
---
Write this on the back of your solicitors card in case of arrest and quote to the police "By denying a suspect the right to silence the British Government and the police are breaching article 14 of the United Nations Convention of Human Rights which guarantees the presumption of innocence and the right not to bear testimony against oneself." That is all you have to say.
---
Sixty-one year old Ian Grant died last weekend after being attacked by eight policemen when a party in Putney was besieged by 50+ riot police. Mr Grant fell and broke his nose before finally dying of a haemorrhage.
On the Saturday police had told organisers that they could have the premises until Sunday night, one commenting"You lot have been lucky this time!" But by 4:30pm the next day with just 40 people left, riot police equipped in bullet proof vests with police dogs and electric nooses stormed the building. "It was totally over the top. The sound systems were closing and we were just sitting out in the sun, relaxing."
One girl was pushed over and one party-goer spread-eagled on the floor with police kneeling on his back. It was at this point that Ian Grant was grabbed."It was when the police let me go that I first noticed the body. He was lying by the door with cuts on his face and bruises all over. Six policemen were trying to resuscitate him. I knew straight away he was dead" one eye-witness told SchNEWS.
Battersea Coroners office told SchNEWS that he "died quite naturally" and as there is "nothing sinister" about his death. But the police have already changed their story twice.
Scotland Yard told us 13 were arrested on drugs charges (though we has hear that it was only 7, the remaining 6 being charged with Public Order and Affray), 4 were bailed, and there was a death that was "unrelated to the party." The pathologist is claiming that the haemorrhage was caused by a weak artery of the heart. The police may be right - it wasn't so much the party that caused the death as the police intervention the next day.
SchNEWS offers all the friends and family of Ian Grant our deepest sympathy.
In order for an inquiry to occur more eye-witness accounts are needed. If you saw anything ring SchNEWS and we will pass on the info.
---
SchNEWS has received a letter from Gary West, who is inside for 4 years for shoplifting. Offered a laughable JSA job his dole was stopped and Gary found himself sleeping rough and borrowing produce from shops (without asking), got caught and sent down. "I'm not proud of the fact I had to steal to get by but I feel I was left with no alternative." He'd love to hear from anyone, especially those involved in animal rights. Write to: TB0799, Gary West, B-Wing, Houseblock Three, HMP Elmley, Church Road, Eastchurch, Sheerness, Kent, M12 4AY.
---
Three addresses in Chichester were raided by Hampshire Police this week. They were after information about the recent Chiddingfold Hunt Ball, and the upcoming demo at Shoreham on May 16th. However, two of these addresses were out of date, and they ended up bursting in a family having tea, and a Student Union Office! At the third address, a known hunt sab was questioned and released without charge. Hampshire Police are famous for setting the Animal Rights National Index to gather info on protesters, and taking the "Gandalf 6" to Court on conspiracy charges. For more info contact Chichester Earth First! c/o BO SU College Lane, Northgate, Chichester, Sussex.
---
A Sussex farmer has this week begun to destroy an area designated of "special scientific interest" near the village of Offham, by Lewes. There are actions today (Friday) at the site, and may be more - contact Justice? or Brighton Friends of the Earth for more info.
The grid reference on an OS map is 389119, which is reached along the bridleway to "Mount Harry".
---
Positive things appenin' near you
Plants for a Future, The Field, Penpol, Lostwithiel, Cornwall, PL22 ONG 26 acre site in Cornwall experimenting with unusual food crops. For a copy of their catalogue send a couple of stamps + SAE.
Radical Routes, 16 Sholebrook Avenue, Leeds, W. Yorks. A co-op of co-ops, assisting fledgling co-ops, offering advice and ethical investment.
Trees For Life, The Park, Findhorn Bay, Forres IV36 0TZ, Scotland. 01309 691292. Volunteers needed to help regenerating the Caledonian forest.
UK LETS-Link, Liz Shepherd, 61 Warminster Road, Wilts. Co-ordinating Local Exchange Trading Systems information. Barter for money free services.
Beacontree Organic Gardens, 44 Gale Street, Dagenham, Essex RM9 4NH. 0181 592 8941. Sited on a bombed church, these community gardeners offer an `investment harvesting `scheme - organic veg in exchange for either time and effort, or investing in money for seed.
Sunseed Trust 97B Divinity Rd., Oxford, OX4 1LN. 01865 721530 Working holidays in sunny Spain. Solar cookers, organic gardening, dry land reclamation, compost toilets, hydroponics.
Centre for Alternative Technology eco-village powered mainly from wind, water and solar power on an old slate quarry. Open to visitors, course's and publications available 01654 702400.
Sheffield Peasants Co-op Taking over derelict land and turning it into gardens .
Credit unions not for profit banks where people pool their own resources and give out small loans to people not considered credit worthy. In Liverpool they are available to half the population.
Arts Factory is a democratic, community owned business with environmental arts team, garden centre, wood, metalwork and pottery workshops. Currently converting a Grade II listed chapel into youth facilities of video workshops, design studio and cinema. Open to all sections of the community with hundreds involved every week. Unit 11, Highfield Industrial Estate, Ferndale, Rhondda, CF43 4SX 01443 757954.
---
Still available at £4.99 (post free) is the collection of SchNEWS issues 51-100, with over 40 photos, our essential "activist's database" of contacts, and more!
---
Fed up with city life? Housing benefit cuts getting you down? Why not get on down to summer protesting...
Manchester Airport - oppose the building of runway 2 - Coalition Against Runway 2 c/o Manchester FoE 0161 834 8221 - camp mobile 0958 451525 (Camps were served eviction notice on Thursday)
Lyminge Forest, Kent - trying to stop the Rank Organization trashing ancient woodland for a huge leisure complex 01227 261057 (camp in court this coming Monday, people wanted to give support)
Stringers Common, Guildford - road widening/common land disappearing under concrete 01483 32167
Newbury update on the campaign 01635 45544
Teddy Bear Camp, Weymouth - opposing another road scheme
Pressmennan Woods - mature Scottish oaks being felled for BMW dashboards, because they're not allowed to chop down German trees 0134 385 0225
Faslane Peace Camp - getting up the noses of the Trident Armageddon industry 01436 820901
Bingley , Yorkshire camp set up to oppose another one of those dastardly bypasses 0113 2629365
---
Anyone fancy sortin' out the huge amount of archive info Freedom Network have on the Criminal Justice Act and related issues? If you'd like to make this more accessible to everybody ring 0171 9788214
20th April: Bluebell Picnic met 2pm @ Great Mills Car Park on A4 to protest against the first stage in A350 corridor 01249 713742
25th April: Critical Mass National Day of Action
24-30 April: International TV Turn Off Week - White Dot P.O. Box 2116, Hove BN3 3LR. E-mail: whitedot@mistral.co.uk Website at http://WWW3.mistral.co.uk/whitedot/
Thanks to the scumbag that nicked one of Fairmile's vans, complete with equipment, at Manchester Airport a couple of weeks ago. Any donations (or transport of course!) gratefully received. Info 01686 412563
Remember: our new sexier-than-thou website is really `aving it! Download, print, photocopy, agitate mate! The ACROBAT facility means SchNEWS comes down the wire just(ish) as it appears on paper.
As mentioned on the front of this SchNEWS, if you get arrested at RTS in London this Saturday, get legal advice by calling 0181 533 7116.
---
SchNEWS readers will be horrified by the following tragic tale from this weeks Police Review. A Kent cop, returning to the station after spraying toxic chemicals in the face of some unfortunate citizen, took his gloves off and went to the little plods' room to empty his bladder. Whereupon he sustained burns to his love truncheon as the CS residue on his hands began to react. His pride then suffered a further knock when he had to fill out a `hurt on duty' form - including diagrams of how the damage was done...
---
SchNEWS warns all readers not to blink else you will miss a thousand more repressive measures becoming law. Always take time out for yourself. Try to grow some food, plant some trees and go for long walks in the countryside. Then you will feel refreshed and ready once more to fight for a better world. Which will still be legal, honest.
---

Subscribe to SchNEWS: Send us first class stamps (e.g. 20 for the next 20 issues) or donations (cheques payable to "Justice?"). Or £15 for a year's subscription, or the SchNEWS supporter's rate, £1 a week. Ask for "original" if you plan to copy and distribute. SchNEWS is post-free to prisoners. You can also pick SchNEWS up at the Brighton Peace and Environment Centre at 43 Gardner Street, Brighton.
SchNEWS, PO Box 2600, Brighton, BN2 2DX, England
Phone/Fax (call before faxing): 01273 685913
Email: schnews@brighton.co.uk Web: http://www.cbuzz.co.uk/SchNEWS/
---
Last updated 24 April 1997
@nti copyright - information for action - copy and distribute! SchNEWS Web Team (schnews-web@brighton.co.uk)