Home | This Week | Update | Archive | Diary | Database
---
Previous | SchNEWS 119 | Next | Index | PDF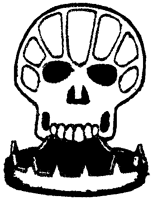 WAKE UP! WAKE UP! IT'S YER STRUNG OUT...

Published in Brighton by Justice? - Brighton's Direct Action collective
Issue 119, Friday 16th May 1997
SchNEWSnight! Sanctuary Café, Hove, this Saturday 17th May, £1 b4 9pm then £2.
Road protesters were celebrating victory this week, as a road widening scheme at Stringers Common near Guildford was abandoned.
Protesters who were down tunnels and up trees in anticipation for an early Monday morning eviction, instead heard news that because of cuts in national funding Surrey County Council were unable to find the £2.9m needed to carry out the scheme.
Activists from the five camps were jubilant. Vicky, one of the first to make Stringers her home said: "This is a victory not only for the local people but for everyone that has dared to stand up to car culture. If the camps and tunnels had not been here this road would have gone ahead. The cost of evictions would have made it impossible and direct action has again proved to be a successful tactic in defending our environment."
At a loose end after the Stringers victory? Fancy some action in the countryside? Here's a selection of camps...
Bingley, W.Yorks: Rye Loaf Camp set up to oppose a bypass, urgently needs more people. 0370 985122.
Lyminge Forest, Kent: The Rank Organisation plan to destroy a thousand acres of land including ancient forest for a massive leisure complex. 01227 261057.
Wyndham Hill, Yeovil: Camp set up to oppose a new road and retail development proposed on the site where activists successfully stopped a Sainsbury's 2 years ago. 01935 478806.
Faslane Peace Camp - established for 15 years on the banks of the Gareloch and Britain's oldest peace camp are holding a birthday party on 14-15th June. Party and protest against Trident 01436 820901.
A16 Action Group: opposing Peaks Parkway A16 diversion along a disused railway line in Grimsby which is a popular local wildlife walk. Contact Stop the Road On Peaks Parkway (STROPP): 01472 278845. See next story.
Graham Stringer (new Labour MP for Blakley) however has other ideas. He writes "The trespassers at Manchester Airport come from the same political tradition as Mussolini and Pol Pot in rejecting the ballot box in favour of direct action and violence."

SchNEWS would like to point out Mr. Stringer's unbiased view has nothing to do with him being Chair of the Board for Manchester Airport and ask that if he is such a passionate democrat, why not place the Board of the Airport up for direct election by the people of Manchester?

And as good old Jo Makepeace from Justice? said at last weeks Direct Action Conference: "It's all about people getting off their arses and doing things for themselves now, not waiting for the politicians to act for us. A cross on a piece of paper every five years...that's generous."
Eviction alert!Activists opposing Manchester's second runway are on red alert and are advising people to get there by the weekend for possible evictions 0161 834 8221.
---
We've not mentioned them before, but they've been giving it some in Grimsby for a few years now: the A16 Action Group are opposing a 5km diversion of the A16 along the "Peaks Parkway", the disused Grimsby-Louth railway line. This is a popular, well-used recreational area oozing with wildlife - a rare oasis of beauty in Grimsby - and it is doubly insensitive coming from a council supposedly so skint it has to charge the elderly for care services.
A recent week of peaceful direct action resulted in several arrests and kids injured by reckless machine operators. One 16 year old was given bail on condition she doesn't go within 100m of the site - which rules out both home and school! Anyway, after years in the protest backwaters they need your help - so get in contact with STROPP on 01472 278845 and get involved.
---
"One of the main points to come out of the conference is the need to attack the oil industry in several places at once, and in as many varied ways as possible.Their PR machine needs a good talking to; their investors must be persuaded to put their money somewhere more useful. New recruits must be told to get a proper job."
- Corporate Watch
Yes, it's AGM time again! Last fortnight it was the turn of BAe, now it's the turn of grubby multinationals Shell and RTZ to have their dirty laundry held up for public scrutiny. First up were mining giants RTZ: ducking questions about pollution in Bolivia; the appalling situation in Bougainville; human rights abuses at the Grasberg Copper Mine in Irian Jaya; Indonesia; and mining plans that threaten Madagascan rainforests and a sacred mountain in the Philippines, the directors chose instead merely to inform the assembly that Grasberg produces £125m per year in taxes for the Indonesian government.
Last weekend saw Hammersmith Unemployed Workers' Centre host a gathering of the clans against the oil industry under the banner of CRUDE OPERATORS, a Corporate Watch & Platform joint venture, featuring speakers from all over the world on virtually every aspect of the worlds dirtiest industry, oil. Corporate Watch (CW) told SchNEWS, "Following the by now familiar pattern of `spend Saturday finding out about it, Saturday night eating and partying, Sunday working out what to DO about it, and the rest of the week actually doing it', Monday saw a particularly fragrant oil slick smeared all over the front of the DTI in Westminster, highlighting the strange resemblance between David Simon, chair of British Petroleum plc (boo) and David Simon, Minister for Competitiveness and Europe in Tony Blair's new cabinet. Lots of mess, lots of ranting, lots of fun. Lovely.
"Wednesday was the Shell AGM where a slick PR excercise dismissed any critics as `ill-informed' or `violent extremists'. This tactic meant that decent actions in the meeting would have played straight into their hands" point out CW, who add however that "9% of the Shell share capital is now on our side - only another 42% to go." And on Thursday (as we go to press) Shell is releasing its environment report to tell the world how nice they are. Let's hope none of those ill-informed violent extremists get in to put the record straight...
Multinational Monitor
Corporate Watch
Campaign Against the Arms Trade
Friends of the Earth: The RTZ Mineral Sands Project in Madagascar
---
Satpal Ram is on hunger strike after a surprise move from Gartree Prison in Leicestershire, to Wandsworth in London. On 18 April, he was moved forcibly in a bodybelt and put in a bare strip cell. He's now refusing all food, demanding an end to his mistreatment. Satpal has been inside since 1986, sentenced to life for the self-defence killing of a racist who attacked him in a restaurant. In those 11 years, Ram has been beaten up, repeatedly moved, kept in isolation, subject to humiliating body searches and had drugs planted on him.
Write to: Satpal Ram E94 164, HMP Wandsworth, London SW18, and contact the Free Satpal Ram Campaign... 0121 331 1511.
Ray Gilbert and John Kamara were charged with robbery and the murder of John Suffield in March 1981. They were arrested and charged with no forensic evidence, alibis not investigated by the police, the dismissal of two juries, interference of defence witnesses, destruction of custody records and deals made between the police and remand prisoners for shorter sentences in return for testifying against Gilbert. Gilbert is currently not allowed to contact the press (!), and has been denied access to vital personal belongings and is on "basic regime".
Write to: Ray Gilbert H10111, HMP Long Lartin, Basic Wing, South Littleton, Evesham, Worcs. WR11 5TZ, and for more details, contact Newcastle ABC, c/o PO Box 1TA, Newcastle, NE99 1TA
Writing letters is one of the best ways you can support a prisoner. Prison distances you from the real world, and a friendly card or letter lets the person on the inside know that they have not been forgotten. Remember a few important things - letters are always read, so don't write anything that could jeopardise future actions, or anyone's freedom. Always include a return address, as some prisons don't accept a letter without a return address. If you can't think of anything to write, just send a nice postcard.
---
SchNEWS was upset to hear of the indiscriminate use of CS Gas at a pixies post election party at the Flat Oak (next to Blue Route at Whitstable). The fun loving pixies managed to slip through the outer fence of the compound before a sacrificial fire mysteriously consumed a digger. Two green folk were arrested, and everyone (even the police) got a throat full of the Devil's perfume Flat Oak Society 01227 463368.
---
Love the new method of transport for the Police in Holland.....roller blades! We have it on good authority that our very own Sgt. Shitter (he of Conscious Cinema/Have I Got SchNEWS For You fame) has been seen merrily cruising along the seafront...!
That most brilliant of radical venues, the 121 Centre in Brixton, needs a new roof. The anarchist social centre has been squatted for fifteen years, and £1000 must be raised to keep the anarchists dry! Donations to: 121 Centre, 121 Railton Road, Herne Hill, London SE24 (cheques payable to Anarchist Black Cross). If you have any roofing experience, get yer arse down there pronto! 0171 274 6655
Class War are producing a one-off issue, which has "taken several months to write...and may be the most important issue we have ever produced...and possibly the last?" Curious? Send a donation/ SAE for your copy to BM Box 5538, London WC1N 3XX
Attilla The Stockbroker, Barnstormer and Core play a benefit for Simon Valder at the Richmond Sunday May 18th.£3/4. Simon's in youth custody for making a drunken death threat on the phone to ex-Albion scumbag David Belotti,
Car manufacturer Daimler-Benz have been experimenting with a material made from fibrous cannabis hemp. The company have discontinued the use of fibreglass, and flax is already used in reinforced plastic, but cannabis hemp does the job better, is cheaper to process and can be grown without insecticides
More than 3,000 Honduran Indians went on hunger strike last week in protest for land rights and an inquiry into the deaths of two of their indigenous leaders. The hunger strikers have set themselves up in plastic tents surrounding the Presidential Palace and will continue until better living conditions and 100,000 acres of land for subsistence agriculture are ensured
With the epic McLibel trial drawing to an end in the next few weeks, there are still loads of McDonald's stores up for adoption. Contact McLibel Support Campaign 0171 713 1269 for details. Tune in to the epic reconstruction of events in Court 35 during the trial - Part 1, Sat 17th May 7:15pm/ Part 2, Sun 18th May, 7:30pm. Also`McLibel: Burger Culture on Trial' by John Vidal, published by McMillans at £15.99. Top tip: order it through your library for the good of all! McSpotlight - very heavily loaded site so keep trying!
A leaflet entitled `John Lewis: Wildlife Killers', published by the National Anti-Hunt Campaign, has sparked a libel row with the department store giant. It is alleged that Lewis' top execs hold beanos at Lechford Abbas Shooting Estate. Instead of denying the allegations, John Lewis has instead taken the cowardly step to sue National Anti-Hunt Campaign spokesperson Neil Hanson. 0114 240246.
Next week, a march of Glasgow's unemployed sets off on its way to a rally in Amsterdam on 14 June. Unemployed people from Britain, Ireland, Germany France, Spain, Morocco, Sarajevo, Italy and many other parts of Europe have already started on the European March for Jobs. Their aim is to stop ministers at the Amsterdam Summit of Intergovernmental Conference from talking about profit margins and inflation, and to remind them of the millions of Jobless and downtrodden people through the EU. Wanna join `em? Watch this space for details
According to Harvard Medical School, Coca Cola is being used as a contraceptive douche. Tests showed that Original Coke had a 91% sperm kill rate, New Formula Coke had a 42% rate, while Diet Coke had a massive 100% success rate in blatting the wee beasties!
Texas business man, Mr. Nightbyrd, has come up with a powdered urine which when rehydrated with water, will guarantee a drug free test result...
19th - Glaxo-Wellcome AGM. Meet 2pm @ Queen Elizabeth Conference Centre, Broad Sanctuary, Westminster. Details: 01438 359424
23rd - FREE DRUGS! Be at the Dept. of Health at 1pm to witness the launch of the Free Medical Marijuana Foundation. Howard Marks will be giving out free cannabis for medical use. Contact FMMF, PO Box 223, Glastonbury BA6 9YU. Marks received 1200 votes in Norwich North & South on election day.
23-25th - Sellafield Women's Peace Camp. Details: 01482 463768
26th - The Sheep Bite Back - National Demonstration against live exporters Stephen Woods and Gordon Gilder. Meet noon at Abbey Sports Stadium on A441 to Redditch
26th - The Between the Lines Collective challenge all you footie players to a day of mud and bedlam, starting at 1pm , Clissold Park. Info: BTL, Box 32, 136 Kingsland High Street, London E8 2NS
26th - Kingston green fair, stalls, music and entertainment at Canbury Gardens
26th - Maidstone Annual Green Fair 12-8pm at Mote Park. 01622 673413
30th - BAe AGM. Make your protest heard against the company's arms exports. CAAT: 0171 281 0297
31st - York Reclaim The Streets. Meet at noon @ Clifford's Tower.
---
A party in North Wales was completely obliterated and a sound system confiscated last Bank Holiday Weekend. Police helicopters watched the T.W.A.T. Chaos, BWPT & other systems setting up at a disused quarry. Early evening the Chef Inspector said pack up and bugger off and there would be no trouble! However when the systems were leaving the police blocked off access roads and the riot squad turned up in van loads confiscating the T.W.A.T. system and arresting the driver. Meanwhile a 4 mile convoy of party cars were dispersed to the English Border, and two big Parties did kick off in the end, Wolfie of Twat told SchNEWS: "It shows just how many are up for it, and as Spiral Tribe said - they might stop a party but they can't stop the future."
---
We've all heard about brave fire-fighters being asked to rescue pussies stuck up trees (ouch, sorree!), but Saturday's call out surely took the biscuit. Randy Sandy, a blow-up doll had been stuck on one of Brighton's CCTV cameras by activists pointing out that camera technology is now so advanced it can strip people of their clothes! Brighton Police however were not amused and rung for the fire brigade to remove offending objects including a startled looking Sandy.
Nine other cameras were also targeted by activists - stirred into action by a talk on surveillance at Justice's? Direct Action Conference. Apart from Sandy, one camera had a bag put over it head, while one resident refused to come down for two hours from a pole, complaining that it looks straight into his bedroom window. Meanwhile a mobile spy camera was placed on a nearby block of flats watching the entrance of the Conference and later in the day two cops walked into a crowded pub and arrested someone they'd spotted on their `rogues gallery.' Brighton CCTV control room is linked up to a face recognition programme which has a role call of people on the `wanted list' enabling them to cross check files on known activists and pick up any they consider to be wanted.
As one London activist complained to SchNEWS "It's all very well going on actions knowing you have a chance of being nicked, but when your in the pub chatting someone up and your mate gets pulled then things are really getting out of hand."
---
The SchNEWS warns all readers not to partake in direct action for fear of being confused with Mussolini or Pol Pot. Never resist unpopular developments or you may end up wiping out half of Cambodian or invading Abyssinia. Then you will avoid being strung up from a lamp post. Honest.
---
Sorry to people who couldn't hear at Have I got SchNEWS for you! Hopefully see you at SchNEWSnight on 17th! And for the lack of SchNEWS issue last week - too hectic with Conference.

Subscribe to SchNEWS: Send us first class stamps (e.g. 20 for the next 20 issues) or donations (cheques payable to "Justice?"). Or £15 for a year's subscription, or the SchNEWS supporter's rate, £1 a week. Ask for "original" if you plan to copy and distribute. SchNEWS is post-free to prisoners. You can also pick SchNEWS up at the Brighton Peace and Environment Centre at 43 Gardner Street, Brighton.
SchNEWS, PO Box 2600, Brighton, BN2 2DX, England
Phone/Fax (call before faxing): 01273 685913
Email: schnews@brighton.co.uk Web: http://www.cbuzz.co.uk/SchNEWS/
---
Last updated 12 June 1997
@nti copyright - information for action - copy and distribute! SchNEWS Web Team (schnews-web@brighton.co.uk)