Home | This Week | Update | Archive | Diary | Database
---
Previous | SchNEWS 120 | Next | Index | PDF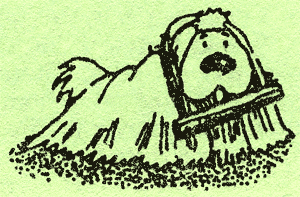 WAKE UP! WAKE UP! IT'S YER ESSENTIAL...

Published in Brighton by Justice? - Brighton's Direct Action collective
Issue 120, Friday 23rd May 1997
Tune in all weekend to 106.6 FM Radio Aktiv + SchNEWS on air Sun 7-8pm
"One demonstrator was held in a headlock and sprayed inches from her eyes; she was then held by the arms and sprayed a further three times, then she was dragged on her back scraping a large area of skin off. She thought she was going to die."
- Eyewitness
"This is what you get for coming here you bastards."
- West Mercia cop to protestor
The second major demonstration against Consort, beagle breeders for vivisection, near Hereford last Sunday saw over 100 West Mercia police again indiscriminately using CS gas and thuggery against over 200 protestors, resulting in one having her arm broken, another her hand and 38 arrested on charges ranging from sections 2 to 5. An elderly Portsmouth protestor was truncheoned in the back of the head and knocked into a barbed wire fence and a 17 year old girl was savaged in the thigh by a police dog, which then injured another protestor before finally doing the decent thing and attacking its handler. Veteran activist Helen Nelson said the day began peacefully enough, despite police blocking the bridle path bordering the compound: "Then riot police started coming down the hill, as others came running up from below, and tthey suddenly charged, pushing people all over the place, whacking them with truncheons and kicking out with their boots." Helen, 71, then received the blow to her head - explained by the cops to the press as `a brick thrown by other protestors' - which resulted in her being hospitalized along with the bitten girl. After being discharged, Helen was duly nicked and charged with affray!
Activists moved on to the nearby home of Gordon Gilder - an animal transportation scumbag - to be met by more police who opened up with CS gas, deciding a table-top pepper pot held by one demonstrator constituted a full-on assault with pepper sprays. Police guidelines state that CS is to be used `only in life threatening situations' and then from a distance of no less than 2 m. `Life-threatening' in this situation included leaning on a gate - 5 people were sprayed point-blank in the face for this misdemeanour - and facing the wrong direction: "One bloke was tapped on the shoulder and then gassed in the face when he turned round" an ALF spokesman told Schnews. He added: "Police were seen tipping the canisters upside down, trying to shake the last drops out, they'd used so much."
Some activists didn't even get to make it to Gilder's: a vanload enjoying a cuppa at a roadside services were suprised by riot cops who pushed the protesting owner aside and marched in to nick them. All those arrested during the day were processed with catatonic slowness, some not being released until the following evening; most have been bailed until June and further arrests are feared. Some - hunt sabs and Shoreham activists - reported that police singled them out for arrest at the first opportunity and those with video cameras were surrounded by teams who tried to sieze the equipment, damaging it in the process. And Lewes Coaches, the company who has regularly transported Shoreham activists to Consort demos, have since been `advised' by the force to cease this trade forthwith or have their vehicles continuously pulled by traffic division....
Helen Nelson wants witnesses to her assault: phone the Justice? office.
Sussex activists have announced a demo outside Consort director Peter Savage's house in Upper Beeding. Meet in the village 10am, June 1st.
NEXT NATIONAL CONSORT DEMO JULY 6TH: Consort Kennels, Harewood End (on the A49 between Ross and Hereford), 12pm. BE THERE!
---
For possession of myrrh! Head Mix Collective, on tour in Wales a few days ago , were pulled over by Aberwystwyth's finest. Finding out they were a band and obviously up to no good they searched the van from top to bottom and found some..... medicinal myrrh. Unused to alternative remedies, they proceeded to arrest the owner and seize the van, refusing to release either until 3 hours after the gig was meant to begin. Good job Jesus wasn't born in Wales!
---
"Without the existence of the tunnels and tree camps, Bolin Valley would have been flattened long ago. Direct Action has yet again catapulted the issue of unsustainability into the mainstream agenda."
- Manchester activist
Tuesday 4am, and the protests camps along the proposed second runway at Manchester Airport have unwanted guests. 100's of security, Sheriff's officers, police, scab climbers and pot-holers surround and invade the camps at Bolin Valley, Cheshire.
`Operation Fulcrum' is in full effect. People take to the tunnels and trees as camps such as Sir Cliff Richard OBE Vegan Revolutionary brace themselves for what could be the longest evictions in post-war Britain.
A full square mile has been cordoned off, adding to the 4 miles of razor fencing around the site. Under-Sheriff Randall Hibbert won't allow independent legal observers on site and his arrogance was highlighted by an assistant who said, "On this site, Mr Hibbert is God."
Ex-hostage Terry Waite led locals in their opposition to the building of the runway. "There are fundamental issues of principle at stake here. The legal process was loaded in favour of the developers from the start; this is indicative of Britain's ailing planning system." he said.
As SchNEWS went to press, no camp had been cleared, although our last contact with the site told of a general sense of bedlam ...
SchNEWS would hate to bore you with the reasons the proposed runway should not go ahead, but:
One transatlantic return flight uses up half a person's yearly CO2 emissions.
The DoT have forecast a 163% increase in air transport in the next 12 years.
UK internal flights are on average 5 times more polluting than the equivalent train journey.
BADDIES:
Local MP & chair of Manchester airport Graham Stringer (Direct line: 0161 489 3700/ Fax 0161 489 2300). Give him a ring or fax him some black paper!
Randall Hibbert: Under Sheriff of Cheshire: 01244 321066.
Tarmac: John Boardman 0161 437 4280.
GOODIES:
---
Remember, boys `n' girls, your rights to party and festy on down are being eroded even as we speak. There's lots of spot on groups doing their damnedest to put on some wicked events this summer, and it is your moral duty to support them and have a bloody good time! Here is the first bit of the definitive SchNEWS festy list for the summer!
Despite the best efforts of the authorities, people are still putting on free parties up and down the country. Here's a does and don'ts list in case you happen to stumble across one:
Be prepared to be self-sufficient. Facilities could be minimal.
Park sensibly, keep site roads clear.
Be friendly to local residents, ramblers etc. Smile - you're at a Free Party!
Bury your shit!
Don't trash the site - take a binbag.
Fires - use dead not live wood (which doesn't burn anyway).
Make a donation - if someone passes a bucket round don't be a mean git. It costs money to put on free parties.
Know your rights - Get yourself a BUST CARD: 10p from Release, Advice Line 0171 729 9904. Emergency Help Line 0171 603 8654
Enjoy yourself!!!!
Fri 30-1 June - Blow out '97, Northants: 01327 705265
Sat 31 - York Reclaim The Streets, 12 noon, Clifford's Tower
Sun 1 - Annual Stonehenge Walk, leaves from Peace Pagoda in Battersea Park, London, 12 noon: 0171 485 0694
Wed 4-11 - Appleby Horse Fayre: 01325 362933
Fri 6-8 - Leominster Fringe Festival @ crossroads of A44/49: 01568 610060
Sat 7 - Strawberry Fayre, Midsummer Common, Cambridge. FREE! / Rage against the Cage - National March Against Vivisection, Devonshire Green, Sheffield. 12 noon : 0114 2530020/Canal Bridge Green Fair, London
Sun 15 - Coin Street - 0589 913 091
Thur 12-15 - Africa Oye Festival Liverpool: 0151 708 6344
Tue 17 - Car Free Day: 01932 828882
Thur 12-17 - Put this in yer diary - it's gonna be massive! Protests, marches, an alternative summit and a HUGE Reclaim The Streets to say a big Fuck Off to the European Union heads of states meeting to sign Maastricht II in Amsterdam. For more info get next weeks SchNEWS...
Sat 14-15 - Faslane Peace Camp - celebrate 15 years of resistance to Trident with a big party: 01436 820901
Fri 20-22 - Greenheart Festival, Borders? Scotland: 01421 577486 / Greenfolk Network Midsummer Gathering nr. Kinghorn Loch, Dundee: 01592 890346 / Church in the Fields Solstice camp: 01908 665124
Sat 21 - Solstice Gwyllfan festival, Cardiff: 01222 563989 / Sexual Freedom Co-Alition Parade (dress well but not indecently) 3pm depart from Soho Sq PO box 4ZB London W1A 4ZB / Free Leamington Peace Festival: 01926 421830 / Mazey Day Street Carnival Penzance: 01736 365520 / Raving in the Park - carnival at Bedlam park, Imperial War Museum: 0171 525 2783 / Reclaim The Streets, Bristol: 0117 9393093
Sat 28 - Heeley Festival, Sheffield: 0171 258 0244
Festival Eye is out now. £2 + A4 SAE to BCM 2002, London WC1N 3XX.If you fancy earning yourself a bit of dosh, while you cruise round the festies of the UK you can get 100 copies of the mag at half price...
Get yer new Squall - hot off the press, massive and large! 60 pages of pukka articles about Manchester Airport, Police Surveillance, CCTV and more, all for a mere £1.80, from PO Box 8959, London N19 5HW.
See the Diary for more dates.
---
A bugle call at 1pm heralded the start of Sheffield's first-ever RTS, and 800 activists and revellers moved from Devonshire Green to meet with the Desert Storm and Spoof sound systems on Charter Road dual carriageway; the traffic got jammed and the party was on! Twenty cyclists engaged in a spot of spontaneous mid-afternoon action and blocked a roundabout for nearly an hour and at 5pm the whole bash shifted back to Devonshire Green and people danced on into the evening. The District Commander of South Yorkshire cops, Steven King, sent a letter to organisers beforehand pleading for co-operation and asking them to put aside "pre-conceived prejudices" about the boys in blue (their arrest of two on drug charges and one for `falling through a car window' must be totally out of character, then) and local rag `The Sheffield Star' chose to concentrate on the plight of an elderly resident, unversed in RTS tactics, who was reduced to tears of confusion by the resultant bus diversions.
---
Out Now - Road Raging, the ESSENTIAL guide for any activists thinking of getting involved in the road protest movement has just been published. From sabotage to smarming your way into the DOT, climbing diggers to camp diseases- it's all in there, and more! Like an inner-city schoolchild, it's totally comprehensive and reassuringly thick... for only £3 plus £1.50 p&p from the Justice? address.
---
25th May - EuroCarnival at Mersey Park, Rock Ferry, Birkenhead (nearest station: Green Lane). In solidarity with the Euro March 97. Should be a great day with premier dubmeisters Back to Base, Life Bomb, 0898 & loads more. Wirral TUC for details: 0151 512 1868
Moves are afoot to set up a Wimmin's Direct Action Newsletter, contributors and illustrators are required. Contact Freedom Network: 0171 978 8214
The McLibel Campaign, in their relentless pursuit for truth, have published a leaflet aimed at children - entitled `What's Wrong With Ronald McDonald'. Written in simple English and available from: London Greenpeace: 0171 713 1269. McSpotlight
The Homeless Information Project have rewritten and updated their action packs, including some informative stuff about squatting and setting up self help groups. Details: 0171 277 7639
We're proud to announce the introduction of the all-new restructured Shark Protection League. Dedicated to freeing imprisoned marine life and direct action against those that slaughter marine life. The SPL are seeking donations for their Boat Fund. send yer readies to: SPL, BM LAPL, London WC1N 3XX
26th May - Melting Vinyl Small Record Label/Fanzine Festival, with bands, displays, comedians, DJs and `the true spirit of the free press'. 1-10pm @ Bar Centro, Ship Street, Brighton. Details: 01273 673777
Friends of Twyford Down are putting together a book about the Twyford protest, and are seeking quotes, photos, stories, poems and songs. Contact Friends of Twyford Down, PO Box 162, Winchester, Hampshire SO22 5ZD
31st May - Liberty Law, Order and Human Rights Conference. Billed as the first post-election conference (we beg to differ!) their aim is to `bring together police, politicians and campaigners' to talk about law and order... 10am - 5pm, London Voluntary Resource Centre, 356 Holloway Rd, London N7. Details: 0171 403 3888
Next Weds Tomorrow's World (28th/7.30 pm) will be on genetic engineering. After the show there'll be a live debate on the internet - email tworld@bbc.co.uk. If you wanna ask one of the worlds top geneticists some questions...
---
You will remember us telling you of the ludicrous sentence passed on 17 year old Simon Valder, who was sent down for eight months for making death threats to Brighton FC sell-out merchant David Bellotti. Well, here's his prison address, so you can send the man lots of good cheer: Simon Valder AW4435, F Wing, HMP Lewes, BN7 1EA. Always write to a prisoner, not your MP, regardless of how `New' he is...
See Inside SchNEWS in SchNEWS 119 for more on writing to prisoners.
---
Illegally erected billboards in Birmingham were `improved' last week by activists who did some late night DiY, making them so unsafe that the council had to remove them the next day! It usually takes the council two years to remove such illegal hoardings so nasty capitos have been getting free long-term brainwash space....till now!
---
SchNEWS was sooo concerned to find out that the curse of the huge moles hit the garden of another open-cast mining advocate last Saturday night. Readers will remember that the burrowing pests hit Michael Heseltine's Northampton garden last year, and we have learnt that they have hit again at the garden of Richard Budge - the arrogant bully boy boss of RJB mining. These little rodents are so clever that they can throw paint around in a random fashion, to spell out phrases such as `No Opencast', `Budge Is The Pits' and `Who R U Going 2 Injunct 4 This Then?' Enquiries about opencast mining should be directed to Worksop Police Station or the Freemason's Hall directly opposite!
---
The SchNEWS warns all readers to be careful with their condiments at luncheon. Never sprinkle your salt and vinegar in a provocative way, and be extra careful with the pepper or you may have to Consort with unexpected dinner guests with bad table manners and ill-trained pets. Then you will dine in peace, and be happy. Honest.
---
Next SchNEWS Training Day WEDS 4th JUNE 12-5.30pm Ring the office and book NOW! (limited places).

Subscribe to SchNEWS: Send us first class stamps (e.g. 20 for the next 20 issues) or donations (cheques payable to "Justice?"). Or £15 for a year's subscription, or the SchNEWS supporter's rate, £1 a week. Ask for "original" if you plan to copy and distribute. SchNEWS is post-free to prisoners. You can also pick SchNEWS up at the Brighton Peace and Environment Centre at 43 Gardner Street, Brighton.
SchNEWS, PO Box 2600, Brighton, BN2 2DX, England
Phone/Fax (call before faxing): 01273 685913
Email: schnews@brighton.co.uk Web: http://www.cbuzz.co.uk/SchNEWS/
---
Last updated 5 June 1997
@nti copyright - information for action - copy and distribute! SchNEWS Web Team (schnews-web@brighton.co.uk)