Home | This Week | Update | Archive | Diary | Database
---
Previous | SchNEWS 125 | Next | Index | PDF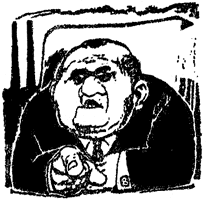 WAKE UP! WAKE UP! IT'S YER MOLDY N' SCABBY

Published in Brighton by Justice? - Brighton's Direct Action collective
SchNEWS 125, Friday 4th July 1997
They're at it again.
"...a clique of the richest, economically and politically most powerful and influential men in the Western world, who meet secretly to plan events that later appear just to happen."
- The Times 1977
A month before the Earth Summit review in New York ended in a shambles, another rather more secret affair was taking place in America - at the Renaissance Pine Isle Resort in the Appalachian mountains.
However, you wouldn't have heard much about this meeting, where 120 of the world's most powerful men didn't meet in a four-day secret session to not discuss the future shape of the western world. Honest. They were merely there on a jolly holiday.
"They are a world business block...these are the people deciding our future, but nobody elects them."
- Col. Barry Turner
Welcome to the Bilderberg Group. The group takes its name from the Hotel Bilderberg in Holland where it first met in 1954, but it's only in the last couple of years that its existence has become more widely known outside the inner circle. Last year's Bilderberg AGM took place at the Canadian Imperial Bank of Commerce Leadership Center in Montreal, and was hosted by Canadian press baron Conrad Black.
So what do these men talk about? Jack Sheinkman, Chair of the US Amalgamated Bank and ex-Bilderberg member, said in June 96:
"The idea of a single currency was discussed several years back before it became policy."
Now they are the driving force behind the policies of globalisation, increasing the power of Multinational Corporations and banks over western politicians and bringing even more private gain for the worlds political and corporate élite.
One of the reasons that the media have been so slow to investigate and report on the Bilderbergers is that many of the global press bosses, including Peter Job, Chief Executive of Reuters, are part of the group. According to Spotlight, the Associated Press avoids mentioning Bilderberg because its biggest paying clients, the metropolitan newspapers, want silence on its existence. However, somehow in 1995 the Swiss AP Bureau did not get the message: "World leaders...120 members of the political and business elite...massive police presence with army backup...four days of secret meetings." When a columnist for the Evening Standard mentioned the group a few years back he lost his job a couple of weeks later.
Gorden Tether, the Editor of the Financial Times long-running Lombard column, was sacked by the editor (a Bilderberger) for refusing to erase references to the Bilderberg Group.
"To this day no one knows if this is its real name, since it goes to any lengths to avoid publicity... the goal of creating world government still seems to be its main driving force... In 1989 it was alleged to have plotted the political assassination of Margaret Thatcher because of her refusal to yield British sovereignty to the European superstate."
- The Guardian Oct 93
Wanna know more? Read `Bilderberg Group, The Global Manipulators' by Robert Eringer (Pentacle Books, 1980)
According to a UN report if the seven richest people put all their readies in a hat, the resultant dosh would be enough to eradicate world poverty
357 richest people in the world own same amount of wealth as the poorest half of the entire world population. David Harvey, Marxist Geography
The attendance register of 120 included an impressive collection of high-powered men:
Lord Carrington
Henry Kissinger
Malcolm Rifkind, U.K. Defence secretary
James Wolfensohn, President of the World Bank
David Rockefeller, Chairman of the Chase Manhattan Bank
William J Perry, U.S. Secretary of Defence
Andrew Knight, director of News Corporation
Martin Taylor, Chief Executive, Barclays Bank
Jean Chretien, Prime Minister of Canada
Ulrich Cartellieri, director of Deutche Bank
Stanley Fischer, Managing Director of the IMF
Morris Tabaksnlat, Chairman of Unilever
Alexander Trotman, Chairman of the Ford Motor Company
The list also includes several royal heads of state.
---
Conspiracy - Act of conspiring (in good or bad sense); combination for unlawful purpose; plot.
We may not be able to do anything about the global manipulators and their secret meetings, but you can put your four penn'orth in at these conferences:
Earth First! Gathering The most important direct action conference this year will be in bonny Scotland, and consists of a weeks workshops and training, running from Wednesday 9th July to Tuesday 15th. Come equipped for a week's camping in Scotland, i.e. shelter, warm and waterproof clothing and cutlery and a plate. Vegan organic food will be available, approx £2.50 a day, please bring £10 to cover the cost of the site. No dogs, journalists, or cameras, please. More details: 0113 262 9365
People's Summit on Food, Population and Finance Last summer the Mexican rural revolutionary army, the Zapatistas held the first Intercontinental Encounter for Humanity and Against Global Capitalism in the mountains of Chiapas. This year the conference will take place from July 26th to August 3rd. There will be discussions in smaller groups about building a network of groups and on different topics (land, labour, environment, gender, culture, etc.). More information: http://www.geocities.com/CapitolHill/3849/gatherdx.html (English)
Hillingdon hospital workers Sunday 13th July "Where do we go from here?" Sacked Hillingdon Hospital workers and Liverpool Dockers will be meeting at Hillingdon Civic Centre (8 minutes from Uxbridge Tube) 11am - 2pm
Ecotopia The European Youth For(est) Action's (EYFA) summer environmental university, which in 1997, will take place in August at Gowanbank, near Edinburgh.
Bikespotting an ecological biketour of the lowlands of Scotland and the north of England from Sun 20 July to the 3rd Aug. Contact: Bikespotting, c/o G/L 33 Afton St, Shawlands, GLASGOW, G41 3BT 0141 636-6084
---
Pigs arrested a chicken, a cow, a bucket and a table outside Portsmouth McDonalds' last week. Two women holding up a `McCrap' banner were also arrested under section 5 of the Public Order Act... for causing alarm and distress!
---
We're always mentioning the East Timor situation in SchNEWS, albeit briefly, but how many people know the full extent of British `Ethical' Foreign Policy? Well, here goes: Indonesia, the world's third most populous state and the largest purchaser of British weapons outside Europe, has occupied East Timor since invading in 1975. A third of the population has been killed by the occupying forces, the worst genocide as a proportion of population since the Nazi holocaust.
Despite supporting UN resolutions condemning the occupation, the British government has continued to licence the export of military equipment to Indonesia, British Aerospace having the biggest share including the Hawk aircraft (subject to a successful action by Ploughshares women last year), and submachine guns and assault rifles via its subsidiary company, Heckler & Koch.
PSI come second after BAe, providing armoured vehicles including the Tactica water cannon which is used by Indonesian police to spray demonstrators with a chemical mixture that burns the skin and eyes and an indelible purple dye to make it easier to round 'em up later. PSI's scumbag MD Nicholas Oliver, who claims to have been out "on patrol" in East Timor himself, boasts of having done £400 million worth of business in Indonesia in the last four years, with another £700 million worth "in the pipeline". He also claims to have received verbal assurances from Tony Blair that the export licenses "would not present a problem" for carin', sharin' New Labour, which phony Tony says he can't remember giving. Godalming-based Nitor Group are on the gravy train too. They supply the ULTIMA multimedia firearms training system which features a program training marksmen to shoot unarmed protesters.
Despite twenty years of torture and genocide, and in the face of overwhelming British-supplied firepower, the people of East Timor are still fighting to free their country. In the words of an East Timorese activist: "No amount of weapons or force of repression will be ever enough to subjugate a people forever."
If anyone is interested in doing something to help the people of East Timor, perhaps by helping to organise an activists' day out to a mystery location in the South of England, please call the Justice? office on 01273 685913. Alternatively, call PSI (01722 414004) or Nitor (01483 426299), and tell them what you think. For more info on the arms trade generally, or on specific companies, call Campaign Against the Arms Trade (0171 2810297).
A new peace camp has been set up outside Alvis, the Coventry firm that sells Scorpion tanks to Indonesia. If you're going past the M6 why not drop in on the Peace Camp, Alvis factory, Northview, Walsgrave, Coventry or give 'em a call on 01926 338805
---
Faslane Peace camp, established 15 years ago in protest against the Trident Nuclear Submarine Base in Helensburgh Scotland, is due to be evicted. The site, which has had 1090 arrests in those 15 years and has both national and international support, has had an eviction notice served for 28th July. The issue has arisen now because of a change in Scottish Local Authorities. Before April 1996, the camp had both a lease and planning permission from two different councils. Now the site comes under sole jurisdiction of Argyle and Bute Council - a strange political beast ruled by " independent" councillors (ehm...) who all vote together, as chums, in a solid block.
It is also interesting to note that behind the camp lies an expanse of MoD land for sale, up for grabs to any passing Multi-national. Wouldn't it be awful having a dirty protest site on their doorstep!!! Need lots of people, lots of support!!
Defend the Camp Gathering-16/17 July (just after Earth First Gathering)
Faslane Peace Camp, Shandon, Helensburgh, Scotland, G84 8NT
For more info call 01436 820901
---
Contrary to previous information, Project Work - the dole policy of coercing people into work by giving them nothing to live on if they refuse any old McJob- has not been abolished, merely given a poll tax style name change to Welfare to Work. But, in a rare burst of humanitarianism, New Labour have scrapped the forthcoming plans to extend the Housing Benefit restrictions to over 25's in October, and are apparently reviewing the mess already in place for the under-25's: in Brighton, 99% of landlords working with the Housing Trust won't deal with them. On the same tip, "New Labour - same old rip off?" Public meeting at the Prince Albert pub, Trafalgar street, Brighton. Wednesday July 9th @ 7pm
Check out the brilliant Do or Die 6 which has finally emerged, and is a bargain at £1.50. Write to Justice? for copies
The Ecologist's public outreach, research, campaigns and solidarity unit is moving offices, telephone numbers and email addresses. From 1 July, please direct to: THE CORNER HOUSE, Station Road, Sturminster Newton, Dorset DT10 1BB
Bingley Bypass - A third camp has been set up in Crossflats, on the route of proposed bypass around Bingley, West Yorkshire. They have three weeks before a decision is to be made as to whether the road is to go ahead or not. Lots of support needed. For more info: 0370 985 122
Lyminge Forest - After a meeting this week, its announced that Wank Rank want the land by September, causing a panic for those in the Forestry Commission (having to sell `cos they're skint) - Get down there NOW and cause even more of a panic. For more info, call Blue - 0410 536592
On Saturday 2nd August there will be a March Against Blood Sports. Meet noon, Reformers Tree, Hyde Park, London for March to Trafalgar Square. Benefit Gigs in the evening - details to be announced on the day
Bass Taverns have been given permission to convert an old shop into a pub in Brighton - so long as they give a little donation of £20000 to set up CCTV spy cameras on the street.
---
A bus driver taking 20 mental patients from the Zimbabwe capital city of Harare to Bulawayo Mental Hospital decided to stop for a few drinks at an illegal roadside liquor store. Upon his return he was shocked to discover that all the patients had escaped, and, desperate for a solution, he stopped at the next bus and offered free bus rides to several people. He then took them to the hospital, informing staff they were easily excitable! It took the medical personnel 3 days to uncover the foul play. The real patients are still at large.
---
After 7 street parties, 3 trips to Bosnia and 5 years in Europe, Desert Storm finally got their truck and rig confiscated...in Bristol! On the Sunday morning after the Britsol Summer Solstice Street Party cops pounced on the truck and arrested two people for `conspiracy to cause a public nuisance.' One of the crew told SchNEWS "They got everything." Keep yer ear to the ground for details of benefit gigs and dig deep, the 'ardcore crew deserve your support.
Bristol Summer Solstice Reclaim The Streets are appealing for witnesses of the police led violence on the day: 0117 9393093
---
Did you ever get the feeling that conspiracists were just some of the wackier activists you know? Well, judging by this advice from the organisers of the Copex Arms Exhibition to potential exhibitors... maybe not.
`Protesters' are hardened political activists, well trained and funded and looking to cause as much confrontation with authority as possible on the one hand and inflict as much economic damage as possible on the other... Increasingly their funding and training is attracting support from Russian organised crime ... The protesters we deal with generally target their appeals to middle class sources; often aged, widowed ladies, who are duped into thinking they are alleviating inhuman practices and the scourge of war. They are, in fact, funding left wing political extremists whose goal is to destabilise the country and discredit the rule of law... Remember, these are professional protesters; the protest industry are mainly anarchists, they just put on different hats to confront authority and the status quo... Any cause will do!"
Well now you know, eh? . If you are as impressed by COPEX's logic as we were, you might like to get in touch at the following locations.
Copex, 33A Church Road, Watford, Herts, WD 3PY. Tel 01923 819301. Fax 01923 818924.
Email: copex@delphi.com. Web: http://www.demon.co.uk/copex.
A mass blockade of the Royal Navy & British Army Equipment Exhibition at Farnborough Airfield will take place on 9am, on Mon, Sept 1st.
---
Never sublet your bedroom to a horde of shadowy men with enormous wallets. You cannot, because they do not exist, never have existed and therefore cannot kill off Schnews for talking about th....aaarrghhh!!!!!
---
No SchNEWS next week, see you all at the EF! Gathering
URGENT APPEAL FOR MAIL OUT CREW! Brighton based lickers, stickers and folders desperately needed.

Subscribe to SchNEWS: Send us first class stamps (e.g. 20 for the next 20 issues) or donations (cheques payable to "Justice?"). Or £15 for a year's subscription, or the SchNEWS supporter's rate, £1 a week. Ask for "original" if you plan to copy and distribute. SchNEWS is post-free to prisoners. You can also pick SchNEWS up at the Brighton Peace and Environment Centre at 43 Gardner Street, Brighton.
SchNEWS, PO Box 2600, Brighton, BN2 2DX, England
Phone/Fax (call before faxing): 01273 685913
Email: schnews@brighton.co.uk Web: http://www.cbuzz.co.uk/SchNEWS/
---
Last updated 25 July 1997
@nti copyright - information for action - copy and distribute! SchNEWS Web Team (schnews-web@brighton.co.uk)