Home | This Week | Update | Archive | Diary | Database
---
Previous | SchNEWS 124 | Next | Index | PDF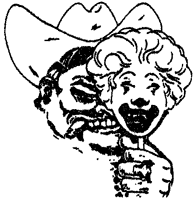 WAKE UP! WAKE UP! IT'S YER LIBELOUS...

Published in Brighton by Justice? - Brighton's Direct Action collective
Issue 124, Friday 20th June 1997
"There is no higher good than dealing fairly and decently with your fellow beings."
- Thoreau
GUILTY! Of paying its workers low wages and helping to depress workers wages in the catering trade in Britain.
GUILTY! Of cruelty to animals, in particular the restriction of movement of battery hens, broiler chickens and sows before their deaths; and incidence of chickens being fully conscious when they come to have their throats slit at slaughter.
GUILTY! Of producing foods that are high in fat and salt, and low in fibre, and promoting foods that, eaten in quantity, are likely to incur the very real risk of heart disease.
GUILTY! Of targeting advertising specifically at children in an attempt to harness the `pester power' factor in a bid to bring in more custom.
"We'll only stop giving out leaflets when they agree to stop forcing their views down our throats with their advertising"
- Dave Morris
On Thursday 19th June at 10:30, Mr. Justice Bell began his personal summing up of the McLibel trial, almost three years since the whole saga began. He played to a packed courtroom of over 100 journalists, witnesses and legal experts, and took almost two hours to deliver his verdict, reading from a document over 1,000 pages long. More protesters and followers of the case lined the external corridor, waiting with bated breath for the final verdict.
Helen Steel and Dave Morris have spent 314 days (three times the length of the previous longest libel trial) fighting a libel case brought by McDonald's who accused the pair of seven charges of defamation, based on a 1987 leaflet `What's Wrong With McDonald's'. The original leaflet was split into seven categories: McDollars, McGreedy, McCancer, McMurder, McRipoff, McTorture and McGarbage - and accused McDonald's of underpaying staff, cruelty to animals, exploiting developing countries, corrupting children, destroying rainforests and producing food of inadequate nutrition.
"Libel cases are brought to censor and silence the `truth'. The fact that we've gone through three years of the case, and come out the other end, maintaining distribution of the leaflet, launching the McSpotlight web site and seen the growth of the campaign means we have won! The real court is the court of public opinion, and we won't accept the stifling of our voices. The public are the jury in this case."
- Dave Morris
A full two hours later, the court room cleared and Helen and Dave were greeted with cheers from the soggy masses assembled outside the Royal Courts of Justice.
Although the verdict represents a major victory for the McLibel 2, they didn't win on all counts and have been stung with a wackin' £60,000 worth of damages to pay to McDonald's.
SchNEWS asked Dave how the two intended to pay the costs. "Oh, we don't" he smiled. Helen responded "We're not going to pay the damages, McDonald's don't deserve a penny of it, and we haven't got any money anyway!"
The real victory lies in the fact that two low waged individuals refused to back down from the bully boy tactics of this $30billion corporation, and continued the fight until the end, without legal aid or the help of a jury. They both went into the trial, totally ignorant in the whys and wherefores of the legal system, and came out the other side. And they won two of the charges outright, and partly won two other charges. Much of the judgements relied on legal interpretations of the leaflet. They only lost on legal technicalities and points of law, all the evidence brought into the court was found in favour of Helen and Dave.
McDonald's attempts to silence their critics has been a huge public relations disaster, and now there is more information available on McDonald's than ever before. Over two million leaflets have been distributed since it was first published in 1987, and the excellent McSpotlight website is home to 500 megabytes of information (That's 500 floppy disks!) and has been visited by 13 million readers since it went on line
The UK libel laws favour the rich , and this case was particularly oppressive and unfair to Steel and Morris. The two intend to take their case to the European Court of Human Rights, in order to overturn the decision and to attempt to get a ruling that multi-national corporations shouldn't have recourse to libel laws in cases such as this. Only the rich and powerful have access to the libel laws because of the excessive costs involved.
"We must continue to defend the public's right to voice attack on multi-national corporations"
- Charles Secrett, Friends of the Earth
A national day of action is planned to occur all around the country at different McDonalds restaurants this Saturday. Over 500 stores throughout the country look set to be picketed by protesters, between them distributing another 400,000 or so `What's Wrong With McDonalds' Leaflets
Fun and games are anticipated in Brighton. Meet 11am onwards at the London Rd McDonalds.
Read John Vidal's book `McLibel: Burger Culture on Trial' - order from your local library.
John and Maureen Hopkins are campaigning to reopen the inquiry into their sons electrocution while at work in a McDonald's store. Mark Hopkins died on October 12th, 1992, and every year this date is marked by an International Day of Solidarity with McDonald's workers. During the trial, the Hopkins' found out that McDonald's were at fault on 15 separate counts.
McLibel Support Campaign, 5 Caledonian Road, London N1 9DX 0171 713 1269.
McSpotlight: http://www.mcspotlight.org/
---
"It seems that perhaps a quarter of Amsterdam has been sealed off for the duration behind metal-mesh screens, guarded by bored police...Beyond the screens, real life goes on. Local residents are just about allowed to filter through to their front doors, and the odd roller-bladder scoots by. They watch us, and we watch them, as if at some European safari park. This is the Peoples Europe 1997, the latest attempt to bring the EU closer to its citizens."
- Stephen Bates, The Guardian
Forget Tony Blair winning the bike race here's a few stories about Amsterdam the media haven't told you about...
About 50,000 people from all different European countries turn out for a March for Social Justice.
A couple of thousand Italians do a mass `train-bunk' and head for Amsterdam. On arriving the Dutch police won't allow anyone to leave the station and arrest 200 people for allegedly damaging a couple of carriages. In protest people occupy one of the main road junctions outside the station. Police with batons drawn, attempt to clear the road and later in the evening the Italians are all deported. At one point their train is stopped in the middle of nowhere in Germany and all the windows blacked. The German and Dutch police authorities apparently wanted the Italian police to guarantee to arrest them all when they got back to their country - but the Italian authorities refused!
12 pm Amsterdam railway station - time for a street party. Four soundsystems head for Visserplein Square and began to party. However, the people with the systems strike a deal with the cops and shortly move to the warehouse where a free party organised by the LegaliZE campaign had been the night before...
Sex riot - a media stunt consisting of a few people dressing up in extremely outrageous gear with sex toys strapped to their heads and bodies respond to the Mayor of Amsterdam's comments that this is `a great cultural city not simply about sex and drugs.'
350 people leave a squatted punk bar to march towards the police station to demand release of people nicked on the previous nights. Police suddenly seal off the whole area and over a three hour period quick-cuff and arrest everyone under Article 140. This states that the police are allowed to arrest someone they believe to be a member of a criminal organisation if they suspect that organisation of planning criminal activity - giving them powers to hold those nicked for 3 days. Over a hundred refuse food and water at protest at being detained.
About a thousand people demonstrate outside a refugee prison in the outskirts of Amsterdam. Tennis balls were thrown into the compound with messages of support taped to them.
10,000 Kurdish people in central Amsterdam protest against Turkey joining the EC.
Evening time and quite a number of people go round various hotels in which European heads of states are staying. About a hundred people are nicked for going into a restricted area.
Police ban a demonstration aimed at disrupting the final day of the summit where the EU leaders present their new `Amsterdam Treaty'.
International protest in solidarity with all those arrested. In London, activist broke into the Dutch embassy and got as far as the roof before being asked politely to leave by armed diplomatic police! The clever Met decide to hassle a load of Dutch tourists queuing up to get visas, thinking they are part of the demo
For a fuller account send SAE to Brighton Autonomists c/o Prior House, 6 Tilbury Place, Brighton or check out http://jefferson.village.Virginia.EDU/-spoons/aut_html/auf1edit.htm .
---
It gets more bizarre - Monsanto has discovered a gene that will turn cotton blue! Meanwhile the backlash against genetic engineering continues - in Germany four fields are being squatted to prevent the planting of genetically modified seeds - while another field of mutant spuds got trashed in Quedlingburg earlier this month.
For any would be mutant mashers the idea of squatting the fields is simple- get there before the seeds are planted and stay until it is too late in the year to sow the seed. This sort of activity is on the increase and some fields in Germany are now under permanent police protection!
New - Genetix Update newsletter SAE to PO Box 9656, London, N4 4NL Tel 0181 374 9516 or visist the Super Heroes Against Genetics website at www.envirolink.org/orgs/shag/action.html
---
A small tree village has been set up to protect a badger set in the Gelli forest, Crafnant Valley in North Wales. The forest consists of 50 year old cash crop coniferous trees with a splattering of broad leaf, and is currently being felled. `Forest Enterprise' the company carrying out the clearance aren't popular - earlier this year they caused flooding by putting in an access road. Ring 01492 876483 if you wanna help
The new Squall is brilliant, get it while it's hot! £1.80 from PO Box 8959 London N19 5HW or hassle your local independent book shop to stock it
The alternative mag Frontline has folded. Can you help them get back on their feet? What they really, really want is a spankin' new editor. Call 0973 328648
A wee note from our Bracknell correspondent, who reliably informs us that an advert shown during a recent programme about global warning encouraged viewers, "Fed up with sitting in the smoke in traffic jams? Buy a Vauxhall Vectra with air conditioning"...despite air conditioning using 27% more energy in traffic. Mr Geezer from Bracknell tells us you can ring them on 0345 400800 "and tell them they are an arse!"
The government organised `Car Free Day' flopped badly as motorways and town centres were actually more congested with cars than usual - thanks in part to the `work-to-rule' by train workers union ASLEF
Senior executives of the privatised utilities who have benefited from `fat cat' bonuses were last week warned by police to increase their personal security after a firebomber attacked the home of Sir Desmond Pitcher. The bomber rang the Manchester Evening News and warned "all of the fat cats are terrorist targets."
---
On Monday - after 17 days underground at the site of the proposed second runway at Manchester airport, Matt emerged from the cakehole tunnel - and claimed his stake in the Book of Records. However, the protests continue. On Wednesday, activists were at a posh annual dinner to ask Geoff Muirhead, the chief exec of Manchester Airport to ask why work has already started despite the fact that the European Commission still has not cleared the legality of funding of the second runway. The Coalition Against Runway 2 told SchNEWS "the camps may have been evicted but the campaign against the runway continues". Contact them on 0161 834 8221.
---
Activists who were all set to move into Sherwood and do battle with the Sheriff of Nottingham, after reports that a theme park was to be built, will be happy to know that the gossip may have been exaggerated. Developer Mike Mills has had permission refused for him to build a tacky stone castle and 111 chalets in some woodland that isn't part of Sherwood Forest. So afraid that he might overrun by enthusiastic protesters, he has offered to take people down to the site to prove his plans are alright - and that if he ever got permission he'd plant 8000 deciduous trees just to prove he's a nice guy!
---
The Animals Contact Directory 1997/8 is out. An essential guide listing 6,000 entries covering every aspect of animal rights and welfare. Copies are £4 from Veggies Catering Campaign, 180 Mansfield Road, Nottingham, NG1 3HW.
---
The tale of the travellers at Horsdean, Brighton gets stranger. First, SchNEWS sat in disbelief in court last week as the judge talked of the `nightmare of the law' and the fact that he'd known travellers for years and years and "they are wonderful people." Telling us `crafty co-operation is better then confrontation' he still gave travellers 4 weeks to get out of town but in the meantime to talk to the council"But" spluttered the solicitor representing Brighton and Hove "our traveller liaison officers are scared of travellers."
Come again? What next SchNEWS asks - a nurse scared of blood, a vet frightened of animals? Perhaps the council should have employed the one traveller who went for the job of liaison officer. He was turned down - because he didn't live in a house! Then a fax arrives at our office where the leader of thr Council and ex-squatter Bassam, who a week earlier had barked he would be "driving the travellers out of town. The policy of tolerating them has finished" - now talks about "looking for a spirit of co-operation from the travellers...The judge has dealt with the case in a humane and thoughtful manner.." Just like you have Councillor Bassam.
The Horsdean crew now plan to go to judicial review...watch this space.
---
SchNEWS warns all readers never to say nasty things about huge multinational companies who pretend to be our friends. Smile with Ronald as you fill your face with endless burger-bullshit. Then you will feel sick. Honest.
---
What's dreary, 36, ginger and balding and will annoy us with its whining till a Portaloo takes its place at the earliest chance possible?

Subscribe to SchNEWS: Send us first class stamps (e.g. 20 for the next 20 issues) or donations (cheques payable to "Justice?"). Or £15 for a year's subscription, or the SchNEWS supporter's rate, £1 a week. Ask for "original" if you plan to copy and distribute. SchNEWS is post-free to prisoners. You can also pick SchNEWS up at the Brighton Peace and Environment Centre at 43 Gardner Street, Brighton.
SchNEWS, PO Box 2600, Brighton, BN2 2DX, England
Phone/Fax (call before faxing): 01273 685913
Email: schnews@brighton.co.uk Web: http://www.cbuzz.co.uk/SchNEWS/
---
Last updated 25 July 1997
@nti copyright - information for action - copy and distribute! SchNEWS Web Team (schnews-web@brighton.co.uk)