Home | This Week | Update | Archive | Diary | Database
---
Previous | SchNEWS 123 | Next | Index | PDF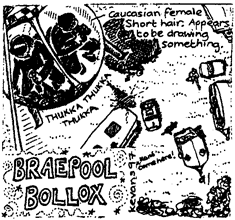 WAKE UP! WAKE UP! IT'S YER OUT OF SITE...

Published in Brighton by Justice? - Brighton's Direct Action collective
Issue 123, Friday 13th June 1997
Justice? open meeting - Mon 16th @ The Albert, Trafalgar Street, 7.30pm -SAINSBURY'S DEVELOPMENT
This is Brighton & Hove Council's emergency shop-a-traveller hotline. We are supposed to ring it if we spot any nomadic undesirables on our patch, so that the Council can send in the Special Harassment and Intimidation Taskforce. Under no circumstances should SchNEWS readers ring this number and give the Council false or misleading information, as this would make the hotline completely unworkable.
"You're talking about real people, our lives are just like yours, we just happen to live on wheels."
- Linda, Patcham traveller
Two hundred travellers are to be "driven out of town" in a knee-jerk `get tough' move by Brighton & Hove Council designed to send a New Labour zero tolerance message across the country.
Until last May Bank holiday, Sussex had been the only county in the UK with a `toleration' policy for travellers, providing water, sanitation and rubbish removal. But now an eviction order is to be heard in court this Monday, rubber-stamping the U-turn in a move denounced as "racist .. with echoes of ethnic cleansing" by Green Cllr Pete West. If any other minority group were treated in this way it would be condemned as fascistic, which in fact it is. The eviction is expected a week later (19th June).
Leader of the Council (and ex-squatter) Steve Bassam decided enough was enough after a two-day party in Horsdean site, near Patcham. Bassam announced the end the practice of tolerated sites and would lobby the new Labour government to change the law and find a permanent solution to the `problems' of travellers. "Frankly..." he said,"...Brighton needs a break." Frankly, after hundreds of years of persecution, travelling people need a break.
In September 1995, a High Court judge upheld a case involving travellers at Crowborough, East Sussex and called the CJA `Draconian' and "unlawful". He said housing and child care had to be taken into account before evictions could proceed. Thirty children live at Braepool, yet the Council have simply issued a statement saying travellers "with a proven local connection and who are genuinely homeless will be offered welfare, housing and educational advice." What an option! Lose yer home and get some advice... but only if you have some `local connection'. Needless to say, many people don't intend to take this lying down.
"We have a great deal to lose - jobs, children's schooling, access to courses in the town and medical care are all jeopardised. We have every reason to maintain positive links with the area."
- Traveller's statement
Despite publicly supporting the Department of the Environment guidance stating travellers should not be "forcibly evicted if any nuisance can be controlled by other means", in private the Council are clearly determined to evict and make Sussex a traveller-free zone. They have even set up an emergency line if anyone spots one. In a circular to all councillors, Chris Whitwell - Assistant Director of Environmental Services - told members to keep their eyes peeled. "It may be that you will be notified by your constituents that travellers have moved into your Ward, in which case the appropriate action would be to ring the Council's emergency number." The police will do the rest.
Brighton's policy of tolerance for the past two years has meant that if travellers found an out-of-the-way site and caused minimal nuisance, they would be left alone. However, thanks to the Criminal Justice Act's anti-traveller measures, Brighton has become a magnet for the travelling community - with anything upwards of 100 vehicles parked up on the edge of town sites. Yet more than two years ago the travellers told the Council that small sites were the only viable way forward. That advice was disregarded and large sites allowed to develop. Now they are to be hounded out of town as a result.
Steve Bassam once wrote to Justice? and said there needed to be "a campaign of rage against the CJA". Now he sings a very different tune - one which is most discordant with his past as a squatter. Where he once saw diversity as a virtue, now it is an eye sore and an impediment to a future of squeaky-clean New Labour rigid conformity. Susan Hannis from Brighton Friends, Families and Travellers (BFFT) said: "This is a medieval approach which will not solve anything. You don't evict a whole estate because one person had a noisy party." There have only been three parties on sites in two and a half years.
Bassam has told travellers there will be no eviction without liaison with police but the only communication so far has been legal documents pinned to a board. Hundreds of riot cops have been on the hill, and helicopters fly over the site.
The eviction of the travellers has wider implications- not least because it'll be a test case for New Labour. Twelve vehicles, who left the Horsdean site for some peace and quiet, have been given their Criminal Justice Act marching orders three times in the past two weeks - each time videoed and documented by police. One traveller - Whitney - attempted to run his vehicle through a road block. It was impounded for three months, and he's being charged £100 a day for the police to look after it. Nice!
"The vast majority of people on the site had no prior knowledge of the party or involvement with it. The sound systems which came onto the site were not Travellers, nor were the people who attended the party. We did not want this invasion - 99% were strangers who treated the travellers and the site with utter disrespect...The people who wanted the party at the weekend are now safely back in their homes, whilst we as a community are left to pick up the pieces and their rubbish."
- Statement by Braepool (Horsdean) travellers
75% of the land is owned by 1% of the people - The Land Is Ours
It is estimated that there are 210,000 acres of derelict land alone in Britain - The Royal Society for Nature Conservation
---
The verdict is almost upon us!! The McLibel team are 90% certain that the verdict they have been waiting so long for will be given on Thursday 19th June; failing that, it will definitely be either Weds. 18th or Fri 20th - which means that the international Victory Day of Action IS CONFIRMED for Saturday 21st. This means that it's your last-minute chance to adopt-a-store for the day. Over 500 stores - more than two thirds of all UK McDonald's - have already been adopted. Let's make it a full house! McLibel: 0171 713 1269 (London) or 0115 958 5666 (nationwide).
---
According to an UN report, if the 7 richest people in the world put all their readies in a hat, the resultant dosh would be enough to eradicate world poverty...and buy us impoverished SchNEWS scribes a beer or two...
A pilot scheme by the British Waterways Board plans to charge cyclists using the Avon and Kennet canal towpath £12 a year. A mass trespass is being organised for July 12th, contact Stop The Cycle Charge Campaign 0181 960 3785
SchNEWS have submitted a proposal to make a pilot for a 2 hour TV show for the Channel 4 slot on Saturdays at midnight. Would you like to see this happen? If so, then ring 0171 396 4444 and lobby on our behalf (nicely!). Mention `SchNEWS TV' in relation to the Open Tender for the Talks Pilot. Cheers!
BBC show, `Private Investigations', is searching for issues and ideas for future programmes (but be quick!). You got the story? They make the programme: 0181 752 5005
The Brighton `CCTV Three', arrested last month on actions against those catastrophic cameras, have had their charges dropped by Sussex Police. The three were said to be relieved. Randy Sandy, their inflatable fellow activist, was unavailable for comment.
Holtsfield update - despite the Holtsfield residents' success in overturning an eviction ruling by the incumbent landlord (see SchNEWS 118), he has served notice to quit on the weaker cases, and there are still 3 chalets under threat. Get on the phone tree: 01792 232643
New organic vegetable supplier opens in Brighton on Tues 17th June. "Worth Eating" will be selling reasonably priced chemical-free food from the old Harvest Forestry building on New England Rd. Tues-Sat 8am-6pm. Also check out Organic Roundabout for door to door delivery: 01273 707001
Brighton Dance Parade is all set for July 12th, but need stewards. Can you help? Call 01273 704600 or meet at the Richmond on Monday 16th
Hurray! to author Richard Mabey (Food For Free) who has won best landowner of the year for his management of woodland which involves the community. Boo! to The Queen who was voted the country's worst landowner as she continues to claim immunity from the Wildlife and Countryside Act, and evicted the Scottish Wildlife Trust from a 2570 hectare nature reserve in 1992
Over 400 readers now get SchNEWS by email each week. Subscribe by emailing to: schnews@brighton.co.uk
SchNEWSnight on 14th June at The Sanctuary, £1 B4 8:30pm/ £2 if yer late!
Do us a favour! If you wing off to a festy this year, grab a handful of SchNEWS' and let the world know we're here...and we're not going away. Call 685913
---
SchNEWS reader Al Baker, who squatted the Brent Spar (twice) and evaded crack French commandos in Mururoa against nuclear testing, has found a new home ... a rock in the North Atlantic! Al, our favourite builder from Lewes, is holed up in a survival capsule with two others on Rockall, an isolated speck of land 300 miles off the west coast of Scotland. Why? Greenpeace, who are behind the action, said: "We have asked the UK Government to stop oil exploration in the Atlantic Frontier region and when they do they can have their rock back." Al, who we can exclusively reveal had Pollok (a fish) for his tea last night, says: "By seizing Rockall we claim her seas for the planet and all its peoples. No one has the right to unleash this oil into our threatened climate." It is said that more people have landed on the moon than on Rockall. So SchNEWS says: Al we need a tad more than a stamp donation to keep on helicoptering over your subscription. Please send more dosh. Over. Oh, and good luck!
---
Things are really kickin' off in Sidmouth, Devon, where an oak tree is depositing sap and leaves all over someone's garden . Disgraceful! So it's just as well that Sidmouth Town Council swung into action to cut off the offending limbs. However, ex-Raving Loony Green Giant Peoples Party councillor and tree surgeon Hawk, deciding the amputation would affect the natural balance of the tree, set up perhaps one of the smallest tree camps ever. He told SchNEWS, "How would you like it if someone cut your limbs off ?" However, local residents weren't happy and took some of their own direct action by setting fire to the tree house and badly scorching the tree. Hawk was later arrested for allegedly threatening to cause damage to a nearby house.
Latest news is that our avenging arboreaculturalist went to court on Tuesday for committal; the case is being sought against him whilst the unidentified arsonist remains unpursued. This has led the bough- befriender to accuse Devon and Cornwall Constabulary of "corruption and conspiracy". The tree refused to comment.
---
8am Friday: Matt's been down the Cakehole tunnel at Manchester Airport for TWO WEEKS! Muppet Dave came out on Wednesday after a 12 days internment, following mother-to-be Denise who came out after ten days. Down is clearly the way up! Many airport protesters have now landed at Lyminge Forest, where seven camps - growing daily - have been set up to rankle Rank who wanna build a massive artificial holiday park to replace the lovely ancient old one. Stop the chop and get digging down the `Minge! 01227 261057/01303 265737. Bring Tarps! NB. Mind out for the New Kenny Beer Garden (Site Bastards) Extended Licence Camp. "I've got a really clear head being here - except when I'm pissed!" said `one regular'.
---
Three people charged with conspiracy to cause criminal damage at Whatley Quarry have had their trial delayed until July 22nd. Richard Dixon (ex-Lib Dem councillor for E. Mendip) had all the paperwork to the quarry protests nicked in a house raid, delaying his quest to get a High Court injunction to stop the quarry extension. He lost, but an important legal precedent was set - `cos he was accepted as a "suitable person" to challenge the quarry, an honour usually extended only to close neighbours to such sites. Whatley is just the tip of the Mendips iceberg as far as quarrying goes. If plans for the Bulls Green Link Road go through, it'll provide the perfect route for lorries carrying stone for road projects, allowing other quarries in the area to expand. As there's only a remote chance that financing will stumble, it looks like there's only one way to stop it. More details: The Somerset Activist, PO Box 426, Bath, Avon BA1 2ZD.
---
Last Sunday, a genetically engineered spuds site near Cambridge was successfully trashed by activists holding an impromptu cricket match! Work at the site, one of the many small test sites scattered around the country, has been set back by about a year.
---
HE'S BACK!: He may be de-selected but he sure ain't dead: yes, the Portillo rides again. Those watching items about the Tory leadership contest on ITN news last Tues were no doubt gratified to have such insipid fare spiced up by a troupe of comedy Spaniards, replete with sombreros and ponchos, who disrupted the live reports with upbeat fiesta music and a selection of placards reading "Portillo 4 El Presidente" and "Portillo, he kick your ass". Rumours had it that disaffected Young Conservatives were to blame, but it turns out that a comedy cable TV network were responsible, because they "liked the idea of being able to represent someone who is not even eligible to stand." Elsewhere, distraught fans of the ousted Führer of Enfield, have resorted to leaving messages in the pigeonhole of Stephen Twigg, the Labour MP who defeated him. "Do you realise what you've done to the Tory party and, ultimately, to British democracy?" they whine... And finally, best wishes to Michael Howard who's had a really top week. First of all he discovered was about as popular as er... Michael Howard in the Tory leadership election. Then, on Thurs the House of Lords found him guilty of giving too severe a sentence to the killers of James Bulger. SchNEWS wondered how many times he's been found guilty of things, but now it doesn't really matter. Nice one Mickey, you psychopathic has-been, perhaps we'll see you slopping out on the new prison ship now your mantle of power`s gone. Generally, it's nice to see that all is well in that fringe pressure group talking shop that is the Conservative Party.
---

Subscribe to SchNEWS: Send us first class stamps (e.g. 20 for the next 20 issues) or donations (cheques payable to "Justice?"). Or £15 for a year's subscription, or the SchNEWS supporter's rate, £1 a week. Ask for "original" if you plan to copy and distribute. SchNEWS is post-free to prisoners. You can also pick SchNEWS up at the Brighton Peace and Environment Centre at 43 Gardner Street, Brighton.
SchNEWS, PO Box 2600, Brighton, BN2 2DX, England
Phone/Fax (call before faxing): 01273 685913
Email: schnews@brighton.co.uk Web: http://www.cbuzz.co.uk/SchNEWS/
---
Last updated 20 June 1997
@nti copyright - information for action - copy and distribute! SchNEWS Web Team (schnews-web@brighton.co.uk)