Home | This Week | Update | Archive | Diary | Database
---
Previous | SchNEWS 128 | Next | Index | PDF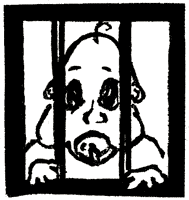 WAKE UP! WAKE UP! IT'S YER GA GA.......

Published in Brighton by Justice? - Brighton's Direct Action collective
Issue 128, Friday 1st August 1997
FOREST GARDEN & WILDLIFE PROJECT OPEN DAY BEHIND MOULESCOMB STATION 1PM ALL WELCOME
As Tarmac starts building Britian's first childrens prison in Kent, SchNEWS says
'PICK ON SOMEONE YOUR OWN SIZE, JACK!'
Children's prisons for 12 to 14 year olds, one of the most horrific provisions of the Criminal Justice Act and the only part of the Act that Michael Howard was unable to implement, have been given the go ahead by Home Secretary Jack Straw. In a complete about turn, Tarmac have started building the first of these prisons at Cookham Wood in Kent.

Tony 'say-what-you-mean-and-mean-what-you-say' Blair, speaking before the election, described the idea of these prisons as 'short-sighted beyond belief'. Now New Labour has decided it wants to build them after all. If they are stopped, it will be a real kick in the teeth for the get-nasty politics that New Labour seems so keen on shoving down our throats at every opportunity.

The prisons are to be run by those well known experts in helping disturbed children, Group 4. In the last few days of the Tory government, Michael Howard rushed through enormously lucrative contracts with Tarmac and Group 4 to build and run the prisons (keep an eye out for any well-paid directorships coming Micky's way in a few years time).

Labour could easily have told Group 4 where to go with their contract, especially given how much prison work Group 4 are after from the government, but no. Instead, Jack Straw wants to spend an estimated £4-5,000 per week per child running barbaric regimes that will be totally ineffective in reducing crime.

Children locked up in these prisons will not even have the protection, little as it is in practice, that children kept in local authority care have. The Children Act - which gives children in care rights to visits, phone calls, access to independent inspectors and so on - will not apply to the STCs.

Fran Russell of the Howard League for Penal Reform told SchNews, "These child jails, apart from being repugnant, will simply not work. Putting vulnerable, disturbed children hundreds of miles from their families and communities is no way to get children to stop offending. The only similar place for children in this age range in the UK is at Lisnevin in Northern Ireland and the reoffending rate there is 100%. "The whole point of these jails is to demonise children, to make out that small children are a threat to society who need to be banished as far away as possible. Inevitably, there will be bullying, self-harming and suicides in these institutions and the children will come out more likely to offend than when they went in. We hoped we'd got over all this when Michael Howard went - but this Home Secretary seems just as keen as his predecessor to portray children as evil and dangerous."

There are plans to build five Secure Training Centres across the country. Apart from Cookham Wood (which, incidentally, is located in the small town of Borstal, which gave its name to locking up kids years ago) they want to build them in Onley in Northamptonshire, Medomsley in Co. Durham, Gringley-on-the-Hill in Nottinghamshire and at another at an as yet undisclosed location. The discerning eye may notice that these are not exactly large cities, where the children are expected to come from. No - they are, in fact, miles from anywhere.

Given that maintaining family connections is probably the most important thing for any child in care or custody one could ask - what's going on? A fair question if you believed that building these mini-Strangeways had anything to do with helping kids or even stopping crime. But, of course, they don't - it's all about acting tough to win over middle England's hearts and votes. And if a few kids get brutalised, abused and set on a life of crime as a result - well, that's a price any New Labour politician would find well worth paying.

Already there has been a successful local campaign to hold up the building of one of these prisons, at Gringley-on-the-Hill. Tom Crowther of the campaign told SchNews, "To be honest, it started off because we didn't want one in our village. But the more we got into it we went from not wanting one here to not wanting any at all. Our village has a population of 400 and one bus a day. They're expecting to sent kids to us from Liverpool, which is 100 miles away, and from Birmingham, which is five hours away by public transport. It just doesn't make sense - how are mothers with other kids going to be able to visit their children in these places? You have to wonder what it's all about." The campaign at Gringley has led to planning permission being refused and a public enquiry being set up.

Michael Howard tried for years to get children's prisons built - and failed. New Labour act as if they can get away with anything at the moment, from 'ethically' selling Indonesia Hawk jets to finally abolishing free higher education. Now they want to lock up kids hundreds of miles from their homes just to show how 'tough on crime' they are. There is no reason why they should be allowed to succeed.
Sat 2nd August - Brighton Anarchist Black Cross benefit Spithead + Eastfield + The Informers + No Legs 8-11 pm £2.50 @ Free Butt, Albion St.,
Brighton Prisoner Justice Day Sunday 10th August- "a day to rememeber the thousands of ordinary people who have died in prisons as well as showing our solidarity with all those enduring and resisting the prison system." On the Saturday (9th Aug) Brighton ABC are organising a demo outside Lewes Prison @ 10 am.Also Justice? Meeting Aug 4th @ The Hobgoblin, London Rd, 'Prisons and prisoners do we need them?' 7.30 pm Sharp
---
Crap Arrest Of The Week
A London Animal Rights activist was recently nicked while protesting outside a gun shop for possession of an 'offensive weapon' - yes, you've guessed it - a dreaded bicycle lock! He was eventually released without charge.
For skateboarding! Two men were nicked for the heinous crime of skating along a path at Derby's Market Place Square. One of them received an £80 fine and the other is still awaiting trial.
(not quite, but nearly) A girl picking up litter at a free party by Krunch sound system in Cambridgeshire was threatened with arrest if she carried on clearing up the rubbish!
---
Hasta La Vista Zapatista
(Not really... We just said this cos it rhymes) ...
"The voices and words are like many springs of life, water in a world being scorched by greed, cruelty and neo-liberalism. We have begun to dig the channels for the water to flow amongst themselves so it may reach all corners of the planet." - Zernep, Turkey
In the killer heat, amongst the giant mosquitoes of El Indiano, the conference in a squatted farm begins. Meanwhile in a Spanish bullring, two masked Mexicans take to the stage. In an intoxicating atmosphere, these representatives of the Zapatista rebel army are given an ecstatic welcome. This is Plaza de Toros, in a rundown district of Madrid, and the inauguration ceremony of the Second Intergalactic Encuentro for Humanity and Against Neo-Liberalism (!). More than 3,000 people have travelled from over 60 countries for nine days across Spain to create a 'network of resistance'.
The sheer scale and concept of this remarkable conference is difficult to describe. With such a multilingual gathering of tribes, translation itself is a key problem. But, it is said, "we speak many languages, but ours is the language of Utopia". It is a gathering of people "who dared to dream"- an open, embracing encounter for the oppressed people of the world. And the oppressed people of the world are having one helluva Fiesta!" We are here to discuss how the current economic policies are affecting our everyday lives all over the world," says Lucia, eyes twinkling above the red scarf disguising her identity. "We need to find a way of creating a global network of organisations that have the power to resist these economic polices."
The Zapatista Army of National Liberation (EZLN) came out of the jungle on New Year's Day 1994 to occupy six towns in Mexico, taking their name from the unfinished revolution of 1910 led by Emile Zapata, and inspiring those fighting for a better world. Or as Andrew from Ireland told SchNEWS "It came after the fall of Communism, the Gulf War and general feeling of helplessness. This was a new struggle. It become a focus of the left as a successful movement, free from labels such as Marxist."
This Encuentro is unparalleled. Like a global DiY conference, there is no top-down organisational structure and the people are from poor, unfunded groups. "This movement is about hope," says Lucia. "In this world hope has gone down, down, down....but now our heart exists and we are gonna get together and empower ourselves and go to the streets and say to everybody we exist." The South American Movimento Sem Terra (the landless Brazilians) are here. So too are 120 Mexicans, who have raised the equivalent of three months wages each to fly in, and twenty-five indigenous people, who have had their flights paid from Colombia, Chile and Argentina. Squats, schools and sports halls accommodate the masses in a staggering feat of hectic organisation.
The Encuentro has also been swamped by 800 activists from Italy, adding a dash of style and techno know-how. "The Zapatistas have given a shake to the revitalised left in Italy," explains Maloop from the Centro Sociale Occupato Autogestito Forte Prenestino (got that?). In June, four thousand Italians had descended on Milan train station and demanded transport to join the march against the Euro Summit in Amsterdam. After eight hours of deadlock they got their way. He adds, "After this we are very strong." This is a gathering conducted in a truly epic style. From the first meeting place in Madrid, the participants were spread liberally around the Spanish state. Six tables, or sub-conferences, were arranged by theme and situated as far apart as El Indian on the South coast to Barcelona in the east coast. In something as ambitiously broad and all-encompassing as a gathering "against neo-liberalism", the descriptions of the various themes give concrete focus for discussion. Culture, education, information, land rights, ecology, labour...in all 25 sub-themes. One of the well attended tables is on patriarchy - reflecting an awareness of women's issues in the EZLN itself, an army comprised of more than a third women.
Regular communications arrive via the Internet from Chiapas, a medium without which perhaps the Encuentro wouldn't exist. But it's not all talk. The police pulled out of evicting the Vakeria squat ('Cow shed') in Barcelona on Tuesday night when they realised an international force of 1,000 activists would march to the building's defence." The most impressive thing is that rather than being overwhelmed by the number of people here, and all the cultural and political differences, everyone is really getting down to it", says Richard from Cambridge. "The sense of purpose found here will spread back across the world. It brings a new meaning to the word globalisation."
For more info: www.pangea.org/encuentro or http://vivaldi.nexus.it/commerce/tmerew/chiapas.
---
SchNEWS In Brief
The "Video Activist Handbook" is out now. In association with Undercurrents it is both a practical guide to video activism and a political briefing for the burgeoning protest movement worldwide. It charts the recent rise in direct action/DIY culture and shows how activists have decided to challenge the mainstream media's view of the world. Published by PLUTO PRESS, FREEPOST, ND 6781, LONDON N6 5BR
Benefit Gig for Thespionage (as they didn't get no grant from the arts council) Sat 2nd Aug ,Tragics and Lucky 7 are playing .£2/3,Kick off 8pm @The Lift, Queens Rd., Brighton
Benefit Gig for Lyminge Forest Aug 12th The Concorde, Brighton. Acts include Rory Mc Cloud, Kicks off at 8pm, tickets £7 available from Steve 01273 300 454.
It's nearly time to start getting the next SchNEWS book together. Does anyone fancy helping to collate it? Otherwise, we're going to have to go to outside publishers and offer them the deal. What do people think? Contact the office for a challenge of a lifetime (and watch your hairs go grey!)
The date for the One World Festival in From has changed - it is now on 5 & 6th September 01373 474313
Were you at the Manchester airport evictions? Have you got a Sony High 8 (Code CCD/VX1E) and don't know whose it is? Well it's Andy Stenton's and he's offering a cash reward for anyone who returns it. Ring him on 0171 254 1970
Watch TV! Well, just this one programme on police operations levelled against the dance party and housing collective Exodus, on Channel 4 August 4th after 11pm
Oops! We published the wrong phone number for the Glen of the Downs campaign last week - the people setting up camp to oppose a motorway near Dublin that will trash a nature reserve. It's 00 35361 313308/email atglas@tinet.com
---
The + Files
"Ken Fern leads us through a garden of improbable delights - cold climate yams five feet long, edible fuschia fruits, trees laden with delicious berries all through the winter, leaves and flowers with the most subtle and astonishing flavours. It's hard to over-estimate the importance and likely impact of this book."
- George Monbiot
Plants For A Future - edible and useful plants for a healthier world by Ken Fern is out now! It's quite expensive at £19 from Permanent Publications, Hyden House Ltd., Little Hyden Lane, Clanfield, Hampshire, PO8 ORU, so why not order from your local library and share the knowledge...
---
RTZ In The Dock
Bad news for our earthrapist friends at RTZ - the Law Lords ruled last week that the British-based multinational mining corporation can be sued in UK courts for the activities of one of their subsidiaries in Namibia. The implications of this ruling are far-reaching - and most encouraging. It means that third world victims of the subsidiaries of other British multinationals should be able to sue the parent company, and even get Legal Aid to do so. Shell Oil, this means you. PARTIZANS 0171 700 6189
---
and finally
SchNEWS just has to share 2 stories printed in Wednesday's Guardian Diary column -'

On Humberside, a savage attack has been made upon the Freemasons. Former policeman Stuart Brash told a gospel meeting that he was a Mason "until he realised it was Devil-led", the Grimbsy Evening Telegraph reports. Mr.Brash then revealed that "he quit the police force when he became a Christian, after he realised he could not continue lying to help obtain criminal convictions".

Meanwhile 'Serving officers are asked to come to the aid of Julian Clary. Police Review magazine reports that Mr. Clary is "said to be disappointed with his response to his quest for Britain's most beautiful bobby." Only 25 snaps have been sent to his show, All Rise for Julian Clary, and it just won't do."
---
disclaimer
SchNEWS warns all readers not to send pictures of our fav Forward Intelligence Team bobbies to All Rise for Julian Clary, Room E920, BBC TV Centre, Wood Lane, London, W12 7RJ. It's not an ugly-bug competition. OK?
---
Thanks for last week's letter from Sao Paulo - Great to have your support - Shame we can't decipher Portugeeeeese though!

Subscribe to SchNEWS: Send us first class stamps (e.g. 20 for the next 20 issues) or donations (cheques payable to "Justice?"). Or £15 for a year's subscription, or the SchNEWS supporter's rate, £1 a week. Ask for "original" if you plan to copy and distribute. SchNEWS is post-free to prisoners. You can also pick SchNEWS up at the Brighton Peace and Environment Centre at 43 Gardner Street, Brighton.
SchNEWS, PO Box 2600, Brighton, BN2 2DX, England
Phone/Fax (call before faxing): 01273 685913
Email: schnews@brighton.co.uk Web: http://www.cbuzz.co.uk/SchNEWS/
---
Last updated 23 May 1997
@nti copyright - information for action - copy and distribute! SchNEWS Web Team (schnews-web@brighton.co.uk)