Home | This Week | Update | Archive | Diary | Database
---
Previous | SchNEWS 131 | Next | Index | PDF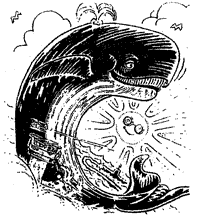 WAKE UP! WAKE UP! IT'S YER SUPERSLICK...

Published in Brighton by Justice? - Brighton's Direct Action collective
Issue 131, Friday 22nd August 1997
"Climate change is the biggest threat facing the planet"
- Greenpeace
Last Monday, oil giants British Petroleum flexed their corporate muscles but shot themselves in the foot when they took Greenpeace to court to freeze their assets. BP are fed up with the environmentalists continuing disruption of the oil industry in the North Atlantic but the legal action has simply helped boost the publicity for the campaign against climate change.
BP also want to sue four members of Greenpeace's UK operation for £1.4 million (the amount BP spend every year on supporting environmental projects), and got a court injunction ordering the organisation not to interfere with the company's activities in the Foinaven field.
However, as SchNEWS went to press the company had already seriously retreated - despite getting no concessions from Greenpeace to be good boys and girls. Control Risks, an organisation which advises multinationals on coping with protest, clearly understood this: "If BP had persisted with legal action, it could have provided Greenpeace with the opportunity to portray itself once more as the underdog standing proud against big business."
The Atlantic Frontier is perhaps Northern Europe's last pristine wilderness - with the same bio- diversity as a temperate forest. However, this could all change if the area is industrialised. The Foinhaven itself is not an oil rig but the largest floating vessel in the world which will be able to refine the oil on board. Instead of using pipelines, ships will ferry the oil back and forth. Spills and accidents are inevitable - waves can reach 40 metres. Worse, if the operation is successful, then the oil companies will, for the first time, be able to exploit the rest of the world's deepest oceans.
In June, Greenpeace occupied Rockall - a small outpost in the Atlantic - as a publicity stunt, establishing a new country called Waveland. This became the springboard for further actions. Seismic ships were targeted first . These ships have sensor guns that stretch for a mile, shooting high pitched sounds along the seabed to check for oil. Activists have been sitting on the guns, taking ship satellite equipment apart and getting in the way of the vessels, which have to travel in straight lines in order for the tests to be accurate. Any diversion and they have to start all over again! Last week people D-locked themselves to the Stena Dee oil platform, before a survival capsule was hoisted up the rig, housing activists 40 feet above sea level. As Al Baker, who spent time on Rockall put it "We've already got enough oil around the world in reserves and oil fields to destroy the climate within the next 40 years. We don't need to mine anymore." However, enough was apparently enough for BP.
"It's fine to campaign against whalers, even to make symbolic occupations of lonely rocks, but to try - and to succeed, if only for a few days - to slow the progress of a platform reaching BP's £1 billion Foinhaven field in the North Atlantic is one action too far."
- John Vidal
Greenpeace is also taking the Department of Trade and Industry to the High Court over the lack of environmental directives applied in the Atlantic Frontier oilfields. Twenty-two oil companies have thrown their weight behind the DTi. If the judge rules that the court case can go ahead production could possibly be halted while the case is being heard.
"BP's principal concern is not the recovery of damages. Rather it is to ensure its lawful operations are not interfered with and safety is not compromised. BP has never questioned Greenpeace's right to campaign on climate change issues, but we do object to their employing unlawful tactics."
- BP Press Release
...translated means 'you can have ineffective demos but don't do anything that works.'
But Greenpeace aren't about to play ball. The stakes are already too high.
According to over 300 climate scientists on the Intergovernmental Panel on Climate Change, we can only burn a quarter of known fossil reserves before climate change becomes intolerable, if not catastrophic. To avoid this, the fossil fuel industries must be phased out. Even if all emissions ended tomorrow, it could be years before global warming was stopped, let alone reversed.
Oil Pressure Rising
From Saturday "100 DAYS OF ACTION" kicks off. That's 100 days to the run-up to the Kyoto climate summit, and people are being invited to organise direct action against the oil industry. Organisations as diverse as Reclaim The Streets, Friends of the Earth and TAPOL (Indonesian human rights organisation) are involved. Greg from Corporate Watch told SchNEWS "Fighting the oil industry isn't new. Decent folk the world over have had enough of its devastating environmental impact and its involvement in human rights abuses. But while the industry's public relations machine paints cases such as Shell in Nigeria as one-off lapses of good practice, the lesson people are learning is that they must now challenge the industry as a whole; that its abuses are inherent to its nature, and that people can, indeed must, learn to live without it."
Planning meetings will be held at intervals every two weeks, and a newsletter is being put together.
Call Jim on 0171 865 8234, or e-mail 100days@waveland.org or write to 100 days, c/o Corporate Watch, Box E, 111 Magdalen Road, Oxford OX4 1RQ 01865 791391
Conveniently, the hundred days includes Shell's 100th Birthday (18th October).
No More Mr Nice Guys
Colombia - People who have taken direct action against environmental damage caused by BP have been identified and murdered by paramilitaries. BP are implicated in passing on information on local activists by videoing community meetings.
Alaska - serious environmental damage by developing the north slope, now lobbying to open up the Arctic National Wildlife Refuge, one of America's last pristine wilderness. Held partially responsible for Exxon Valdez spill.
England - In 1992 the BP Chemicals plant in Hull was found to be discharging twice the amount of Methyl Ethyl Ketone into the water as the total amount released in US. This chemical causes birth defects.
---
for pulling a funny face
for walking your dog
Both people were nicked for 'possible' breach of the peace after a small demonstration outside the Huntingdon Research Centre - a vivisection laboratory in Cambridgeshire. The two were later released without charge.
---
On 3rd December 1997, people will be going by train to the 'climate summit' in Kyoto, Japan - passing thru' Russia, Siberia and China. If you wanna go contact Ben Matthews at School of Environmental Science, University of East Anglia, Norwich, NR4 7TJ Phone 01603 593733 email b.j.h.matthews@uea.ac.uk
October is End Corporate Dominance Month - start organising your actions now! More info: International Reply Coupon to Earth First! End Corporate Dominance Campaign c/o EF! Austin, PO Box 7292 Austin, TX 78713 USA Tel 001 (512) 320-0413
A campaign has been set up to stop companies drilling for oil and gas less than five miles off the Pembrokeshire coast. The area is home to marine animals such as grey seals, dolphins, harbour porpoises, gannets, shearwaters and razorbills and even the extremely rare pygmy sperm whales. To find out more send SAE to Friends of Cardigan Bay, Temperance House, Taliesin, Machynlleth, Powys, Wales.
---
Not content with trying to destroy one Special Site of Scientific Interest earlier this year (see SchNEWS 117) Farmer Harmer is at it again! This time he wants to plough up the Offham marshland SSSI to plant flax in order to take advantage of another mad Common Agricultural Policy scam. Packed full of newts, frogs, dragonflies, water scorpions and kingfishers, the site backs onto the river Ouse outside Lewes. One local resident told SchNEWS "SSSI's represent the small pockets left of biodiversity in an otherwise ecological barren Britain." Last Sunday activists set up camp on his land last Sunday and people are needed now. Come a take a restful break in a beautiful part of the South Downs - but bring sunblock. A continuous presence is needed, as the trustworthy farmer trashed a bender at the entrance to the field when no-one was looking.

Directions - Take the A275 out of Lewes (at the corner of the prison) towards Plumpton. Go to Offham village, park opposite the church behind the Old PostHouse. Take the path into woods for 5 minutes and camp is in a field over a gate on the left. Better still, take train to Lewes, walk thru the town to the river Ouse on the western bank and walk north for 20 minutes. It's under the railway line where the pumping station lives.
---
AUGUST
30 - Rave against roads. 2 days of party and direct action. meet 2pm. at Dissen/Bad Rothenfelde rail station. Take the wochenende-ticket (5 persons for 35DM). Directions: 1 hour train ride from Bielefeld. The last at 12.55. By car/hitching, take the B68 in the direction of Osnabruck for about 25 km (it leads you straight to Dissen). The anti-A33 roadcamp, Germany, info. (+49) 5425-270.
31 - National demonstration. Child Okeford, Blandford, England's most notorious Mink Farm. 12 noon.
31 - London Forum meeting. 4pm.-7pm. Conway Hall (Red Lion Square, WC1).
SEPTEMBER
1st - Mass Blockade and other Direct Action against Britain's biggest arms fair, at Farnborough Airfield. Transport details and info: 0171 281 0297 - or for transport from Brighton, the Peace Centre minibus leaves Gardner Street at 7am - tickets £7/£5 - ring (01273) 692880
3rd - World Premier Undercurrents 7! Cinematheque, Middle St (above Cybar) Brighton. 9pm (£3/2) 01273 739970
4-6 - Disabled Action network National Action, Bristol. Tel 0181 889 1361
5-6 - One World Festival. Shepton Mallet, Frome 01373 454330
6-7 - Day of Fun in the sun at Newbury to mark the anniversary of the main construction contract. Bungee jumping, cycle walk on the wildside, music 01635 550552/ Rapid Response: 0468 505344
11 - Portsmouth - Free public preview of Undercurrents 7 - 7.30pm, Wedgewood Rooms, Southsea - bar, stalls,alternative comedian, open mike, etc. Details on (01705) 293673
12 - Reclaim The Streets Benefit gig at 414 Club Coldharbour Lane, Brixton 9-6am
13 - Demo & mass trespass at Babraham Institute of Animal Physiology - meet 1pm Babraham village (off the A1307, south of Cambridge, near Junction 10, M11)
14 - National Demo at Shamrock Farm Sussex Primate Prison, one mile south of Small Dole, Henfield, W. Sussex.
20-21 Midge Death free Festival- Grampian, Scotland free. 01436 82090
25-28 - Groundswell DIY forum, "housing a sustainable future": 0171 833 2071
27 - Fuming Mad rally, 2pm @ Trafalgar Square to pressure the Government into meeting the Road Traffic Reduction Bill's targets 0171 490 1555
---
On September 30th Mordechai Vanunu will have spent 11 years in an Israeli prison, all of it in solitary confinement. After blowing the whistle on Israel's secret nuclear capacity in the British press, he was lured to Rome by a Mossad agent, kidnapped, taken to Israel and sentenced to 18 years for treason and espionage. Years locked up alone without daylight in a cell two metres by three is beginning to affect Mordechai's mental health, which is reported to be deteriorating. CND's Non-violent Resistance Network is co-ordinating events for the 11th anniversary of Mordechai's imprisonment - ring David Polden on (0171) 607 2302.
---
Plants for a Future, the Cornwall-based permaculture project, has bought an 83-acre site in North Devon for their planned eco-village. The village is set to become a working example of sustainable living, growing its own food, fuel, medicine and fibre for clothes. Work on the site is due to start in October - volunteers welcome. Contact Plants for a Future, The Field, Penpol, Lostwithiel, Cornwall, PL2 2ON. Tel: (01208) 873 554.
---
On the 20-21 September there will be a Peaceful Mass Trespass and overnight occupation in Oxfordshire, for the right to roam on all uncultivated land. Meet Sat 10am in the concourse of Oxford station. Friday night accommodation available in Oxford, come to the The Land Is Ours office in St.Michaels St 7-8pm Friday evening or call the mobile 0402 176410
If you live in Brighton and appreciate organic vegan wholefood at cost price get yourself up Tilbury Hill to Brighton Unemployed Centre 'Allganics' is a non profit making Co-op, open 10-1pm every week day and is run entirely by volunteers
Happy Birthday Guilfin!! A mag jam packed full of excellent info about gigs,parties,clubs, sound reviews, news about protests, demos, meetings, vigils and gatherings. Issue 100 is now available for an SAE from POBox 217 Woodbridge Meadows Guildford Surrey GU1 1WS
A legal briefing leaflet on the 1997 Harassment Act is available by sending a SAE to ARCNEWS, PO Box 339, Wolverhampton WV10 7BZ.
Enough, the anti-consumerism campaign, is recruiting members in London - contact Michiel on (0181) 981 0480.
Around 40 protesters are occupying and tunnelling under the route of the 4km Bulls Green link road in the Mendip Hills. The road is intended to carry quarry trucks, and if built will damage Asham Wood, one of the remaining fragments of the forest which once covered the Mendips. Avon Gorge EF!: 01225 448556. Mendip Hills not Holes: PO Box 2113, Shepton Mallet, BA4.
Ex-members of Class War have decided to turn the old CW internal bulletin into a discussion journal for the whole movement. No editorial policy - write what you like and send it to BM Box 5538, London WC1N 3XX.
The travellers who set up camp on the proposed toxic waste site in Wakefield went to court today and were told they have 14 days to shift their bottoms. 01904 410185.
---
Del Monte like to say yes - but only to profits. However, they had a bit of a surprise last Wednesday when one and a half tonnes of bananas were dutifully dumped outside their offices in Tunbridge Wells, from people who like to say No. The action, organised by the World Development Movement, was in response to Del Monte's plans to ban its plantation workers from being in a union. Their offices were shut down for most of the day and the company are now reconsidering their position.
---
The SchNEWS warns its readers not to be crude or blacken the oil industry's names with slick comments, or you will get into a tanker full of trouble. Just guzzle up loads of the stuff, watch those sea-levels rise, and you will feel well-oiled, honest.
---
If you want to come to the Green Anarchist trial on Tuesday, ring the Justice? office.

Subscribe to SchNEWS: Send us first class stamps (e.g. 20 for the next 20 issues) or donations (cheques payable to "Justice?"). Or £15 for a year's subscription, or the SchNEWS supporter's rate, £1 a week. Ask for "original" if you plan to copy and distribute. SchNEWS is post-free to prisoners. You can also pick SchNEWS up at the Brighton Peace and Environment Centre at 43 Gardner Street, Brighton.
SchNEWS, PO Box 2600, Brighton, BN2 2DX, England
Phone/Fax (call before faxing): 01273 685913
Email: schnews@brighton.co.uk Web: http://www.cbuzz.co.uk/SchNEWS/
---
Last updated 23rd September 1997
@nti copyright - information for action - copy and distribute! SchNEWS Web Team (schnews-web@brighton.co.uk)