Home | This Week | Update | Archive | Diary | Database
---
Previous | SchNEWS 133 | Next | Index | PDF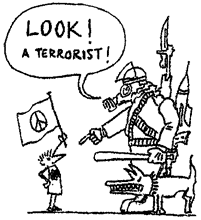 WAKE UP! WAKE UP! IT'S YER ISSUES 4 TISSUES...

Published in Brighton by Justice? - Brighton's Direct Action collective
Issue 133, Friday 5th September 1997
Prepare to be Spontaneous Tomorrow!
Reenie Beenie Blocked -89 arrested
" [We will] not permit the sale of arms to regimes that could use them for internal repression or external aggression..." - Labour Party Manifesto
Labour's claim to have introduced an `ethical' foreign policy rang hollow on Monday, when George Robertson, the Defence Secretary, officially opened the Royal Navy and British Army Equipment Exhibition (known as `Reenie Beenie'), at Farnborough. Just three months after promising not to export arms to repressive regimes, the Government has decided to continue where the Conservatives left off, staging an event aimed at marketing arms and welcoming nations notorious for human rights abuses. Buyers from the Indonesian, Turkish and Chinese armies - and a host of other countries high on the Amnesty International list of human rights abusers - attended as official guests of the government. Britain is the world's second biggest arms dealer, after the United States.
The opening day saw the biggest mass arrest in Britain since the Poll Tax Riot as up to 1,000 people took part in a demonstration organised by the Campaign Against the Arms Trade (CAAT). 89 were nicked, many given bail conditions that prevent them from attending the COPEX Arms fair in October. Some were also charged with "aggravated trespass" (dealing with trespass on land in the open), despite the whole fair being staged inside a building! At one point all three main gates were simultaneously blockaded, causing mile-long tailbacks.
25 anti-arms trade protesters managed to thwart security guarding the exhibition. "It was very powerful. People were blocking the path of individual arms dealers who were being escorted in by the police," said one protester. A group of Buddhists beat drums for eight hours solidly before being physically removed from the road by the police. They were not arrested.
Rachel Harford from the Campaign Against the Arms Trade (CAAT) told SchNEWS: "Allowing the arms fair to go ahead gives the green light to companies happy to arm some of the world's most oppressive regimes."
The protesters were joined by Kurdish refuges whose banners condemned Turkish generals as `war criminals' for suppressing the Kurdish PKK left wing nationalist movement. Vickers has bid for [sterling]3 billion order for 800 battle tanks, almost certainly for use in the 13 year war with the Kurds, which has cost more than 22,000 lives. Amnesty accuses Turkey of routinely using torture, and `disappearances' are commonplace.
Labour says Britain also has to `honour' existing commitments, so 21,000 export licences to Indonesia are to be left in place, including 500 armoured vehicles. A third of East Timor's population - 200,000 people - have been killed by the Indonesian army, with the help of British-made Hawk jets, which are still on sale. Big arms dealers in the UK are British Aerospace, GKN, GEC and Rolls-Royce. The majority of sales go to developing countries, with Saudi Arabia by far the biggest buyer. The countries which purchase arms invariably fail to provide rudimentary health care, education or basic necessitates of life while they squander limited resources on arms.
On 1st October there will be a mass blockade against COPEX Arms Fair, Farnborough Airfield, Hampshire. 12 noon - 6pm CAAT: 0171 281 0297
---
This week, four Greenham women were found not guilty of criminal damage by Reading Crown Court. Jean Hutchinson, Mary Wilson, Yolanda Kreik and Katrina Howse were accused of fence cutting - causing an estimated [sterling]37,000 of damage, at AWE Aldermaston. The Crown Prosecution Sservice retreated from the case in disarray after realising that the evidence of nuclear crime perpetrated by AWE Aldermaston was overwhelming. A Greenham peace campaigner told SchNEWS, "This trial would have revealed that the Trident weapons do not serve the present deterrent policy of this country, and that both the policy and the weapons are illegal under national and international law. This case is part of an on-going challenge of non-violent direct action against nuclear weapons in Britain by the Greenham Common Women's Peace Camp- which celebrates it's sixteenth birthday on 5th September." Happy Birthday to YOU!
On 5th Jan, three more women will find themselves in court on a charge of fence cutting, this time at AWE Burghfield. These court cases form part of the Greenham Women's Millennium initiative to outlaw all nuclear weapons by the year 2000. Contact the Peace Camp on: 01635 269109
---
Worthing's Critical Mass, which has been scheduled for this weekend, has been postponed until Saturday September 20th. Apparently an ex-member of the Royal Family died last weekend, and the whole country is going to grind to a halt on Saturday anyway. Ironically, the Critical Mass was called to commemorate another road death, that of Danni Parke, age 29, a local green activist who was killed under the wheels of a lorry while cycling home from work last Wednesday.
Within 24 hours friends had decided to "complete Danni's journey in her memory" by holding a `Critical Mass' with hundreds of cyclists taking over the road on the route between her work in Shoreham and house in Worthing. Leisa Tomaszewski, from Worthing Friends of the Earth, said: "We'd like to make this a really big event. Danni was an artist who had just held her first exhibition in London. She lightened a lot of people's lives, and she will be a great loss to us all. We want to celebrate Danni's life as well as protest about the horrific way it ended."
Worthing Critical Mass Sat. Sept. 20th meet 12noon Shoreham Railway Station. For more info on ring 01903 522 949, Reclaim The Streets 0171 2814621, Road Peace, a national charity for road crash victims, 24-hr national helpline: 0181 964 1021.
320,302 people involved in car crashes.
Of these: 3,598 people killed, of which:
1,806 were car users

44,473 seriously injured, of which 22,239 were in the car.
- 1996 DoT figures for Britain
---
Barry Horne's four-week old hunger strike in protest at the government's U-turn on animal welfare has seen the growth of anti-vivisection protests: Huntingdon Life Sciences (HLS) in Cambridgeshire, one of the UK's largest vivisection labs (and the subject of a horrific Channel 4 documentary last March) is to see a permanent protest camp set up on their doorstep, and continue until it is closed.
With the recent closure of Consort, the tide seems to be turning against the abusers- with no thanks to the new Labour junta. A recent letter to a Luton activist from a government department denied any need for a Royal Commission to look into vivisection...in direct contradiction of pre-election promises.
The Animal Rights movement does not have much experience of protest camps so bodies, equipment, help and advice from EF!/anti-road activists is desperately needed. HLS - and the camp - are situated on the East side of the A1, just North of the A1/A14 intersection near Huntingdon.
The bad publicity generated by the TV programme have led to shares plummeting by [sterling]80 million; many major customers have pulled out and staff morale is at rock bottom. Two employees, seen on TV hurling a beagle against a wall and abusing others for kicks, are currently up in court on charges under the Protection Of Animals Act, and regular demos outside the premises have seen shame-faced staff locking themselves in the car park and leaving only under heavy police escort.
HLS, who at any one time have 62,500 animals being experimented on, have their licence up for renewal in November - some sustained pressure could see them stand a real chance of losing it.
HLS Protest Camp: 01582 505984/0860 245406 If you'd like to tell the sick bastards who're up in court exactly what you think of them, then why not drop `em a line?:Andrew Nash, 4 Grainger Ave, Godmanchester, Huntingdon, Cambs. Robert Waters, 10 Honeysuckle Court, Woodston, Peterborough, Cambs.
Activists attempting to peacefully protest at the Hillgrove cat farm at Minster Lovell, near Witney, last Monday were obstructed and assaulted by police. 150 demonstrators arrived to find that police had invoked Section 60 of the CJA on all of the roads around Minster Lovell and Witney. The roads blocked, protesters decided to drop in at Jack Straw's gaff instead, for a chat about vivisection and prison policy. They were greeted by 100 riot cops, who sporadically attacked the protestors. 4 people were arrested. 2 were later released without charge. Barry Horne Support Campaign: 01954 230542, fax: 0117 9559814, mobi: 0976 200724.
---
HELP! Wanna perform/write plays/spin on your head? Why not get involved in SchNEWSNIGHT- our monthly political cabaret evening at the Lift? Planning meeting next Tuesday (9th) @ Hobgoblin Pub, London Rd 8pm
Fancy keeping fit on a Friday? Then why not get on your bike and distribute SchNEWS round various shops/cafes/clubs in Brighton every Friday afternoon. Call 685913
---
OCTOBER
All month - End Corporate Dominance! Send international reply coupon EF! Austin, POBox 7292 Austin, TX78713, USA Tel 001 (512) 320-0413

4 Bath Reclaim The Streets 12 noon meet at the circus 01249 713742

2-16 "Global Days of Action" against genetically engineered foods, life patents, and factory farming. Contact: Ronnie Cummins, 218-226-4155, email:alliance@mr.net-www.geocities.com/athens/1527

6 NASA plans to launch 73lbs plutonium on board the Cassini space probe! 01274 730795

12 5th anniversary of the death by electrocution of a McDonald's Worker, and International Day of Solidarity with McDonald's Workers. 0171 713 1269

13 Indigenous Environmental Network "Unplug America - Give Mother Earth a Rest Day" UNPLUG! from all our electric, battery-operated conveniences, and spend a day off the "grid." Contact: c/o IndigenousEnvironmental Network, ien@igc.apc.org

16 13th World Day of Action Against McDonald's 0171 713 1269

18 16th Annual Anarchist Bookfair 10 am onwards Conway Hall, Red Lion Square, London WC1 (tube Holborn)

18 100th birthday "celebration" of Shell," part of the 100 days of actionagainst the oil industry. Corporate Watch 01865 791391

18 International day of action against Nike. Contact Campaign for LaborRights: alliance@mr.net

25 Visit to Camilla Parker-Bowles, Corsham, Wilts @ 12pm organised by Movement Against Monarchy, PO Box 14672 London E9 5UQ

26-28 Women speak out against the nuclear military chain in Leeds - a weekend of events organised by Sellafield Women's Peace Camp to mark 40th anniversary of the Windscale nuclear disaster 01706 812663

31 Hallowe'en actions against opencast. No Opencast National Support Campaign 0171 603 1831

31 Abolish the Monarchy March on Buckingham palace organised by Movement Against Monarchy, PO Box 14672 London E9 5UQ
---
There will be a route walk and picnic along the proposed Avon ring road on Sunday September 21st. Meet 12 noon Mangonstal Station

Protestors against Germany's most expensive ever motorway (a mere two and a half billion quid) have been jailed after a crane-blockade. This follows a tree occupation the week before, which was eventually evicted by police, after six days under siege with no food or water. More info: www.free.de/dryads/english/esuhl1.htm

Thirty hunger striking Colombian inmates at a Panamanian prison have sewn their mouths shut with string and wire in protest against human rights violations

The Mayor of San Francisco is getting hot under the collar about the city's monthly Critical Mass bike ride. It seems as if `rogue elements' have split away from the main group of 6,000, "reducing the city to chaos." At the latest ride, police waded in and 250 cyclists were arrested! Another big turnout for next month's ride is expected

According to the Met Office, water temperatures in the Pacific Ocean could rise to their highest levels this century this winter, unleashing a wave of climatic disasters. The last time the water was this warm, during Christmas 1982, it caused [sterling]15 billion worth of flood damage in South America

The final part of the legislation banning McDonalds from opening restaurants in Bermuda has been passed

Nice One! to Sustrans, who have completed the 370 mile Hull to Harwich cycle route...FIVE years early. Details: 0117 926 8893

The camp is still operational at Offham, to protest against Farmer Harmers proposal to dig up an SSSI and plant flax in order to attract EC subsidies. There will be three walks on Sunday, leaving from Lewes train station at 10am/ 12 noon/ 2 pm to the site, and people are needed to stay on site, so bring yer sleeping bags!

On Monday 8th September, Steven L. Clift (http://freenet.msp.mn.us/people/clift) will be giving a presentation at the Brighton Media Centre: Democracies Online: Building Civic Life on the New Frontier

An élite (oops, not really) SchNEWS team have started to compile material for the third SchNEWS book. Any photos, articles, cartoons or offers of help to be directed to: The SchNEWSannual team, c/o on-the-fiddle, PO Box 2600, Brighton, BN2 2DX

BLUEBELL WOODS EVICTION ALERT! The protest camp in the beautiful 2.5 acre Bluebell woods at Longsight outside Manchester looks set to be evicted on Monday. The site is due to be developed into 485 student flats...despite 7 acres of derelict school ground laying dormant next door to the site. Manchester EF!: 0161 224 4846
---
For wearing a Celtic football top! Liam Forbes was nicked in Derry and charged with behaviour likely to lead to a breach of the peace, after taking his coat off and revealing his team colours. The case was thrown out of the magistrates court.
---
"Yesterday the police demanded that my partner remove two upsidedown jigsaws of D****, a teatray with the same picture and various bits of paper with writing on them, like DI DEAD, TWO LESS PARASITES. They cautioned my partner, despite him denying knowledge of the material. They qouted section 5 of the Public Order Act. I don't particularly want to be fined, it was just stating an opinion. It was all attached to the front window facing a road. How do you think I should play this one?" -Letter from anonymous Southampton couple this week
---
The SchNEWS warns all readers not to wear black armbands on Saturday as they'll be mistaken for anarchists. Always campaign with a heart. And then when you die shop workers will get the morning off, and giros will come early. Honest!
---
Elton John sings Candle In The Wind. A nation weeps.

Subscribe to SchNEWS: Send us first class stamps (e.g. 20 for the next 20 issues) or donations (cheques payable to "Justice?"). Or £15 for a year's subscription, or the SchNEWS supporter's rate, £1 a week. Ask for "original" if you plan to copy and distribute. SchNEWS is post-free to prisoners. You can also pick SchNEWS up at the Brighton Peace and Environment Centre at 43 Gardner Street, Brighton.
SchNEWS, PO Box 2600, Brighton, BN2 2DX, England
Phone/Fax (call before faxing): 01273 685913
Email: schnews@brighton.co.uk Web: http://www.cbuzz.co.uk/SchNEWS/
---
Last updated 5th September 1997
@nti copyright - information for action - copy and distribute! SchNEWS Web Team (schnews-web@brighton.co.uk)