Home | This Week | Update | Archive | Diary | Database
---
Previous | SchNEWS 141 | Next | Index | PDF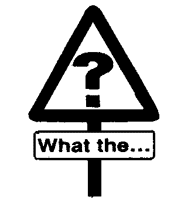 WAKE UP! WAKE UP! IT'S YER, THE WORLD IS SO UNDER ATTACK IT'S UNBELIEVABLE...

Published in Brighton by Justice? - Brighton's Direct Action collective
Issue 141, Friday 31st October 1997
Killer Corps to take over the world!
The Museum of Humanity in Paris is a multicultural celebration of social, environmental and labour progression of several millennia. Inside the population clock ticks up three new births a second. It stands at approximately 5,901,884,000. Outside, a giant screen on the Eiffel Tower counts down the days to the millenimum: 791. But there is another date, May 1998, which is will affect each and every one on the planet far more.
Around the corner, behind the closed doors in a basement room of a bunker-like office building, representatives from the richest countries of the world are writing the "constitution of a single global economy" in secrecy and and in haste. The global impact of their work, the Multilateral Agreement on Investment (MAI), is almost unimaginable. This agreement is for "the end of history", when the corporations will finally take over the world. The Museum of Humanity, a small notice says, is closing down.
The most important international agreement on investment and trade ever, the MAI, has been negotiated in secret in Paris since September 1995. It will legally bind the richest countries on Earth together for 20 years in a move that will invalidate all international and domestic law regarding environmental, social and labour rights. Countries will not be able to opt out once it is signed.
Multinationals will gain the right to sue national governments for even debating issues which may harm the profit of an investor regardless of domestic law. It will force governments to respond to economic pressures by abolishing worker protections, public safety regulations and measures protecting the environment. Silence on the MAI is deafening in the UK and worldwide.
Details of the plan were leaked and put on the Internet by French activists a year ago and the cause was taken up by global pressure groups. The Organisation for Economic Cooperation and Development (OECD), which include the world's 29 wealthiest countries, meet every six weeks in Paris to plan the MAI. On Monday they allowed 50 people from pressure groups from all continents precisely six hours to listen to their concerns. SchNEWS (alone in the UK press) was there. The NGOs called the discussions "shocking" and "negative". Chairman of the negotiating group, Frans Engering, told SchNEWS after the `consultations' that there could not possibly be any delay in the passage of the MAI, and that "we are entering the last stages."
Globalisation has seen over the last 30 years, the richest 20% of the world's population increase their share of income from 70% to 85%, while the share captured by the poorest 20% has declined from 2.3% to 1.4%
A 600 page document of "reservations" of member countries is not publicly available, but Friends of the Earth received a leaked copy. It reveals that the UK is planning to sign without any reservations for the environmentally or socially-sensitive sectors of the economy. Tony Juniper, Campaigns Director of FOE, says "Labour's blinkered obsession with the free market appears to be absolute."
The real clout in the MAI is the right it gives companies to sue governments for large damages. In what is known as the `pay the polluter' case, the Ethyl Corporation of America is suing the Canadian government for $367 million dollars for banning the use of MMT, a controversial gasoline additive, which it makes in Ottawa. It wants "immediate compensation for imposing legislation which hinders its operations [profit]" under free trade rules identical to the MAI.
SchNEWS went to the OECD library to be told by the assistant: "I've never heard of MAI". There were no published documents available. "Their mania for secrecy is our best strategic clue, " says Chantell Taylor of the US-based Public Citizen Global Trade Watch, " it's time for the Dracula strategy because this is one treaty that could never survive sunshine."
What they said about the MAI
"We are writing the constitution of a single global economy"
- Renato Ruggerio, Director General of the World Trade Organisation
"The MAI, if enacted, will allow corporations - the pinnacle of debauched economic power - to run riot over the face of the Earth, with greater political right than any sovereign nation."
- Corporate Watch, UK
"We will oppose any and all measures to create or even imply binding obligations for governments or business related to environment or labour."
- Abraham Katz, President of the USCIB (United States Council for International Business)
"MAI is the final consummation of collective colonialism ... the erosion of national sovereignty would be total"
- Prof Nanjundaswamy, President of the Karnataka State Farmersí Association, a 10-million peasants' movement in India
"The MAI challenges the right of a nation to determine its own economic, social and ethical development"
- Dr Chandra Muzaffar, Director of the Just World Trust
Globalise To Mobilise!
On 23-25 Feb 1998, 600 representatives from the People's Global Action against Free Trade and the WTO will meet in Geneva for the first conference of a new world-wide co-ordination of resistance against the global market and the MAI. Details: PlayFair Europe!, Turmstr. 3, 52072 Aaachen, Germany. Tel: +49 241 803792 Email: playfair@asta.rwth-aachen.de
UK ACTION COMING SOON! Contact: Corporate Watch Box E 111 Magdelen Rd Oxford OX4 1RQ tel: 01865 791391. Email: mail@corporate.i-way.co.uk

INFO: World Development Movement 25 Beehive Pl London SW9 7QR Tel: 0171 737 6215 Email: wdm@gn.apc.org
---
As dawn broke on Tuesday six local activists invaded the Greenwich base of a bizarre millenialist cult, even while it was still under construction. The sect, thought to wield influence over some individuals close to the heart of Government, intends to build its as headquarters a gigantic dome, which would then be made a shrine to all manner of warped corporate deities. The activists scaled a 350-foot crane, preventing it from winching into place the huge masts that are to support the obese structure, and bringing construction work to a shuddering halt. The concerned protesters took action, they say, as to warn the public of the cult's sinister intent, which apparently is to brainwash us all into worshipping their god, Capital, and to spread the sign of the barcode across the world. One of their number, Dave Grumpus, remarked; "Musty old institutions like the government and private industry are intent on creating a pompous monument to the throw-away consumer society in which we now live. We should not accept this billion pound behemoth* as a vision for our future." The most obvious beneficiaries of the dome project are the construction firms involved, but these corporate deadline junkies could yet come unstuck if their building work does not keep to the already tight schedule. As concerned groups were warning citizens to be on their guard against the cult's sick ideology, Tuesday's protest undoubtedly threw a welcome spanner in its works.
* Behemoth (of biblical origin): a monstrous thing - SchNEWS Vocab-watch
---
A GANDALF defence witness flown over from Vancouver has been detained and then immediately deported by Special Branch officers. Judge Selwood, who is presiding over the case will no doubt be chuffed as he has described Green Anarchist as "The most contemptuous document I have ever seen in my entire career" and intends to frame it up for his toilet. In response to a perceived bias GANDALF supporters will be burning an effigy of Selwood at 10am on 5th Nov. GANDALF suggests that SchNEWS readers burn Selwoods rather than Guy Fawkes. The summing up of the case is soon to begin and the verdict is expected around Nov. 11th. GANDALF mobile: 0956 694922.
---
Well, of earlier in the year actually, but who cares? For writing in condensation on a van window. Over- keen Kent cops nicked a van-load of Ashford hunt sabs for having "Fuck Off Copper" inscribed in the mist, charging them with Section 5. Mr Plod then went apeshit with a sab for `destroying evidence'...when he accidentally brushed against the glass! Regular victims of police stupidity, Ashford sabs later had their van pulled and the driver searched in Tesco's car park, guilty of going shopping.
---
The follow up to the SchNEWSround is currently being compiled. Help from Brightonians with time on their hands would be smashing. We're also desperate for some top quality photographs of the year's actions - give Vanessa a call at the office on both counts.
---
"The Streets Are Alive With the Sound of Music" as many Julie Andrews' as possible required to attend the Oxford Hallowe'en Street Party this Saturday. Meet 12pm at South Parks in East Oxford.

RENA, Britain's first animal rights camp, outside Huntingdon Life Sciences, Cambridgeshire, is now two months old and will celebrate with a Bonfire Extravaganza Protest and Party on Nov. 8th at 3pm. Details/directions tel: 0589 026435

1st-7th Berlin activist gathering, continental networking, skills training, possible Berlin RTS.Tel: + 49 30 789 131 44.

5th, Wakefield: "Burn the Horricks" demo at the site of a proposed toxic dump. Tel: 01924 893 564.

Nov 10th is the second anniversary of Nigerian writer Ken Saro-Wiwa's execution. Shell Oil, anxious to avoid public interest in the above, have postponed their 100th birthday party from Oct. 18th until Nov. 11th and have invited the Queen along (which was nice, we are still trying to get invites). There is also a demo at Shell Centre, Waterloo at 1pm on Nov. 10th.

Nov 14th-16th: 1st ever joint conference between the Green Student Network and Students for Environmental Action @ Reading University. 01189 662228 for more details.

The University of Delaware have found a way of getting rid of all those soya beans that would otherwise be turned into stomach churning dairy substitutes... they have filed for a patent to create building materials using the aforesaid cash crop as a composite with metals, woods and other fibres to build, among other things, bridges, tanks and, believe it or not, even cars. What will the Vegan police make of them - and would they drive `em?

The News From Nowhere Club meets once a month to revive fellowship in East London. They have some good themes lined up for the rest of the year and for `98. Call them on 0181 555 5248.

29th, Worldwide : International No Shop Day (more on this in a later issue of SchNEWS). Anti-consumerism actions needed to be co-ordinated. 0161 226 6668, Enough, One World Centre, 6 Mount Street, Manchester M2 5NS. http://envirolink.org/issues/enough/

Virtual Site Evicted? Tash from Nottingham is suing the police in a stop and search, part of Operation Nomad, clearing travellers out of Avon & Somerset. Details of Operation Nomad are on his website, http://ourworld.compuserve.com/homepages/tash_lodge/ but be quick, because the High Court are threatening to slap an injunction on the site as it contains references to the case.
---
After over two years of strike action the Liverpool Dockers hold firm and resolute as only 60 of the 327 strikers have shown any interest in the massive £28,000 redundancy payments offered by Mersey Docks and Harbour company. Steward's chairman Jimmy Nolan said "There will be no bitterness or recriminations against men who have applied for the pay off. Some men are getting older now and some have bad health"
---
Here's a little known fact about U.S. running, jumping, throwing and being generally energetic type-stuff. The Green Bay Packers Football (not soccer) Team, who won the SuperBowl last year, is the only professional team in the country to be wholly owned by the community. In 1923, when bankruptcy seemed on the cards, 2000 locals stepped in and bought out the club and gave it in perpetuity to the people of the city, collectively known as the `cheeseheads'. The existing stockholders draw no profit, and the locally elected board of directors that operates the running of the team is unpaid. Unlike other footie scumbags, such as Art Modell, who bought the Cleveland Browns only to turn it into the Baltimore Ravens (thus moving the whole thing hundreds of miles), the Packers have no owner, and have the lowest admission prices in the National Football League (NFL). Nearby home owners even let fans park in their garages during games. Charities run the stadium's facilities, and off-duty police provide security at low rates. Unfortunately, the NFL have passed a rule specifically banning any future team from being community owned.

Nike and their dreaded `Swooshtika' logo are everywhere in the States. Let's face it, they're bloody everywhere. Thankfully, someone is taking note, and not in terms of buying silly trainers. This week American women's groups turned on the company because while Indonesian women have to work 100-200 hours overtime per month, in order to make ends meet, Philip Knight, Nike's chairman got paid nearly [sterling]1 million in 1994, and must be on far more by now.

(Much of this article was taken from "There's Nothing in the Middle of the Road But Yellow Stripes and Dead Armadillos" by Jim Hightower. A couple of SchNEWS'ers picked this up recently in New York, and although it's published by the Murdoch owned HarperCollins, is a great book.)
---
The Tropicana Casino & Resort in Atlantic City, New Jersey has been holding a two week trial of a new product called "Hygiene Guard" made by NetTech International. Nothing unusual there you may think. However, the score is that 20 kitchen employees have to wear a badge which triggers an infra-red sensor when they enter the rest room. A second sensor at the soap dispenser will activate if they remain at the sink for more than 15 seconds. Those who skim the sink will have the badges on their jackets turn red. Those wishing to keep spy on soap dodgers can lease this technology for $90 a month, or $3650 dollars to buy.
---
Everyone's favourite King - Arthur Pendragon, set off from Stonehenge this week with his band of merry men to walk to London and reclaim his sword Excalibur. Southwark Cops confiscated his weapon, saying it was a dangerous weapon. The King has says that if he gets his sword back, it will equal pulling the sword out of the stone. If successful, he hopes the whole country will celebrate with fireworks. This has nothing to do with the court date being on Nov. 5th.
---
The SchNEWS warns all readers not to believe that the `Motherfucking Agreement of the Insane' (MAI) exists. Always have faith in the protection of 50-year-old agreements like the UN Declaration on Human Rights and keep watching the telly to see whose face will be on our currency. Then you will be history. Honest.
---
Keep Hallowe'en clean, you know wha' we mean? Keep it Pagan, keep it mean.

Subscribe to SchNEWS: Send us first class stamps (e.g. 20 for the next 20 issues) or donations (cheques payable to "Justice?"). Or £15 for a year's subscription, or the SchNEWS supporter's rate, £1 a week. Ask for "original" if you plan to copy and distribute. SchNEWS is post-free to prisoners. You can also pick SchNEWS up at the Brighton Peace and Environment Centre at 43 Gardner Street, Brighton.
SchNEWS, PO Box 2600, Brighton, BN2 2DX, England
Phone/Fax (call before faxing): 01273 685913
Email: schnews@brighton.co.uk Web: http://www.cbuzz.co.uk/SchNEWS/
---
Last updated 17th November 1997
@nti copyright - information for action - copy and distribute! SchNEWS Web Team (schnews-web@brighton.co.uk)