Home | This Week | Update | Archive | Diary | Database
---
Previous | SchNEWS 142 | Next | Index | PDF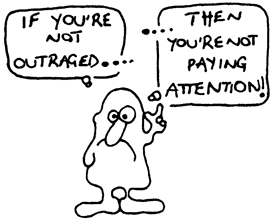 WAKE UP! WAKE UP! IT'S YER PEACH MELBA...

Published in Brighton by Justice? - Brighton's Direct Action collective
Issue 142, Friday 7th November 1997
SchNEWS Training Day: Wednesday 12th November 12 Noon @ Justice? Office.
Ring For Details
"Every thinking person must reject the racism of the government and media response to a desperate people living in fear of racism and persecuted by their own governments."
- Mark Belsham, president, Allied Roma Council International.
Thanks to the hatred whipped up by sections of the media, Kent National Front and the British National Party have felt confident enough to organise a demonstration against Romany Gypsies (Romani) who have been seeking asylum in Britain.
The fascists plan to march through Dover next Saturday (15th) and rumours have it that they plan to swell their ranks by bussing nazis in from as far away as Manchester. Local anti-fascist activists told SchNEWS, "We're worried that normally apathetic local rednecks are looking to the BNP to `deliver them from the gypsy hordes.'"
So why are the gypsies seeking asylum in Britain?
There have been 28 racist murders of Romani in the Czech republic in the last 7 years, including a boy of 6 who was strangled, and countless injuries and firebombings. According to a recent report by the US State Department, skinhead violence against Romani in the Slovak and Czech republics is "a serious and growing problem," with monitors reporting that police remain reluctant to take action - sometimes displaying an open sympathy for the attackers.
In the Slovak Republic, 17 Romani were killed and several hundred injured between 1990 and 1996. In one instance a Roma house was set on fire killing one person, while mentally handicapped Romani children from an orphanage attending a hockey game were attacked by skinheads yelling "we will kill all gypsies."
A survey in 1996 in Slovak Republic found that 22% of respondents favoured "giving more room to skinheads", while 45% would support "moving the Roma out of the Czech Republic if possible."
The Romani are constantly stereotyped as `work-shy', `problem tenants', `petty criminals' and `unhygenic'. Romani children have been banned from public swimming pools on the grounds that they might spread disease. It is against such hostility that some gypsies have decided to try to make Britain their new home.
Lee Jasper of the National Assembly Against Racism (NAAR) told SchNEWS, "We are calling on the Home Office Minister, Mike O'Brien, to withdraw his statements that Romanies are coming to Britain to abuse asylum procedures and take advantage of the benefits system. Such comments whip up racism and threaten to deny them a fair asylum hearing. The Labour government appears to be following in the Tories' footsteps in playing to the tabloid press on asylum and immigration policy. This approach will lead to genuine asylum-seekers being turned away, perhaps to their deaths."
A counter demo is being called against the fascists, meeting at 12.30pm at Pencester Gardens in Dover Town Centre (where all the buses stop), supported by, amongst others, The Campaign For Asylum Seekers and the ANL. Contact Anti Nazi League 0171 924 0333 for more details

Today (Friday 7th) the National Coalition of Anti Deportation Campaign are organising a demonstration outside Oxford magistrates Court in support of 13 asylum seekers. The trial follows the alleged riot at Campsfield Detention Centre on 20 August 1997 (see SchNEWS 132.) Defence lawyers fear that it will be show trial at the insistence of the Home Office with the defence anticipating that the present charges of violent disorder will be increased to riot.
Contact the campaign at: 22 Berners St., Birmingham, B19 2DR Tel 0121 554 6947. Website: http://www.ncadc.demon.co.uk/
Last Saturday of each month 12 noon picket outside Campsfield (next one Saturday 29 November)

Nigerian asylum seeker Joyce Onibiyr has won her appeal to stay in the country. The ajudication officer has also recommended that the Home Office should allow her husband and son back into the country.

Travellers who are currently taking legal action against Brighton and Hove Council who want to "drive them out of town" have put forward a plan for creating a greenfield site which will enable them to live a low-impact, environmentally sustainable lifestyle. Come to a meeting organised by Brighton Friends, Families and Travellers Support Group next Thursday (13th) 8pm Friends Centre, Ship Street, to find out more.
---
A planned dusk till dawn curfew for under 16's has been scaled down after just over a month in operation. Three areas of Hamilton - Whitehill, Hillhouse and Fairhill - have been targeted by Strathclyde Police to highlight "the after-dark dangers faced by youngsters allowed out without adult supervision." Anyone under 16 caught on the streets after dark will be picked up and taken home. If there are no adults at home, the youngsters will be taken to the local police station, shown videos and given soft drinks and crisps until their parents or carers collect them.

However, on the first night hundreds of youngsters poured onto the streets. "If we are all out on the streets what can the cops do? They cannot run after us all can they? There just aren't that many of them", said one. Cops still lifted eight kids.

Police denied the initiative was a "draconian curfew," with Chief Constable John Orr commenting, "Strathclyde police do not think young people are Public Enemy No1 and this Force is not anti young people. On the contrary we are taking this approach because we really care that our young people live a safe and crime free life." But as one resident said, "Some of those youngsters are a menace... but putting them all under house arrest is no answer. The root of the trouble is that there's nothing for them to do, but instead of investment in decent facilities, all we get is damage-limitation policing."
---
For eating a yoghurt... Swat teams of vegan police staged a daring daylight raid and arrested 47 people on suspicion of burglary, after a pot of yoghurt disappeared from a fridge in the occupied offices of reviled opencast mining firm H.J. Banks. Thus in the wake of what must be one of the largest amounts of blatant criminal damage ever committed under police officers' noses (see next article), Derbyshire coppers had by the end of the day taken people in only for the eating of a dairy product, holding them for 24 hours. Scraping the legal barrel? It is not known whether the yoghurt in question was strawberry or black cherry.
---
On Friday 31, Hallowe'en, a nasty big opencast coal mine in Derbyshire was put decidedly out of action by the amassed forces of miners, ex-miners, radical ecologists, ghosts, witches and vampires. The action kicked off at 6am at the Doe Hill House site, and enjoyed the passive co-operation (if not support) of the Derbyshire constabulary, whose scant number of officers looked on as an estimated £350,000 of damage was joyously wreaked upon machinery.
Laughter
One activist told SchNEWS "machinery was dismantled, engines clogged, windows broken, tyres slashed and wiring ripped from vehicles. Several generators and the security lighting rigs `fell' over the side of steep cliff edges as bemused workers stood back and laughed." Rumours that the larger scale damage only began after the proprietors of the mine refused to proffer up sweeties to trick or treating activists are unconfirmed. What is known, however, is that by the time the protesters made good their escape after two or three hours of industrious activity, the site had been pretty comprehensively trashed; a spokesperson for mine owners HJ Banks confirmed, "every item on site was damaged."
Nasty
Opencast mining is nasty - it continues to devour as many acres of prime UK countryside as it did miners' jobs when the deepcast mining industry was killed off (see SchNEWS 139) After a clean get away from the mine, some of the activists moved on to occupy the firm's regional offices where they were eventually arrested on suspicion of burglary - see `Crap Arrest' box. On the day tasty vegan fare was laid on by Manchester's very own Counter Culture Collective - caterers for the frontline.
Contact No Opencast on (0171) 603 1831 Also a weekend camp for action against Ashton Court quarry near Bristol will take place on November 15-17; phone (0117) 9420 129
---
A Harrier jump jet crashed a few hundred yards from four load-carriers of Trident nuclear warheads - packed with conventional explosives - at 4pm on Hallowe'en at RAF Wittering, near Peterborough.

The convoy had arrived two hours earlier and was parked overnight in flimsy prefabricated garages at RAF Wittering, between the runway and the crash site, 100 yards south of the A47.

"This is exactly the accident scenario the MoD dread", says Di McDonald, Nukewatch Southern Co-ordinator. "If the jet had hit one or more of the loaded carriers, the high explosives within the warheads could have detonated, causing them to jet plutonium and other toxic material into the environment. Was the pilot directed to ditch his ailing aircraft in order to avoid a Chernobyl-type nuclear accident?"

The MoD would neither confirm or deny the incident. Juliet MacBride was later arrested and charged with aggravated trespass for "interfering with the movement of a military convoy" as it moved out the next day.
Take Action
Anti-nuclear actions approaching... Nov.17-19; Faslane Peace Camp, near Glasgow. Tel: 01436 820 901.

Bi-monthly women-only peace camps at Sellafield Cumbria. Phone Laura or Tracy on 0113 2621534. From 28th-30th Nov. they are celebrating 7 years of resistance against BNFL.
---
A Worldwide Reclaim The Streets (RTS) linkup on November 1st saw 3 parties go off (as simultaneously as differing time-zones would allow) in Oxford, Sydney and Berlin. After escorting Rinky Dink soundsystem out of the county, impounding Sparky the solar rig under section 63 of the Criminal Justice Act., Oxford cops graciously offered potential revellers a back street to party on, but, the crowd seized Cowley Road instead. A sound system got in amid a police charge, and the party was on- hard house, techno and a few bands too, with pensioners, crusties and shopkeepers all joining in the fun which finished at 7pm with a big litter-pick, leaving only police horse-shit to foul the street. Meanwhile, the first RTS down under was a total success: nearly 3000 people blockaded Sydney's Enmore Rd, a sound system was wheeled in in a metallic tower like Mediaeval siege equipment, and a permaculture garden was constructed in the middle of the street. RTS are keen to establish a working group to ensure the road is regularly closed down for parties, no doubt to the annoyance of the local petrol station owner who decided the whole demo was directed at him personally! And Berlin? We're still waiting to hear from `em!
---
Police went totally OTT last Saturday after squatters occupied Thelverton Hall, a country house near Diss in Norfolk that has been left to rot for seven years by wealthy landowner Sir Rupert Mann. A Halloween night house warming party was busted at 4.30 am by cops who told partygoers "We don't care about the law, we're going to get you out. Don't you know who owns the house?" 50 officers, many in riot gear, evicted the ninety or so fancy-dressed folk by force. Two black landrovers containing armed police were also spotted at the scene.

Refusing to hand over the sound equipment the next morning the Inspector smirked, "You win some, you lose some". Brighton based Innerfield Soundsystem, were told they would face charges of `abstraction of electricity' (though only generators were used), `trespass', `conspiracy to supply controlled substances' (eh?) and criminal damage (for damage to doors caused by the police on their way in!). When asked whether it was right that such a beautiful listed house should be allowed ro remain empty and rotting for seven years The Inspector responded "That's freedom. The freedom of the owner to do what he likes with his house. He can't afford the heating bills."

This is not the first free party to fall foul of Norfolk constabulary's rabid clampdown; some weeks ago they prevented another from taking place, apparently because it happened to be on the same day as Princess Diana's funeral(!)

On Monday afternoon Sir Rupert's lackeys burnt all the bedding and clothes belonging to the occupiers on the lawn in front of the house. That's freedom.
---
Andre Pusey was arrested at Bristol RTS on 21 June 1997 at about 7.20pm. He is alleged to have thrown a traffic cone towards police at the end of the party, at the Bond Street junction with the M32. During his arrest an "unknown officer" put Andre's left arm into a rear arm lock, resulting in a severe fracture. Andre has been charged with affray (obviously). If anyone was in the area at the time of his arrest, please call Bindman Solicitors on 0171 833 4433.
---
Brighton and Hove Council yesterday turned down the first application by Sainsbury's to build a massive new superstore on a disused railway site. Local Green Party councillor Pete West enthused "it was swung by the tremendous level of campaigning against the application by local people and businesses" More info contact BUDD, Tel: 01273 622727

Dave Callender, the Animal Rights activist who got 10 years for bugger all, had his appeal against conviction heard on Nov.6th - which resulted in his sentence being reduced by 2 years, the judge refusing to even consider overturning the conviction. This makes Dave eligible for parole next October

Thespionage are holding two workshops for their new play `Grief Encounter' next Tuesday (11th) and Thursday (13th) between 2-5 pm @ The Lift, Queens Road

There's going to be another national demonstration against Hillgrove - the place that breds cats for vivisection. It's on 16th November Meet 12 noon at the farm Dry Lane, Witney, Oxon

The president of the Spanish Confederation of Plastic Businessman, visited the small town of Bustillo del Campo last month and demonstrated the safety of PVC - by sucking the window frames of a house using the toxic material!
---
Brighton Council, enemy of undesirables, could do well to learn from the state of Tennessee, where a crackdown is being instigated against the number one U.S. social problem: unlicensed hair braiders. Across the country, evil hordes with a follicular bent have been setting up (or sitting down) shop on street corners, without first obtaining a cosmetology licence. "Our concern is the health and safety of the public", quoth Dianne Watson of the Tennessee Board of Cosmetology, and Tennessee is taking up her advice, insisting all hair-braiders obtain full licences...requiring up to 2,100 hours of study! "We want people to follow sanitary measures" went on Ms. Watson, as braiders across the state tore at their dreadlocks in horror...
---
SchNEWS advises all readers not to travel from country to country stealing yoghurt from people trying to extract it from large holes in the ground, but to live in detention centres where you can weave yoghurt into blankets to keep yourselves warm. Then you will be safe from prosecution. Honest.
---
Tune into to Radio 5 Live! this Sunday 11 am to hear about Flannel, police misconduct, and banned meetings

Subscribe to SchNEWS: Send us first class stamps (e.g. 20 for the next 20 issues) or donations (cheques payable to "Justice?"). Or £15 for a year's subscription, or the SchNEWS supporter's rate, £1 a week. Ask for "original" if you plan to copy and distribute. SchNEWS is post-free to prisoners. You can also pick SchNEWS up at the Brighton Peace and Environment Centre at 43 Gardner Street, Brighton.
SchNEWS, PO Box 2600, Brighton, BN2 2DX, England
Phone/Fax (call before faxing): 01273 685913
Email: schnews@brighton.co.uk Web: http://www.cbuzz.co.uk/SchNEWS/
---
Last updated 17th November 1997
@nti copyright - information for action - copy and distribute! SchNEWS Web Team (schnews-web@brighton.co.uk)