Home | 27th September 1996 | Issue 92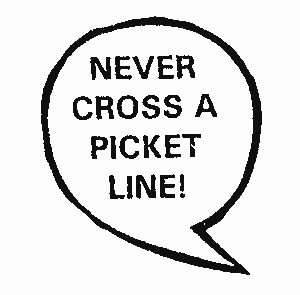 WAKE UP! WAKE UP! IT'S YER SCAB FREE...
SchNEWS
Download Scan Version - Front Page | Back Page
COLLECTIVE STRENGTH
At the beginning of September, members of the Luton based party and housing action group Exodus prepared to party European style. Following a successful conference by INURA (International Network of Urban Regeneration and Action) in Luton, the Exodus Collective were invited over to Zurich by a similar Swiss group - Rote Fabrik. Collective member Karen explained to SchNEWS, "Dance is big in Switzerland. They don't get the hassle that we do. Rote Fabrik receive government funding for their community/youth centre." Switzerland is the 2nd richest country in the world, yet despite their wealth, or maybe because of it, they place sufficient faith in people out of work to pay them a welfare allowance of 85% the national average wage.
Two international gatherings in the space of a month. Both positive, complementary and uplifting. The crew pack up and make the journey home. To what? "While we were away, 60 police officers raided the Farm... another trick to try and discredit. Yet what did they take away? A bag of sugar and a bag of baby milk. Please"
But this is just one minor hassle compared to events over the last four years. The collective have fought police harassment, press smears, council skulduggery and an alleged covert freemason campaign. They now face eviction from Long Meadow Community Farm, where school trips are arranged so that local kids on the estates can have first hand experience of rural life and livestock. The Exodus Community dances have faced high court injunctions, equipment seizure, road blocks, even legislation to increase the penalties for people organising unlicensed 'raves'... brought about by local Tory MP Graham Bright.
And yet they continue to grow and thrive.
Haz Manor was first squatted in March 93. A formerly derelict old people's hospice on the edge of Luton, it has been totally rebuilt to house 40 people. Repeated plans have also been put forward to the local council asking for space in which a community centre can be developed. When the first plans were put forward in early 93 Exodus began a promising dialogue with Dunstable Police. Chief Inspector Mick Brown told local press at the time, "What we need to do is find premises that the organisers need, to come up with the proof that their ideas work." Shortly after, Luton police swooped on Long Meadow Community Farm, arrested 12 people and seized sound equipment. This led to a 4,000 strong protest by disappointed party people... outside Luton Police Station! Members of the collective believe that the man putting political pressure on police chiefs was none other than...Graham Bright MP.
What are the authorities so afraid of? The Swiss Government give cash to people prepared to act; all we get is grief. And if any town needed somewhere for the young to gather, it was Luton. Back in 1993 it was compared to New York by a national newspaper, which came to the conclusion that the two weren't dissimilar, in terms of drug problems, firearms offences, joy riding and social deprivation. However, that same year Luton recorded a 6% dip in the previous year's crime statistic. Exodus claimed some of the credit for this: "We gave a lot of young people somewhere to dance, and that kept them off the streets and out of trouble."
There certainly seems to be a concerted effort, by persons unknown, to create situations to put the boot in. Hassling their local freemasons probably doesn't help. (Roy Davies, Labour Councillor and Leader of Luton Borough Council was recently 'outed' as a mason, and last week Judge Maurice Drake stepped down from the trial of one of the Collective members after it was disclosed that he was a member of the Royal Arch, an elite order of the freemasons.) Even local brewers Whitbread feel threatened - they lose thousands in pub sales when parties are held.
Exodus is a grass roots community group, providing housing and popular entertainment... that works. It may not be conventional, but real change isn't made by following convention. It's about being able to answer the needs of the community and about taking responsibility and regaining control over our lives. Nuff' respect.
The Collective are currently undertaking negotiations with the Dept of Transport regarding the proposed sale of Long Meadow Community Farm. Despite the promise of first refusal on the property, it has been verbally sold to another party without prior consultation.
Contact Exodus on 01582 508 936. Ring this number for party details next weekend.
The Crown Court case of Paul Taylor (Biggs) is still underway as we go to press. The charges have been dropped from murder to GBH as self defence and we'll bring you the verdict next week.
Crap Threats of The Week
Hampshire Constabulary have been getting all hot under the collar about mysterious tunnels appearing under the Newbury Bypass. Contractors tried to block them up with concrete, but protesters turned it into lock-ons! This annoyed the cops who threatened anyone who didn't come out of the tunnels with "criminal damage to soil" (!), then issued a press release saying that tunnels are a serious safety concern for children! (And the Bypass will be a really safe place for kids to play). Next, two professional cavers had to be called in (at £3000 each) to investigate and seal the tunnels off...
With ridiculous charges against Brighton Reclaim The Streets arrestees dropping like nine pins, one man still has charges hanging over him. After giving out leaflets he was first charged with 'Conspiracy to Cause Breach of the Peace,' but this has now been changed to - well, actually, there's no charge, just "that you did cause a nuisance to the public in Churchill Square by distributing leaflets at an unlawful demonstration... contrary to common law." Are they serious?
A 17 year old from Bexhill-on-Sea has been reported to the police for 'wilful jostling'!
Happy Anniversary?
October 1st marks the first anniversary of the Hillingdon Hospital strike. 56 Asian women domestic workers were sacked for refusing to sign new contracts by Pall Mall which would have meant a 20% pay cut - just £2.70 an hour, as well as cutting sick and holiday pay. Not only that, they have also had to occupy Unison HQ to get the backing of 'their' union. Picketing has been continuing 7 days a week. In the meantime Pall Mall have been seriously dented, winning only one contract in the Health Service since the dispute began, and having to increase pay at another hospital as a result.
* Mass Picket 1st October outside Hillingdon Hospital, Pieldhealth Rd 7 -8 am/12-2pm
* 5th October : Demonstrate - meet Uxbridge Civic Centre 12 noon. More info on 01895 255 071
Green Light for More Evictions
Yet another blow was dealt to travellers on Tuesday when the European Court of Human Rights in Strasbourg rejected a British woman's claim that she had a right to live in a caravan on her own land. Judges threw out her plea that refusal to grant planning permission for gypsy caravans was in violation of Article 8 of the Human Rights Convention, which guarantees the right to respect for private and family life and home.
The judges said the British Government had acted within its rights in refusing single mother June Buckley planning permission. Cambridgeshire Council said the caravans would be an eyesore, visually intrusive and detracting from the rural and open quality of the area, adding that there were special facilities for gypsy caravans just 700 metres from Mrs. Buckley's land. However, she refused to apply for a pitch there, claiming it was crime ridden and not fit for a single mother with young children.
Travellers organisations reacted angrily to the decision. A spokesperson for Friends and Families of Travellers (FFT) told SchNEWS, "It's just economic racism. If you've got the money you can get what you want - if you haven't then it's very difficult. Councils who don't want travellers in their area now have the perfect excuse to turn their applications down." Eli Frankham of the Romany Rights Association said, "A lot of councils have been treading water waiting for this decision. Now I think they will move all over the place. I foresee some awful evictions."
Despite the Government arguing that planning laws applied equally to all citizens and that special provision had been made for gypsies, figures compiled by FFT found 86% of planning applications by the settled population were successful compared to just 4% of travellers applications. Since the introduction of the Criminal Justice Act (CJA) councils are no longer obliged to supply caravan sites and eviction procedures are much easier. The number of caravans parked in fields and waysides has fallen by 11 per cent since the CJA came into force.
Mrs. Buckley's solicitor said she had failed on a technicality and vowed to fight on.
* Confined, Constrained and Condemned - Civil Rights and Travellers. Published by Friends and Families of Travellers £5 + 50p P&P from Top Floor, 33 High St., Glastonbury BA6 9HT 01458 832371
* Travellers Times - first issue of the newsletter of the Telephone Legal Advice Service for Travellers, Cardiff Law School, PO Box 427, Cardiff, CF1 1XD. Helpline staffed 9am - 1pm every weekday 01222 74580 Fax 01222 874097
Party & Protest
Fri 4 - Sat 5 Two days of activities organised by Anti Fascist Action to commemorate the 60th anniversary of the Battle of Cable Street and the Spanish Civil War. Rally on Friday at Camden Irish Centre, 52 Camden Square, NW 7.30 pm. Films, exhibitions and speakers £4/£3 (Rio Cinema, 103 Kingsland High St., Dalston, London E8 Sat 1pm) and music (The Oppressed & Stage Bottles Sat 8 pm Camden Irish Centre £5/£3) More info AFA, BM Box 1734, London, WC1N 3XX 0161 232 0813
Sat 5 - Sun 6 Nationwide action against the Torture Trial, Campaign Against The Arms Trade 0171 281 0297
Sun 7 'Out of the Ghetto' discussion 3pm at the 121 Centre, Railton Rd., Brixton. Organised by Contraflow mag. (New issue out now for a donation + SAE to 121 Railton Rd., Brixton, London, SE24. They are skint and it could be the last, so why not bung 'em some cash quick smartish.)
Tue 8 Six months since the fatal CS Gas spraying of Ibrahima Sey - picket of Forest Gate Police Station 7pm 0181 555 8151
10-19 Aberdeen Alternative Festival 01224 635822
Thur 10 Simon Sutherland appeal against a 5 year sentence for graffiti art! Appeal Court, Strand 10am. Lots of support & noise needed 0171 737 5294
Fri 11 - Sat 12 New Moon with Friends of Twyford Down : exhibition, meeting, lanterns, song, dance & sacred gathering in Winchester 01962 868763. People are getting a book together about what happened on the Down; photographs, letters etc. for inclusion to P.O.Box 162, Winchester, Hants, SO23 8AA
Sat 12 Sufficiency 96 Day School organised by Enough - looking at the social and environmental consequences of consumerism. Friends Meeting House, Mount St., Manchester M1 5NS. Suggested contributions £5 waged/£1 unwaged 0161 225 4507
Sat 12 Interational day of solidarity with McDonalds workers, including picket in Manchester organised by parents of McDonalds worker electrocuted at work 4 years ago 0171 713 1269
Tue 15 The Motor Show - 'celebrating' 100 years of the motor car - is at the NEC Birmingham. Reclaim The Streets are planning an action for the first day 0121 449 5452
Wed 16 Annual worldwide day of action against McDonalds. Plus picket of McDonalds Head Office, East Finchley High Rd., London N2 (opp East Finchley Tube) 4.30 - 6.30pm 0171 713 1269
Fri 18 More Prisoners, Less Rights - An evening in support of prisoners rights with speakers (including one of the Justice? crew), music, poetry, prisoners' art exhibition and a glass of wine £6/£2 unwaged Bridewell hall, St. Bride Foundation Institute, Bride Lane (off Fleet St), London EC4 (Blackfriars tube). Info Terry O'Hallaran Memorial Fund, BM Box 5960, London, WC1N 3XX
Sat 19 Anarchist Bookfair, Conway Hall, Red Lion Square, London WC1
Sat 19 Reclaim The Streets in Manchester. meet 1pm Albert Square 0161 226 99041
Sat 19 Apple Day
Sun 20 Conference on the JobSeekers Allowance. Brighton Unemployed Centre Ltd. 01273 671213
Thur 24 National Mahogany Action, somewhere in Kent 01603 611953
SchNEWS in Brief
King Arthur is in prison again. He is refusing to wear prison clothing, as they will not let him wear his ceremonial robes, and is doing a naked protest as a result. To show how lenient they were, the warders decided to let him see the sun rise for the equinox to practice his pagan beliefs. The only problem was that they wouldn't let him out of the prison courtyard, and seeing the sun rise behind a 40ft prison wall is a tad difficult!
* Victory in the valleys - Powys County Council have turned down Celtic Energy's planning application for an extension to Nant Helen open-cast. Info 01792 475882
* Protesters in York fighting an out of town shopping centre development on the site of the old Naburn Hospital were evicted this week. With massive local support they have vowed to fight on. Info 0831 586938
Blow Job!
On September 30th, the founders of the Medical Marijuana Foundation (MMF), Robin and Adrienne Scott, will be in Truro Crown Court, defending criminal charges of possessing, producing and supplying cannabis.
Established in 1995, to make marijuana available to those who would medically benefit from it, and working alongside Dr. Roger Pert, a world authority on marijuana, the MMF acquired a factory where they were to produce 'vitamin bombs' - a combination of Vitamin B complex, Vitamin E and extracted essence of cannabis. It has been found that those suffering from MS, ME, PMT, asthma, glaucoma and arthritis (to name but a few) have experienced alleviation of symptoms with use. They were thwarted in their attempts by a police raid last Christmas.
MMF, The Old Farmhouse, Crylla, Common Moor, Liskeard, Cornwall, PL14 6ER 01579 346592
* A former copper who made British legal history when he went on trial in a bed, has been cleared of conspiring to cultivate cannabis. 51 year old Graham Peacock - who served 26 years in the Met Police - was alleged to have been part of a sophisticated racket to grow "skunk weed" in four commercial premises. But Peacock, who suffers from a painful back condition and was given special permission to lay on a bed throughout his trial, told Southwark Crown Court that the premises had been sub-let by acquaintances and he had no idea what they were using them for...
and finally
Radiation is good for you! According to John Graham, vice-president of British Nuclear Fuels, daily doses are fine, and one day might be required to promote health! His remarks were reported in Professional Engineering, alongside comments from Morris Rosen, adviser on environmental affairs to the International Atomic Energy Agency in Vienna. He reckons that evacuating so many people from the area around Chernobyl was an over-reaction and caused a deterioration in their quality of life!
Maybe these two have been listening to closely to Ahmet Ozemre, the Director of the Turkish Atomic Energy Institution, who - after Chernobyl had covered his country in radiation - told his people, "eat everything; eat whatever you find without fear". Cahit Aral, Trade Minster went one further saying that "anyone claiming that radiation (from Chernobyl) has affected Turkey is an atheist and a traitor." Things started getting out of control - "Radioactive tea is more delicious, more tasty," with Turkish tabloids even asking, "Does a certain level of radiation have an aphrodisiac function?"
Britain wasn't impressed, and sent back Turkish tea after discovering radiation counts well above the norm. Germany and Holland followed suit sending back hazelnuts. And what happened to them? Well..eh...they were fed to Turkish soldiers - and Aral blurted out eight years later at an informal press conference : "We did take our revenge on the Soviet Union for the nightmare of Chernobyl by exporting the contaminated hazelnuts to Russia."
Are these people suffering from radiation sickness? You decide.
disclaimer
The SchNEWS warns all readers not to try and get better by treating themselves. Always get your medicines from your caring drug multinational and you will remain in the best of health. Honest.
Subscribe! Keep SchNEWS free! Just send 1st class stamps (eg 20 for 20 issues) or donations (payable to Justice?) Mark 'Original' if you plan to copy: SchNEWS c/o on-the-fiddle PO Box 2600 Brighton East Sussex BN2 2DX. SchNEWS is free to prisoners tel/fax: (01273) 685913. email:kierent@netresult.co.uk e-SchNEWS: http://www.cbuzz.co.uk
Next Justice? meeting tues 1st October 7:30pm. @ the Albert trafalgar st. Films & chat about Direct Action Conference