BRISTLE BOOK - 'Political Street Expressions In Bristol And The South West'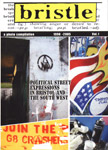 This is a full colour collection of subverts, stencils, graffiti, defaced billboards and other graphical hi-jinks photographed around the Bristol area in recent years, brought together in a pocket sized tour-de-force of detournement.
Bristol has a strong history of very active public artists of this kind - even spawning one cult figure in 'Banksy' - but the Bristle book shows that this city must have about ten Banksy's to produce such a volume of high quality work.
The book has sections featuring examples of each of the graphic forms, and while it has a few written articles to set the scene, it mostly lets the 500 different images which dominate the book do the talking.
As far as funny and definitive critiques of consumerism, privatisation, class struggle, and the so-called 'war on terror' in graphical form, it doesn't get any better than this. There's even a series of photos showing billboards actually being torn down - which is really what should be done with them. All the content is copyleft (eg can be re-used for non-profit use) - making it a repository of razer-sharp graphics to fill a hundred zines - but it's a shame some images are very small and harder to reproduce.
This book is published by Bristle, the direct action and news magazine which has come out of Bristol since 1999.
200 page, A6, full colour.
Ordering details:
£6 by post - cheques payable to 'Bristle', to Kebele, 14 Robertson Rd, Bristol, BS5 6JY, or direct from Bristle stalls, non-commercial outlets, and from Kebele's stalls.
Or buy online at http://www.fugazi.net/dswat/catalog/product_info.php?products_id=922
For more information see Bristle website www.bristle.org.uk
email editors@bristle.org.uk