Home | Thought Crime Calendar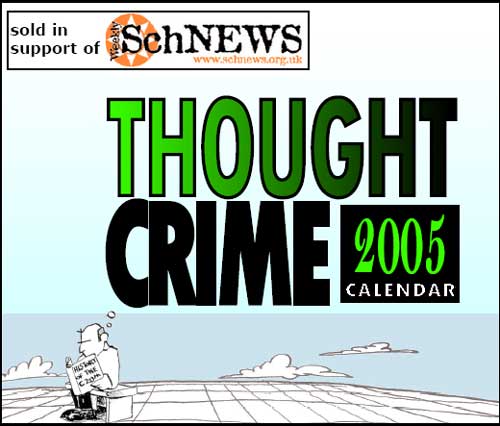 Nick Watson has produced this calendar using his cartoons / graphics from this year (most examples are up on www.zmag.org/cartoons) and text excerpts from progressive writers and he's given us the PDF to distribute. The plan is that you lovely people download and print it out and hang it on your wall (or give it to a loved one for Xmas) and for this privelige you give us a donation (Nick doesn't want any of the donations, they're all for SchNEWS). There is no minimum donation but at least a couple of quid would be nice.
Click here to download the calendar PDF (warning it's a big download - 9 Mb). Right click on the link and choose "Save Target As..." to save it for printing later. We're not going to check if everyone who downloads it makes a donation but remember, God (and the CIA) are watching ; ) (It's been downloaded about 130 times now and not one donation has been received, you tight gits!) NOTE: You can send us cheques or transfer money to our account if you've not got a credit card. Details here.
If you want to make a proper job of the printing then follow these simple instructions (that we nicked off Indymedia...)
You'll need adobe acrobat or equivalent (free downloads easily available on the net) to open this document.
+ printing
14 double sided, A4, full colour pages. set printer properties to 'two-sided printing' and 'landscape'. 100gsm paper recommended. 9mb file.
+ binding
once printed, collate pages. 1cm margin at top of each page gives room for spiral (cone) bind – should cost £1.00 from high street print shop. hole punch bottom centre of each page for wall hanging.