...And Finally...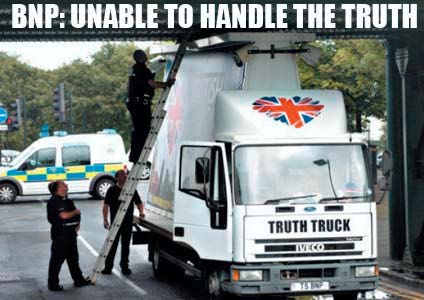 Now SchNEWs isn't normally a cheerleader for traffic accidents but on this occasion we had to make an exception. Perhaps hampered by the need to steer ever further to the right the BNP crashed their 'Truth Truck' into a low bridge in Sunderland on Monday.
The union jack sporting vehicle was on its way to protest against the use of halal meat in a branch of Subway in the Sheepfolds area of the city when the filthy communist railway bridge sprung its ambush. Whether because of basic illiteracy or more likely due to a patriotic disdain for foreign metric measurements the lionhearted BNP driver ignored the clear warning signs and smashed the truck into the underside of the bridge, causing the suspension of services for several hours.
Cops could only clear the blockade after letting down the tyres and towing the truck out backwards. A more apt metaphor for Nick Griffin's leadership of the party would be harder to find.
Top SchNEWS tip Nick, fascists are supposed to make the trains run on time - not stop them altogether.