Crowbars to the ready. as the last of the three Brighton squatters arrested within days of Weatherleys Law being enacted was acquitted today at Brighton magistrates.
Dirk Duputell, squatter, transvestite and international playboy, was convicted of the offence of unlawfully occupying a residential premises back in May. His two co-defendants were acquitted but the case against Dirk was upheld as a police claimed that Dirk had told him he was 'living' at the premises.
He's had to wait until now but it didn't take long for his defence solicitor to tear the cop's evidence to shreds. At the time that Dirk made his 'confession' he was not under caution, the statement was not recorded and his alleged statement was not put to him under questioning. The case was thrown out of court.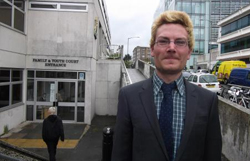 The judge went on to make some important remarks that may very well blow a hole below the waterline of Weatherley's law. Under that law it is a crime to be 'living' in the premises. The judge ruled out 'circumstantial evidence' of someone living in a squat and suggested that the police should either provide forensic evidence (fuck knows what the DNA profile of yer average squatter's duvet is gonna look like) or ask the neighbours if specific squatters resided in the building ( was it the one with the nose ring or the one with a green mohawk and a three legged dog?). He suggested that letters addressed to individuals at the premises would count as proof. All of which sounds like a bit of a ball-ache for the Babylon so SchNEWS predict a return to (in Brighton at least) the pre-Weatherley private evictions.
SchNEWS spoke to one of Dirks' co-defendants who said, "This whole case was about a dodgy bailiff company pretending that we were squatting in a residential premises to get a free eviction courtesy of the taxpayer. The building was still obviously a commercial one – the flats hadn't been converted"
Of course Dirk's the lucky one – although the total number of convictions under the act is unknown, at least one person has been jailed for three months for the crime of seeking shelter in an an empty building and the police have used the powers to regularly conduct evictions the legality of which never get examined in court.
Squatter's Legal Network had this advice "If you're arrested then always go 'No Comment' – certainly you might have to talk to the cops at the beginning of the eviction but be careful – avoid any hint that you're living there"
For more on squatting in Brighton and Hove https://network23.org/snob/
Nationally – Advisory Service for Squatters http://www.squatter.org.uk/
Or the Squatters Legal Network https://network23.org/squatterslegalnetwork/