Since our last update, the Brighton Hospitality Workers have been making a name for themselves. With a successful campaign against a grocery and two more campaigns on the go, we're here to bring you an insider report into how things are going with SolFed's union initiative. Although they have several victories under their belts, one particularly nasty business owner is proving a harder nut to crack.
This business happens to be Marmaris, a café situated on Western road in Brighton, with a boss who has a reputation for being a racist bully boy who exploits young migrant women for illegally-low-paid work. According to the interviewee, the person they are working with is owed £870 after being paid £1 per hour less than minimum wage (as well as the cheque being late). The boss has told activists 'no-one pays more than £6 per hour in Brighton, even the bus company and Tesco'. While wages are low, most companies at least manage the legal minimum.
As any other campaign would go, they started out by agreeing on a written demand letter for whatever sum is owed, then when demands weren't met they escalated to a picket on the storefront. After this escalation the owner decided to pay the protestors a visit and became aggressive. So, in retaliation the protestors went back the same day and two were physically attacked by the owner. Then after all protestors left, the owner called police claiming harassment.
Although this campaign has been a hard one, some good moments have come up, including an increase of their member count to roughly 70 contacts. They have also gained enough of a reputation for business owners to walk out of their shops and watch over the Hospitality Workers, to see if their business is a target.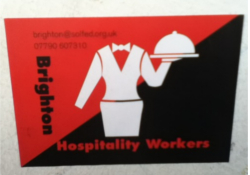 According to the anonymous interviewee, future plans are to turn this into an official union for all hospitality workers.
Wish to get involved? Maybe you could do similar defence of workers rights where you live?
Email: brighton@solfed.org.uk