Home | This Week | Update | Archive | Diary | Database
---
Previous | SchNEWS 135 | Next | Index | PDF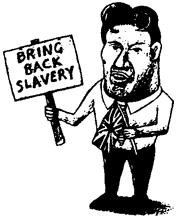 WAKE UP! WAKE UP! IT'S YER FIFTH OPTION...

Published in Brighton by Justice? - Brighton's Direct Action collective
Issue 135, Friday 19th September 1997
SchNEWSnight, Sat 20th September @ Lift Club, Queens Street 8-11pm
As everybody's favourite Job Seekers Allowance gets ready to celebrate its first birthday on October 1st, the unemployed are in for a new wave of benefit bashing with New Labour's New Deal.
The Welfare to Work programmes look set to begin in 12 trial areas in January, with the programme going countrywide from April `98. £3.5 million is to be spent trying to take a quarter of a million 18-25 year olds off the dole and putting more than half the long-term unemployed into subsidised jobs or training.
After an "intensive job guidance and counselling" programme lasting up to 4 months, people will have to choose one of four options. Refuse - and you'll lose your benefit. As Employment Secretary Frank Field pointed out, "there will be no fifth option of continued full benefit." However, one brave Labour councillor told a TUC Fringe meeting last week "It's a new National Service, there is no fifth option apart from drugs, crime and homelessness."
Andrew Smith, the employment minister in day-to-day charge of the New Deal said "These are quality options - quality has to run through the programme like a seam of gold. But, for fit young people, continuing on benefit is not going to be an option."
The bidding for those who want to run the programme will begin in October, and claimant's action group Groundswell reckons the Employment Service will continue with the training providers already in place for Project Work, Training for Work and Restart Courses - "despite the fact that everyone knows these outfits are a joke."
Meanwhile, while much has been said of the sanctions that will be used on the unemployed who refuse to co-operate, little has been said about employees who will inevitably take advantage of the scheme to replace workers with cheap labour. Employment Policy Institute director John Philpott warned that employers with a high labour turnover were bound to try to use the subsidy "There is a risk that the scheme could end up validating the revolving door labour market."
We at SchNEWS have heard it all before - as every new scheme to `benefit' the unemployed has been announced, the politicians begin sounding like a Persil advert - `Yes, it's our new improved brand of slavery which will really get rid of those nasty greasy unemployable stains this time.'
The reality is that unemployment is here to stay...after all wasn't this meant to be the so-called `age of leisure'? Yet in the UK, we work the longest hours in Europe (and a recent report by the TUC found that nearly half the workforce in Britain were suffering from some forms of stress) and according to an Unemployment Unit spokesperson, have the "meanest, toughest unemployment benefit system in all Europe."
As one claimants' activist told SchNEWS "If the options aren't good enough - people should have the option not to bother."
In Brighton, while at least six people chase every job, the entertainment backbone of the town relies on musicians, artists, playwrights who are on the dole...but hardly unemployed.
And finally, surely SchNEWS has been reporting about an unpaid environmentalist task force which has been out and about trying to stop developers trashing the country for the past few years? Or as Groundswell puts it: "It's just Community Service for the unemployed, as if they were guilty of a crime against society. It sounds just like the work camps for the unemployed which Old Labour ran in the `30s."
In Brighton an unlikely alliance of anarchos, trade unionists, claimants and socialists have been dealing blow after blow to the Project Work-for-your-dole scheme introduced in April.
Everything from office occupations to the picketing of charity shops using forced labour has been used, and claimants turning up for the scheme are regularly leafleted to let them know what's going on. 10 claimants have even joined the General, Municipal and Boilermakers Union!
Brighton and Hove Council are boycotting the scheme, quoting the EC Convention on Human Rights banning forced labour, saying `any attempt to coerce the unemployed into Project Work... is a wholesale attack on the unemployed and will only enforce lower wages'. Meanwhile the Brighton Volunteer Bureau have written to over 200 local groups condemning the scheme.
Its futility and failure can clearly be seen in the two areas where the scheme was first piloted. In Kent work-slaves have painted one gate at Napoleonic Fort Anherst 27 times; while in Hull, only 366 out of more than 3,000 people were found McJobs.
In Brighton, four voluntary organisations who initially took on placements' have backed out of the scheme due to pressure from the claimants' union. Some - including OXFAM - talk of being lied to by `the providers' - the company which gets cash for finding placements crap jobs. These naughty providers, aware of the schemes' popularity, have been ringing up voluntary groups and asking them if they want some volunteers! Pardon us, but if you refuse to go to work at these places, you lose all benefit - hardly a voluntary option!
Project Work is just the thin end of the wedge. In New York public sector workers in the Subway have been replaced by the unemployed on workfare schemes. But as `welfare to work' has no fifth option it too is nothing short of workfare. An activist told SchNEWS "Victory against project work will hopefully act as domino effect for the rest of the country and strengthen peoples resolve to fight the new welfare to work menace."
Work: The employer gets a £60-a-week subsidy to employ someone for six months at a standard wage. The job must include a one day a week training for which a grant of £750 is paid.

Full time study: on an approved course for up to a year for people without NVQ Level 2 qualifications or similar.

Six months voluntary work: claimants get benefit plus a grant of up to £400 paid in instalments. The job must include one day a week training. Up to £3,200 will be paid to the voluntary organisation to facilitate the placement.

Environmental Task Force: to carry out work to improve local environments. Conditions to be the same as above.
Some or all of these options will also be introduced for all long term unemployed (over 2 years).

Sanctions for under-25's who refuse to take part in the New Deal programme are essentially the same as those introduced with the JSA. Refuse to take up any of the options without "good reason", and all benefit will be withdrawn for two weeks, four weeks and then indefinitely. As under the JSA, the penalty will only be a 40 per cent lose of benefit, if the claimant is deemed "vulnerable".
---
30th September sees the eleventh anniversary of the kidnapping of MORDECHAI VANUNU, a nuclear technician who in 1986 leaked information to the London Sunday Times about the secret Israeli nuclear weapons programme. Kidnapped in Rome by Israeli intelligence agents, he was tried in secret for treason and espionage, and sentenced to 18 years. He has spent almost 11 years in solitary confinement, there are serious concerns for his mental health. To mark the anniversary of his kidnapping, an international delegation is to hold a vigil from 22-30 Sept at Ashkelton Prison, where he is being held, and other important locations in Israel.

PABLO LOCKE was banged up for life after defending himself against `a psycho with a multitude of violent convictions.' Pablo was no angel but he didn't deserve a life sentence. He writes "Think about the last ten years and then think of me, I've missed the lot. Now, can you imagine the anger I feel? For what I did I should have got 8 years tops. I don't ever ask for pity mate just a little understanding... Personally I think people should know what is really happening in this countries penal system. The suicide problem is getting worse and the special units are getting similar to the cages that Jimmy Boyle wrote about years back." Because he refuses to tow the prison line the likelihood of his release in the near future is very slim. He adds "the whole point of the lifer system is to break the man's spirit."
Don't let them! Drop him a line: P.Locke MM 2797, HMP Bristol, Cambridge Rd, Horfield, Bristol.
Spirit of Freedom produced by the Earth Liberation Prisoner Support Network lists all known direct action prisoners. To find out the list, or if you now people to add to the list write to, Earth Liberation Prisoners, c/o BM HEAL, London, WC1 3XX. Donations appreciated
---
The children's programme is offering, as a competition prize, a trip to see the launch of the "Cassini" space probe carrying a load of radioactive and plutonium. An environmental impact impact survey conducted by NASA in 1995 admitted that an accident would expose 5 billion people to radiation, though estimate the likelihood of an accident as 1 in a million. However, before the Challenger accident NASA estimated a shuttle launch failure at 1 in 100,000 - but guess what happened? Contact CND 0171 700 2393.
---
The same weekend that an ex-Royal, her partner and their drunk driver died in a Paris tunnel, over 500 Algerian citizens had their throats slit, were burned alive or shot dead in Rais, Algeria. This death toll represents the single greatest loss of life in the country since the army took over in 1992. Since then, sixty thousand people have died at the hands of the right wing government regime. The UK has benefited from the lucrative arms sales to the regime and BP are happily exploiting the country's huge oil reserves. Funny how, during all the turmoil, neither gas or oil production has once been interrupted or threatened.
---
SchNEWS recently received a letter from the Do It Yourself Support Group in Israel! They are planning to set up a network of local groups from Green, Peace and Animal Rights backgrounds. Contact PO BOX 6056 Hertzliya 46150 Israel

Nice One to Bath & Wansdyke Recycling Centre - who have just welcomed a new addition to their fleet...a horse drawn dray

The Celtic League have called for independent assessment of Sellafield after recent reports showed that recent changes in reprocessing operations by BNFL have resulted in lobsters becoming 92 times more radioactive than four years ago

Are you veggie, wanting to turn vegan? Or want to know which beer is vegan-friendly? Contact the Vegan Information Network for the answers and support, and send `em a 20p stamp for their 16 page booklet: Escape, PO Box 2801, Brighton BN1 3NH

A camp has been set up in Shoreham to prevent an SSSI and an orchard being destroyed by a farmer. Help is needed. Contact Robbie on 0976 931188

Earlier this month the disabled people's Direct Action Network held three days of action in Bristol including occupying City Line busses headquarters to demand better access facilities contact DAN 0181 889 1361, http://www.disabilitynet.co.uk/groups/dan/index.html

Reclaim The Streets are promising to be dancing into action with the Liverpool Dockers on Monday 29 September. Meet Victoria train station 10am with a train fare of £12:50, bring drums, instruments, sugar, lock-ons, water, pixies, tunes and imagination for a mystery tour 0171 281 4621
Some extra dates:
28th Sep - Ramblers Association Access Day. Nation-wide walks to highlight public access to the countryside. Details: 0171 582 6878
30th - Vegetarian Society celebrates 150th birthday. For info on events in your area: 01649 280793
3-5 Oct - Gathering in the Borders to discuss land rights/ forest living in Scotland. Contact Reforesting Scotland 0131 226 2496
3-5 - Low Impact Weekend Party, Birch Hill wood near Leicester 01254 234228
11-18 - International Week of Action Against McDonald's. McLibel Support campaign 0171 713 1269
18 - Schumacher Lectures, Colston Hall, Bristol. Speakers on Solar Power. Details: 01803 865051
Don't forget the Mass Trespass in Oxfordshire to defend the right to roam on all uncultivated land. Overnight camp and nature trial. Meet Saturday 20th at 10am, outside Oxford Railway Station. Please bring tent, food, sleeping bag. Cooking facilities on site. Details: 0402 176410, or 01865 722016 on the day.
---
From Oct 2nd - 16th, consumer, farm, animal and public interest organisations from over 40 nations will be holding simultaneous protests, press conferences and public education events called the Global Days Of Action. Wanna get involved in local or national actions, or do it yourself? Contact WEN: 0171 923 9511 or GEN: 0181 374 9516.
---
Three named Press representatives and Newcastle Animal Rights coalition are the latest to be served with injunctions using the Protection from Harassment Act 1997. The injunction served by Cornyhaugh Mink Farm (Kirkley Mill, Ponteland, Northumberland) following a legal inspection and one demonstration which the police acknowledge to be peaceful. The injunction bans named people from writing letters or telephoning the Fur Farmer, as well as holding any demos near the farm, or encouraging others to do so. In order to get the injunction served it was stated in court that one activist had attempted to gain access to the farm, while she was in fact detained at Her Majesty's pleasure in Holloway!
More information: Newcastle A R Collective, PO BOX 1JY, Newcastle-Upon-Tyne, NE99 1JY.

There's gonna be a national demonstration at Hillgrove Farm in Oxon on Saturday 28th September. The farm breeds kittens and cats for vivisection. Nice. Meet 12 noon at the main gates on Dry Lane, Witney, Oxon. More info: Box CB, Inner Bookshop, 111 Magdalen Rd., Oxford.
---
A disused car park in Brixton has been converted into an enterprise centre, housing workshop space, cafe, club room and recording studio. The project has been born of a community based organisation out of the Angeltown estate in Brixton. 0171 737 7977
---
Protesters have won their campaign to save an SSSI from being ploughed to plant flax. Land was saved by locals who refused to allow the Downland to be destroyed earlier in the year, when the same Farmer Harmer then attempted to destroy further sections of the South Downs locals quickly set up camp. Michael Mercher has since given backing to English Nature's proposal to prevent damage to the land. Victory picnic this Sunday. Call the office for details
---
For people interested in having a friendly word with Portendown Germ Warfare scientists they will be holding exhibitions this month in Dorchester Town Hall (23rd), Weymouth (24th), Bridport Town Hall (25th) from 2-8pm. For more exact info. contact 01305 835341.
---
A motorist who became so incensed when a speed camera flashed at him that he tied a rope around it and attempted to tow it away was this week fined £400 at Bristol crown court for causing criminal.damage. But 19 year old William Potter, of Watchfield in Somerset escaped without any licence penalty points because the camera was wrecked - and the Crown Prosecution Service could not produce any evidence to show that he was speeding!
---
Schnews warns all readers to never rest, never play; just work, work,work.Don't think of the destruction it causes. With a smile pay all taxes, bills and costs created by the damage. And if you get a chance-consume, consume,consume... Then we will live in shit and feel like shit.Honest!
---
What is the difference between Swampy and Princess D****? Swampy comes out of tunnels alive! Boom Boom!

Subscribe to SchNEWS: Send us first class stamps (e.g. 20 for the next 20 issues) or donations (cheques payable to "Justice?"). Or £15 for a year's subscription, or the SchNEWS supporter's rate, £1 a week. Ask for "original" if you plan to copy and distribute. SchNEWS is post-free to prisoners. You can also pick SchNEWS up at the Brighton Peace and Environment Centre at 43 Gardner Street, Brighton.
SchNEWS, PO Box 2600, Brighton, BN2 2DX, England
Phone/Fax (call before faxing): 01273 685913
Email: schnews@brighton.co.uk Web: http://www.cbuzz.co.uk/SchNEWS/
---
Last updated 24th September 1997
@nti copyright - information for action - copy and distribute! SchNEWS Web Team (schnews-web@brighton.co.uk)