Home | 21st July 1995 | Issue 32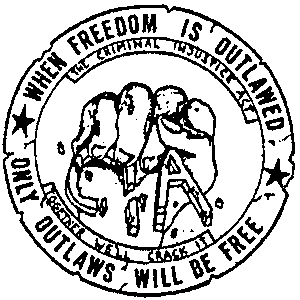 Justice? Brighton's Campaign in Defiance of the Criminal Injustice Act
SchNEWS
CJA ARRESTOMETER
Hunt Sabs 151
Road Protestors 66
Footie Fans 45
Environmentalists 44
No Live Exports* 38
Travellers# 11
Tree Defenders 11
Druids 1
Peace Campaigners 1
* at least 500 arrested under the 1986 Public Order Act this year
# not including grief and harassment
NEWBURY NIGHTMARE!
COWARDLY LAST ACT OF MAWHINNEY
The Third Battle of Newbury will soon commence, thanks to a cowardly u-turn by the former transport Secretary Brian Mawhinney - who gave the go ahead for the by-pass just half an hour before leaving office in the Cabinet reshuffle.
'One of the most environmentally contentious proposals of recent history. The damage to the Lambourne Valley and Snelsmore Common (both SSSI's) would be quite unacceptable.' So said the report of the Government's own Landscape Advisory Committee - and for once they are right.
The proposed 13 km long road will trash three SSSI's (sites of special scientific interest), skirts both a Conservation Area and a Countryside Heritage Area, destroys a riverside nature reserve, takes out an historic garden and two ancient battlegrounds, ploughs through two river valleys and one ancient navigation, obliterates a Wildlife Heritage Site, cuts through several woods (one of which is a Wildlife Trust Nature Reserve), and manages to 'pass' three times through the North Wessex Dowus Area of Outstanding Natural Beauty...!! They're obviously learning.. 'Twyford Down only destroyed two SSSIs, one ancient monument, AONB, one river valley..
Not content with this, it also destroys the protected habitats of bats, dormice, kingfishers, hobbies; badgers, and a rare snail that has survived since the Ice Age.
THE STORY SO FAR...
Because of huge pressure from both local people and national environmental groups, the scheme was put on hold last year pending 'a YEAR long review into other options'. This also coincided with the launch of the so-called 'Great Transport Debate' with Transport Minister Brian Mawhinney asking direct action groups to stop digger diving, come and meet him, and start talking. So, both local and national direct action and environmental groups dutifully wrote to Mawhinney asking for the promised meeting. Nothing was heard (although pro-road and pro-bypass delegations were welcomed with open arms). So the groups wrote again. and again. Still nothing - the DoT refused to meet with any direct action groups or individuals.
Meanwhile Friends of the Earth (FoE) and the World Wildlife Fund (WWF) commissioned a £15,000 study into alternatives to the bypass. They wrote to Mawhinney in May, letting him know that the report would be ready in August. "Thank you, we look forward to receiving a copy" came the reply from John Watts, the Roads and Railways Minister
Then, on 5th July, 30 minutes before he left the DoT, Mawbinney announced that the 'review' was complete and the road was to go ahead. What Mawhinney didn't mention was that the review even failed to fulfil its own terms of reference - to Look at other solutions to the traffic problems in Newbury. He also seems to have forgotten the fact that the road proposal itself is illegal; nobody is quite sure what else the road will destroy as the Government has refused to commission an Environmental Impact Assessment - as required under BC law. The breaches of two other EC Directives on Habitat and Birds were also absent.
According to Simon Festing, Habitats campaigner for FoE: "The so-called 'review' is little more than a charter for road building. It is bad news for the many wildlife sites across the country under threat from road construction". Tony Juniper, campaigns director at FoE went on to say: "This makes a mockery of the 'Great Transport Debate'. This decision will further unite the diverse UK environmental movement against Government transport policy and reaffirm Newbury as a focus of opposition to it."
The pro-bypass .group meanwhile have enjoyed the support of, amongst others, organisations such as the British Roads Foundation, The Road Haulage Association, developers (there are already over 700 planning applications for infill!!!) and other vested interests. They have been given FREE offices by the Council (cost to the taxpayer £8000+), a FREE shop in the local shopping mall and huge corporate donations (One example is £10,000 from Vodaphone....You can always ring them to let them know what you think.)
At Newbury, phone trees have been set up by local people to co-ordinate nation-wide actions against the unlucky contractor who gets the contract. A camp has been set up along the route, and all hard working eco-defenders are welcome. And a HUGE rally will take place at the end of July.
According to Road Alert!: 'They we using this campaign to stage a stand off between the anti-roads movement and the pro-roads lobby. If the road goes ahead the destruction will be much worse than at Twyford. But this will not be another Twyford it will be another Oxleas Wood. People MUST come to the rally on the 29th July. This is a battle we must win'.
RALLY DETAILS: Meet 2pm, Saturday 29th July, at Donnington Castle, near Newbury.
FURTHER INFO: Road Alert!, 01635 521770.
RECLAIM THE STREETS
STREET PARTY II
Meet 1pm Battlebridge Rd, Kings X call 0171 254 2290 on the day
PARTY-PEOPLE CRACKDOWN
Police have now arrested eight people alleged to have been organisers of the anti-Criminal Justice Act (CJA) 'Mother' festival which sort-of happened weekend last.
They are bailed to appear at Corby magistrates on the 7th and 8thAugust. Some have been charged with 'conspiracy to cause a public nuisance', a common law charge which can carry a maximum life sentence! Others have yet to be charged. Hampshire Police have been involved in all the raids - apparently police 'intelligence' thought the festival would take place in Hampshire. In the end parties went off at Northamptonshire, Lincolnshire and Somerset.
The whole operation to stop the party ranged from phone lines going dead (including all mobile phones in the South-West area at one point) to road-blocks, helicopters and 5 mile exclusion zones using new powers under the CJA. Michelle from Advance Party commented: "The forces which want us muzzled are upping the stakes and are continuing to waste huge sums of the public purse on chasing hunt sabs, road protestors, musicians, party people and travellers all around the country. We have solutions we have ideas and together we'll crack it!!"
RECLAIM THE LAND!
Solsbury Hill, Bath
(01225) 448556
11th-14th August
crap arrests of the week
* Three ladies who used the toilets during a demonstration against live exports at Dover were arrested by police for leaving the designated area for protestors!
* For jumping over the fence at Glastonbury and landing on a police landrover. Opps!

LUTON TSG ATTACK
What you didn't see on TV was the violence of the police during the Luton 'riots', or the footage of the TSG heckling and inciting the crowds. Until Small World decided to investigate. All was about to be revealed to the world until the TSG realised their exploits were being filmed. Their reaction was to beat up the camcorder activist, smash his camera, and destroy his film. So much for the freedom of the press... If you want to know more about getting the footage they don't want you to get, write to the Conscious Cinema at PO Box 2679, Brighton, Sussex BN2 1UJ or Small World at 1a Waterlow Road, Archway, London, N19.
INSIDE SchNEWS
On 21st June DAVID BOWEN was found guilty of escaping from prison custody and not guilty of assault causing actual bodily harm against prison officers accompanying him from Hull prison to Manchester Crown Court where, in December 1992, he was being done for participating in the 1990 Strangeways Prison revolt (see SchNEWS 20).
David represented himself at the escape trial, which lasted eight days at Nottingham Crown Court. He attempted to establish a defence of duress, i.e. that the brutality and persecution he received from prison officers at northern gaols in the wake of the Strangeways uprising was so severe it left him with no option but to escape. Not an easy task in a British court, but he had a very good try, calling both witnesses to specific events in Preston and Hull prisons and a wide range of general witnesses who gave evidence about the prison system.
On the first day of the trial 25 supporters demonstrated outside the court in solidarity with David. Despite the judges attempt to have us arrestod for contempt of court we leafleted members of the public and displayed placards saying 'Free David Bowen end retribution for Strangeways!'.
David was held in Lincoln prison throughout the trial. On the evening of the fourth day he was placed on 'Good Order and Discipline' and moved to the gaol's segregation unit This was undoubtedly a deliberate move to increase the pressure of him in the second week of the trial.
JOHN KAMARA , who is serving a life sentence for a murder he did not commit and who continues to be held in gaol on the grounds that he has not 'come to terms with his crime' (didn't seen to hold up the release of Private Clegg much), was recently tried and found guilty in an internal prison kangaroo court of refusing to provide a urine sample for the compulsory drugs test introduced under the Criminal Justice Act. He was 'sentenced' to have his next four visits from family or friends under 'closed' conditions, i.e. with a glass screen between prisoner and visitor. If you don't think this is a particularly serious attack on human rights, try not seeing your best friend for a few weeks and then catch upon all their news through a closed window.
To find out mote about John Kamara's campaign for freedom, write to him at HMP Wakefield, 5 Love Lane, Wakefield, WF2 9AG.
JIM CHAMBERS is now on trial with Stuart Edwards for alleged criminal damage to road construction site. Jim has so far spent over 160 days in jail on remand! Write to him at PV2504, HMP Pentonville, Caledonian Rd, London N7 8TT
PHIL awaiting sentence for anti-BNP march at Welling is at EJ3496, HB2, HMP Elmley, Kent ME12 4AY
MUMIA ABU-JAMAL, on death row for 13 years, is a former Black Panther charged (framed) with the murder of a policeman. His Execution is set for 10pm Thursday, August 17th 1995. Send letters of support to AM8335, SC1 Green, 1040 E. Roy FurmAn-Hwy, Waynesburg, Pennsylvania, PA 15370 USA. There is a national demonstration this Saturday (22nd July) 12 noon Whitehall Place, London, SW1 (nearest tube: Charing Cross) More info: 0171 485 1396.
Thursday l0th August is PRISONERS JUSTICE DAY. This year the focus is on deaths in police custody. The horrific murder of Brian Douglas on May 8th this year by Kennington police officers, who had struck him seveeral times on the back of the head with a US style long baton, is one terrible example. Another is Shiji Lapite, a 34 year old father of two, who died at the hands of Stoke Newington Police in December last year, a lethal neck hold crushing his voice box. Picket Stoke Newington Police Station on the day12 noon till 2 pm, 33 Stoke Newington High St N16. Info 0l7l 274 6655
If you would like to be a legal observer at demonstrations, which could help to keep people out of prison, the Legal Defence & Monitoring Group would love to hear from you c/o B.M. Box Haven, WCIN 3XX.
WEEK OF ACTION AGAINST THE CJA
5-12 August. GET ORGANISING!
Freedom Network Action Line 0171 501 9253
SchNEWS IN BRIEF
After driving a car -ad straight through a dreadful article on [anti-road] protests, the Guardian printed one from Nissan last weekend headlined; "The village wants a bypass. Make one". The blah continued "Avoid all the placard waving and interminable public enquiries. If you want action now simply switch the Nissan Terrano II into 4-wheel drive and make like you're from McAlpine's". Leave it out! Money speak louder than words, eh?
*** Farmer Robert Peel, great great grandson of Tory PM Sir Robert Peel has switched to Labour in protest at plans to route a motorway across his land
*** Grouse shooting season begins again on August 12th. The hunt sabs are planning a big action on the Yorkshire moors on this day and will hopefully save hundreds of birds. Po1ice are expected to use trespass laws in the CJA to keep protestors off the moors. If you want to go, ring HSA Shoots Officer on 0115 959 0357.
*** The Flat Oak Society fighting the A299 Thanet Way bypass in Kent have opened an information centre in Whitstable. On the arrest front the group have the highest rate for a road protest under the CJA. So far 44 people have been done for "aggravated trespass". Some of these have been re-arrests where people have broken bail conditions which banned them from going near the construction sites. One man successfully challenged his bail conditions saying that they were an infringement on his human rights - and the judge agreed. People who have broken bail have spent a night in the ce1ls, then been hauled up to court and given a conditional discharge with £40 costs. They need more support 01227 275 404
*** The main contract at Wells, Somerset, kicked off yesterday. 2 chestnut trees were chopped down in a school field (to ensure that if the pollution from the cars doesn't get them, the lack of trees will). Christiani Neilsson are the main contractors, Reliance are the security... If you were at Solsbury Hill or the M11 you can always pop down and remake old acquaintances.6 trees are currently occupied - but people are only sitting on the branches... an appeal is out for old tree houses, or failing that someone with treehouse building knowledge
*** The McLibel Court farce continues. Getting more frantic by the day, McDonalds have now prevented the defendants from having copies of the daily court transcripts, thus restricting their ability to properly cross-examine witnesses McWanker have said however they will allow them access if they don't tell anyone what they say. Needless to say, Helen and Dave decided to keep their right to free speech and politely declined
*** Open Cast Mine Protest Camps explosion! Following on the footsteps of the highly successful Selar Nature Reserve tree village near Neath, sites at Durham (01325 356586), Leeds (0113 262 9365) and another in South Wales have been established (01222 383363). People needed - urgently in the case of the latter, which we're told is relatively midge-free and extremely beautiful. At the Selar site work has now stopped on 're-locating' the water meadow - 18 people in all were nicked under 'aggravated trespass'.
*** On August 26th Marian Bienes, survivor from Belsen Concentration Camp, will be spending a week - including her 70th birthday - in a monkey cage, to highlight the plight of monkeys at Shamrock Farm, the largest supplier of primates for vivisection in Europe. 01273 857077
Party and Protest
MON 24th Trial of six people in Brighton Sea Action accused of obstructing the Northern Cruiser (the ship used to transport live animals from Shoreham). Support wanted! 10 am Worthing Magistrates.
TUES 25th Activists from the No A39 campaign in Wells, Somerset up in court for ag. Trespass 01227 275404
26th - 30th Big Green Gathering 01747 870667
28th -3rd August International Anti-War Conference 0171 607 3616
FRI 28th -30th Balloch Festival nr. Loch Lomond, Scotland
28th - 30th Cambridge Folk Festival 01223 463363
28th - 31st Sellafield Womens' Peace Camp 01706 371387
28th - 4th Aug Hiroshima: the Week. International Anti-War Conference. 0171 278 9908
FRI 28th Soundhouse Festival, Lowestoft 01502 538538
SAT 29th -2nd Aug No-fit State Circus Multi-media version of Autogeddon Cardiff 01222 488734
SAT 29th Deptford Free Festival, Fordham Park 0171 7323611
SAT 29th Stop The Newbury By-pass Rally
SUN 30th March against the Criminal Justice Act. 2pm Hodsoll Rd. Recreation Ground Organised by Reading Advance Party/Reading Coalition Against the CJA 0589 637352
SUN 30th Contraflow Benefit Cafe. Political Guilt at 121 Centre 0171 274 6655
MON 31st Demo outside High Court in support of Twyford defendants. Road Alert 01635 521770
31-9 Aug Unicorn Camp 'Lammas Family' Sancreed Cornwall 01256 893 369
and Finally
"Feral Cheryl is the barbie doll for alternative lifestylers. She has dreadlocks, unshaven legs, tattoos on her thighs, pierced nipples, pubic hair, vagina and clitoris and no knickers." Launched at the New South Wales toys convention, the feral doll is named after the 'extreme' fringe of the Australian environmental movement who live a hunting and gathering existence on the east coast. Makers are urging people to order, because stocks are limited!"
DISCLAIMER
The SchNEWS warns all readers not to attend any illegal gatherings or take part in any criminal activities. Always stay within the law. In fact please just sit in, watch TV and go on endless shopping sprees filling your home and lives with endless consumer crap. you will then feel content. Honest.
To subscribe to SchNEWS send 1st class stamps/donations (payable to Justice?) SchNEWS c/o on-the-fiddle P0 Box 2600 Brighton East Sussex TeI (0I 273) 685913. Or pick one up @ Peace centre, Gardener St, Brighton and around town
Justice? meet at the new kensington, kensington gardens, every Wed @ 7pm
Dear Hampshire Police, Justice? do not know anything about the Mother festival!
Strictly @nticopyright - customise . photocopy. distribute.