Home | 12th July 1996 | Issue 81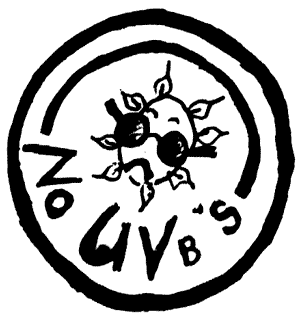 WAKE UP! WAKE UP! IT'S YER SIZZLIN'.
SchNEWS
Special Report: Ecological Revolution in Bougainville
"IT AIN'T 'ARF HOT MUM!"
Will Britain soon become a nation of wine growers and sun flower harvesters?
You'd think so if you've read a new report out this week published by the Dept of Environment. They reckon the south east could have the same climate as the Loire Valley in France by 2040. So in 50 years time could we all be sipping Chateau Justice? outside the Nouveau Kensington wine bar in the hazy summer heat? Perhaps not - as no one can be certain about the effects of global warming except that our climate will become more unstable, with more storms and droughts likely. The British Isles could even become colder (perish the thought)! If it were not for the Gulf Stream bringing warm water from the Gulf of Mexico to Britain, we would have the same climate as Northern Canada. Rising sea temperatures could mean that the Gulf Stream stops working. The effects could be much worse elsewhere, with massive areas of fertile land at risk from flooding, and huge swathes of land becoming deserts. The Intergovernmental Panel on Climate Change (IPCC) which was set up in 1988 by the UN to report on the effects of global warming has produced worrying findings. It is made up of over 1,000 scientists, and they now agree that climatic change is happening. They also accept that humanity is almost certainly responsible for global warming, and urgent action is needed to prevent it.
This week's UN Convention on Climate Change, is recommending a 10% cut in greenhouse gas emissions. This is nowhere near enough, as most experts accept that global warming is already happening. Even insurance companies are getting worried. This week a group of 58 international insurers called on first world governments to achieve "early substantial reductions" in greenhouse emissions. If conservative institutions such as this are getting their knickers in a twist, we should be shitting our pants.
Amazingly there are still some who disagree with even a cut, and are pressuring for nothing to be done until the next century as hasty action could be bad for business. The Global Climate Coalition who will be at the conference refuse to accept that action needs to be taken, and believe that "until our understanding of climate change improves, the United States should avoid drastic action"!!! How long do they want to wait for? Until the waves are lapping at the White House? A quick look at their membership list may reveal their motives for not wanting to act: it includes Shell, BP, Exxon, and car manufacturers - all well known guardians of the planet. It's hardly surprising then, that they aren't too keen on acting against global warming, as it is their relentless pursuit of profits which is causing it! With groups like those round the table in Geneva, don't hold your breath waiting for a solution.
DID YOU KNOW?
. The world has warmed by between about 03°C and 0.6°C in the last 100 yeas. This has been the warmest century for at least 600 years.
. An average warming of 2°C is predicted by the end of the next century. This warming will be greater at high latitudes.
. Global sea level has risen by between 10-25cm in the last 100 years, largely because of thermal expansion of water due to warning. The surface layer of the sea is becoming warmer at greater depths.
. Even if dramatic reductions in emissions of greenhouse gases are achieved, the global temperature will continue to climb for several decades into the next century.
. Sea levels will continue to rise for many centuries even after concentrations of greenhouse gases we stabilised due to thermal inertia of the oceans. By 2100, sea level is projected to rise by anything between 15 and 95cm (the best estimate is 50cm.)
SPANISH CIVIL WAR - 60 YEARS ON
On July 19th 1936 the factory sirens began to wail in Barcelona as each group of workers passed on the pre-arranged signal that troops were leaving the city's barracks to launch their long-expected military coup. Franco and the other fascist generals thought it would all be over within 24 hours, but resistance was so determined and well organised that it was not until 1939, with massive aid from Mussolini and Hitler, that Franco finally managed to impose his regime on the whole country.
In Catalonia (the region around Barcelona) the workers mainly organised themselves through the CNT, a revolutionary trade union which was run without bureaucrats, and relied instead on ordinary members to decide what needed doing. Seizing the opportunity they had spent years preparing for, the workers took over and collectivised whole sections of society - from trams to shoe factories and hydro-electric dams. Expensive restaurants were taken over and converted into popular canteens, the waiters posting signs which said 'Don't tip us - we are your equals'. Free schools took over from the repressive Catholic institutions and many barracks and prisons were demolished. Within days of the military uprising the first militia columns were formed and left Barcelona to reconquer those areas which had fallen to the fascists. This was a popular army formed by men and women who elected their own officers and helped organise agricultural collectives in the liberated areas.
The revolution was eventually defeated - not least because Britain and the other 'democracies' didn't lift a finger to stop fascism - and Franco's victory encouraged the growth of Nazism and fascism throughout Europe.
Nevertheless, many Spanish workers showed incredible courage and ingenuity in the way they defied the military - as did the volunteers of the International Brigade, who fought alongside them. The same traditions of roots democracy and working class self-confidence still survive today in unions throughout Spain - many of them directly inspired by what happened 60 years ago. Closer to home, the Liverpool dock strike is breathing new life into the ideal of international solidarity... which has included magnificent support from the dockers with in the Spain and Portugal.
* It is in recognition of these human qualities that a celebration has been organised by the Spanish Anniversary Committee of music, poetry films and discussions in Glasgow for July 18th-20th, for further details ring 0141429 7059.
* Two top books to chase up on the war are The Spanish Cockpit by Franz Borkenau & Blood of Spain by Ronald Fraser.
A SINGLE STREET PARTY IS WORTH MORE THAN 1000 TRAFFIC JAMS!

OH MY GOD I'M GONNA DIE Of SKIN CANCER! WHAT CAN I DO?
* Smash up any socially non-useful vehicles you may find that would otherwise be spluttering carbon monoxide into the air.
* Try to produce your own food, and buy locally. Get into some forest gardening (see last week's SchNEWS). For gardening book list send SAE to Permanent Publications, Hyden House, Little Hyden Lane, Clanfield, Hampshire, P08 0RU.
* If you wanna help find out what those nasty corporations are up to, get involved with Corporate Watch Tel: 01865 791391, write c/o E. Oxford Community Centre, Princes Street, Oxford.
* Trees can contribute to the solution of many of the problems that challenge humankind: maintaining water supplies, checking floods, droughts, soil erosion desertification, helping reverse global warming... Read 'Abundant Living - in the Coming Age of the Tree' £2.30 inc p+p from The Movement for Compassionate Living / The Vegan Way, 47 Highlands Road, Leatherhead, Surrey, KT22 8NQ. Also available are 'Recipes for a Sustainable Future', 'Growing Our Own' and 'Food For Everyone'. What we want to know is, where's 'Skipping Lunch: Supermarkets Without the Checkout'?
* Consume less energy, and use what you have more efficiently - The Centre for Alternative Technology can offer practical advice on sustainable living 01654 702400.
* Cow's bottoms are another big source of global warming - and we all know who breeds loads of those for burgers, don't we kids?
* Bury your head in the sand and wait for the waves to come sweeping across your shoulders.
NICE ONE!
Big Nice One! going out to our mates in Lewes who have just blagged £47,000 off the National Mockery for The Nutty Wizard - A community cafe providing a free space for the town's young people to get together without the pressure to spend, spend, spend. The idea was dreamt up following the tragic death last year of Tim Smale, who helped set up two squatted community centres in Lewes. At the moment they're looking for a building but hope to have the cafe up and being run by volunteers in the autumn.
* Memorial gig for Tim at the All Saints Centre in Lewes 26th July 8:00pm £2.
* The Nutty Wizard Community Cafe: Kate 01273 472940
INSIDE SCHNEWS
In 1975 the military dictatorship of Indonesia invaded neighbouring East Timor and since then over a third of the population has been killed. As usual the British government has supported companies like British Aerospace (BAe) making a pretty profit out of the genocide. BAe are one of the world's largest arms manufacturers and are currently building 24 Hawk fighter jets for Indonesia. Jets that are used to bomb the people of East Timor. In January four women from the East Timor Ploughshares group decided it was time to take some action, and went to the BAe factory in Lancashire. Armed with just household hammers they totally wrote off one of the £13 million fighter planes! They have been in remand ever since and face trial at Liverpool Crown Court on Monday 22nd July. Give 'em your support, they could be going down for a while. Ring 0171 607 2302 if you can help in any way or want to find out more about the campaign.
* Next Justice? meeting will be showing the Seeds of Hope video at Brighton Unemployed Centre 17th July 7:30pm. All Welcome!
GREEDY DOLE SCROUNGERS
Greedy dole scroungers are set to bring down the economy by wanting to live on slightly more than £45 a week. SHOP YER MATES AND SAVE THE GOVERNMENT SOME CASH! For the next couple of weeks the Benefits fraud squad are coming to Brighton. A special phone has been up and running for a week for an 'amnesty' period in which if you turn yourself in there will be no penalties. After this period the fraud squad will be trying to track down those cheating on the myriad of rules that come with state handouts.
Don't be intimidated! Their whole tactic is to scare people into shopping themselves - the fraud squad is minimally staffed and relies on making the poorest people in town feel so guilty for trying to make ends meet that they shop themselves. In previous years even Brighton Peace Centre has come under the spotlight from the fraudies - trying to catch people out who were apparently doing too much volunteer work! Dole staff secretly admit that the fraud line has made "bugger all difference" - they've had two or three martyrs but otherwise the phones have been silent - apart from all the nuisance calls of course!
Social Security bosses are trying to link the fraud squad hits to the Job Seekers Allowance (cumin' your way in October). Because obviously they're going to need the JSA after all the terrible fraud they're going to discover, aren't they? Brighton is just the latest town to get the dole-cops on our backs in this trial run tour of Britain. After another trial period in Haringey the local council was inspired to come up with its own Shop the Squatters hotline. Apparently it's catching on because Camden is now doing the same thing. Again, the strategy is to get us spying on each other - divide and rule. The whole thing has nothing to do with saving money - if they wanted to do that they'd crack down on the billions of pounds fiddled by rich tax dodgers - and conveniently ignores the fact that £millions of benefits go unclaimed. The DSS have just scrapped their free helpline to help you find out if you are entitled to anything you aren't getting.
* Give 'em a ring! The "Crackdown" officially begins on Monday 15th. Blockade the phones on Monday to let them know how you feel. Freephone 0800 854 440
* The Dole-cops are next expected in Rhyl and Medway.
* If you see their leaflets in your post office grab the lot - free bog paper!
* Brighton Against the JSA - c/o Prior House, 6 Tilbury Pl. Brighton. Tel: 671 213
AND IN ANOTHER WORLD... Apparently MPs need a little bit more than the £28.80 the dole reckons is enough for some people's "normal living expenses". On Wednesday they voted themselves a nice little 26% pay rise - they are now on just £43,000 a year, with cabinet ministers on £86,991 and the Prime Minister on £101,557. And that's without all the perks.
SchNEWS in Brief
Thurs afternoon: Transport Minister John Watts opens the Dijon to Belfast Euroroute through Solsbury Hill. 50 activists blockade the road. The first vehicle along the new road was a cop van carrying the 24 arrestees.
*** Did you see any arrests rests outside the Red Eye Pub on Saturday 1st June during Hackney Anarchy Week? If you did - or were nicked yourself - please contact those wonderful people at the Legal Defence and Monitoring Group a.s.a.p. 0171 837 6687
*** Anyone wanting to be a steward for the Brighton Festival of Freedom (Sat 10th Aug), contact Annie on 01273 278018
*** SchOOPS! We forgot to tell you the date of the ALIVE meeting. It's on Monday 22nd July, 6pm at the Prince Albert pub (downstairs). ALIVE (Alternative, Low-Impact, Village, Enterprise) are a group setting up a low impact housing, environmental and community project within Brighton. New ideas and people most welcome
*** Brighton and Hove Green Party discussion and talk on permaculture. Tues 16 July 8:45-10pm Springfield pub, Springfield road, Brighton. 675236 for more info
*** An interesting improvement to a Brighton billboard appeared last week, when a Tory "Yes It Hurt, Yes It Worked" poster had "Stephen Milligan" sprayed in orange underneath it. Sick readers may remember he was the Tory MP who put paid to the 'Back to Basics' campaign by being found dead in his house in suspenders and bra with an orange in his mouth and a noose round his neck...
Disclaimer
The SchNEWS warns all readers not to attend any illegal gatherings or take part in any criminal activities or street parties. Always stay within the law. In fact, please sit at home, watch TV, and go on endless shopping sprees filling your lives and homes with endless consumer crap... you will then feel content. Honest.
Subscribe! Keep SchNEWS FREE! Just send 1st Class stamps (eg 20 for next 20 issues) or donations (payable to Justice?) Mark Original if you plan to copy: SchNEWS c/o on-the-fiddle PO Box 2600 Brighton East Sussex BN2 2DX SchNEWS is free to prisoners tel/fax. (01273) 685913 e-mail: justice@intermedia.co.uk e-SchNEWS: http://www.cbuzz.co.uk
Next Justice? meeting: Wednesday July 17th 7.30pm Video on Ploughshares Hawk Jet Action @ Brighton Unemployed Centre, off Carlton Hill behind Amex
SchNEWS is free to dole scroungers!

SchNEWS Special Report
Bouganville, with a population of only 160,000 has managed to close one of the biggest copper mines in the world. Despite having to fight the armed PNG army, they have held their ground for 8 years with antique guns & homemade guns made out of water piping and planks.
"We now understand and have seen with our own eyes the destructive effects of the Copper mine operations on our land, our environment, our society and our culture. The mine will remain closed for the rest of our lives."
- Declaration of Panguna Landowners, December 1992
Bougainville Island lies only 7km west from the nearest of the Solomon Islands. It's population is estimated to be 160,000. Originally colonised by the Dutch, it then fell under German and, after World War 1, Australian control. Despite close cultural and geographical links with the Solomon Islands, it was governed as part of Papua New Guinea (320 miles to the west). When PNG was given `independence' in 1975, Bougainville Island was placed under its flag.
In 1969 CRA, an Australian subsidiary of the British mining giant - Rio Tinto Zinc - forcibly established a copper mine on Bougainville. From the beginning the island's people resisted the construction of the mine. News footage of Bouganvillean women, fighting with riot police over CRA survey pegs, received international coverage. In Bougainville, women are the traditional landowners - land is passed from `woman to woman'. To put it lightly, on this occasion it was clear their land was not being passed on in a traditional manner. The building of the mine saw 800 villagers landless and another 1,400 without fishing rights as land was seized and rainforest cleared. The subsistence life of gardening and fishing was destroyed. 220 hectares of rainforest was poisoned, felled, burned and bulldozed. After 20 years the mine had grown to a huge crater half a kilometre deep and nearly 7km in circumference, creating over a billion tonnes of waste. This was dumped into the Jaba River Valley creating a wall of waste hundreds of metres high, turning one of the islands biggest river systems bright blue.
In 1988, after two decades of ignored protests, petitions and compensation claims Bougainvilleans had had enough. A handful of islanders stole company explosives destroying electricity pylons, buildings and machinery. By using guerilla tactics they succeeded in closing the mine. Until the war broke out in 1988, the mine accounted for around 45% of all Papua New Guinea's total export earnings. Without these earnings PNG is quickly going bust. Papua New Guinea (PNG), with the assistance of Australia, responded by sending in the military. Following this, Bougainville declared itself independent from the PNG and the Bougainvilleans formed the Bougainville Revolutionary Army (BRA) to defend their land and their environment from further exploitation.
"We wouldn't stand idle and see our boys and innocent people being killed so we had to stand up and defend somehow, and it was then that we thought of forming a militant type organisation to contain what the security forces were doing to us."
- BRA Spokesperson
The Bougainvilleans are getting no outside aid from any country, they are seriously outgunned, yet they have fought off PNG for eight years with antiques and homemade guns made out of water piping and planks. Springs from old mining machinery make reliable firing mechanisms. PNG transports its troops around in military trucks and helicopters. The Bougainville Revolutionary Army makes do with a small amount of company vehicles it took from the the mine, which it runs on coconut oil. A group of villagers working for about 20 hours can produce enough fuel to drive a 4WD vehicle 50 miles over rough terrain. Coconut Oil quite literally fuels the revolution. It not only powers `Radio Free Bougainville' it also powers the lathes which the BRA use to turn the water pipes from the mine into home made gun barrles.
---
The Australian government claims that it does not support PNG's war on the people of Bougainville. IT'S LYING. Australia has been funding, arming and directing the PNG military since the beginning. Australia provides Papua New Guinea with $32 million in military aid plus much more in untied aid. Almost half of the Papua New Guinea Defence Force has been trained in Australia since the beginning of the crisis. Austalian military advisors are on the island directing PNG army operations. Guns & ammunition used by the PNG army are manufactured and/or supplied by Australia.
Australian intelligence also advised Papua New Guinea to enforce a total goods and service blockade of the island, including medical supplies. No one is allowed on or off the island. Many of those trying to carry supplies in or refugees out have been killed by the PNG army who maintain a stranglehold around the island thanks to the Australian-provided patrol boats, speedboats, Iroquois helicopters and Nomad aircraft. When advising PNG to blockade, they anticipated that Bougainvilleans would succumb to the hardships in "3-4 weeks". Six years after this projection Bougainvilleans are still under siege and are showing no signs of surrender.
PNG and Australia are committing genocide - the planned destruction of a people. Since the start of the war thanks to massacres and preventable diseases 10,000 Bougainvilleans have died - 7% of the population. In an attempt to isolate the Bougainvillean Revolutionary Army (BRA) from the civilian population, the PNG military has been demolishing villages and herding the villagers into `care centres'. `Care centres' are the PNG's preferred term for concentration camps.
"Bougainvilleans agree that environmental concerns cannot be disassociated from human concerns. 'Environment' encompasses both ecological and cultural rights; the two are too often sacrificed side by side. Government tactics such as forced evictions and population transfers are part and parcel of development that, in the name of economic growth, justify ecological destruction and the dispossession of peoples. The intent of the perpetrators of this evil blockade and seige is to create disunity on the islands through suffering and death, to torture women and children into submission, to steal back the mining resources at the expense of society and environment, to own the people and their island"
- Martin Miriori, Bougainville Interim Government.
Australia has many reasons for trying to destroy the Bougainville rebellion. The main reasons are its industrial and geopolitical interests. The Rio Tinto Zinc subsidiary (CRA) that owned the mine is Australian and the resistance on Bougainville could seriously weaken Australia's hold on the region. As mentioned above, from 1918 to 1975 (with a brief interruption during the 2nd World War) Papua New Guinea was run under colonialism by Australia. PNG became an independent (sic) state in 1975 and was shaped by Australia as a block between it and the evolving regional superpower - Indonesia. PNG's western sponsored power elites control of it its own population is very unstable. PNG is not welded together by a common language or culture, but is still mainly tribal. Many have declared their wish to, as a common saying goes, `do a Bougainville'. The PNG military has been greatly weakened by the loss of revenue from the mine, and if the BRA were successful it would almost definitely trigger similar struggles for self rule on the mainland. In such a situation the PNG military could simply collapse. Indonesia (which is already in forced occupation of neighbouring West Papua), would probably take advantaged of the power vacuum and invade PNG. This would seriously weaken Australian power in the region.
Besiege the Australian Embassy!
London July 15th July
Charing Cross Station Midday
Make Your Rage Felt!
---
This message to Bougainvilleans can be attributed to the PNG Prime Minister and comes from a televised address to the nation (21.3.96). PNG is not interested in peace. When BRA reps turned up for peace talks in `95, they were fired on by PNG troops. As you read this the PNG military is launching its biggest ever offensive. Their orders are printed below. Reports are coming in of land mines being laid. Guess which country provided them? We need to tell the world about Australia's secret war, it has taken great lengths to hide its level of involvement in Bougainville - we need to expose it. We have to target the offices of Australian interests in Britain, target the mining company RTZ. We need to raise money for medical aid. Against the odds Bougainvilleans have managed to hold their ground. It's up to us to carry out the vital work of taking their struggle global. Let's pull together and support Bougainville.
"Land is our life, land is our physical life - food and sustenance. Land is our social life, it is marriage; it is status; it is security; it is politics; in fact, it is our only world. When you take our land, you cut out the very heart of our existence."
Victory to the BRA!
Victory to the People of Bougainville!
---
"Our fish in the river sometimes we would find them dead, floating. Some times even fish in the sea. Each time we reported this to the health officers. Nothing was ever done about it. Every time we complained they would say it'll be alright. It'll be alright; you will get the money, but money compared to what we lost is nothing.
In January 25th of 1990 my brother went to work as usual, the security forces went to him and told him not to say anything. He tried to ask them why they were taking him but he was bashed with the butt of the gun. He was beaten up, ripped off his clothes, thrown in the back of the car where ten of the soldiers were sitting and he was driven off. He was still screaming when they got their gun and they somehow maybe they hit the side of his mouth with their gun and two of his teeth fell off. Then he was shot in his heart once and another time in his side.
The PNG cannot win our hearts because we cannot forget our loved ones. We cannot accept it, they killed us in cold murder. We have never experienced things like this in our lives, the only place where I saw similar things was on TV."
ORDER 2133 - Papua New Guinea Defence Force 21st May 1996
"Search for the rebels and kill them."
"Any civilians who are suspected harbouring the BRA must be killed without question."

"Get the rebels out. Do not leave any of them, but wipe them out."

"Destroy all food - gardens, houses and any shelter found in the jungle, clean it up."

"Any civilian found to be an ordinary civilian is to be forced into care centres. If anyone is disorderly they must be beaten, but do not cause them death."
For Further info on how we can help Bougainville, send an SAE to:
The Bougainville Freedom Movement (UK)
c/o SDEF!, Prior House, Tilbury Place, Brighton, East Sussex