Home | 30th August 1996 | Issue 88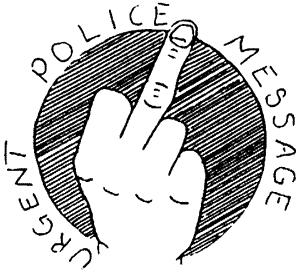 WAKE UP! WAKE UP! IT'S YER BATTERED & BRUISED
SchNEWS
RECLAIM THE STREETS: 40 DEAD*
POLICE BILL £100,000: THE COST OF STOPPING A PARTY
"Without traffic, cities could come to life. Gigantic roundabouts in city centres could become public forums once more, planted with trees and gurgling with fountains. The broad highways that slice our cities into fragments would become genuine thoroughfares, linking communities rather than dispersing them." - Reclaim The Streets (RTS)
"The only conclusion I can draw from Saturday is that the police don't get much opportunity down here to beat people up." - Solicitor Teresa Blades.
SATURDAY 24th AUG 1996 BRIGHTON RTS begins ...
The meeting point in Churchill Square was overlooked by a cherry-picker, it's 80ft arm extended to carry a mobile spy camera. Riot vans were stationed on every road in the town. By 2pm, police had seized a soundsystem, a bouncy castle and 100 bags of sand and nicked two legal observers. The party hadn't even started. "It was obvious they were going to go in hard, that's why they got us out of the way first, " said one. Snatch squads pounced on four dancing puppeteers with giant colourful figures protruding from their backs. One of the figures was attached to the back of a wheelchair. The occupant ended up on the floor. One man reading a piece on pollution in the SchNEWS was hauled away. Dogs, straining at the leash were introduced into the street.
From vans parked across the bottom of West St. came advancing riot police. One man, attempting a cocky steal of a police helmet, was rewarded with a baton to the head. Crack. A woman was floored, her crutches clattering to the ground. Some managed to break free to help her up. Police dragged people out and filled up waiting vans. There was blood on the floor. The police jumped in their vans to chase a 500 strong spontaneous street march, which snaked through choked roads for much of the afternoon. By the end 80 people had been arrested and 49 charged with various public order offences.
Green Party Councillor Pete West, asked to liase with police on the day, said he was threatened with arrest when he tried to talk with Chief Inspector Mark Streater: "The police absolutely lost control and self discipline. It started of as a peaceful demonstration with dozens of small children and babies amongst the party-goers but the police chose to terrorise people with riot gear and fierce dogs. I saw one woman separated from her ten-month old baby and put into the back of a van."
According to police spending £100,000 trashing a beach party and grid-locking Brighton was a "successful operation". An RTS spokeswoman said: "the police tactics were more effective in stopping the traffic than we were."
RTS had stated that their aim wasn't to close the road, but to open it for a few hours "to give a vision of a car-free Brighton where we are not excluded from our streets through fear of death or injury, and where the streets are for people, not cars." How can this vision fill the authorities with so much terror that this is their reaction?
In the end, what was it? A mobile street party? A latter day version of the 'Stop the City' demonstrations of the 1980's? A huge Critical Mass without bikes? Whatever it was, it was a success, and perhaps it will be an inspiration to others around Britain fighting for respiration. However, people being arrested and beaten for no reason is not funny, especially when they've just come to party and protest, but the day gave people a great feeling of empowerment and solidarity. Future meetings should be a springboard for new projects, new actions, new challenges, not rehashing Saturday's events... There's been a sea change in Brighton - from squatting and free party clampdown to the harassment of the Sunday drummers and Critical Mass bike riders wot we gonna do?
*SUE THE POLICE!
If you were arrested (or witnessed any arrests) ring 01273 685913
DAILY DEATH TOLL: THE COST OF DOING NOTHING.
RTS was born in 1990 and won an international award for Best Social Innovation when activists painted DIY cycle lanes. Later it became enveloped in the No M11 Link Road Campaign. After Claremont Rd, there was opportunity for more general anti-car culture actions. In May 1995 a party was held at Camden High Street on a Sunday afternoon, and the RTS buzz took off. More parties in London and 15 towns and cities have widened the debate from anti-road to anti-car. RTS have been at the forefront of broadening DiY protest from its supposed 'single issue' roots. Supporting striking tube workers and dockers has been central. But state opposition to car-free carnival has begun. The London RTS office was raided this month, and some people have serious charges hanging over their heads. In Birmingham a man had his house raided under the Prevention of Terrorism Act. It seems like MI5 think ordinary people wielding candyfloss on a bouncy castle is a threat to life and limb. See you in Cambridge on the 14th!
SNATCH OF THE DAY!
Our Crap Arrestometer was sent into a frenzy when 80 people were nicked on Saturday. Here's the Top Ten:
1 For reading aloud the SchNEWS
2 For tripping over a kerb
3 For wearing a colourful puppet
4 For carrying a papier-mache seahorse
5 For drumming
6 For handing out legal advice leaflets
7 For standing around in Churchill Sq
8 For being a legal observer
9 For reading out poetry
10 For singing a Crass song
* CRAP ARREST VOTE!
Phone Chief Inspector Mark Streater at Brighton Police Station on: 01273 60674*, and tell him which arrest you find most arresting!
EXCLUSIVE! Snatch analysis from our man on the spot, Jimmy Hill:
"Well, Brian, at the end of the day, it was a hard fought game. Early on, the Blues got plenty of numbers behind the beachballs, and had a couple of chances to finish the game early doors, but squandered them. Then, on the half hour a move down the left had the Blues in disarray - shockin' defending. Several injuries were sustained due to overzealous strikers. Despite the absence of a referee (sent off before the match began) there were 80 dismissals. There'll be an enquiry into those who brought the game into disrepute. Some even refused to wear their numbers on their kit. It's a funny of game?"
EVERY DAY IN THE UK 25 DIE FROM POLLUTION & 15 DIE ON THE ROADS*
* Source: New Scientist reported 10,000 a year die prematurely from air pollution in Britain 20% of this pollution is caused byroad traffic. 3,500 are killed each year on Britain's roads - Government Road accident statistics figures

LIVERPOOL DOCK STRIKE
Warning, people of Merseyside, you are in danger. Quantities of hazardous waste passing through the city's port have increased from 754 tonnes in 1989 to 6,000 tonnes in 1995. Clearly, the waste recycling industry has begun to depend on Liverpool. It's this which makes the docks dispute in the city an issue for many different groups. When Liverpool's 500 remaining registered dockers were sacked in September 1995 for refusing to cross a picket line, the people of Liverpool lost one of the few means of protection they have from toxic contamination.
Liverpool's dockers, like good trade unionists everywhere, have always reported on health and safety violations and refused to unload certain cargoes. In 1989, for example, they learned that the Canadian government had backtracked on a commitment not to export the PCB contaminated remains of a fire at a chemical storage facility. The notorious waste disposal company Rechem won a contract to dispose approximately 3,000 tonnes of material, to be sent to Liverpool in 15 consignments. The very first consignment was met at the docks with a barrage of Greenpeace and community groups voiced opposition to the toxic load. The dockers refused to unload the cargo, forcing the ship back to Montreal. This was a tremendous victory: the Quebec government cancelled Rechem's contract in mid-August and the Canadian government announced an end to all exports of PCB contaminated waste.
Now, in Liverpool, scabs have taken the place of class conscious organised dockers. A scab by definition doesn't care: he will handle any shit for money. On the docks, such a workforce will simply obey orders, unloading anything regardless of safety. This may explain why the Mersey Docks and harbour company provoked the strike in the first place: they need a docile workforce if Liverpool is to submit to it's planned role as a toxic waste dump. There are dodgy dealings of decision makers afoot: Rechem are owned by a company called Shanks McEwan, whose chairman is Gordon Waddell. He is also chairman of... the Mersey Docks and Harbour company.
The 500 dockers are confident and fighting, demanding full reinstatement. Their international blockade has brought the port to a virtual standstill. Anxious to end the dispute by delivering a knockout blow: there will be a MASSIVE gathering in Liverpool on Saturday Sept 28th, the anniversary of the dispute. On that day last year, 500 dockers reasserted a basic rule of human life: never cross a picket line. It will be not only a labour movement and mass action but also an environmentalist, anti-capitalist, pro-entertainment celebration and rave! It promises to be a massive show of force, and also, if the very thought of Tony Bleurrgh makes you want to puke, the event immediately precedes the Labour Party Conference in Blackpool. Be there, prepare to spend a night or two, and bring some sounds.
240 TRAVELLERS LEFT WITHOUT WATER
Two hundred adults and 40 children on a Travellers site at Crowborough, E Sussex, have had their water supply cut after local garages turned off their taps. South East Water have refused the travellers' request for a standpipe, unless they can persuade the landowner to give his permission. The landowner faces prosecution for allowing an illegal campsite if he agrees to the request. Write in support of the travellers to: Mr N Holbrook, Director of Social Services, County Hall, St. Anne's Crescent, Lewes, E. Sussex BN7 1SG
JUSTICE?
Scottish hunt sabs scored a massive victory for the anti-CJA movement a fortnight ago. Eight sabs charged with aggravated trespass and breach of the peace had their charges dropped when it was revealed that the wife of landowner Captain Cunningham had been taking shorthand notes in court and transcribing them, via another Hunt supporter, to witnesses waiting to be called. The Crown dropped the case and Deputy Fiscal announced the eight were free to leave. So why isn't Mrs Cunningham being charged with attempting to pervert the course of justice? This is a serious offence, carrying a max sentence of five years.
New sab members are needed in Scotland - write to 'em at Clydeside Hunt Sabs, PO Box 180, Glasgow.
* Keith Mann, jailed for conspiracy to save animals, has been waiting for over 6 months to visit his terminally ill father and receive cruelty free toiletries from prison authorities. During this time, prison staff have read confidential legal correspondence, searched his room in his absence, locked him in a blood stained cell, forced him to take down pictures on his cell wall and caused damage to his property. Campaigners are now asking supporters to join a campaign of non-co-operation with Full Sutton Prison by writing to Keith in a foreign language, shorthand or any other code, numbering each page. Translation will be very time consuming, but please don't write anything that could jeopardise Keith. Keith Mann EE3588, Full Sutton Prison, York Y041 PS. Contact JFKMC, c/o ICA PO Box 1135, Down's View Road, Hassocks, W. Sussex BN6 8AA
* There will be an action against LWT on Friday 6th September to protest against their recent 'Expert Witness' programme on Keith Mann. Meet at noon, Eurotunnel terminus (top of the escalators) Waterloo Station.
BRITISH BULLSHIT CORPORATION
Last Sunday the Third Battle of Newbury received a phone call from BBC South Today. Nothing unusual about that. Friends of the Earth were asked about the Art Bypass festival, and whether they expected any trouble. When the reply of 'no' was forthcoming, the BBC 'journalist' said that they would not cover the event unless there was some violence. The British Bullshit Corporation then reported this on their bulletin that those who attended the Brighton RTS were not welcome at Art Bypass. "FoE sympathises with anyone who was (rightfully) upset by the BBC's report, and we're taking it up with them" Give BBC South a ring (01703) 226201, and ask them if they anticipate any trouble getting the licence fee off you this year.
22 NICKED AT SELAR
Reclaim the Valleys latest: 22 nicked on Wednesday morning when protesters invaded Celtic Energy offices in protest at open-cast mining. No further details available. Sorry.
*According to Building Magazine, the construction industry's magazine, protestors are "winning". They warn that negative media coverage puts the reputation of contractors at stake. They recommend that construction companies take the perceived threat of action seriously and that security consultants should be brought in to carry out a risk analysis of potential protest situations. They have also published a guide to office occupations and how to deal with them, which is a very informative read even for an experienced filing cabinet raider.
INSIDE SchNEWS
Marianne Keita writes: "I am serving a 16 year sentence for drug offences, and have been in prison 2 years and 13 months. I am French Senegalese, a mother of 4 children and no family resident in the UK... (recently) I was informed that I could not use the telephone as I cannot speak English which prevents them listening to my conversations. All the other category A prisoners here have access to the phone except me... I am not guilty of the offence... I know there is no justice in this country as the police can do what they like with your life which is inhumane... I feel so isolated here, cut off from friends and family at such a difficult time in my life."
** If anyone could write to her, (especially in French) it would do her no end of good: Marianne Kelta, H Wing, HMP Durham, Old Elvet, Durham, DH1 3HU.
PARTY & PROTEST!
Mon 2nd - Blockade of Farnborough Arms Trade, details 0171 281 0297
6th - Glastonbury Tor Acoustic Jam (6/9/96 - geddit))
6th-9th - Faslane Camp Gathering, with workshops, canoeing and actions. Call 01436 820901
7th - JSA March & Rally. Assemble at noon, Shepherd's Bush Green, London
8th - Critical Mass against planned £80 million tunnel under the River Medway in Kent. It will save time for motorists - but not cyclists or pedestrians who are banned from using it. Meet at the tunnel 10am
11-15th - Drum & Dance Camp, Somerset 0117 954 0297
14th - National day of Action against London's Fur Trade. Meet 12 noon, Green Park, Piccadilly, details 0171 837 7557
14th - Reclaim the Streets, Cambridge. Meet BR station at 1pm
14th - Hemp Awareness Conference, Battlebridge centre, Battlebridge Rd, King's Cross, London. Howard Marks to speak, entrance by donation
20th - Autumn Equinox Festival, 01908 665124
20th - Autumn Equinox Gathering, Faslane Peace Camp 01436 820901
21st Hemp festival in the New Forest 01722 331942
21st-22nd - Midge Death Free Festival, 0141 226 5066
27th - Eclipse of the Moon 1.15am - 6.30am
28th - Cannabis Awareness Day, details to be announced - CHIC 0171 613 5166
28th - Repeal the CJA Demo & Rally, Myrtle Parade, Liverpool, 12noon. Details Freedom Network 0171 582 3474
29th - McLibel-Free Speech Conference, continuing the campaign as the trial nears it's end. Conway Hall, Holborn 0171 713 1269
30th - Mass Action at Seaforth Dock, Liverpool, 10am. Info: 0181 450 6929
30th - Five Shoreham campaigners in Lewes Crown Court to contest charges, 01273 733124

AND FINALLY...
Another snippet from the street party. The ever watchful police received reports of a bouncy castle sighted on the beach, and it was immediately apprehended. Surprisingly, those organising the party were not deflated by this... because the castle had nothing to do with them! The Brighton Rotary Club were holding a fund-raiser on the promenade and fell foul of you know who. A load of hot air is expected by way of an apology, but it is expected the Rotarians will bounce back.
disclaimer
The SchNEWS warns all readers not to go to Brighton on a Saturday afternoon, or stand on any street corners minding their own business, or they may be charged with conspiracy. Always stay within the law, and always stay on the pavement. In fact, don't tread on the cracks in the pavement, or the consequences may be very severe. Stay at home and shop via QVC, the 'Quality, Value and Convenience' shopping channel. Then you will feel safe. Honest.
Subscribe! Keep SchNEWS FREE! Just send 1st Class stamps (eg 20 for next 20 issues) or donations (payable to Justice?) Mark Original if you plan to copy: SchNEWS c/o on-the fiddle PO Box 2600 Brighton East Sussex BN2 2DX SchNEWS is free to prisoners tel/fax: 01273 685913 e-mail: c/o schnews@brighton.co.uk e-SchNEWS: www.schnews.org
Post RECLAIM THE STREETS meeting: MON SEPT 2nd @ The Albert, Trafalgar St 7.30pm (PARTY meet postponed)
We are not kidding. Serious fund-raisers, mail-outers, Benefit Bands needed URGENTLY Apologies to mail subscribers for recent dodgy service...