Home | SchNEWS Merchandise | Books | Videos | T-Shirts | Stickers
NEW BOOK - SchNEWS At Ten - OUT NOW
Here are some of the nice things people have said about SchNEWS and the new SchNEWS at Ten book.
From the slendermeans radical literature distribution website - www.slendermeans.org.uk
SchNEWS is a free weekly information sheet produced by media activists in Brighton. The newsletter comes out every Friday almost without fail and is available to download from their website. What we love about SchNews is their humour, and their piss taking of the establishment....look out for the 'crap arrest' of the week section. If you don't have much time to search out what is going on in the UK and the world on the activist front, this is definitely a great newsletter for you.
As well as the weekly newsletter, the website is an amazing resource with a large "yellow pages" of contacts and listings. We have planned many a summer around their 'Party and Protest' calendar of dates! Also includes loads of cool 'How To' guides on such things as housing co-ops, billboard subvertising and other direct action activities. Our favourite and highly recommended!
From the Radiohead website - www.radiohead.com/links.html
"Definitely one of the best party and protest sites to come out of the UK. Updated weekly, brilliantly written, bleakly humourous, and essential reading for anyone who gives a shit. And we all should."
followed by:
"Yes, it's the second entry for Schnews, cos I got worried it was too far down the list. Updated every Friday! Bookmark it!"
From the Big Issue - Northern Edition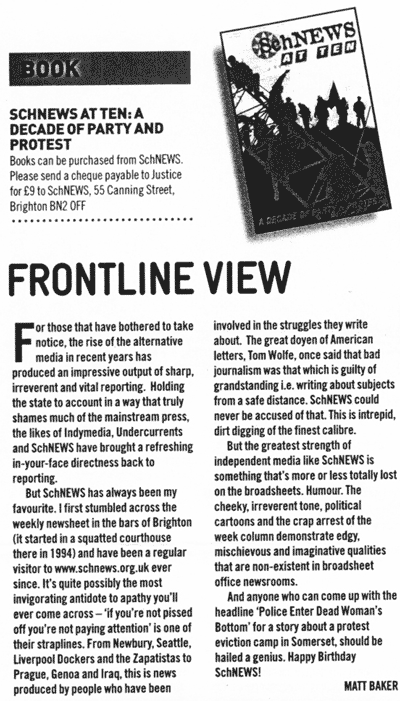 George Monbiot. 3rd December 2004
When most of the media is controlled by people (the rich and powerful) who have an active interest in ensuring that the misdeeds of the rich and powerful are not exposed, the alternative media become critical to the survival of democracy. Rational political choices – who to vote for, which policies to support, which to oppose – are impossible if you don't understand the implications, and the very information you need most is the information you are least likely to obtain. Unless, that is, you are lucky enough to have discovered Undercurrents and Schnews. There are plenty of alternative media in Europe, but I've yet to come across any which are as informative and entertaining as these. If ever I forget why I'm an activist, Undercurrents and Schnews are there to remind me. Both of them are ten years old this year.
Undercurrents is a video and DVD newsreel, and an antidote to everything that's wrong with mainstream television news. It treats the rich and powerful as objects of ridicule rather than objects of reverence. Its mission is to hold them to account, to expose the injustices they cause and to encourage people to knock them off their perches. This is where it really excels: inspiring hope in situations which at first sight look hopeless. The latest tape contains a remarkable film about a students' strike at Harvard: the most powerful university on earth. The students locked themselves into the university offices in protest at the pay and conditions Harvard was imposing on its janitors. They stayed there until the university caved in. There's extraordinary footage of the escape from the Woomera detention camp in Australia, and coverage of the successful campaign against an oil company investing in Burma. There's also some brilliant animation and a genuinely funny spoof of Bush and Blair's foreign policy. Fahrenheit 911 and Supersize Me look pretty tame when you've seen this stuff. Whenever I've seen a copy of Undercurrents, I feel my head's going to explode with inspiration and new ideas.
Schnews is a weekly newspaper, published in both print and electronic forms. It is funny and wise and well-written. I love its corny headlines, and its ability to convey complex issues with clarity and concision. I receive 300 emails a day, but when Schnews comes out on a Friday, it is always the first one I open. It tackles the issues which should be the stuff of daily conversation, but which the mainstream media generally ignores, such as the government's refusal to hold corporate killers to account, the scandalous private finance initiative, the new laws restricting protest and civil liberties and the persecution of gypsies and travellers. If our mainstream media had the same commitment to exposing injustice as SchNEWS does, Bush and Blair would have been be out on their arses by now. And it always has news about successful protests, in Britain and the rest of the world. The latest edition contains the best reporting of Ukraine's orange revolution I've read so far. I think, at last, I understand what's happening there.
Both of them are run on a shoestring – Undercurrents for example, can't release another tape unless enough people buy the current one. And yet they have more to say about the real state of the world than any of our lavishly-funded papers and broadcasters.
You can buy the latest Undercurrents, plus the back issues, at www.undercurrents.org/unn
You can subscribe to SchNEWS if you want to see what you''ve missed over the past ten years, it has just published a collection called SchNEWS at Ten.
Review on Nth Position online magazine - www.nthposition.com/schnewsatten.php
Click here for purchase details.