Join us on Twitter

Get SchNEWS in yer inbox every week













"Definitely one of the best party and protest sites to come out of the UK. Updated weekly, brilliantly written, bleakly humourous, and essential reading for anyone who gives a shit. And we all should."
- Radiohead
Other Reviews

Don't order anything on this site - but if you really want something email schnews@riseup.net you never know.
SchNEWS T-Shirts

You may have been there, you may have done it, but have you bought the t-shirt? SchNEWS T-Shirts are back...

The t-shirts are in black or dark green, in the following sizes...

Small, Medium, Large and Extra Large - £10 (+ £1.50 P&P to UK, £2 to Europe and £2.50 to the rest of the world.)
| | |
| --- | --- |
| | |
| Front | Back |
Send a cheque written out to 'Justice' to the address below...
Or, you can now pay by credit card via PayPal. Click the Buy Now button and follow the instructions on the PayPal page. PLEASE COULD YOU SUPPLY YOUR ADDRESS AS PAYPAL DON'T AUTOMATICALLY GIVE US YOUR DETAILS. Thanks!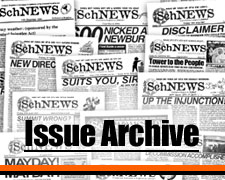 All articles published by SchNEWS in its weekly newsheets 1994-2014.
See SchNEWS Issue Archive