Join us on Twitter

Get SchNEWS in yer inbox every week













"Definitely one of the best party and protest sites to come out of the UK. Updated weekly, brilliantly written, bleakly humourous, and essential reading for anyone who gives a shit. And we all should."
- Radiohead
Other Reviews

SchNEWS Stickers For Every Occasion...
We hope to print some more in the future (help with printing costs welcome), check back later.
If you want to get yer own printed, click on the images to download the PDF templates.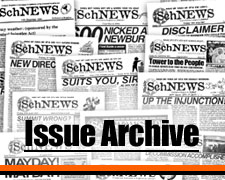 All articles published by SchNEWS in its weekly newsheets 1994-2014.
See SchNEWS Issue Archive