Home | SchNEWS OF THE WORLD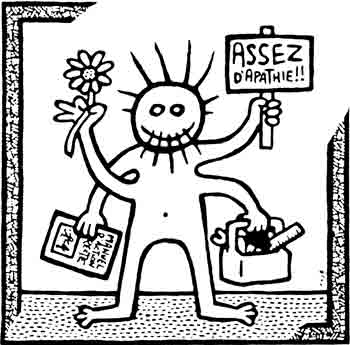 'Enough Apathy'
CRAP/FRAP:
Paris France's resistant and alternative collective
The first two week FRAP - Festival of Resistances and Alternatives in Paris - festival ran in Paris during March 2001. The series of meetings, debates, direct actions, and street protests worked so successfully that a whole new organisation - CRAP (the Collective of Resistances and Alternatives of Paris) was spawned.
CRAP's main activities are publishing the monthly Tohu Bohu newsletter and organising more FRAPs.
The overarching goal is to widen grassroots support for antifascist, antisexist, antiracist, workers, community and ecological (and many more) struggles.
Tohu Bohu is a monthly newsletter listing resistant and alternative events going on around Paris (even though it cannot be exhaustive.) Distributed in bookshops and bars round Paris, it's also available on the web. We encourage people to photocopy and distribute to their friends, families and co-workers, in the desperate hope (!!) it'll spread outside the usual activists, squatters or artists circles.
A second, three week long, FRAP ran from April-May 2002, at the same time as the French presidential elections. The core message was : If you really want to take back your life, everyday action is more important than voting. The main issues raised were labour (expanding workers rights or abolishing labour?), city space (squatting, fighting - or changing - urban development plans, getting politics to the streets...), free things (free transports, free press, free food and clothes...), repressive policies (surveillance cameras, new security laws and other paranoid policies) and minorities (supporting faraway minorities - e.g. Chile's Mapuche - or refugees - e.g. Kurds). There were more participants than last year, and we're hopeful that if we do more CRAP work we'll spark more and more local activism.
As well as FRAP there was a "Forum of Social Disobedience" in March 2002, and in May a week of actions against Securitarian Laws ran alongside another festival, called Charivari. (Though the Charivari fest was coming from a different place - as it was linked to some political parties running for the elections, unlike the other initiatives.) Other FRAP-like festivals around France - like the Festivals of Resistances and Alternatives in Gap and Saint-Etienne, Enrageons-nous (Let's rage) in Brest and FRAKA (Festival of Anticapitalist Resistances) in Grenoble - have us feeling very hopeful. Is this the beginning of a new grassroots uprising?
Web sites to check:
http://letohubohu.free.fr - Discover Tohu Bohu and its covers anthology
http://lefrap.free.fr - Presenting the FRAP 2002 and its program
www.resiste.net - Other festivals of resistance and alternatives