Home | SchNEWS OF THE WORLD
Welcome To The Free World
letter from asylum seeker while in detention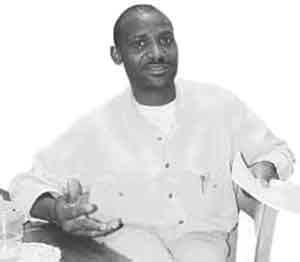 Gabriel Nkwelle is a human rights activist from Cameroon who fled his country following his exposure of electoral fraud, after having been imprisoned five times for his political activity in that country. He came to England seeking asylum, and was put into detention. While in Rochester prison he publicised the treatment of his fellow asylum detainees and was transferred to Belmarsh Prison, Britain's most notorious top-security jail. With the support of BID (Bail for Immigration Detainees) he won bail after eight months imprisonment, and upon release worked as a volunteer at BID helping other detainees.
But days after receiving accolades at the Liberty/Justice human rights awards in December 2001 his bail was denied, he was back in detention, and set to be deported on Christmas eve, 2001. Only hours before he was due to board a plane his lawyers obtained an injunction giving him time to apply for a judicial review, so he remained back in detention in the UK. He was then prevented from being interviewed by the BBC by the Home Office - being told that 'this is not your country'. During his time back in detention he assisted other detainees in Tinsley House, Harmondsworth and Yarlswood with their bail applications.
After eleven months in detention he was eventually released on temporary admission from Yarlswood on the 2nd February 2002, and since then has continued to work defending human rights in detention centres, including writing and public speaking.
While in detention he wrote several letters describing his experiences for distribution to the public - this is one.
________________________________________________________________________________
09-10-00
Nkwelle Gabriel, TDOB41
HMP Rochester
Kent
MBl 3QS
Appeal For Urgent Intervention
Fellow human beings, fellow mankind, it is with great sincerity that I make this desperate appeal for your timely intervention in the horrifying and pathetic plight of asylum seekers in UK detained at HMP Rochester, Kent under Immigration Act 1971.
A subjected people have by right under universal standards and human principles the obligation to seek redress by any means internationally acceptable. I hold the view that all men were created equal and by virtue of their existence are vested with certain inalienable rights to be the sole masters of their destiny.
This has not been the case with asylum seekers in UK detained at HMP Rochester who from the beginning, because of their accommodating attitudes, have been slowly stripped of their human rights. With the oppressors' mechanism of 02/10/00 (HMP Rochester), now working full time to completely dehumanise and emasculate our people no matter what means including genocide. It is therefore time for asylum seekers in Rochester, Kent, and humanity as a whole to fight back.
Many people may not readily understand or agree with the reasons why asylum seekers should be clamouring to restore their rights equally as any other human being.
Asylum seekers detained at the notorious HMP Rochester, are treated worse than convicted criminals detained at the same HMP. Asylum seekers are held indefinitely without trial or initial decision on a claim made. This decision is taken by the immigration Service which does not explain the decision in detail to the persons concerned.
Asylum seekers held at HMP Rochester, Kent, have fewer rights than suspected criminals and often do not understand why they are being held indefinitely.
Not surprisingly, this causes mental anguish among detainees, many of whom have already survived horrendous ordeals in their own countries. The whole process of asylum seeking and being detained for a lengthy period of time in UK is extremely humiliating and distressing.
The way to refugee status is a long road. At HMP Rochester, Kent, asylum seekers are detained for long periods in the Echo and Delta wings. Cells are four by four metres - toilet included - two inmates per cell. The sixty by six metre area in the middle is for games. Per day you are allowed six hours only in this area, for eighteen hours you are locked up in your cell. Echo wing houses one hundred and fifteen whilst Delta about sixty five inmates.
Being locked up makes you appreciate your freedom. Out of everything in life, losing your freedom is the hardest situation to deal with. After months/years of incarceration the following are mentally deranged. Shi (Chinese), Saglam TDO6SO (Turk), Nwange (Kenyan), Fal TD0498 (Gambian), Shayanghi TC3178 (Iraqi), Hammidou Deraji (Algerian), etc.
Inmates had attempted serious self-harm and nobody cares. Medication is a forgotten issue, if you happen to be sick, the grave should be your next home. Both medical and wing staff abuse asylum seekers racially, call them Kunta Kinte and saying words like ".you all will be deported poor people", and "black coloured monkeys". It's awful. I can't tell how awful I feel. The secret self ever more secret, unhappy misled; "unless you know where you are, you don't know who you are."
In a recent survey of 02/10/00, a Romanian (Kvec FG 6796) was seriously brutalised by five Echo wing members of staff (Archibald RCO5G, Brads RC062, S 0 Gamble RCO2O, Henderson RC096 and Mather RCO112) in my presence and others inmates for doing absolutely nothing.
Inmates from Delta say that a Kenyan who has been detained for fifteen months by Immigration Service without trial roasted himself in his cell on the night of October 5th. None of the inmates knows his whereabouts as from that night to date. Life without freedom is a high price to pay.
Asylum seekers are kept in prison without charge, the sound of doors slamming and the ever constant keys echoing around the wing, become our early morning wake up. If we are on remand, when are we going to be sentenced? It's a question without an answer.
Expired food stuffs are always given to asylum seekers at HMP Rochester. When questioned, you are threatened to be taken to the segregation unit. On September 25th a verbal system was implemented by the governor, whereby asylum seekers detained at HMP Rochester must work seven hours in a workshop job for 0.25 pence per hour. He who refuses, is locked up till those in the workshop are back in the wing.
Today October 10th inmates are served with the workshop compulsory memo. For God's sake, where on earth is an adult human being forced to do a job not of his/her choice and to be paid 0.25 pence/hour? Is it modern slavery? Where are we? Third world or first world? Some inmates have been trying to draw the attention of media, but once you are noticed, you are transferred to the segregation unit.
On the day in October I was to publish my appeal for urgent intervention, a member of education department whose name was not made known to me, betrayed me in the governor. At about 1310 hours, five members of staff (Whooten, Grimes, Henderson RC 096, Breds RC 062 and Virdler RC 158) rushed into my cell, moved out my inmate Ndoma TD 0534 to the TV room and seized all the appeal papers printed ready to be dispatched. That governor Lewis ordered the seizure.
As a detainee have I not got the right to express my view to the media?
We leave at tiptoe stance never knowing what to expect next as thousands of asylum seekers live in internal exile being continuously hunted for out right elimination like dogs. To us as people, there can be neither peace nor progress where unrestrained repression, assimilation, exploitation and human inequality reign supreme.
To you comrades, also battling your own personal hell; I wish you courage and with God's blessings a happy ending to all your woes. It will also help all of us disadvantaged people, to get together and aid each other in any way possible.
To all of you, whom God has blessed with justice, humanity's most cherished gift, human dignity and freedom, help us, the not so fortunate so we can have a semblance of it someday.
The situation now brewing here at HMP Rochester, has the potential of making the asylum seekers the flash point of a dangerous regional conflict. I call on you people to render any help you can to asylum seekers held at HMP Rochester.
The gratitude of asylum seekers will know no bounds. God crown our efforts with success and may he bless us all.
If you have any queries concerning the contents of this appeal, please do not hesitate to contact the writer,
Yours sincerely,
(signed)
Nkwelle Gabriel
For more information contact
Bail For Immigration Detainees
07833 625 033
28 Commercial Street, London, E1 6LS
bailforimmigrationdetainees@yahoo.co.uk
To read other letters Gabriel wrote whilst in detention visit http://www.closecampsfield.org.uk/
See also http://www.barbedwirebritain.org.uk/