Home | SchNEWS OF THE WORLD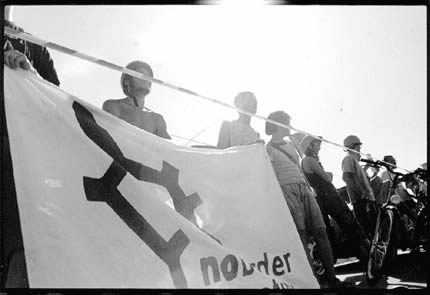 Noborder Camps 2001
"The exploitation of the world's multitudes, is only made possible by our restriction behind borders. Capital derives its profit and power from the theft and plundering of the land and the exploitation of labour. Once this was organised by the colonial powers of Europe, now they are joined, by the International Monetary Fund (IMF) the World Bank, and Washington with their structural adjustment programs and free trade treaties. This means massive impoverishment of the global South, displacing millions from their homes and making the survival of billions harder and harder. Some countries are economically devastated, in others there is war and genocide. As the world is homogenised, the laws we live by are increasingly the values of the market place. And while there are few borders for trade and the movement of capital, restrictions on the movement of people are tightened.
So we are faced with a choice. A global society organised as a Great Confinement or one in which people are free to move. One in which people are trapped, free for capitalism to exploit them, without rights, without freedom. Or one in which our diversity, communication and creativity is unbounded. Any discussion of refugees must at its core be an examination of this choice, of capitalism."
- Noborder Network's declaration.
Kein mensch ist illegal - Ninguna persona es ilegal - No-one is illegal
The UN High Commission on Refugees estimates that there are 12.1 million refugees world-wide. An estimated 3 million people live in Europe sans-papiers (illegally without visa papers). The rhetoric of globalisation calls for the removal of economic borders and free trade, meanwhile freedom of movement for people is another story. Governments are playing on nationalism and racism, promoting fear of 'the other' and scapegoating refugees to justify greater border protection, while in the mean time benefiting from the cheap labour that those without legal status provide.
The economic entities of the global north are constructing the harshest border regimes (take for instance Fortress Europe) and while their affluent lifestyles rely on the cheap resources of the 'south' flooding in, the masses of poor from these countries are locked out. One major consequence of this transnational resource grab is traditional peoples in the south are being displaced from their ancestral land, turned into refugees who have to move. It has been standard practice for governments and corporations to install regimes and set off wars if it suits them and they certainly don't mind kicking people off their land - to put up that refinery, road or mine - or seeing them starve - because they've lost farm land or water supply - to get oil, timber or gold. The majority of refugees move around the continents in which they are, but some take the risk of attempting to break through the security of 'Fortress Europe', or cross the Mexican border into the US, or reach the north coast of Australia by boat or reach other so-called democratic countries which they believe will be a safe haven. Those that enter undetected take low paid work and live a clandestine existence, while others find themselves locked up in detention centres for years while their application for asylum is processed.
Noborder Network
The European Noborder Network banded together to form an international movement after a series of grassroots demos and direct actions against the 1999 EU heads of Government meeting in Tampere, Finland, a meeting which ushered in an agreement that formally transferred responsibility for immigration policies away from nation states to the European level. This came after the Rothenburg German-Polish-Czech border camp in 1998 and there have been camps all over Europe each summer since. In 1999 a camp in Zittau, Germany saw a parade and festival crossing the border between Germany, Poland and the Czech Republic. In 2000 Forst, Germany, Ustrzyki Gorne, Poland, Marzamemi, Italy and Tijuana, Mexico played host to Noborder camps.
"Freedom of movement" Bordercamps Summer 2001
Tarifa, Spain
The biggest flow of African migrants that arrive in Europe pass through the Straits of Gibraltar. They arrive every night in "pateras", little wooden boats. Tarifa is the first European town that they find, only 14 km across the water from Africa. A local network is supporting migrants to make their way into Europe.
About 300 people participated in a bordercamp organised by the Spanish network "ninguna es illegal". The camp involved workshops on issues of self-organisation, civil disobedience, gender and globalisation, and actions - the most dramatic of which was a public nude action where tourists and locals were treated to the sight of more than 50 naked people appearing on the beach, dancing and singing. In front of a no-doubt captive audience, the nudists turned round to flash their backs - each with a big letter painted on it which spelt the message: Ninguna Persona Es Ilegal - Racismo No - Ya Basta! (No Human Being Is Illegal - No Racism - Enough Is Enough!). Behind them a huge "Frontera de Europa - Peligro de Muerte" (European Border - Danger of Death) banner was unfurled, and passers-by were leafleted.
Over the days of the border camp 300 asylum seekers from Morocco were caught by the Guardia Civil and taken to a detention centre. In Tarifa's beaches, you can often find shoes or clothes from the migrants who risk their lives to get here, and more than 1,500 people have already died at sea and around one thousand are arrested a month trying to make their way across.
See www.sindominio.net/ninguna
Lendava, Slovenia
From 4th - 8th July about 100 people participated in a camp in the village of Petisovci near Lendava, 1km from Slovenia's border with Croatia, and 2km from the Hungarian border. The key action was a borderwalk between the three countries, ending up in a carnival procession and street party with the locals of Lendava listening to Italian and Slovenian bands performing. Slovenia has recently become a key transit country for people seeking to enter Germany, with an estimated 36,000 clandestine migrants crossing the Slovene border in 2000 - up 91% from the previous year. For Slovenia to join the EU - and fit in with the Schengen Agreement (see SchNEWS 312) it must increase the 1000 police currently patrolling the border by 3000. The Siska Detention Centre in the Slovenian capital Ljubljana holding 300 asylum seekers also saw a demonstration in front of its gates including a performance by the Publix Theatre Caravan.
Bialystok and Krynki, Poland
The Noborder camp at the Polish-Belorussian camp was held between the 5th and the 12th July.
Starting off with a demonstration of 250 people in the town of Bialystok featuring activists from Poland, Ukrainia, Belarus, Russia, Finland, and Germany, the group then set off to Krynki, a border town between Poland and Belarus, and setting up an info tent in the town square.
The police/military response was extreme with a dozen police vans, trucks with water cannons, two army transporters and even a tank (!) turning up for the party - the largest display of military force since martial law days. Four people were arrested and police tried to provoke a riot. At one point campers were surrounded in a park by police cars circling with sirens on, and when some of them shouted at police, the police attacked the crowd but support from locals helped tone down the tense atmosphere.
The significance of Poland in 'Fortress Europe' is that the country is applying to join the EU, but in the meantime it's western border with Germany forms part of the perimeter of the European superstate, and movement of people and trade mostly exists - as it has done since Soviet times and before - with its neighbours to the east. When it joins the EU its eastern border with Belorus will become the new edge of Europe, heavily militarised, and suddenly movement of people and trade with its eastern neighbours will be closed down or made illegal. (See SchNEWS 320)
Campsfield, England
The Wombles called for a No Border camp to coincide with immigration day during the G8 protest in Genoa on July 19th, but a week before the day a media and police campaign warning the public of "dangerous" protestors, was in full swing. The small town near the detention centre was turned into a Genoa-like no-go area, with a massive police presence, closed pubs and empty streets. About 80 detainees were moved out of Campsfield. Although a proper border camp was not possible, protestors took to the streets of nearby Oxford in a solidarity march.
Streaming Over The Border
On July 7th there was a web linkup between the camps at Tarifa, Lendava, Krynki and Campsfield. Initial plans for live web video streaming between the camps was thwarted, but the pre-recorded material that all the camps could see still established a sense of a common identity, making the events less isolated.
Publix Theatre Caravan Get Nicked After Genoa
After Slovenia the Publix Theatre Caravan took its theatrical resistance to the Genoa anti-G8 demonstrations, but on the way out of Genoa the entire caravan - twenty five people - were arrested and detained for a month before being deported back to Austria. They were initially charged with vandalism, endangerment of public safety and 'membership of a criminal organization' - this last, most serious charge, was pressed under Italy's anti-mafia laws. Even the Italian public prosecutor's office has questioned the amount of force used by the police.
Frankfurt Airport, Germany
Almost all German deportations of asylum seekers are carried out by airlines under the escort of migration police, and Frankfurt Airport is responsible for most of them - around 10,000 a year. The past decade has seen tumultuous changes for the country's immigration situation - with "illegalisation" becoming a mass phenomenon after the escalation of the war in Yugoslavia led to rapid rises in the number of people seeking asylum during the 90's. The policies of detention camps, direct deportation of rejected asylum-seekers and withdrawal of social benefits from others have seen ever increasing numbers of people kicked out. In 1988 there were barely 3,000 deportations, which rose to more than 50,000 by 1994, and more recently the figure is around 35,000 a year.
On Sunday August 2nd, Frankfurt airport was inaccessible. Fraport, the private company running the airport, allowed only ticket-holders in - those who wanted to pick up friends or family had no access. As a result, travellers had plenty of time to discuss "free movement for everyone", and enjoy the classical live music of the orchestra "Lebenslaute" which was also part of the border camp.
Tijuana, Mexico
August 24-26 saw the last of the summer's bordercamp actions taking place along the US/Mexico border. Border activists and hactivists descended on Tijuana for the second borderhack festival.
"Tijuana and San Diego are one city - that like Berlin - got divided by accidents and things of destiny" and now signify the north-south divide: the vast gulf between rich/poor, educated/uneducated, and developed/under-developed. To the south, cardboard shantytowns in the dust, to the north, skyscrapers sparkling in the sun. Between them a 2000-mile wall running alongside a strip of no-mans land.
Camped on the beach where the tall metal fence trails off into the Pacific Ocean, the wired-up three day event brought 100 US and Mexican activists together. By day the tent beside a light-house hosted a series of workshops on immigration, ecology, vegan cooking and independent radio and by night technoheads turned the scene into a giant rave before crashing out on the beach.
Woomera, Australia
Easter 2002 saw more than 1000 people help about 50 asylum seekers escape from a remote desert detention centre. (See article in this book) http://woomera2002.com/
Get Involved 2002
Strasbourg, France
From the 19th to 28th July 2002 there will be a ten day international noborder action camp bringing activists together from all round the world for a 'laboratory of civil disobedience and creative resistance', featuring actions and discussions. http://strasbourg.noborder.org
A series of European camps are also scheduled to run through July and August 2002. www.noborder.org/camps/02/
For more info about fighting asylum seeker deportation: www.deportation-alliance.com