Around 1000 students and supporters - some from other universities - turned up at Sussex University in Brighton today for a national demo to protest at the university's plans for further privatisation and outsourcing. Students have been occcupying the top floor of Bramber House for the last six weeks in solidarity with the outsourcing of 235 support jobs on campus.
After about an hour of speeches by students and staff, including a very welcome Alfie Meadows, the hundreds strong crowd was clearly ready to have its collective voice heard. It was announced to loud cheers that all the cafes and refrectories on campus had been shut down and suddenly masked individuals could be seen unfurling banners on the tops of several buildings.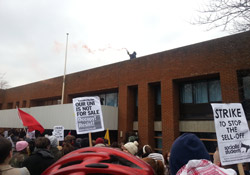 BENNY FARTHING
Once the crowd started moving it was obvious that this was going to be anything but routine: on top of almost every building there were masked up protestors dropping banners and letting off smoke flares.
Their destination was Sussex House, the university's administrative block where uni boss Michael Farthing has his office. Once there the noisy up-fer-it crowd started pushing the door until windows could be seen flexing under the strain.
Police, including more infectual than usual Police Liason Officer drones (PLO) were getting slightly concerned at this point and moved nervously to the front of the crowd. The comment "it's just like Millbank" began to circulate in the crowd. Eventually a large number of protesters smashed their way into the building at which point a group of about twenty cops with blue baseball caps ran inside.
REDBRICKING IT
The police clearly hadn't been prepared for anything like the size and enthusiasm of the crowd and quickly found themselves kettled. After only a few minutes they were shoved back outside. Outside those protesters at the front linked arms and with a few hundred behind them moved slowly and hesitantly towards the police who did not seem up for confrontation. Inside Sussex House windows were broken and slogans were drawn on the inside walls. Protesters made a symbolic funeral pyre out of office files and documents.*
LARY POPPINS
The latest reports are that Bramber House is now almost completely occupied by students despite being blocked by security staff throughout the day. Until today's demo only the top floor had been occupied but nonetheless always important as a focus because this block is a Conference Centre and is especially lucrative as a source of income to the University. One of the many inventive chants heard (to the tune of "a spoon full of sugar") was "Just a small occupation makes the revenue go down, the revenue go down...". Such are the benefits of a good education!
There were no reports of any arrests at the time of writing and SchNEWS is watching this occupied space with great interest...
* Earlier the rumour had spread about, no doubt helped along by Twitter, that the protesters have burned students' dissertations. Many students are hoping that this rumour is believed so that they can use the excuse "The rioters burned my homework" to excuse any subsequent tardy submissions.