Join us on Twitter

Get SchNEWS in yer inbox every week





"Definitely one of the best party and protest sites to come out of the UK. Updated weekly, brilliantly written, bleakly humourous, and essential reading for anyone who gives a shit. And we all should."
- Radiohead
Other Reviews

| | |
| --- | --- |
| | 31st January 2010 - Author: Ziggy Black |
MASS EVICTIONS IN CAMBODIA
An eyewitness account from Phnom Penh, as Cambodia faces its largest forced displacements since the time of the Khmer Rouge.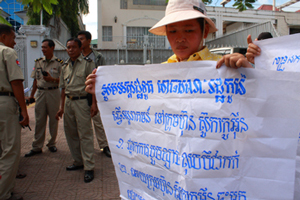 Boeng Kak lake, situated in the centre of Phnom Penh, is where the backpackers hang out to have a beer and look out over the waters, as the residents collect snails, fish and water vegetables. One of the only large open spaces left in the city, it has been home to over four thousand families who live in wooden houses at its edges. Rather than making the most of this potential beauty spot, the Cambodian government had the grand idea of filling in the lake to replace it with some shiny new development. Even though the national Land Law should protect their rights, the World Bank has failed to secure tenure for the people of Boeng Kak within the much criticised Land Management Administration Project (LMAP). Nine hundred families have been evicted so far.
To fight back, the residents of the lake lodged a complaint with the World Bank Inspection Panel in early October 2009. The seven year multi-million pound project ground to a halt in September when the World Bank finally developed a belated conscience - after major lobbying from NGOs and communities - and tried to enforce proper implementation of LMAP. In response the Cambodian government, which does exactly as it pleases, pulled out. It is expected that twenty thousand more people in this area alone will lose their homes, with another 130,000 people facing a similar fate if, as has happened so far, the government is allowed to get away with it.
Cambodia is a country heaving with underlying sadness; nearly everyone lost family members under Pol Pot's regime. It's hard to believe this happened so recently, and the country has still not fully recovered, despite the hundreds of millions of pounds of aid pumped in every year, including a fair stash from the UK. A third of the people live under the poverty line, five women are dying a day in childbirth and hospital facilities fall short of even basic. Opposition is suppressed (even the usually reluctant to criticise US House of Representatives acknowledged on October 8th that Hun Sen's CPP- led government was behind a politically-motivated murder) and corruption permeates all aspects of life.
Under Pol Pot's regime (1975-1979), two million people were killed. He left many cruel legacies behind including one of the world's worst mental health rates. Cambodia was depleted of its intellectuals and professionals, making reconstruction and rebuilding projects more difficult. People were forced into the countryside and, by destroying land and property ownership documents, Pol Pot left Cambodia in a state of chaos, easily exploitable by corrupt elites. Like much of Southeast Asia, investment took off and land prices boomed over the next few years, making evictions a highly profitable government business. Since 2000, 100,000 people have been evicted in Phnom Penh alone and about 150,000 people are facing possible loss of their homes and land.
Ordinary people attempting to defend their rights live in fear of local officials, police and courts. Dan Nicholson of the Centre for Housing Rights and Evictions, says that 2009 has been a bad year in terms of the numbers and the seriousness of evictions: "
There's been a clampdown on the media and a big crackdown on community activists, especially in rural areas. The government has been using the court system to intimidate activists, using incitement, disinformation and trumped up assault and criminal charges.
"
The Dey Krahorm eviction at the start of the year showed the depths the Cambodian government will go to for profit ($44 million in this case). At two o'clock in the morning on January 24th 2009, 250 armed forces and 500 hired goons with bulldozers, axes and other demolition tools entered the site. Tear gas, rubber bullets and stones were fired at the residents who tried to resist peacefully but had no chance. That night four hundred families lost their homes and hope, in a daze they picked through the debris and dirt to try to recover what was left of their belongings. Their community leader, Chan Vichet, who is facing fictitious criminal charges, said: "
I am not so angry at the company [7NG, a local property developer]. What I am really angry at is the legal system, the government and the municipality, including the local authorities like the police.
"
On March 22nd, 100 armed police shot at 80 villagers in Siem Reap (a province, and home to world famous Buddhist temple Ankhor Wat). Four of the villagers suffered gunshot wounds. Their crime was harvesting crops on land that the Provincial Governor claimed was not theirs. Eleven of the villagers were held for months in pre-trial detention, accused of battery. Nine were questioned in court last week. After the hearing, Pak Tov, a villager from Chi Kraeng, Siem Reap said the hearing was "very unjust", adding: "
The villagers did not cause injury to anyone
." Instead: "
People [villagers] were shot, but the judge will never bring the police to court
." Venerable monk Sovath Loun, whose brother and nephew were shot during the eviction, said: "
Soldiers and police [should] have guns for protecting people not shooting them
."
The government claims these evictions are beneficial to the public, but no one is buying that. Everyone knows this gross exploitation of the people and natural resources of Cambodia is for the benefit of the Lexus-driving, gun-toting and, as NGO Global Witness called them, kleptocratic elite. Huge parcels of land in the countryside are being given over to corporations for mining and oil exploration. The government promised to give collective land titles to indigenous people, but instead are kicking them off their land. In urban areas, city beautification, drainage and tourism are justifications put forward for the evictions, yet when it comes to down to it they happen for profit. Other times, rather than responsibly upgrading slums, the government push people out to sites miles away, conveniently getting rid of an eyesore and lining their own pockets in the process. The government doesn't give a hoot about contravening international human rights laws and even national laws they themselves have enacted.
Those people who lose their homes and land mostly end up living in squalor and poverty. A SchNEWS correspondent walked through one relocation site outside of Phnom Penh where hundreds of families were packed under tarpaulin tents. It was flooded up to the shins with dirty brown water and there was no running drinking water. People had to go to the toilet in plastic bags or at the corner of the site. A visiting NGO staff-er commented that even the worst refugee camps in Africa she had seen were not as bad as this. It seemed that the only education on offer was from Christian schools, with the children learning the usual Jesus-infused rhymes. No one could afford to travel to Phnom Penh to work. Even living in this hell, life was insecure and the people stayed close by, in fear of being moved on to who knows where.
Historically, Cambodia has had a weaker civil society than its neighbours in the region but there are some respected community networks developing. In spite of the odds, communities are challenging the government, passively resisting evictions, petitioning and with recent marches on Phnom Penh to deliver collective community complaints. The communities want the government to start thinking about the people and not just profit and the interests of companies. Dan Nicholson, said: "
the government is worrying about them [the activists]. Are people succeeding in stopping evictions? No, but there is progress even if the results at this stage don't look good
."
For new NGO Reports on evictions, see:
* "
Losing Ground – Forced Evictions and Intimidation in Cambodia
"
www.chrac.org/eng/CHRAC%20Statement%20in%202009/Losing%20Ground%20FINAL.compressed.pdf
* "
Untitled: Tenure Insecurity and Inequality in the Cambodian Land Sector
"
www.cohre.org/store/attachments/090930%20UNTITLED%20-%20Tenure%20Insecurity%20and%20Inequality%20in%20the%20Cambodian%20Land%20Sector.pdf
* For
Boeung Kak Lake campaign
, see:
http://saveboeungkak.wordpress.com