Join us on Twitter

Get SchNEWS in yer inbox every week





"Definitely one of the best party and protest sites to come out of the UK. Updated weekly, brilliantly written, bleakly humourous, and essential reading for anyone who gives a shit. And we all should."
- Radiohead
Other Reviews

THE HIPPY, HIPPY SHAKEDOWN
At the last minute the Big Green Gathering festival in Somerset was pulled due to legal pressure - SchNEWS looks at the events and factors that led to this.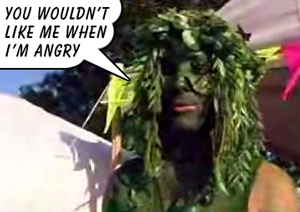 BREAKING NEWS.... THE BIG GREEN GATHERING HAS BEEN SHUT DOWN BY POLICE! 
The Big Green Gathering
, a fixture in the alternative calendar, was due to return after two years this week. 15–20,000 people were expected to turn up on Wednesday (29th) to the site near Cheddar, Somerset, for Europe's largest green event - a five-day festival promoting sustainability and renewable energy, with everything from allotments to alternative media. Hundreds of staff and volunteers are already on site, and its cancellation comes just days before gates were due to open. Organisers, most of whom work for nothing, are gutted. One told SchNEWS "
We are so disappointed not to be having this year's gathering – it means so much to so many people
".
A last-minute injunction by Mendip District Council, supported by Avon and Somerset Police, put the ki-bosh on the entire event - citing the potential for '
crime and disorder
' and safety concerns. This was despite the fact that the festival had actually been granted a licence on the 30th of June. According to Avon and Somerset police's website "
[We] went above and beyond the call of duty to ensure this event took place.
" This is of course utter bollocks.
The injunction was due to be heard in the High Court in London on Monday (27th). However, before that could happen the BGG organisers surrendered the festival licence on Sunday morning. As soon as this was done a police commander at the meeting was overheard saying into his radio "Operation Fortress is go". Police have already set up roadblocks and promised to turn festival-goers back. Chief Inspector Paul Richards, festival liaison, later confirmed to one of the festival organisers that "
This is political
", adding that the decision had been made over his head at county level. One of SchNEWS' sources on site said that the police were frank about the fact that the closure had been planned for two weeks. "
This was a blatant act of political sabotage – the Big Green Gathering is now completely bankrupt, they knew that we were going to be closed down and yet they carried on allowing us to spend money hand over fist on infrastructure
".
The BGG collapsed financially in 2007 under the weight of increased security costs. The new licensing act added an extra £120k to their costs, leaving them with a loss of £80k. Security accounted for a third of their overall overheads and the road marshalling bill rose from £5k to over £23k. In spite of these setbacks, they managed to scrape themselves back off the floor with shareholder cash and some potentially dubious corporate involvement. Every effort had been made by the gathering's organisers to accommodate the increasingly niggling demands of police and licensing authorities. The procedure lasted over six months – just check out
www.mendip.gov.uk/CommitteeMeeting.asp?id=SX9452-A782D404
for the minutes of meetings held between organisers and the authorities. Demands included a steel fence, watchtowers and perimeter patrols, having the horsedrawn field inside a 'secure compound' and wristbands for twelve undercover police. At a multi-agency meeting on Thursday, police took those wristbands in order to maintain the pretence that the festival stood a chance of going ahead. A catalogue of other obstacles were also continually placed in the organiser's path.
All of the businesses associated with the BGG came under scrutiny, licensing authorities contacted South West ambulances, the Fire Brigade and the fencing contractors and asked them to get payment up front from the BGG. Needless to say this caused huge problems. 
Under the terms of the Licensing Act 2005, police can insist on certain security firms being used by organisers. This of course leads to a totally unhealthy hand-in-glove relationship, open to abuse. Stuart Security were forced on the BGG by police, and on Wednesday last week, they suddenly announced that they wanted 60% of their fee up front. Even though the BGG scraped the cash together, the company still wanted out. So the BGG hired another firm – against police wishes. The fact that Stuart Security rely on police approval for lucrative contracts at Glastonbury Festival, the Royal Bath & West Show, WOMAD, Reading Festival, and Glade Festival has, of course, no bearing on the matter. 
UNCERTAIN FETE
The last issue at stake was road closures. Mendip District Council had insisted on road closures as part of the licensing requirements. A festival organiser contacted the highways agency to process this fairly routine request. The decision was passed to junior management who reportedly came under intense pressure not to grant the closure. As the road closures were not secured, the council were able to claim that the BGG was in breach of licence. A nice little legal stitch-up that according to one QC meant the BGG stood fuck-all chance of fighting the injunction. Of course, now that "
Operation Fortress
" is in full swing, there are road-blocks throughout the area. The BGG is itself a limited company and could have fought the injunction - risking no more than bankruptcy - but in a nasty twist two individuals were also named, meaning that should proceedings have gone ahead against the festival then Mendip Council would have had a claim on their assets to settle court costs. Police also threatened to place the farmer on the injunction, risking his entire livelihood.
Anyone who has ever been to the Big Green will know that the atmosphere is more like a village fete than any of the mainstream events. There is virtually no aggro. It's more about chai and gong-massages than Stella and fisticuffs. All power is 12V solar and the amplification is correspondingly quiet. Music stops at midnight. Compare that to the 24 hr Technomuntfucks that go on with state blessing across the country. Of course it would be cynical to suggest that the BGG represents an alternative that the authorities fear. It's a gathering place for eco-activists, where the likes of Plane Stupid and No-Borders hang out and exchange ideas while trying to avoid being button-holed by 9-11 truthers. It's clear now that the state views events like the Big Green in the same light as Climate Camp and the anti-G20 protests. The BGG saga is showing that there may no longer be any 'safe' legal spaces for us to gather. The third way of quasi-legal free-ish festivals is looking like a dead-end. 
IT'S NOT EASY BEING GREEN
It's clear that the Big Green has been singled out – and any gathering promoting those values or trying to organise in a grass-roots way will probably suffer the same fate once they get to a certain size. As corporate-branded Glasto has become a fixture on the mainstream calendar, like Ascot or Wimbledon, many have turned towards smaller more 'grass-roots' festivals. Niche festivals have bloomed across the British landscape. No matter what your bent, be it faerie wings or S&M, there's probably a muddy weekend in a field for you. 
Of course this isn't the first time that Britain's had a thriving festival scene. See previous SchNEWS' for how the free festival scene came under ruthless attack from the forces of Babylon (or just skin up for an old hippy and listen to them bang on about the glories of the White Goddess Fayre or Torpedo Town). 
Some have tried to go down the quasi-legal route, such as Strawberry Fair and even Glastonbury, until the aptly named Mean Fiddler intervened in 2002. Unfortunately the corporate dollar is never far behind. Witness how Glastonbury went from a fence-jumping free-for-all where the festival organisers built the infrastructure, but the fly-pitchers, buskers and random naked lunatics made it a real festie rather than a fenced in, heavily policed corporate theme park.
The Big Green was an exceptional festival, which managed to leap through the legal process while being crew-heavy and retaining a lot of the free-festival atmosphere (Not all of course - we still had to put up with plod wandering around site). It was a unique gathering place for fringe movements, from eco-activists to crop-circle nutters. 
We're not just banging on about festivals being free because we miss the good 'ol days – there's a huge difference between being a punter who has a whole experience laid on for them (e.g. Glasto's themed areas with helpful stewards pointing you in the direction of the consumer delights), and being part of a festival/free party where everyone's responsible for the entertainment, and even infrastructure like welfare. A crowd that feels it owns an event behaves differently to one that feels it has paid to have an experience. The fact that undercover police now feel free to operate and arrest people, without any back-up, for cannabis use or nudity (See
SchNEWS 684
and 603) at festivals has a lot do with the sheep-like behaviour of punters - a mentality that our masters are keen to see enforced.
In the SchNEWS office we're hearing rumours that people aren't going to be put off – alternative sites are being looked at and people are heading to the West Country anyway. In the words of one participant "
Things are just getting interesting
". Time for the Big Black Barney?
* Festivals and free parties are going on all around the country:-
For festivals see
www.festivaleye.com
and
www.efestivals.co.uk
For free parties see
www.partyvibe.com
For both of these as well as protest camps and lots more see
www.schnews.org.uk/pap 
The following comments have been left on this story by other SchNEWS readers...
Added on 8th June 2011 at 22:20 by Vee

NWO corporate war against the sheeple is revving up!
Added on 16th April 2010 at 13:40 by Avalonian

I hope all of you who have ever bunked into a festival or who are planning on doing so take notice. As someone previously involved in festival security, i can tell you this , security costs and reguations are being increased due to these selfish bastards doing this.
add too people hanging in the area weeks after the festivals is over which really pisses off the locals and you can see why festivals are having a hard time.
Its got nothing to do with th epowers that be having a downer on Alternative anti establishment types. I've friends in the Police and they tell me that you ar eof no threat beyond being a public nuisance and sometimes a health and safety issue. Most protestors have no economic power and have no 'in' on any groups like trade unions that could cause civil disobeiance.
Added on 28th February 2010 at 06:27 by www.northetruth.ning.com

THIMBLEBERRY FESTIVAL Under Threat

If any further proof were needed that we no longer living in a Free country, the host of the Thimbleberry festivals, Andrew Norman is being prosecuted for allegedly allowing cannabis to be smoked by visitors at the music events he holds at his small holding in the Durham Dales.

Despite taking all reasonable steps to ensure that visitors enjoy a peaceful safe event the Police are pursuing Mr Norman through the courts for failing to prevent illicit use of cannabis during Thimbleberry, alleging that he presided over an "Open Drugs Market."

The charge follows an undercover operation conducted by Bishop Auckland Police spanning the three day festival last September, during which agents attempted to purchase drugs from members of the public and covertly film the revellers. A team of plain clothes officers infiltrated the crowd and solicited purchases of various substances over the course of the weekend festivities. The net total of which amounted to two minute quantities of herbal cannabis. No other narcotics were recovered and no arrests were made or even attempted. Notwithstanding that Mr Norman employed security for the event and no evidence that Andrew was in anyway involved with or associated with the "deals" the police subsequently arrested him and conducted a search of his home. No cannabis was found but that didn't prevent them from seizing the gate receipts totalling just over £3000 under the pretext of it being assets/proceeds of crime!

Andrew is quoted as saying that he has hosted the event for approx twelve years at a loss and hoped to break even this year. Clearly he does not provide the venue and entertainment for monetary gain and anyone who has had the pleasure of meeting him will know this. Recently an internet campaign has emerged in support of Thimbleberry and Andrew. "Drop the ridiculous charges against Andy Norman." With in excess of 15,000 signatories so far it is no surprise that people are alarmed by the actions of the Authorities and are rallying to his plight.

In essence this case will mark the end of all social gatherings of this type in Britain! Since few will be prepared to face prosecution for the actions of their guests regardless of having done everything reasonable to ensure compliance with the legislation.

Mr Norman has elected to have the case tried before a jury of his peers and is on bail until his next appearance in the summer. It remains to be seen whether justice will be done or whether, more likely, he will be subject to the usual parody of due process which may result ultimately in a prison sentence and the State seizure (Theft) of his home under DTOA. These rules permit Authorities to treat its victims as Guilty until proved innocent and can be used even after the accused have proved their innocence. Clearly our system of Governance is irredeemably corrupt. From local councils to Fat-cats in Westminster, our Police more resemble Paramilitary thugs than Servants of the People and behave as Heavies for Corporate Interests. The Police State isn't coming. It's here now!

Show your support for Thimbleberry and the future of British music events at
www.thimbleberry.co.uk and
www.northetruth.ning.com (truth chat and more )
www.northeasttruth.com !!
Added on 28th February 2010 at 06:20 by Angela Davis

Hi i just posted a artical from our North east truth newsletter, i was very please to have come across your site today and will def be posting links to all i know.
the information i posted was re the Thimbleberry festival in Co Durham i have just been made aware of this and am wishing to contact festival owners through out the uk to see if similar is happening to them and to hopfully get support for Andy Normon befor it does become them under standing to these crazy act's and statutes
i do hope you publish my previous post as it may alert others that are in a similar possition to get in touch so we see if there is already a patten here
great site
Peace and Freedom
Angela x x