Join us on Twitter

Get SchNEWS in yer inbox every week













"Definitely one of the best party and protest sites to come out of the UK. Updated weekly, brilliantly written, bleakly humourous, and essential reading for anyone who gives a shit. And we all should."
- Radiohead
Other Reviews
Feature Articles
For those with an attention span of more than three minutes, here is a collection of articles too long, analytical or high-brow to normally publish in the weekly newsheet.
We are open to submissions of longer articles - 1000-3000 words - which can explore topics ranging from geopolitical situations to biotechnology, renewable energy, economics, laws and legislation, and more to provide further background to the issues we cover on a weekly basis. Articles can be credited to an author, if s/he requests it. And we may request changes or suggest an edited version before publishing. Photos to accompany articles are welcome. Unless specified, all articles will be given 'copyleft' status.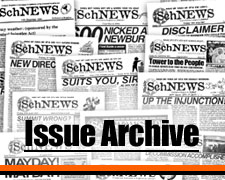 All articles published by SchNEWS in its weekly newsheets 1994-2014.
See SchNEWS Issue Archive