Home | Back Issues Index | BACK ISSUES | SchNEWS Round 1996
Issues 51-100 / December 1995 - November 1996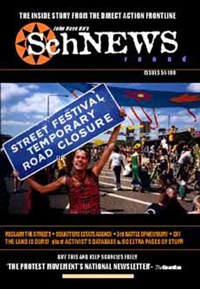 Direct Action takes over England... M41 motorway gets occupied in huge Reclaim The Streets party... The Third Battle Of Newbury... plus the national SchLIVE Tour, the Liverpool Dockers go 'direct action', resistance to Jobseekers Allowance, Exodus Collective, Trident Ploughshares women go free after smashing Hawk Jet, Selar Opencast Mine protest camp, Fairmile - A30 protest camp, Wandsworth Eco-village, the Squatter's Estate Agency...SchNEWS publishes the inside story from the activists themselves! The 50 issues of SchNEWS featuring all this stuff, plus 60 extra pages of photos, cartoons, more articles plus the 1996 activists database is available in...
SchNEWS Round
Sorry Sold Out
READ THIS BOOK ONLINE
The fifty issues are below, and here's a few of the extra articles first published in this book:
The inside story of the world famous Squatters Estate Agency
The national SchLIVE Tour May-June 1996
Justice Two Years On - Recounting the first two exciting years of Justice in Brighton from the Courthouse to SchNEWS to the Direct Action Conferences, Community Allotment and beyond...
Revealing SchNEWS FAQ
NB - the original files of these issues were lost - so the text used in these archives is Optical Character Recognition on scans of dog-earred paper copies. Hence there may be err0r5 causcd by th!s pr0cess.
AND - none of the weblinks in the issues are made 'live' - cos they're old and probably don't work anymore!
---
PDF versions available where indicated.
---
SchNEWS 100, 22nd November 1996 - PDF (286kb)
Where Do We Go From Here? The programme of the Direct Action Conference in Brighton.
SchNEWS 99, 15th November 1996
The Plot… Shell garage closed for a day on anniversary of Nigerian activist Ken Saro-Wiwa's execution. A talk about genetically modified food gets closed down at World Food Summit in Rome; Jobseekers Allowance sanctions busters in Brighton…
SchNEWS 98, 8th November 1996
The Spies The Limit! Veteran peace campaigner Lindis Percy is suing US security officers for assault at Mildenhall spy base… and more about Menwith Hill spy base and other US military presence in Britain. Plus - base closed down for day at Faslane; a decade of wrongful imprisonment for Satpal Ram and more…
SchNEWS 97, 1st November 1996
Stop The City! Toronto closes down all public services for two days - with a million striking against 'economic restructuring'.
SchNEWS 96, 25th October 1996
Soya: A Four Letter Word - Genetically modified food and the international stitch-up multinationals like Monsanto are gearing up for; BP fund Colombian death squads...
SchNEWS 95, 18th October 1996 - PDF (1.2mb)
Guinness Pillage Eco-village - after five months of turning the 12 acre site in Wandsworth into a sustainable low-impact community, activists are evicted. Plus - ID Cards, Secret Services Act becomes law (see SchNEWS 75); how to beat JSA…
SchNEWS 94, 11th October 1996 - PDF (1.3mb)
Welcome To The Clampdown - Tories introduce Jobseekers Allowance, cuts in Housing Benefit and expansion of Workfare schemes. Plus - Pressmennan Oakwood North in East Lothian - ancient forest under threat…
SchNEWS 93, 4th October 1996
Docks And Dreadlocks Come Together - The Reclaim The Future weekend in Liverpool where hundreds of direct action people come to the port city for actions with and in support of the sacked Liverpool Dockers. Plus - 60th anniversary of Battle Of Cable Street, where protests stopped Oswald Mosley's British Union Of Fascists (BUF) march through London's East End.
SchNEWS 92, September 1996
Collective Strength - Exodus collective thrive, despite police harassment, press smears, the council and freemasons on their case, and threats of eviction…
SchNEWS 91, 20th September 1996
Repetitively Beaten? A run down of the way the summer's festivals have been hit hard being forced to play by the new rules of the CJA. And - police try to pay activist Janet Lovelace to turn informer - uncovering a plot between the police and British Aerospace; Fairmile under imminent eviction; grass-up-a-dole-cheat hot-line…
SchNEWS 89/90, 6th September 1996
Got Any Spare Coppers? Police close down Justice? meeting in Brighton, after last week's RTS; plus 40 arrested at Farnborough Air Show…
SchNEWS 88, 30th August 1996
Reclaim The Streets: 40 Dead - every day in the UK 25 die from pollution and 15 die on the roads; Police go over the top at Brighton Reclaim The Streets with 80 arrested; Plus Liverpool Dockers…
SchNEWS 87, 23rd August 1996 - PDF (1.2mb)
Justice? - Michael Howard's proposes ID Cards - and the Labour opposition go along with it, and then gives the go-ahead to police use of CS gas after trial. Plus report about air pollution; Reclaim The Streets in Birmingham…
SchNEWS 86, 16th August 1996
Out Of (law &) Order - It's been a summer of over-the-top policing. Plus - Reclaim The Streets still under attack after July 12th Street Party III; racism in British criminal justice system; open cast mining madness in Wales continues…
SchNEWS 85, 9th August 1996
All Together Now! Cyclists take to the streets of London in a Critical Mass in solidarity with the striking tube workers; Wandsworth land squat facing eviction; Smokey Bears Picnic and more…
SchNEWS 84, 2nd August 1996
Anyone For Trident? The four women who wrote off a £23m Hawk Jet with hammers walk free - after successfully defending themselves against charges of criminal damage by arguing they were preventing a larger crime - genocide! Plus - a rundown of workers struggles; hunger strikes in Turkish prisons end and more…
SchNEWS 83, 26th July 1996
It Could Be You! One In A Thousand Britons Now In Nick - people in British prisons reaches record proportions. Plus - Rank plan leisure resort at Lyminge Forest, Kent; and more…
SchNEWS 82, 19th July 1996
Ireland Erupts - Irish nationalist marches in Northern Ireland face rubber bullets from armed police, while the Protestant Orange march gets cleared by police to march through Catholic areas. Plus - M41 in London gets occupied in Reclaim The Streets party!
SchNEWS 81, 12th July 1996
It Ain't Arf Hot Mum - the climate change spectre for Britain. Plus a two page special 'Ecological Revolution on Bougainville'…
SchNEWS 80, 5th July 1996
What You Lookin' At? The Police and Security Expo in Manchester - where police forces from Britain and abroad inspected the latest line in surveillance equipment such as CCTV cameras, tear gas, grenade launchers and more… Plus a two page special 'Forest Gardening: a growing movement' - reclaiming food production from supermarkets.
SchNEWS 79, 28th June 1996
Would You Like Lies With That Sir? McLibel - the longest libel trial in British history has it's second birthday.
SchNEWS 78, 21st June 1996
England 0 East Timor 200,000 (dead) - Britain has a booming (and subsidised) arms industry and profits from international conflicts and genocidal regimes like Indonesia. British arms were used by Indonesia to cause the deaths of 200,000 East Timorese. Plus - Exodus Collective; Faslane Peace Camp…
SchNEWS 77, 7th June 1996
Offensive Weapon? Police carry guns in public for the first time… plus a rundown of new weapons introduced to British police in the past year.
SchNEWS 76, 31st May 1996
Deeds Not Words! A Talking Shop In Turkey: Habitat II Summit June 3-14th Istanbul - follows up the 1992 United Nations Rio Earth Summit.
SchNEWS 75, 24th May 1996
Bugger Off! The Security Services Bill will enable secret police to legally gain entry to your home, install cameras, tap phones, bugging devices etc.
SchNEWS 74, 17th May 1996
Splash & Grab - the Yorkshire Water fiasco, privatisation, and facts about water… Plus - tenth anniversary of the Squatters handbook; still nine camps at Newbury and more…
SchNEWS 73, 10th May 1996
Pure Profit! After a week of occupation, landowners Guiness try to evict 'The Land Is Ours' squatters from a site in Wandsworth which has been empty for six years. Plus - Germans blockade nuclear train and more …
SchNEWS 72, 3rd May, 1996 - PDF (1.3mb)
Reclaim The Ground … As Seagulls Get Into Direct Action. Football fans at Brighton storm the ground during the game in protest against club ground sell-off by money-minded developers.

SchNEWS 71, 26th April 1996
Chernobyl: 10 Years On - the roaring successes of the nuclear industry.
SchNEWS 70, 19th April 1996 - PDF (970kb)
Summer Of Love! Newbury might be finished but it's summer and there's loads more camps on… Plus Stoke Newington cops in drugs scandal; Kings Cross Women's Centre evicted; Tony Rebel Green is nicked at RTS and more…
SchNEWS 69, 12th April 1996
Anarchists Storm Parliament - march against Jobseekers Allowance marches on the Houses of Parliament. Plus - the GANDALF trial begins; and Cothrom - a Scottish SchNEWS is launched and more…
SchNEWS 68, 4th April 1996
The CJA With Bells On! - new additions to the Prevention Of Terrorism Act (PTA) have gone thru, allowing new 'stop and search' powers to police; Plus - The last camp is evicted at Newbury and more…
SchNEWS 67, 29th March 1996
How Now Mad Cow? The story behind CJD, BSE and British farming practises. Plus two page special 'Doomsday For Doley's? - Six Months And Counting Till The JSA' - a rundown of Jobseekers Allowance. Plus - six months for the Liverpool Dockers…
SchNEWS 66, 22nd March 1996 - PDF (220kb)
600 Nicked At Newbury Eyewitness accounts of dramatic evictions, as the protest enters its last stages. Plus - CS gas claims its first victim - Ibrahima Sey…
SchNEWS 65, 15th March 1996
We Say… The direct action movement has made great strides but how does it expand to include locals, yer mum and dad, and others outside the 'direct action movement'? Plus - more evictions at Newbury…
SchNEWS 64, 8th March 1996
Squat A Cheek! - The Squatters Estate Agency in Brighton.
SchNEWS 63, 1st March 1996
Monster Munch: As Selar is set to be swallowed whole! After a big fight Selar protest camp was evicted, to make way for the open cast mine - as SchNEWS wonders if we need a change of tactics. Plus - evictions begin at Newbury; Black Moon sound system become first victims of section 63 of CJA; doleworkers' strike ends and more…
SchNEWS 62, 23rd February 1996
Gotcha! As Peace Activists Have Smashing Time With Genocidal Aircraft. Three women wrote off a £13 million hawk jet with hammers, in protest against British arms sales to human-rights abusing regimes like Indonesia. Plus - LAMB - campaign against banks' involvement with international arm sales.
SchNEWS 61, 16th February 1996
"Battleground" - as protesters bounce on castle and eat candyfloss!
SchNEWS 60, 9th February 1996
Firebombed - pressure mounts on Luton free party posse. Cop admits that Police have got it in for the Exodus collective in Luton. Plus - the battle goes on at Newbury; Brighton Critical Mass; member of US Black rights group The Move speaks in UK, and more…
SchNEWS 59, 2nd February 1996 - PDF (276kb)
Arooooga!! Battle Cry As Camp Get Set For Action - week 4 of the battle to stop the Newbury Bypass, and 300 have been nicked as police and security forces escalate. Urgent call out for people to get up there. Plus - anniversary of the death of animal rights campaigner Jill Phipps and more…
SchNEWS 58, 26th January 1996
Bypass The Law - Battle Of Newbury Hots Up - Come And Join The Fun. After three weeks and there are now 20 camps along the path of destruction, while many are being arrested for Aggravated Trespass. Plus - victory for Exodus Collective; cops to use CS gas; and Selar Farm open cast mine protest under threat of eviction…
SchNEWS 57, 19th January 1996 - PDF (270kb)
Direct Action Stations - more people needed to beat the bulldozers at the Newbury Bypass. The Third Battle Of Newbury goes into its third week, as the police begin to use the new powers of the CJA. All this during the 100th anniversary of the car.
SchNEWS 56, 12th January 1996
Nice One Newbury. After the first week of action at the Newbury Bypass, and the protesters are winning - but for how long? And why roads create traffic problems, not solve them, and more about 'car culture'. Hamburg squatters have a victory; Durnford Quarry; SchLive to go on tour and more….
SchNEWS 55, 5th January 1996
CJA Disassembled. Cracks are appearing in the CJA as sections of the law are quashed on appeal. Plus - callout to get down to the Newbury Bypass; digging the dirt on Home Secretary Michael Howard, police to introduce pepper spray; dole workers on strike…
SchNEWS 54, 21st December 1995
Wanted! - Have you seen these two faces? They are coppers in the 'Forward Intelligence Team' - set up to gather info about 'potential troublemakers'. Plus - two page special report about the Asylum and Immigration Bill - a new attack on human rights in England. And - the Exodus Collective…
SchNEWS 53, 15th December 1995
Babylon's Burning! Another black death in police custody in London - Brian Douglas - sends Brixton to boiling point. Plus - report from Justices' National Direct Action Conference held in Brighton last weekend.
SchNEWS 52, 8th December 1995
Whatley Quarry?! Earth First! 60 Nicked In Superquarry Shutdown! The quarry in Somerset - supplying stone for road building - is closed for the day. Plus - the French in mass strikes against Thatcher-style cuts, and more…
SchNEWS 51, 1st December 1995
Signing Off! As Striking Dole Workers Hit The Streets… Dole workers go on strike; plus the 500 Liverpool Dockers get international support; gypsies under attack, and more...