Home | Back Issues Index | BACK ISSUES | SchNEWS Reader
Issues 1-50 / November 1994 - November 1995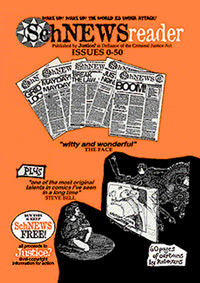 Where It All Began...
From the pilot edition edition right through the first year of SchNEWS featuring the first of many Crap Arrest Of The Weeks, the Criminal Justice Act 'Arrestometer', and a running commentary of resistance as the sections of the Criminal Justice Act come in attacking Travellers, Squatters, Hunt Sabs, Ravers, Protesters, Footie Fans and freedom in general. In the news was... Shoreham Live Animal Export protests, the end of the No-M11 Link Rd campaign, Pollok Free State anti-M77 protest in Glasgow, eviction of Stanworth Valley 'village in the trees' near Blackburn against the building of the M65, opencast mining protest camps in South Wales and much more...
These historic 50 issues of SchNEWS, plus loadsa cartoons by Kate Evans and more are available in...
SchNEWSreader
SOLD OUT Rare as hen's teeth.
Read The SchNEWS Reader Online
The two main ingredients of the SchNEWSreader are the first fifty SchNEWS issues, and the cartoons of Kate Evans. Nearly all the text in this book is now available online except for Kate's fabulous and historic cartoons. To see her website visit http://cartoonkate.gn.apc.org. To read the first year's SchNEWS issues and other stuff see below.
Other Articles From The Book
Read the illuminating Foreword.
Open letter from Justice? to Michael Howard, Home Secretary who introduced the 1994 Criminal Justice Act. click here download pdf (110kb)
SchLIVE! - article about live newsreadings by Justice/SchNEWS bods in Brighton
'As It Is' - concluding thoughts about the first year of Justice and SchNEWS
NB - the original files of these issues were lost - so the text used in these archives is Optical Character Recognition on scans of dog-earred paper copies. Hence there may be err0r5 causcd by th!s pr0cess.
AND - none of the weblinks in the issues are made 'live' - cos they're old and probably don't work anymore!
---
PDF files are available for some of these issues, as indicated.
---
SchNEWS 50, 23rd November 1995 - download pdf (400 kb)
We Are One! SchNEWS turns one! The birthday extravaganza featured Conscious Cinema, plus people from Shoreham Defence, the Advance Party and the Liverpool Dockers. Plus - Critical Mass - the movement to reclaim roads for cyclists; and the Animal Rights National Index (ARNI) - apparently animal rights activists are considered the biggest threat to national security.
SchNEWS 49, 16th November 1995
Shell Scum! Nine are executed in Nigeria for fighting against the environmental destruction and genocide wreaked by Shell on the Ogoni people caused by oil production in the region. Among the killed was Ken Saro-Wiwa. Plus - the race card gets played in the new Asylum and Immigration Bill and more…
SchNEWS 47/48, 3rd November 1995
Happy Birthday CJA! - One Year On From 'The Poll Tax On Acid' - What started out as Michael Howard's Tory conference crowd pleaser, has gone on to spark the biggest grassroots political movement in a decade. Plus - 500 sacked Liverpool dockers enter fifth week of picket; and a two page special report recapping the events of the past twelve months.
SchNEWS 46, 27th October 1995
Codi Eto Yn Y Cwm! - The Valleys Rise Against Opencast Monster - Protest camps near Brynhenllys and Selar Nature Reserve, south Wales, are protecting a huge area earmarked for an enormous opencast mine by Celtic Energy.
SchNEWS 45, 20th October 1995
No Toll Tax! Skye Says No To Bridge Over Troubled Water… a private firm is creaming it in for a bridge between the Isle of Skye and the mainland. Plus - Holts Field community on the Gower peninsula in Wales fights eviction; the first mass-arrest under the CJA goes to court; and a sea action against French nuclear submarines…
SchNEWS 44, 13th October 1995
Right Royal Vic-Tree - As People Power Wins The Day… 300 year old trees in Windsor Park are saved. Plus - Satpal Ram: imprisoned nine years ago for defending himself against a racist attack, and more…
SchNEWS 43, 6th October 1995
Squatters 1 Landlords 0 - the tide is turning: Despite new powers, a case for an eviction in Bristol has been thrown out of court. Plus - a special bumper six page SchNEWS looking at… the Labour Party conference - and their support for the CJA and Tory-style politics; anti Jobseekers Allowance demo in Brighton, looking back to the 100,000 strong march the year before against the Criminal Justice Act and lots more…
SchNEWS 42, 28th September 1995 - download pdf (1mb)
'Break The Law…' As Judge Gives Gandhi The Thumbs Up… High court judge declares that all but one of thirteen live animal export protesters were within the law by taking direct action at the port. Plus - Rambler Association have 100 separate walks for the 'right to roam'; And a two page special report about the forthcoming Jobseekers Allowance - the latest attack on those on welfare.
SchNEWS 41, 22nd September 1995
Nun-sense! Congregation of the Poor Servants of the Mother of God vs Kestral, Alex and persons unknown… High court case to evict a traveller community squatting a disused nunnery in Hove.
SchNEWS 40, 15th September 1995
Digging For Victory! Ex-miners, trade unionists and environmentalists take to Deputy Prime Minister Michael Heseltine's garden, looking for coal - remembering his role in the 84/85 miner's strikes and protesting against the planned new open cast mines; Plus - special two page report about a commando-style direct action to stop the French testing of nuclear bombs in Muroroa Atoll with Greenpeace activist Al Baker; And - the story of prohibition against hemp, and more…

SchNEWS 39, 8th September 1995
Le Boom! As French Stay Deaf To Protesters. France is preparing for more nuclear testing at Muroroa Atoll, in the Pacific Ocean. Plus - the four month action against the building of the A299 Thanet Way, is facing eviction;. Also - a special two page report - 'The Miner's Strike - Lessons For Today' - looking at the miners strike of 1984/85.
SchNEWS 38, 1st September 1995 - download pdf (1.3mb)
"We've Won!" Judges Declares CJA 'Draconian' And Unlawful. Travellers have victory in High Court, as judge calls the Criminal Justice Act 'draconian', setting legal precedent to challenge section 77 of CJA. Plus - ramblers fight CJA; Conscious Cinema has new direct action news video out and more…
SchNEWS 37, 25th August 1995
"Just Like The Nazis" - Outrage As MP Calls For 'Aggressive Use Of CJA'. Squatters in Brighton occupy empty city office block as new anti-squatting section 76 of the Criminal Justice Act come into force. Plus - a rundown on Section 76 and the new 'Interim Possession Order' (IPO); Plus 'Agenda 21'
SchNEWS 36, 18th August 1995
Carry On Protesting! Activists Turn Up The Heat In Summer Scorcher. A roundup of actions all around England - despite the Criminal Justice Act.
SchNEWS 35, 11th August 1995
Just Say Non! To French Nuclear Testing… 50 Years On From The Bomb. Britain wants to join France with it's nuclear bomb testing at Nuroroa atoll in French Polynesia, on the 50th anniversary of the bombs in Hiroshima and Nagasaki.
SchNEWS 34, 4th August 1995
Pier Pressure - Squatters Take Over Brighton's Derelict West Pier. On the Brighton seafront - beach chalets which haven't been used since 1982, and have been since squatted, are evicted. So - step up 'Operation Crusty' - where the derelict west pier is squatted; Plus - special report about John Bowen, a prisoner serving for murder who has since become highly politicised.
SchNEWS 33, 28th July 1995
Gridlocked! As Protesters Party In The Streets. A second Reclaim The Streets - Street Party II - happens in London, as thousands occupy a street near Angel Islington, transforming it into a carnival.
SchNEWS 32, 21st July 1995
Newbury Nightmare! Cowardly Last Act Of Mawhinney. The Third Battle Of Newbury is about to commence, as outgoing transport secretary Brian Mawhinney give the go ahead to the Newbury Bypass.
SchNEWS 31, 14th July 1995
Mother Fucked! Huge Police Operation To Try To Stop Party - keystone cops do everything to stop the mother happening. Plus - the open cast mine near Neath Valley south Wales in under attack; plus new techniques at the three protests camps at Fairmile stopping the building of the A30 near Honiton in Exeter.
SchNEWS 30, 7th July 1995 - download pdf (440kb)
Boom! The Mother Of Free Festivals Is Kicking Off Now! - the 'Mother' festival is due to happen this weekend 'somewhere in England'. Plus - how to get into DIY media, and alternative information networks (FIN) and more…
SchNEWS 28/29, 30th June 1995
Direct Action Bombshell! Oil Giants Backs Down Over Brent Spar Rig - activists squat disused oil rig to stop Shell dumping it into the sea. Plus - indepth special report from Al Baker, Greenpeace activist recounting this spectacular direct-action success; Also Justices' White Book is out - listing 200 direct action groups.
SchNEWS 27, 16th June 1995
Trust Turn Traitors - the National Trust - a land rights campaign which started at the turn of the century turn to evicting travellers. Plus - remembering the Battle Of Orgreave - where eight thousand police ferociously attacked picketing miners at Orgreave Coking Plant near Sheffield on 18th June 1984, during the 84/85 miners strikes.
SchNEWS, 26, 9th June 1995
You've Been Bailed! Into the nineties with Britain… Not since the miner's strike have draconian bail conditions been handed out so widely preventing people from returning to protest sites; Also - Shoreham live animal exports to close - operation to move to Dover; 600 cyclists go on London Critical Mass and more…
SchNEWS 25, 2nd June 1995
Battle Of The Beanfield - the story, ten years on… recalling the most violent episode in recent history when the convoy on its way to the 1985 Stonehenge Free Festival was smashed by police in a field. Plus - mass arrests for aggravated trespass at open cast mine in Yorkshire; and protest camp set up against open cast mine near Glyn Neath in south Wales.
SchNEWS 24, 26th May 1995
ID Crisis - Michael Howard is at it again - this time causing a civil liberties furore by launching an ID card proposal. Plus - the Whitstable Flat Oak Society - fighting the £65 million A299 Thanet Way road extension.
SchNEWS 23, 19th May 1995
Raided! Shock Police Swoop On Greenpeace HQ - the London offices of Greenpeace are raided following action at Aldermaston weapons plant; Plus - arrests at Thanet Way extension protest camp in Kent; and trouble at the Shell AGM, with tips about 'participating' in corporate annual general meetings; Also - Camden High St is occupied in the first London Reclaim The Streets.
SchNEWS 22, 12th May 1995
Police Attack After TV Debate - Tactical Support Group Hospitalise Protestor. No-M11 protesters attacked by riot police after TV appearance; Stanworth Valley is evicted, ending the No M65 campaigns - Britain's longest running post-war eviction.
SchNEWS 21, 5th May 1995 - download pdf (412kb)
Shame! As bailiffs attack village in the sky - eyewitness accounts from 60 feet up a tree at Stanworth Valley, in the path of the M65; Plus - looking at the Vigilantes - a social movement after the second world war reclaiming/squatting to rehouse their families - which were led in Brighton by Harry Cowley.
SchNEWS 20, 28th April 1995 - download pdf (330 kb)
Mayday! Mayday! - Village in the sky set for eviction. 30 treehouses and 4 km of aerial walkways in the woods of Stanworth Valley, near Preston stand in the way of the building of the M65; Plus - travellers challenge CJA eviction, and indepth report looking at the Strangeways Prison Riots in 1990.
SchNEWS 19, 22nd April 1995
The Land Is Ours - Shock! Protesters all set for mass trespass of land this Sunday. Plus - Michael Howard gives the go ahead for CS gas…
SchNEWS 18, 13th April 1995
Travellers Stuck On Eviction Merry-Go-Round - Criminal Justice Act clampdown on travellers lifestyle; Plus squatters in France get an easier time; Also - SchNEWS in Brief, Inside SchNEWS and Party and Protest…
SchNEWS 17, 7th April 1995
Silence Is Olden - what to do about the CJA taking away the 'right to silence'; Plus DNA database; Stanworth Valley protest camp near Preston hots up…
SchNEWS 16, 31st March 1995
Footie Fans Fouled By CJA - busload of Cardiff city fans nicked under Section 60 - even though it doesn't come into law til next month! Plus - Jobseekers Allowance - forcing you to get yer hair cut and more…
SchNEWS 15, 24th March 1995 - download pdf (700 kb)
You're Nicked! - Pollok Free State, hunt sabs, travellers - all suffering arrests post-CJA; Plus a look at the new draconian CJA 'stop and search' laws. And… party and protest…
SchNEWS 14, 17th March 1995
Carry On Squatting! Justice open a squatted community centre in Brighton, plus a look at the forthcoming parts of the CJA which attack squatting. And - tagging for criminals and more…
SchNEWS 13, 10th March 1995
McPolice On The Way? - the beginnings of privatisation of the police. Plus sacked bus drivers in Chelmsford fight back; and a look at the sections of the CJA about to come in which allow for the confiscation of sound equipment and vehicles.

SchNEWS 12, 3rd March 1995
Live Export Megaport - Shock! Shoreham port to expand live sheep and calve export. Plus prison officers not happy with CJA, and an indepth look at the forthcoming Jobseekers Allowance…
SchNEWS 11, 24th February 1995
Government U-turn On Roads? Latest on Pollok, M65 protests in Blackburn, Oxleas Wood; plus report on the way the CJA further restricts people's already limited access to land in Britain…
SchNEWS 10, 16th February 1995
Security Mutiny At M77 - hundreds of police and security move in on Pollok Park. Schools let students out to protest, 24 security guards down tools, some joining the protest, the car convoy arrives and much more. Plus - indepth look at police use of bail conditions to keep people from protesting.
SchNEWS 9, 10th February 1995
Polloks! Pollok Free State - protest camp to stop the building of the M77 through Europe's largest city centre green space; Plus CJA laws against raves come in; reflections on Twyford Down protest…
SchNEWS 8, 2nd February 1995
Woman Killed In Live Export Demo - the tragic death of Jill Phipps. Plus - new squatting laws rundown; Shoreham port boss quits; Inside SchNEWS; diary and more…
SchNEWS 7, 27th January 1995
Right To Protest safe with the Police - Shock! Hollow victory for animal rights activists? Animal exports likely to continue at Shoreham and Brightlingsea. Plus - McDonalds In The Dock - a look at the McLibel trial, set to become the longest libel trial ever.
SchNEWS 6, 20th January 1995 - download pdf (720 kb)
Victory For Direct Action! Shoreham protesters have big victory; plus environmentalists to be targeted by MI5 as 'terrorists'; govt plans to build new children's prisons…
SchNEWS 5, 12th January 1995 - download pdf (700 kb)
Criminalising Compassion - Protest reach the 12th day against the export of live animals at Shoreham Harbour. Plus - inside SchNEWS; a convoy going up to Pollok Free State against the building of the M77 near Glasgow
SchNEWS 4, 14th December 1994 - download pdf (650 kb)
Stormy Weather: (sponsored by the Criminal Justice Act) The first wave of CJA court cases go thru. Direct action hotspots - Newbury, Exeter, Pollok, Blackburn. Also - senior magistrate resigns over ''abuse of justice'.
SchNEWS 3, 7th December 1994 - download pdf (580 kb)
M11 Latest News - Claremont Road is finally evicting, ending the year long direct action campaign to stop the M11 Link Road. It took 4 days, 700 police, 200 bailiffs, 400 security guards and cost £2 million.
SchNEWS 2, 30th November 1994 - download pdf (380kb)
Hunt Sabs Top Criminal Injustice Act League Table - plus travellers and road protesters are targeted.
SchNEWS 1, 23rd November 1994 - download pdf (380kb)
Criminal Injustice Act - Crackdown starts. Already 18 have been arrested under the CJA, mostly Hunt Sabbers. Plus… Michael Howard more interested in the Archers than justice.
SchNEWS PILOT ISSUE, 16th November 1994 - download pdf (380kb)
Big Brother CCTV Installed In Brighton plus Justice evicted from Courthouse and prison governors warn that CJA will lead to huge increase in prisoners.