Home | Back Issues Index | BACK ISSUES | Peace De Resistance
ISSUES 351-401 / April 2002 - April 2003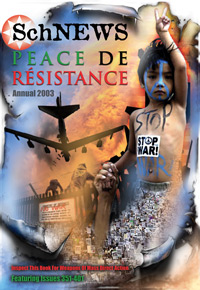 'As the Forces of Darkness gather for a new attack on Iraq, they're shaken by an unexpected explosion of resistance. US airbases are invaded; military convoys are blockaded; schoolkids stage mass walkouts from Manchester to Melbourne; roads are occupied, embassies besieged, and cities all over the world are brought to a standstill by the biggest mass demonstrations ever seen. Read about the efforts to sabotage the war machine that the corporate media ignored: not just the mass demos, but Tornado-trashing in Scotland, riots across the Middle East, and train blockades in Europe. Featuring SchNEWS 351-401, this book also covers many of the past year's other stories from the rebel frontlines, including GM crop-trashing, international activists in Palestine, and the 10th anniversary of Castlemorton. All that plus loads of new articles, photos, cartoons, subverts, satire, a comprehensive contacts list, and more...'
PLUS INCLUDES FREE CD-ROM by BEYOND TV featuring footage of many of the actions reported in the book plus other digital resources
"Peace de Resistance"
ISBN 09529748 7 8
£7 inc. p&p direct from JUSTICE?
Contact SchNEWS for distribution details
Order This Book
PDF files available for all issues
---
SchNEWS 401, 25th April, 2003
LIBERATE THIS! America pretends Iraqis are happy to see them but can't find any weapons of mass destruction. Meanwhile back home 166 people are arrested in Scotland for finding nuclear weapons there!!!
SchNEWS 400, 11th April, 2003 - Happy Anniversary to us!!
AID 'N' A BET As military spending skyrockets, international aid evaporates and millions in Africa face starvation. Coincidence? Plus Friendly Fire, Weapons of Mass Construction and more...
SchNEWS 399, Friday 4th April 2003
PERLES OF WISDOM - Jobs (reconstruction contracts) for the boys (US corporations) from the American administration. Plus Water Forum action, Fairford, At Ease advice for servicemen and more...
SchNEWS 397/8, Friday 28th March 2003
MASS DUST-RUCTION - Double issue round up of anti-war actions around the world following the start of the war.
SchNEWS 396, Friday 14th March 2003
RUNWAY TERROR - Peaceniks become terrorists at the stroke of a coppers hand at Fairford US Airforce Base. News about the anti-war actions going on around the country and around the world
SchNEWS 395, Friday 7th March 2003
Who Wants to be a Millionnaire? - Check out the various tactics used to ensure America get a second resolution to bomb Iraq. Plus - Week of war protest coming up, B-52s now being armed, GATS devilry exposed, Comic toy causes chaos!...
SchNEWS 394, Friday 28th February 2003
Afghani-sham - the situation in Afghanistan a year after 'liberation' and following Dubya's presentation on his vision for post-war Iraq
SchNEWS 393, Friday 21st February 2003
Peace Soup - Report back from weekends anti-war demonstrations around the world. Plus - Bolivia, drug patenting, asylum laws, Nuke targets, prawns and Coke
SchNEWS 392, Friday 14th February 2003
Iraq and ruin - Bush's 'full spectrum dominance' plan comes up against full spectrum resistance - see you at the march on Saturday. Plus - More war stuff.
SchNEWS 391, Friday 7th February 2003
Waste of Space - US Space Shuttle Columbia goes down, what are the US up to in space? Plus - Bristol takes action on housing, South Africa reels from neo-liberalism.
SchNEWS 390, Friday 31st January 2003
Heartbreak Hotel - How the British press vilify immigration on the same pages as memorials to the holocaust. Plus - Sentences for US anit-SOA activists, RIP Kathleen Jannaway, Capita Crapitup (again)...
SchNEWS 389, Friday 24th January 2003
INS AND OUT - How terrorism is being used to increase force against asylum seekers. Plus - Bolivia mobilises against the government, BP's greenwash washes off...
SchNEWS 388, Friday 17th January 2003
Direct Action Stations - As the anti-war movement gathers momentum, SchNEWS hosts it's own 'focus group'! Plus - Venezuela developments, Monsanto's dirty tricks, Big Brother live music controls tacked onto licensing reform...
SchNEWS 387, Friday 10th January 2003
Oil Drums of War - America's foreign policy explained. Plus - Asylum seekers, Turkey, Human Rights...
SchNEWS 386, Winter Solstice 2002
Chom'pin at the Bit - Chomsky Christmas special.
SchNEWS 385, 13th December, 2002
Wide-Boys - UK Government decides to build loads more roads, fab choice guys. Plus - Brighton new Sainsbury's approved, Italians arrested for thinking wrong...
SchNEWS 384, 6th December, 2002
Kissinger of Death - UK Government tries to convince public that Saddam Hussein is a worse dictator than all the others they arm... meanwhile US murdermonger Henry Kissinger is assigned a truth-finding mission. Plus - Polish workers rise up, Bhopal saga continues...
SchNEWS 383, 29th November, 2002
Gone to the Dogs - Police pro-hunt bias and media engineering have not prevented Animal Rights successes in the UK. Plus - Police gas a party in Leeds, People take control in Argentina, Citizens prepare to inspect RAF Fairford...

SchNEWS 382, 22nd November, 2002
Firebranded - the Fire Brigade Union were planning an eight day strike over Neo Labour's refusal to pay them a decent wage... Plus - Italian Anti-Globalisation group harassed, School of the Americas training centre for US govt puppets afraid of bare-breasted women...
SchNEWS 381, 15th November, 2002
Florence of Arabia - European Social Forum meeting in Florence - another example of the growing movement against Bush and Blair's war plans that is sweeping the US and Europe. Plus - Nuns disable missile, Mapuche activist shot, and more...
SchNEWS 380, 8th November, 2002
Assault And Pepper - national days of anti-war demos goes off with a bang. Plus - the sordid story of the Carlyle group, Bilston protest camp, FTAA meeting in Quito Ecuador, Hot air at the COP8 Climate Change meeting in New Delhi and more…

SchNEWS 379, 1st November, 2002
Putin The Boot In - Chechens attack a Moscow theatre just as the Russians have attacked their country. Just like that other 'war against terror' - it's mostly about oil.
SchNEWS 378, 25th October, 2002
Tricky Treaty - the EU Nice Treaty is here bringing enlargement and GATS - the green light to a neo-liberal Europe. Plus - Romanys under eviction, McDonalds day, Sangatte and more...
SchNEWS 377, 18th October, 2002
Sari Sight - why Australia isn't such an innocent bystander in the Bali bombing. Also - Bougainville, Ukrainian nuclear protester murdered, Sizewell and more…
SchNEWS 376, 11th October, 2002
Docu-mental - Bush's self interested, pre-emptive National Security Strategy comes out as anti-war activity steps up. Also - Brazilian elections; US dock strike and more...
SchNEWS 375, 4th October, 2002
Acres And Pain - comparing the two marches in London last week - Stop The War and Countryside Alliance. Also - cannabis cafes, polish road protests, Stop The War actions and more...
SchNEWS 373/4, 27th September, 2002
Weapons Of Mass Deception - what is this war all about? Oil. Plus special report from Palestine, Stop The War listings, Unocal in Burma, Porton Down and more...

SchNEWS 372, 13th September, 2002
Silent But Deadly - a critical look at the US on the anniversary of September 11. Also - Xenotransplantation, Brighton Peace Centre, Lappersfort, Reclaim The Future and more...
SchNEWS 371, 6th September, 2002
Summit Rotten - report from Johannesburg Earth Summit. Plus - the new Criminal Records Bureau, latest from Chiapas, Meanwhile Gardens and more...
SchNEWS 370, 30th August, 2002
Apocalypse Soon - the suits are going to Johannesburg, as the global environment goes south. Plus - GM in Africa and Dorset, Bhopal and Union Carbide, Countryside Alliance...
SchNEWS 369, 23rd August, 2002
Return To Sender - Bush boycotts Earth Summit in Johannesburg, plus Indonesian villagers sue Exxon Mobil, Strasbourg No Borders camp arrestee Ahmed Meguini and more...
SchNEWS 368, 16th August, 2002
Gravy Plane - Snapshot of South Africa leading up to the Earth Summit - privatisation and structural adjustments. Plus Uruguay in trouble, UNICEF get together with McD's and more...
SchNEWS 367, 9th August, 2002
It's A Nuke Out - the h-bomb in Hiroshima shares its anniversary with another disaster - 12 years of sanctions in Iraq. Plus - airport stopped in Mexico, Commonwealth Games...
SchNEWS 366, 2nd August, 2002
Borderline Case - report of the No Border camp held in Strasbourg 19-28 July. Plus - anniversary of Genoa, free party bust-up near Bristol, Brighton's Earthship and more...
SchNEWS 365, 19th July, 2002
Beach Bummer Boozy Bottleneck - Fat Boy Slim has an abomination on Brighton Beach, while local free parties get oppressed. Plus - oil in Nigeria, AFC Wimbledon, Paraguay and more...
SchNEWS 364, 12th July, 2002
Last Supper - Lip service to the starving at the World Food Summit, Rome. Also - protests against Commonwealth Games in Manchester, oil pipeline to Caspian Sea, and more…

SchNEWS 363, 5th July, 2002
Identity Crisis - Blair wants to introduce ID cards - called Entitlement Cards. Plus - free parties this summer, death in Argentina, Costa Rica resists neo-liberalism, and more…
SchNEWS 361/2, 27th June, 2002
Summit Outta Nuffin - preview of the Rio+10 Earth Summit in Johannesburg. The multinationals have taken control. Plus - EU Summit in Seville, Esso to sue Greenpeace and more...
SchNEWS 360, 21st June, 2002
Choker Cola - privatisation of water in indigenous lands. Plus - G8 summit in Canada, Satpal Ram is released and Mark Barnsley will be out soon, Gypsy community evicted and more...
SchNEWS 359, 14th June, 2002
FB Lied/Bug Eyed - double front page about spooks. Plus - nuclear fuels in get Mox-ed up, GM crop sabotage, pink castle, West Papua, Golden Jubilee and more...
SchNEWS 357/8, 31st May, 2002
Kashmir Sweater - as the India-Pakistan conflict escalates - so does British arms sales to both sides. Plus - brands at the World Cup, Titnore Woods and more...
SchNEWS 356, 24th May, 2002
Blood On The Tracks - Michael Mungovan - another victim of casualised labour. Plus - schools sell-off in Wales, hospital closure in Cornwall, East Timor gains independence…
SchNEWS 355, 17th May, 2002
American Wet Dream - Bush turns his attention to bombing Iraq, even though US-UK sanctions are already crippling it. Plus - march for Palestine, Pink Castle GM action, Chechnya...
SchNEWS 354, 10th May, 2002
Festival Pied - Ten hard years for free festivals in Britain since Castlemorton. Plus - U'wa tribe in Colombia, Yusufeli Dam, RTS in Dublin goes blue, Wombles off their charges…
SchNEWS 352/3, 3rd May, 2002
Maywatch - A worldwide round-up of Mayday 2002. Plus - What happened at Yarlswood? Itoiz Dam in Spain is deemed illegal, squat in Barcelona raided, and more…
SchNEWS 351, 26th April, 2002
Maybe Mayfair Mayhem - while the Mayday Festival Of Alternatives builds up, the police crack down. Plus - CIA backed plot to remove Chavez in Venezuela, and more…




SchNEWS, c/o Community Base, 113 Queens Rd, Brighton, BN1 3XG, England
Phone/Fax: +44 (0)1273 685913
email: schnews@brighton.co.uk
@nti copyright - information for action - copy and distribute!