Home | BACK ISSUES
PDF (Acrobat) are available for all of these issues. Read the notes on PDF files for help, especially with printing.
Issues 451 - 500 (April 2004 - June 2005)
---
SchNEWS 500, 3rd June, 2005
GRRRrrr8 - IT AIN'T A rabble rousing reflection on the past 10 years of SchNEWS and the current state of the world. Also, 20th anniversary of the Battle of the Beanfield, local newsletters and a closer look at the world of Public Relations.
SchNEWS 499, 27th May, 2005
APEAKALYPSE NOW Within the next 5 years we are expected to reach Peak Oil - the point where demand for oil is greater than it's supply. This is bad. Read all about it, you'll not hear about it in the mainstream media. Also: water privitisation in Tanzania, repression in Orissa, anti-road protests and more.
SchNEWS 498, 20th May, 2005
LET THEM EAT LEAD Uzbekistan are on the American government's favourites list despite their widely known use of torture and murder against political opponents. Also lots of prisoner news, Greenpeace -v- Land Rover, nettles, the Queens speech and the truth about Chilean crimes.
SchNEWS 497, 13th May, 2005
PAIN IN THE GULAGS Dubya's freedom-touting rhetoric rings false as the US prison population, and history of documented abuse and torture of prisoners, steadily grows. Also Berkshire's new atomic weapons facility (work in progress), Philip Carroll and Shell vs. Greg Palast, and more...
SchNEWS 496, 6th May, 2005
KURDS AND NO WAY Turkish Prime Minister Recep Tayyip Erdogan reckons there's 'no Kurdish problem'. SchNEWS begs to differ, with an overview of the harassment and torture suffered by the Kurdish people. Also anti-EDO demos, Eurovision in the Ukraine, the UK General Election sham, and more...
SchNEWS 495, 29th April, 2005
NUCLEAR PHYSICKS SchNEWS looks back at some of worst nuclear power disasters in the former Soviet territories... as those same states put nuclear power back on the agenda. Also anti-BP protests continue, rainforests, and all the usual.
SchNEWS 494, 22nd April, 2005
ROCKET ROULETTE Could it be... yet more US warmongering efforts to reach into space? A shameless Star Wars tie-in, no doubt. Also BP tries to whitewash the greenwash at their AGM, Belgian cops vs Citizen Weapon Inspectors, and more.
SchNEWS 493, 16th April, 2005
TESCOPOLY Tesco celebrate their record breaking while their suppliers are squeezed and consumers are conned into thinking they're getting a good deal. Also market under threat, Brian Haw latest, road building, protests in China and more.
SchNEWS 492, 8th April, 2005
INJUNCTIVITIS! Brighton police persuade local arms manufacturer to get an injunction to stop pesky people protesting about their harmless little business. Also Gas in Bolivia, ASBO's for being sarcastic and slugs.
SchNEWS 491, All Fools Day, 2005
ROCK THE CRADLE Pop stars offer to pay off third world debt in an attempt to boost record sales. Gleneagles goes tropical. G8 almost totalitarian enough for China and free flights to Burma. Things have gone so nuts we don't know what day it is.
SchNEWS 490, 25th March, 2005
LUNATICS - HAVE TAKEN OVER ASYLUM Politicians and the press froth at the mouth about asylum seekers spoiling everything for everyone while the reality is that the asylum seekers are being screwed. Also software patents, protests in Derby and Alistair Darling being stupid.
SchNEWS 489, 18th March, 2005
LOLLY ROGERED The war on terror rumbles on in the form or the US army and vast amounts of spin. Iraq continues to be plundered while the population continue to fight back. Also climate change, share trading, road projects and more.
SchNEWS 488, 11th March, 2005
BURN AND BREAD Brighton residents waste is going to be transferred from landfill to the equally, or even more crap incinerator option if we're not careful with the council planning to build one in Newhaven. Also, TOTAL in Burma, squats in Brum, Coke clamped and more.
SchNEWS 487, 4th March, 2005
ICE BURKS! Iceland's government are hell bent on handing over the country to corporate scum bags to destroy it in the name of profit. Meanwhile in India, they're doing the same, and in Tasmania! We're seeing a pattern here...
SchNEWS 486, 25th February, 2005
FOX ME STOOPID! The hunting with dogs ban has not stopped foxes being killed and has increased violence against hunt sabatours and the police look away. Surprised? Also animal rights group bank account frozen, courtroom madness, illegal logging and more.
SchNEWS 485, 18th February, 2005
SLICK TALKING With the Kyoto treaty coming into force and the McLibel 2 win another case greenwash is back on the corporate agenda so dig some dirt on McDonalds and various oil companies. Also strike victory in Haiti, Syngenta drop rice patent and more.
SchNEWS 484, 11th February, 2005
SWEAT NOTHINGS!!! While Bliar and Brown talk of eradicating poverty by free trade sweatshop workers experience capitalism at the sharp end with long hours and poor pay. Also, the chemical stench of the flower growing industry, the dodgy olympic bid and more...
SchNEWS 483, 4th February, 2005
GOBBILISATION Round up of the rubbishness of the G8 and a kick up the bum to do something about them having their summit in Scotland in July. Also the clamp down on animal rights protesters, RFID chips and more.
SchNEWS 482, 28th January, 2005
Growing Dissent! The US expand its domination of the food chain by making it illegal for Iraqi farmers to save their seed for following years - making then dependent on agribusiness. Also - the world social forum, an anarchist film festival, protests in Russia and more...
SchNEWS 481, 21st January, 2005
IT Go Home The government are introducing a new database to the NHS to hold everyone's medical records to "improve the patient experience". We're not convinced the private company doing it won't cock it up and loose all our private info. Also, water privitisation in Bolivia, anti road ptotests in Milton Keynes and mercenaries in London.
SchNEWS 480, 14th January, 2005
SETTLEMENTAL An eye witness account of life in Palestine under Israeli occupation around the unremarkable recent elections. Also, were the effects of the tsunami worsened by the destruction of mangroves?, Dissent!, Guatemala blockade and more.
SchNEWS 479, 7th January, 2005
A DROP IN THE OCEAN Governments and corporations are forced to stump up for the Asian Tsunami victims by the public's generosity. Even then their pledges of aid are miserly compared to what they spend on the military etc. Also, climate change, legal lunacy and more...
SchNEWS 478, 17th December, 2004
FAT CATS TAX LAX Why can't Britain, worlds 4th richest country, afford descent pensions and hospitals? Is it A: the "benefits cheats"? or B: corporations and the rich who don't pay any tax? Check out the figures. Nano-science, asylum seeker slavery and more...
SchNEWS 477, 10th December, 2004
ZanON and ON and ON! Argentineans threaten the seemingly relentless march of predatory corporate capitalism by taking over their factories and striking for fair pay. Also Fairford case ruling, Sherwood Forest evicted and much more...
SchNEWS 476, 3rd December, 2004
UKRAINE GET IT, IF YOU REALLY WANT Western media paints the street protests in Ukraine as East-v-West but the people on the street are fighting against corruption and crap politicians. Plus the Zimbabwean Social Forum, protest camps, Coca-Craper and more.
SchNEWS 475, 25th November, 2004
CHILE CON CARNAGE Huge demonstrations in Chile great George Bush and his cronies to the Asia Pacific Economic Cooperation forum showing that even in the better off in South American country isn't happy with the neo-liberalism agenda. And ID cards and more...
SchNEWS 474, 19th November, 2004
INDIA FACE A look at the caring sharing face of Dow Chemicals, Coca-Cola and Bayer in India and the resistance to them. Also "terrorist" attacked by police and more.
SchNEWS 473, 12th November, 2004
HOLY WAR, BATMAN US forces heroically flatten Fallujah, killing hundreds of civillians. Now the Iraqi's are free from Saddam and can do whatever they want, as long it's what the American's tell them. And Brian Haw and more.
SchNEWS 472, 5th November, 2004
Nightmare on Bush Street We at SchNEWS Towers join the world in celebrating the victory of Dubya over his radically different opponent (we've forgotten his name already) in the US elections. And Diego Garcia and more...
SchNEWS 471, 29th October, 2004
Harassment Life Sciences An animal rights activist gets a bill for £205, 551.23 for not contesting an injunction under the Protection From Harassment Act. The bill includes the costs for 11 other people and groups. Also construction workers on strike and more...
SchNEWS 470, 22nd October, 2004
Endless Shit Flinging The ESF goes off in London and everyone gets a lesson in openness and transparency from the SWP (and it's front groups). Also Uzbekistan, Inter Milan, capitalist conferences and more.
SchNEWS 469, 15th October, 2004
INDY - STRUCTABLE! Indymedia's servers in the UK are confiscated by the UK authorities because Swiss and Italian authorities asked the US authorities to ask them to. Huh? Fortunately Indymedia have been given no explaination whatsoever. And more.
SchNEWS 468, 8th October, 2004
UNPOPULAR STORY A quick look at some of the people around the world who are having just as bad a time as Kenneth Bigley. Also SchNEWS birthday bash, European Social Forum events and more.
SchNEWS 467, 24th September, 2004
VOCAL YOKEL DISCORD Forces of evil clash as the Countryside Alliance descend on the Labour party conference. Also, Star Wars, neo-Labour, and all the usual.
SchNEWS 466, 3rd September, 2004
I.D.EAL CITIZEN I.D cards: a load of crap, everyone except Blunkett agrees. SchNEWS offers him a load more reasons to see sense. Also, Tufnell Park squat eviction, the SchNEWS ASBOmeter, and more on hunt sab Michael Maynard.
SchNEWS 465, 20th August, 2004
CHIT AND CHAVEZ Venezuela's Hugo Chavez continues to get right up the US' nose with his "Communist", "terrorist" policies. Elsewhere, good news abounds, as the Baku-Ceyhan pipeline is called off, and the South Yorkshire bus drivers' strike is a success!
SchNEWS 464, 5th August, 2004
FIRST FOR PROFIT South Yorkshire bus drivers are on strike for better pay and conditions that would hardly dent the companies £160 million profits. Meanwhile the government gear up for huge "defence" budget increases, a mobile phone mast is pulled down and you're all invited to meet the G8 in Scotland in 2005!
SchNEWS 463, 23rd July, 2004
PAY AS YOU LEARN Neo Labour's plans for schools sound like more choice for kids and parents but look more like privitisation to us. Also, builders pull out of a contract to build an animal testing lab, new protest camp in Weymouth and more...
SchNEWS 462, 9th July, 2004
IRAQ-ING UP THE PROFITS The corporate carve-up of Iraq continues while people are arrested and charged for trying to stop it. Also, the last big GM company pulls out of Britain, Zimbabwean women fight back and more...
SchNEWS 461, 2nd July, 2004
SHUT YOUR CAKE HOLE The SchNEWS crew usually use any excuse for a party but the 60th birthday of the IMF and World Bank is an exception. While they're still screwing people and planet we'll keep on trying to stop them!
SchNEWS 459/460, 18th June, 2004
G8 WAY TO HELL The G8 have another shindig, in the good old US of A this time. Same old story really. Shell are also up to their old tricks in Africa and everywhere else - environmental destruction and stamping on anyone who complains...
SchNEWS 458, 11th June, 2004
SKYEWAY ROBBERY SchNEWS looks at how PFI went all Dick Turpin with the Skye Bridge highway tolls, as well as other Hall of Shame PFI entries like the Edinburgh and Cumberland Infirmaries. We also bid a 'fond' farewell to Bush Jr. prototype, Ronald Raygun. He'll be missed (or wounded)...
SchNEWS 456/7, 4th June, 2004
BITE THE BALLOT The BNP are threatening to gain seats at forthcoming elections. SchNEWS takes a look at ways of dealing with these fascists. Also Saudi oil and alternative fuels, Guadalajara, the World Bank on oil, and all the usual gubbins.
SchNEWS 455, 28th May, 2004
MONSKANKO! Nasty Canadian farmer found guilty of infringing on nice friendly Monsanto's "intelellectual property rights" by his rubbish convensional oil seed rape being contaminated by their great new GM version. Fair enough?
SchNEWS 454, 21stMay, 2004
IDENTENTACLE Big Brother Blunkett is crashing on with his plans to introduce biometric ID cards. Prepare yourselves for the project to run massively over budget and finish way behind schedule (here's hoping...).
SchNEWS 453, 14th May, 2004
NORM RULES OK? United Nations plans to make international law apply to multinational corporations are opposed by multinational corporations like Shell. Surprised?
SchNEWS 452, 7th May, 2004
BORN TO BE FILED! Big Brother reaches out a "helping hand" to the youth of the nation... yeah right! Also SchNEWS tour report, inside SchNEWS, and all the usual...
SchNEWS 451, 30th April, 2004
BANKERS' CRAMP! SchNEWS takes a look at the European Investment Bank and finds plenty of skeletons in its closet. Also anti-fascist news, positive SchNEWS, and more...
---
Back Issues...
---
Issues 401 - 450
April 2003 - April 2004
These issues have not (yet?) been put together in a book but they're all still available online.
---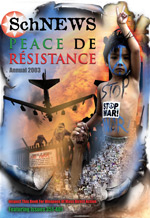 Issues 351-401
April 2002 - April 2003
'As the Forces of Darkness gather for a new attack on Iraq, they're shaken by an unexpected explosion of resistance. US airbases are invaded; military convoys are blockaded; schoolkids stage mass walkouts from Manchester to Melbourne; roads are occupied, embassies besieged, and cities all over the world are brought to a standstill by the biggest mass demonstrations ever seen. Read about the efforts to sabotage the war machine that the corporate media ignored: not just the mass demos, but Tornado-trashing in Scotland, riots across the Middle East, and train blockades in Europe. Featuring SchNEWS 351-401, this book also covers many of the past year's other stories from the rebel frontlines, including GM crop-trashing, international activists in Palestine, and the 10th anniversary of Castlemorton. All that plus loads of new articles, photos, cartoons, subverts, satire, a comprehensive contacts list, and more…'
PLUS INCLUDES FREE CD-ROM by BEYOND TV featuring footage of many of the actions reported in the book, satire plus other digital resources
"Peace de Resistance"
ISBN 09529748 7 8
£7.00 inc. p&p direct from us.
Contact SchNEWS for distribution details
Order This Book
---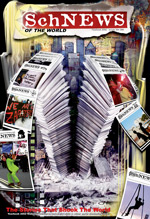 Issues 301-350
April 2001 - April 2002
The temperature goes up a few notches as the earth's climate has its hottest year on record - and the corporate carve-up lifts its tempo in the paranoia and madness of September 11th. Behind the haze Argentina goes into meltdown. Israel reoccupies Palestine causing a second Intifada. Hundreds of thousands come out on the street in Genoa, Quebec, Gothenburg, Barcelona, Brussels against globalised institutions. Even larger numbers fight for their land and livelihood against neo-liberalism in South Africa, India, South America and the rest of the global south.
These 50 issues plus 200 other pages of articles, cartoons, photos, graphics, satire, and a comprehensive contact database are all together in...
SchNEWS Of The World .
300 pages, ISBN 09529748 6 X, £4 inc. p&p direct from us.
Order This Book
---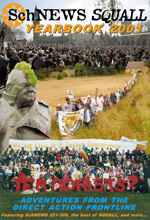 Issues 251-300
March 2000 - April 2001
The Zapatistas march into Mexico City, thousands disrupt the World Bank meeting in Prague, Churchill gets an anarchist make-over: from Bognor to Bogota, Dudley to Delhi, and Kilburn to Melbourne, resistance has become as global as the institutions of capitalism. This was a year full of stories of people at the frontline of struggles worldwide, and creating sustainable solutions to the corporate carve-up of the planet. These 50 issues of SchNEWS along with the best of Squall magazine, plus loadsa photos, cartoons, satirical graphics, subverts, and a comprehensive contacts database are available together in....
SchNEWS/Squall Yearbook 2001
300 pages, ISBN 09529748 4 3, BARGAIN - £3.00 inc. p&p direct from us.
Order This Book
---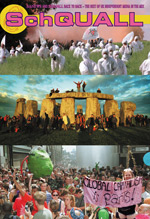 Issues 201-250
February 1999 - March 2000
Genetically modified crops get trashed, animal rights, freemasons, June 18th '99 international day of action against capitalism, Exodus Collective, Cuba, the November 30th '99 Battle for Seattle, climate change, parties and festivals, indigenous peoples' resistance to multinational corporations, the privatisation of everything in sight, crap arrests of the week, prisoner support and much more…the full lowdown on the direct action movement in Britain and abroad!
These 50 issues of SchNEWS plus the best of Squall magazine, top photographs, cartoons, subverts and much more are available together in ...
SchQUALL - SchNEWS and Squall Back To Back
SOLD OUT - You might be able to find a copy in your local radical bookshop -if you're lucky.
---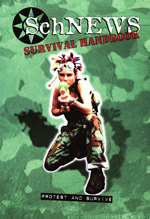 Issues 151-200
January 1998 - January 1999
Read all about it! Genetic crop sites get a good kicking; streets reclaimed all over the world; docks occupied in protest of death at work; protestors rude about multinational corporations' plans for world domination...
SchNEWS gives you the news the mainstream media ignores. Tells you where to party and protest. Tries not to get all po-faced about what's going down in the world.
These 50 SchNEWS issues are together with a set of 'survival handbook' stylee articles to help you survive into the new millenium... plus photos, cartoons, a comprehensive database of nearly five hundred grassroots organisations and more in...
SchNEWS Survival Handbook
260 pages, ISBN: 0-9529748-2-7, BARGAIN - £2.00 inc. p&p direct from us.
Order This Book
---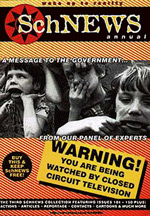 Issues 101-150
December 1996 - January 1998
"The McLibel trial ends, Manchester Airport second runway protest camp goes mad, eviction at Fairmile, the GANDALF Trial, anti-nuclear demos in Germany, the massive Reclaim The Streets that took back Trafalgar Square... New Labour breaking each and every promise they ever made.
These 50 issues are together with loads more pics, graphics and articles in...
SchNEWS Annual
230 pages, ISBN: 0-9529748-1-9, BARGAIN - £2.00 inc. p&p direct from us.
Order This Book
---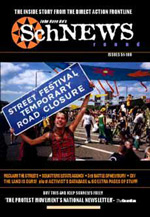 Issues 51-100
December 1995 - November 1996
Direct Action takes over England... M41 motorway gets occupied in huge Reclaim The Streets party... The Third Battle Of Newbury... plus the national SchLIVE Tour, the Liverpool Dockers go 'direct action', resistance to Jobseekers Allowance, Exodus Collective, Trident Ploughshares women go free after smashing Hawk Jet, Selar Opencast Mine protest camp, Fairmile - A30 protest camp, Wandsworth Eco-village, the Squatter's Estate Agency...SchNEWS publishes the inside story from the activists themselves!
The 50 issues of SchNEWS featuring all this stuff, plus 60 extra pages of photos, cartoons, more articles plus the 1996 activists database is available in...
SchNEWS Round
SOLD OUT - You might be able to find a copy in your local radical bookshop -if you're lucky.
---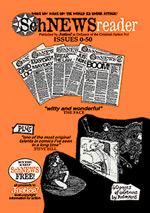 Issues 1-50
November 1994 - November 1995
Where It All Began...
From the pilot edition edition right through the first year of SchNEWS featuring the first of many Crap Arrest Of The Weeks, the Criminal Justice Act 'Arrestometer', and a running commentary of resistance as the sections of the Criminal Justice Act come in attacking Travellers, Squatters, Hunt Sabs, Ravers, Protesters, Footie Fans and freedom in general. In the news was... Shoreham Live Animal Export protests, the end of the No-M11 Link Rd campaign, Pollok Free State anti-M77 protest in Glasgow, eviction of Stanworth Valley 'village in the trees' near Blackburn against the building of the M65, opencast mining protest camps in South Wales and much more...
These historic 50 issues of SchNEWS, plus loadsa cartoons by Kate Evans and more are available in...
SchNEWSreader
SOLD OUT Rare as hen's teeth. If you missed out you can read most of the SchNEWS issues here - and if you really want to see em as they were you can download scans of them below....