Home | Back Issues Index | BACK ISSUES | SchNEWS Annual
Issues 101-150 / December 1996 - January 1998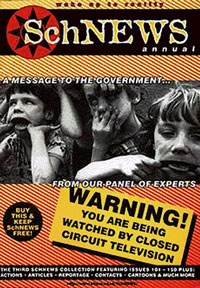 "The McLibel trial ends, Manchester Airport second runway protest camp goes mad, eviction at Fairmile, the GANDALF Trial, anti-nuclear demos in Germany, the massive Reclaim The Streets that took back Trafalgar Square... New Labour breaking each and every promise they ever made."
Issues 101-150 are together with loads more pics, graphics and articles in... SchNEWS Annual
230 pages, ISBN: 0-9529748-1-9
SOLD OUT
We finally ran out of them in 2006, but check out your local radical bookshop - they might just have a copy left.
READ THIS BOOK ONLINE
Scroll down to read the fifty issues, and here's some of the extra articles from the book...
Intro - A vivid snapshot of life in Justice/SchNEWS circa 1997 and discussion of direct action and politics in the late 90s by Jo Makepeace.
How We Protested in '97 - a roundup of protest camps across the UK in 1997
Direct Action Highlights Of 97 - if you'd been asleep for the year - here's what went down.
Article about Brighton's Anarchist Teapot and direct action theatre group Thespionage. click here.
PDF versions are available for all issues 101-150
---
SchNEWS 150, 16th January 1998 - download PDF 265kb
Thinking The Unthinkable - Our Anniversary Rant / International Update - Multilateral Agreement on Investment (MAI) - fighting neo-liberalisation across the planet / Glen Of The Downs road protest camp in Ireland / Unemployed Workers Movement in France / Narmada Dam in India / Reaction to Acteal Massacre of Zapatistas in Chiapas, Mexico / Direct Action Jamboree in Melbourne / Arrestometer Resurrection
SchNEWS 149, 9th January 1998 - download PDF 215kb
Zap Attack! - 45 Zapatistas massacred in Acteal, Chiapas / Evening Anus - Riot police break up New Year Party
SchNEWS 148, 19th December 1997 - download PDF 243kb
Bah, Humbug! - New Labour celebrates its first Xmas in office with a round of benefits cuts / Helicopter Buzzes Hunt Sabs / Poplar People's Front / Greenbelt housing green paper shocker / Kingston upon Thames residents fight for local park
SchNEWS 147, 12th December 1997 - download PDF 214kb
Going Down With The Fishes - Kyoto Climate Summit and the reality of climate change - Global Warming / Prisoners Xmas List / Jack Straw Gags Prisoners
SchNEWS 146, 5th December 1997 - download PDF 596kb
Pantyhose Not Tally-Hos - Hunt Sab Transvestite Tomfoolery in the Home Counties / Farmers' Protests over Beef / Crap TV Show / Action in Walton over British Aerospace supplying Hawk jets to Indonesia
SchNEWS 145, 28th November 1997 - download PDF 223kb
Granarchy In The UK! - Pensioners Blockades in Leceister / Gandalf Update / 'Exotic Meat' demo at Sainsburys / New Deal for Dolites / Liverpool Dockers
SchNEWS 144, 21st November 1997 - download PDF 800kb
Runaround - Nazis March Through Dover, as travellers get hounded out of seven counties across Britain / Cop Sentenced for Festival Assault / Shoreham Campaigners Walk Free / Homeless In Los Angeles
SchNEWS 143, 14th November 1997 - download PDF 516kb
Truth RIP - Three Green Anarchist editors are jailed for three years - the Gandalf Trial / Barry Horne update / South London Tree Camp at Canbury Gardens in Kingston
SchNEWS 142, 7th November 1997 - download PDF 541kb
Bangers And Fash - Fascists plan to march in Kent against Romani gypsy asylum seekers - Romani persecution across Europe / Youth Curfew Scaled Down / Hallowe'en Opencase Actions / International Reclaim The Streets linkup / Nuke Near Miss / Innerfield
SchNEWS 141, 31st October 1997 - download PDF 800kb
Mai-Day! Mai-Day! - MAI makes anything which impedes free trade illegal - so things like the environment or workers rights become the enemy / Millenium Dome Protest / Green Anarchist - Gandalf Update / Dockers Update / Sports Plus
SchNEWS 140, 24th October 1997 - download PDF 500kb
Supermarket Seduction - Supermarkets and edge-of-town superstores are destroying greenbelt land, as well as communities and local economies / Hunt Sabs hospitalised in Ashford Valley Kent / Sid Rawle / City Farms / Critchley Labels
SchNEWS 139, 17th October 1997 - download PDF 780kb
Boo! To The Opencast Monster Munch - Open Cast Mining - what happened after the British coal industry was privatised in 1994 - RJB Mining - Scottish Coal - Celtic Energy / Anarchist Teapot is back in Brighton / Camp Rena at Huntingdon Life Science to campaign against vivisection / Teigngrace Quarry
SchNEWS 138, 10th October 1997 - download PDF 860kb
They Treated Him Like An Animal... - Call for CS Spray Ban following the death of Ibrahima Sey in police custody / Sulphide Mining in Wisconsin / 100 Days of Oil Action / Kebele in Bristol under eviction
SchNEWS 137, 3rd October 1997 - download PDF 900kb
New Direct Action - Busiest week of direct action in UK since Labour came to power during Labour Conference / Cassini Probe / Arizona Strip-Mining
SchNEWS 136, 26th September 1997 - download PDF 1500kb
Stitched Up! - Special issue on the Liverpool dock workers and Hillingdon hospital workers labour disputes, the issue of labour casualisation and how useless the unions were
SchNEWS 135, 19th September 1997 - download PDF 588kb
Peanuts! - Labour's New Deal for the unemployed - but Brighton doleys not having it / Cassini Probe / 500 Algerian Citizens Killed / Animal Rights Injunctions
SchNEWS 134, 12th September 1997 - download PDF 850kb
A Siti Jibo Kurdistan - Kurdistan Peace Train / Gandalf Trial / International support for the Liverpool Dockers / Faslane / Hazel Grove allotment holders refuse Tescos bribe
SchNEWS 133, 5th September 1997 - download PDF 822kb
Arrest In Peace - Labour to pick up from where the Torys left off with Arms Industry exports - and Farnborough arms expo sees huge demonstration / Greenham Women found not guilty / Worthing Critical Mass / Huntingdon Lab - Barry Horne into fourth week of hunger strike
SchNEWS 132, 29th August 1997 - download PDF 770kb
Hostile Hostel - Asylum Seekers at Campsfield Detention Centre rioted - find out why / Oil Actions / Ashton Court / Gandalf Update
SchNEWS 131, 22nd August 1997 - download PDF 726kb
Oil Be Damned! - British Petroleum to sue pesky Greenpeace for their meddling in Atlantic oil field / Farmer Harmer Again!
SchNEWS 130, 15th August 1997 - download PDF 768kb
Trial And Error - Gandalf Trial - four editors of Green Anarchist and others charged with 'conspiracy to incite criminal damage' / Newlands Park Estate near Wakefield Toxic Tip threat / Workfare / Rainbow Keepers / Liverpool Irish Centre closure
SchNEWS 129, 8th August 1997 - download PDF 415kb
We're An Eyesore? - Faslane Peace Camp under eviction - Trident submarine programme / Windmill Hill Fur Farm protests / Ashton Court Park in Bristol under threat / Tree camp in Newton Abbott over quarry / Auto Spy Cameras / Burson-Marstellar used by biotech industry
SchNEWS 128, 1st August 1997 - download PDF 791kb
'Pick On Someone Your Own Size, Jack' - Tarmac to build Children's Prisons in Kent / Hasta La Vista Zapatista
SchNEWS 127, 24th July 1997 - download PDF 775kb
Face Ache - Home Office to store digital images of faces - CCTV - surveillance - Privacy International / Farmer Harmer / Festivals / Lyminge Forest under eviction / Faslane Peace Camp under eviction / Protest Response Unit
SchNEWS 126, 18th July 1997 - download PDF 713kb
Disclaimer - Harassment Laws / Victory as Consort Beagle breeders for vivisection to close down / Devon Quarry Camp / Support the Strikers / Anarchist Teapot
SchNEWS 125, 4th July 1997 - download PDF 640kb
We're Not Paranoid, But... - Bilderberg - The Secret Meeting of Powerful Men / British weaponary sold to Indonesia for genocide in East Timor - British Aerospace / Faslane Peace Camp under eviction alert
SchNEWS 124, 20th June 1997 - download PDF 774kb
Old McDonald - McLibel - the longest libel trial in British history - reaches a verdict / Amsterdam Summit Protests / Record in tunnel broken at Manchester / Monsanto Genetic Spuds Trashed
SchNEWS 123, 13th June 1997 - download PDF 546kb
Shop A Traveller - Brighton's Shop-a-Traveller Hotline / McLibel / Our Reader on a Rock / Dripping Tree Causes Fire / Whatley Quarry trials
SchNEWS 122, 6th June 1997 - download PDF 515kb
Down T'Cakehole - Tunnellers dig in at the various comically named tunnels stopping work on the second Manchester Airport runway in the Bolin Valley - Some facts & figures / Get Down to Lyminge / July Party Listings
SchNEWS 121, 30th May 1997 - download PDF 548kb
Eurovision - Making Your Mind Up! - Single European Currency - Son Of Maastricht / Manchester Airport Update / South Downs Alert
SchNEWS 120, 23rd May 1997 - download PDF 668kb
What A Gas! - Police use CS gas at Consort Beagle breeders vivisection lab demo / Bolin Valley - Manchester Airport second runway eviction - Camps and tunnels at Sir Cliff Richard OBE and Vegan Revolutionary on standby / Sheffield RTS / Road Raging / Party Tips & Listings
SchNEWS 119, 16th May 1997 - download PDF 945kb
Stringers Common - Criminal - Victory as the road widening scheme is abandoned / Grimsby Protests / AGM Season Continues - Shell, Rio Tinto... / Inside - Satpal Ram on hunger strike
SchNEWS 118, 2nd May 1997 - download PDF 523kb
Public Enemy No. One - CCTV and surveillance / Shoreham Fit Up / Brazilian Landless Peasants - Movimento Sem Terra / Mass disruption at British Aerospace AGM / Victory at Holtsfield community in the Gower
SchNEWS 117, 25th April 1997 - download PDF 546kb
Farmer Harmer - Bad Karma - Farmer destroys SSSI on his own farm in Offham / CS Gas Used at Animal Rights Demo in Consort Beagle centre / Teabreak Sackings
SchNEWS 116, 18th April 1997 - download PDF 300kb
They Wanna Fight, We Wanna Party! - Report from 'March For Social Justice' in London by Reclaim The Streets and the Liverpool Dockers / Nuclear Trains in UK / Diary
SchNEWS 115, 11th April 1997 - download PDF 900kb
Welcome To... Democracy - Twenty-Seven new laws on the last day of parliament / Party Death / Rough Guide to Protest Camps
SchNEWS 114, 4th April 1997 - download PDF 862kb
Rank Stink! - Protest in Kent to protect Lyminge Forest from being turned into a holiday village by Rank Organisation / CS Gas / Manchester Airport and the unsustainability of air travel / Exodus win High Court Appeal
SchNEWS 113, 27th March 1997 - download PDF 540kb
Slave Trade - Project Work, Workfare and forced labour / Entertainments Bill / Housing Benefit Blues / Bougainville Update / Lyminge Forest - Rank
SchNEWS 112, 21st March 1997 - download PDF 777kb
Never Mind The Ballots, What About The Planet! - We're not that optimistic about the upcoming General Election / Shoplifting Vicar / Fox Hunt Ruined
SchNEWS 111, 14th March 1997 - download PDF 914kb
Up The Injunction! - Court Injunctions are a great way to keep protesters from protest sites / Case lost at Pressmennan / Protests in Glasgow against cuts / SchURF the 'Net
SchNEWS 110, 7th March 1997 - download PDF 487kb
Ich Bin Full On! - stopping nuclear train cargo to Gorleben / Genocide and Rio Tinto go hand in hand in Bougainville / Judi Barri RIP / Jack Straw even worse than Michael Howard
SchNEWS 109, 28th February 1997 - download PDF 314kb
Screwed! - Bridgewater Three are released - miscarriages of justice / Work for the dole - Workfare / Faslane Peace Camp
SchNEWS 108, 21st February 1997 - download PDF 285kb
Spanner! - Consenting Adults Lose Fight / Despite Asylum Bill authorities must support arrivals / Stringers Common protest camp near Guildford / Gorleben Shipment
SchNEWS 107, 14th February 1997 - download PDF 259kb
What's All This Then? - Police Bill Slammed / Mobile Phones / Inflatable Threats to Activists / Freedom Network shart art / Liverpool Dockers call for support
SchNEWS 106, 7th February 1997 - download PDF 201kb
Football Fans United - corporatisation and sport in Brighton / Activist Banned from "interfering" / Newscastle Rampage / Newbury updates / Menwith Hill Peace Camp
SchNEWS 105, 31st January 1997 - download PDF 253kb
Dig That! Sheriff Sore After Seven Day Shafting - Fairmile Evicted / Sea Empress Anniversary / Asylum Seekers / Manchester Airport new runway protest begins
SchNEWS 104, 24th January 1997 - download PDF 319kb
Clubs To Shut Shocker - clampdown on nightclubs / Second runway for Manchester Airport gets approval / Action at 80 ports in solidarity with Liverpool Dockers…
SchNEWS 103, 17th January 1997 - download PDF 107kb
Reunion Rampage! A march to commemorate the first anniversary of the Newbury Bypass protest camp. Plus - 42 asylum seekers in Rochester Prison in second week of hunger strike / Fort Trolheim - the second camp on the A30 route is violently evicted.
SchNEWS 102, 10th January 1997 - download PDF 184kb
Howard Ahoy! New plans to use floating 'prison ships' to cope with all those new prisoners / Liverpool Dockers calling for world-wide strike / Plus … Zapatistas and more…
SchNEWS 101, 13th December 1996 - download PDF 200kb
Underground Overground - Why the mainstream media is a failure, and why we need an alternative.