Home | BACK ISSUES
PDF (Acrobat) are available for all of these issues. Read the notes on PDF files for help, especially with printing.
Issues 601-650 (August 2007 - October 2008)
---
SchNEWS 650, 10th October 2008 Click HERE for PDF version.
End of World is Nigh - As the entirely predicable meltdown continues to roll on it becomes increasingly hard to predict what's next - but SchNEWS tries anyway as we mull over great depression and repression to come...plus, Sussux students bring more disruption to Naval recruitment drive, peasant farmer resistance forces car firm to quit West Bengal, US Homeland Security goons spy on maths group, and more...
SchNEWS 649, 3rd October 2008 Click HERE for PDF version.
Debts the Way to Do It - SchNEWS takes on the credit crunch and the future of global capitalism as the system collapses of its own accord... plus, Protesters staged two days of protest last weekend at Carmel Agrexco, A Royal Navy recruiting team at Sussex Uni were left sunk without trace after a devastating broadside from a gang of clowns, Zombies invade shopping centre in Bristol, and more...
SchNEWS 648, 26th September 2008 Click HERE for PDF version.
Lost in Transistion - Schnews fails to understand language of climate group as it looks at Transition Towns... plus, Animal rights activists get police pay out, a gay artist is deported to Azerbaijan, shout out for Titnore Woods protest camp, 'Freedom Not Fear' protest at top cop shop, and more....
SchNEWS 647, 19th September 2008 Click HERE for PDF version.
Bail of the Century - The British and US Governments are welfare states – for big business – as they hand out billions to bail out companies. And the meltdown is set to continue... plus, the coroner's inquest into the police murder of Jean Charles de Menezes begins on September 22nd, a victory for the Shell To Sea protesters in Ireland against Shell's planned gas refinery and offshore pipeline at Rossport, Right wing forces in Bolivia are attempting a 'civil coup' against socialist President Evo Morales, and more....
SchNEWS 646, 12th September 2008 Click HERE for PDF version.
All the Precedent's Men - A historic court ruling finds protesters at Kingsnorth Coal Power Station not guilty of criminal damage, the first time 'preventing the greater crime of climate change' has been successfully used as a legal defence... plus, On the anniversary of 9-11, we remember that other 9-11 – the violent coup in Chile in 1973 which installed General Pinochet, and saw the death of thousands, Fox hunting is now illegal in Britain – but that doesn't stop it still happening., and more...
SchNEWS 645, 5th September 2008 Click HERE for PDF version.
Unconventional - Mass demonstrations against this year's Republican Convention – held this week in St Pauls, Minnesota – were met with aggressive policing..... plus, While SchNEWS is not pro-Obama as such in the forthcoming US election, it is clear that the McCain/Palin ticket would be the least sane choice, Protesters battling Shell's plans to build an offshore gas pipeline and refinery at Rossport, on the west coast of Ireland, are now up against the Navy, and more...
SchNEWS 644, 29th August 2008 Click HERE for PDF version.
Peak Spoil - Peak Oil theory is seen by environmentalists as the reality which will stop the oil industry. But could it be that the real problem isn't that we're going to run out of oil, but that we aren't?.... plus, as the Democrat and Republican parties have their party conventions in the lead-up to the presidential elections, mass demonstrations are making a come-back in the country, independent aid boats beat Israeli aggression to give much needed supplies to Gaza, the persecution of animal rights activists in Austria continues, and more...
SchNEWS 643, 22nd August 2008 Click HERE for PDF version.
Going Overboard - Shell To Sea activists set up a new Rossport Solidarity camp, to stop the building of Shell's gas pipeline and refinery at Rossport, County Mayo, Ireland.... plus, Smash EDO campaigner Glenn Williams is arrested for playing a protest song outside the gates of EDO-MBM/ITT in Brighton, Anti-coal protesters are finally evicted from tunnels – as the Bodge House squat comes to an end, Kurdish asylum seekers held at Campsfield Immigation Detention Centre end their nine day hunger strike, and more...
SchNEWS 642, 15th August 2008 Click HERE for PDF version.
Game, Ossetia, Match - As civilians pay the price for imperial rivalries in Georgia.... plus, round up of the Climate Camp 2008 day of mass action, Five Smash EDO protesters on trial for 'Conspiracy to Cause Criminal Damage' found not guilty, George bush tries to change laws specifically in order to endanger animals, and more...
SchNEWS 641, 8th August 2008 Click HERE for PDF version.
Hoo U Gonna Coal? - As Camp for Climate Action gets stocked up at Kingsnorth, the proposed site of first new UK coal-fired power station for 30 years.... plus - World climate camp round-up, call-out raised to anti-fascists around the country to combat the BNP's Red, White and Blue festival next weekend in Derbyshire, it's gore blimey as bull fighting stadium collapses, and more...
SchNEWS 640, 18th July 2008 Click HERE for PDF version.
Down, Wembley Way - The Tent City at Wembley has been evicted but the community led protest against the planned privatised City Academy school goes on. Plus - the Derbyshire open-cast coal mine protest is threatened with eviction, Fox hunting monitors in two separate court cases, the Italian court ruling on police violence at the G8 Genoa 2001 protests, UK military plans to assist in fighting local insurgency in Nigeria against the oil industry and more...
SchNEWS 639, 11th July 2008 Click HERE for PDF version.
FIT for Purpose - SchNEWS looks at the police Forward Intelligence Team (FIT), who have become a common sight at protests, and a campaign to resist them... plus - the British govt makes it harder for immigrants and asylum seekers to get the free health care, international day of action against private equity firms, the site of a proposed City Academy in Wembley has been re-occupied with a tent city as the locals, and more...
SchNEWS 638, 4th July 2008 Click HERE for PDF version.
Empre of the Vanities - An outrageous story of greed, lust and structural adjustment as we chart the steady decline of the G8 cartel... plus - Protests against open coal mine in Derbyshire get unexpected Court reprieve, photography is new focus of civil liberty crackdown, Anti-Israel protests at 'Salute to Israel' march in central London to celebrate 60 years of oppression, London resident Binyam Mohamed still in Guantanamo after years of torture, and more...
SchNEWS 637, 27th June 2008 Click HERE for PDF version.
Hounded - SchNEWS asks who's harassing who as The Crawley and Horsham Foxhunt seeks giant exclusion zone against local hunt monitors and Wildlife Protection Group, plus - Carmel Agrexco's UK depot was shut down, anniversary of McLibel trial victory, ten animal rights activists held without charge under anti-terror laws in Austria, and more...
SchNEWS 636, 20th June 2008 Click HERE for PDF version.
Along For Fluoride - The UK government is intent on expanding the fluoridisation of drinking water, but yet all medical evidence is clearly against this 'forced mass medication'. So why are they doing it? Plus - Austrian animal rights groups targeted by violent police campaign, open-cut coal mining protests in Derbyshire, Hicham Bezza is released, protests as George Bush visits London, breakout at Campsfield Detention Centre and more...
SchNEWS 635, 13th June 2008 Click HERE for PDF version.
Cock 'n' Kabul Story - How the US / UK plan to devastate and then 'reconstruct' Afghanistan is paying dividends (for some)...Plus, Brits prepare to give Dubya a decent send off, BNP festival under threat after anti-fascist actions, government plans to bribe communities to swallow nuclear waste, Guantanamo inmates get right to civilian trial - maybe, and more...
SchNEWS 634, 6th June 2008 Click HERE for PDF version.
SmashEDO Carnival Special - Full Report into the Smash-Edo Carnival Against the Arms Trade, plus... Academic Freedom - As Nottingham post-grad faces deportation after failed terror arrest.... Also in this issue , Animal Rights website owner sentenced to four and a half years, third week of hunger strike for Czech protesters against US 'Star Wars' military bases, Israel at 60, and more...
SchNEWS 633, 23rd May, 2008 Click HERE for PDF version.
Self Defence - Peace activist students on 'aggravated trespass' charges denied legal aid... Plus, Wrexham woman on the wrong side of the law when she takes plastic chairs from a council tip, Bush visits U.K for last time as president, Nottingham university terror arrest signals wider clampdown, Mass tresspass called on site of proposed Derbyshire Opencast mine, and more...
SchNEWS 632, 16th May, 2008 Click HERE for PDF version.
Sects and the City - Cult friction as police harass anti-scientology protest in London... Plus, Man jailed after massive animal rights conspiracy trial, Cardiff anarchist newsletter 'Gagged' in libel shocker, Brighton squatters in occupied Methodist Church defy bailiffs, Housing benefit snoopers to get latest lie-detecting gear, and more...
SchNEWS 631, 9th May, 2008 Click HERE for PDF version.
Heckler at the Back - Protesters have targeted the Nottingham premises of Heckler & Koch... Plus, activists arrested last year after banner drops in protest against the widening of the M1 have their charges dropped, BASF trying another crop trial of a GM potato, Northern Petroleum trying to drill in an area of outstanding natural beauty in West Sussex, and more...
SchNEWS 630, 2nd May, 2008 Click HERE for PDF version.
Snatch of the Day - No Borders actions around the country target Borders and Immigration Agency snatch squads... Plus, the SOCPA laws are to be replaced with a new armoury of anti-protest legislation, Southampton University becomes the latest victim of censorship when it is forced to pull the scheduled screening of the Smash EDO campaign film, bio-tech corporation Novartis is in SHAC's sights for the World Day For Lab Animals, and more...
SchNEWS 629, 18th April, 2008 Click HERE for PDF version.
Mayan the Force be with You - Thousands of indigenous Mayans are threatened with displacement by new hydroelectric dam project...Plus, Adbusters have called for people to switch off all their electronic gadgets in Mental Detox Week, incoming UN Human Rights Council investigator into the Israeli oppression of Palestine, compares Isreal's treatment of Palestine to Nazi Germany, US Raytheon arms manufacturers have their facility in Glenrothes, Scotland hit by d-lock action, and more...
SchNEWS 628, 11th April, 2008 Click HERE for PDF version.
F.A.C.K. YOU - Ten years after the death of Simon Jones at Shoreham docks in an accident, SchNEWS asks whether workplace safety has improved in the past decade... Plus, hunger strike at Harmondsworth asylum seekers detention centre, MESHO, a 16 page, tabloid sized spoof paper has been released and will be distributed across Britain, Street Blitz is coming to London - where artists will install art around the capital in public place and more...
SchNEWS 627, 4th April, 2008 Click HERE for PDF version.
Palestine: Occupation From Within - a special report from Palestine gives reports a situation rarely brought to light in western media - that it's the Palestinian Authority who are doing Israel's job of crushing dissent, plus - Only Fuels & Horseplay - April 1st was International 'Fossil Fools Day' - a day of action against the culprits of climate change. Also in this issue - Anti-military protesters staged a demonstration in northern Poland at the site of an ex-Soviet military base, the British government has decided that Iraq is now safe enough to return Iraqi asylum seekers back home by forcefully deported fifty five, and more...
SchNEWS 626, 28th March, 2008 Click HERE for PDF version.
Verge on the Road - One week into the Smash EDO national tour, screening the notorious SchMOVIE 'On The Verge' -- the film police tried to ban... Plus, Terminal five at Heathrow opens to chaos -- and climate change protesters, A British reality TV show illegally goes deep into the Peruvian jungle to use remote, uncontacted tribes as a backdrop for some riveting survival television, The Grand National is coming around again -- and animal rights protesters will be there to highlight this cruel race which has seen thirty five horse destroyed in the past decade alone, and more...
SchNEWS 625, 20th March, 2008 Click HERE for PDF version.
Showstoppers - As Sussex Police try to censor anti-arms trade film...Plus, in Big Brother Britain. Peace activist's vehicle tagged for surveillance, Celtic Heritage Trust win legal victory after free party fracas, daring activist raid on depleted uranium test site, Catholic worker activists sent down for refusing to pay fines from DSEi action, Murdoch's union-busting print plant at Wapping closes, and more...
SchNEWS 624, 14th March, 2008 Click HERE for PDF version.
Fort For The Day - Direct action camp at Rath Lugh is raided as protesters build tunnels to defend the site. Call out for activists to go to Ireland to help... Plus, Another mighty cock up this week by Sussex Police – as yet again the Crown Prosecution Service is forced to drop a Smash EDO court case, A protester who muttered a swear word to police at last year's No Borders Camp near Gatwick has her case thrown out of court last week, Depleted Uranium weapons to be tested in Scotland, and more...
SchNEWS 623, 7th March, 2008 Click HERE for PDF version.
Bunch of Hunts- It's three years since the Fox Hunting ban came into force in England. What's changed - not much, with fox hunts still going on...Plus, Wilton Park, a mansion owned by the Foreign Office for conferences and meetings of those involved in arms trade, counter terrorism, privatisation and more, Protesters fighting the building of a Dow Chemicals research lab in India, have a victory after a seven-week long blockade, Five cops from Gwent police in Wales decided to have day-trips to the seaside during working hours... before they were rumbled,and more...
SchNEWS 622, 29th February, 2008 Click HERE for PDF version.
Strain No Gain - SchNEWS looks at how corporations and governments are limiting and controlling the varieties of crops grown... Plus, Wikileaks - exposing corruption - is under attack, refugees incarcerated in Harmondsworth Detention Centre acquitted of conspiracy to commit violent disorder, DEFRA bending over backward to change the rules so the locations of trial GM crops can be kept secret,and more...
SchNEWS 621, 22nd February, 2008 Click HERE for PDF version.
The Best Aid Plans - As George Bush visits Africa to big up his aid profile, SchNEWS reveals how 90% of that 'aid' ends up in the pockets of US companies... Plus, Denmark roundup with riots in Copenhagen, blockade by villagers in India halts plans by Dow Chemical to build new research labs, Posh restaurant in Cambridge pulls foie-gras off menu after direct action, Activists invade Burnley v QPR to deliver a message to Alistair Campbell, and more...
SchNEWS 620, 15th February, 2008 Click HERE for PDF version.
Garbage Gaia - A huge slick of plastic refuse – a 'trash vortex' - is engulfing the Pacific Ocean... Plus, Another action at Carmel Agrexco – the UK importer of Israeli produce grown on occupied Palestinian territory, Britain's prisons reach bursting point with record ever prisoner numbers, As a man walks from Bristol to India to promote the freeconomy, US ex-soldiers in free legal ecstasy shocker, and more...
SchNEWS 619, 8th February, 2008 Click HERE for PDF version.
Counter Punch - A look at the some of the civil liberty quashing powers in the new Counter Terrorism Bill... Plus, Police pay out £44mil in compensation in the last 5 years, SuS laws are back, plans to build UK's first coal plant in a generation, McDonalds to give 'A-Level' equivalents to staff, and more...
SchNEWS 618, 1st February, 2008 Click HERE for PDF version.
Change of P.A.C.E - Sweeping changes to the legal aid system are going to mean that thousands are going to find themselves without proper legal advice... Plus, ID Cards put on hold, Shell pull out of Wildlife Photographer of the Year, cost of nuclear cleanup rises to £73bn, and more...
SchNEWS 617, 25th January, 2008 Click HERE for PDF version.
Wall Shook Up - Palestinians Break the Siege of Gaza and Enter Egypt... Plus, protest blocks all work at EDO site, World's rich and powerful try to have their cake and eat it at the forthcoming World Economic Forum in Davos, Tree protests and direct action in central Oxford at plans to massively expand the Westgate shopping centre, and more...
SchNEWS 616, 18th January, 2008 Click HERE for PDF version.
Cage the Rage - Interment is the new tactic to deal with the Animal Rights Movement... Plus, Japanese whaling activists kidnapped, Ministry of Justice plans to microchip offenders, Class War activists to clash with Police protests, and more...
SchNEWS 615, 11th January, 2008 Click HERE for PDF version.
Rude Awakenings - National day of action against immigration state police... Plus, Police banned from marching in London, Guantanamo isn't shut yet as the sixth anniversary rolls round, SOCPA repeal appeal as 'public consultation' draws to a close, Activist bonds with judge as climate camp prosecution fails to stick, and more...
SchNEWS 614, 14th December, 2007 Click HERE for PDF version.
Working Stinks - Private sector profiteering from government back to work scheme... Plus, New campaign against investors in depleted uranium weaponry, Hove residents take action against Network Rail cutting down and poisoning trees on railway embankments, Government plans to build more prisons, while doing nothing to alleviate the poverty and alienation that breeds crime, and more...
SchNEWS 613, 7th December, 2007 Click HERE for PDF version.
Annapolis Men - Palestine peace plans attempt to institutionalise apartheid... Plus, Australian logging company sues activists but protests continue, Stonehenge tunnel scrapped, Oil companies permitted into remote Peru inhabited by uncontacted tribes of natives, Biofuel INvestment seminar forced to relocate due to protesters, and more...
SchNEWS 612, 23rd November, 2007 Click HERE for PDF version.
Double Jeopardy - Newly proposed laws threan even more police power and make repression of protest even easier...Plus, EDO Corp weapons manufactur bouht out by ITT (Hitler's prefered weapons manufacturer), 14th anniversary of Campfield detention centre see no improvement in conditions, 'Buy Nothing Day', Activists gatecrash corporate bash to highlight Emissions Trading Scheme flaws, and more....
SchNEWS 611, 16th November, 2007 Click HERE for PDF version.
Bolivian Marching Power - Thousands of Bolivian farmers declared a state of emergency to save the rights granted to them under the new constitution. Plus, protesters against Shell pipeline in Rosport, anti-nuclear protests in Berkshire and Glasgow, annual 'Worst EU Lobbying' Awards, Brighton Protests against major Burma investor, and more....
SchNEWS 610, 9th November, 2007 Click HERE for PDF version.
Licensed to Cull - Into the valley of DEFRA as badgers face needless extermination in forthcoming badger culls in the southeast of England, armed goons take out Brazillian anti-GM crop protester, Musharraf's regime cracks down, action against building of M3 motorway in Ireland, Tasmania's forest under threat, and more..
SchNEWS 609, 2nd November, 2007 Click HERE for PDF version.
Unsettling News - A Brighton direct action delegation get involved this week alongside Palestinians and other internationals to protect land from the illegal Israeli occupation. They are in the Tubas area to make links between UK activists and Palestinians. Plus - Brian Haw takes Ian Blair to court, 'Bash the Rich' March at David Cameron's house, mass arrests and deportation of refugees in Morocco, the fight begins against animal testing lab in North London, and more...
SchNEWS 608, 26th October, 2007 Click HERE for PDF version.
Sense of Hummus - Just in time for World Vegan Week (from Oct 27th), SchNEWS serves up a feast of arguments against the resource-wasting meat industry, and shows how veganism isn't just good for the animals but good for saving the planet. Plus - activists picket Hackney council over treatment of homeless, New Zealand police attempt to brand Maori activists as terrorists, Brighton activists helping to build school in occupied Palestine find it threatened with demolition, protester avoids security action by camping on the statue of David Lloyd Goerge, and more...
SchNEWS 607, 19th October, 2007 Click HERE for PDF version.
Splash The Cash - Water is more profitable than oil for corporations involved in the UK water privatisation carve-up, as last week investment bank JP Morgan part-purchased Southern Water. Plus - Brian Haw and the Parliament Square peace camp gets trashed, climate change protests against Royal Bank Of Scotland, Common Ground community centre in Reading is evicted, Anarchist Bookfair, Hill Of Tara and more...
SchNEWS 606, 12th October, 2007 Click HERE for PDF version.
Under Pressure - The Smash EDO campaign to close down the Brighton bomb makers EDO MBM has had a busy month, and since the collapse of the injunction last year, police have had to resort to a grab-bag of old bye-laws and statutes to bust them. Plus - anti-aviation protest camp in Gloucestershire, report from Stop The War's 'Troops Out' march, Plane Stupid action at Manchester Airport, Total garages get blockaded and more...
SchNEWS 605, 5th October, 2007 Click HERE for PDF version.
Parlia-ment-al - Stop The War Coalition's planned 'Troops Out' peace march on October 8th from Trafalgar Square to Parliament is banned, as the UK junta cracks down in show of solidarity with Burmese government. The march is going ahead regardless. Plus - Faslane 365 goes out with a big bang, and breaks the 1000 arrests barrier, Smash EDO activists in early morning raid of factory, Animal Rights campaigning gathering is raided by police, Porkbolter is ten, DSEi, Burma solidarity actions and more...
SchNEWS 604, 28st September, 2007 Click HERE for PDF version.
Things Can Only Get Buddha - While there is a genuine movement kicking off out on the streets of Burma to get rid of the military junta, we look at how the West stands to gain from seeing it toppled and a neo-liberal pro-market 'democracy' taking its place. Plus - a report back from the No Borders camp at Gatwick, visiting Palestinian activists join a Smash EDO noise demo, DSEi, Faslane 365 and more...
SchNEWS 603, 21st September, 2007 Click HERE for PDF version.
Iraq And A Hard Place - A mainstream research company are estimating that over a million have died in Iraq since 2003 due to the invasion - but it didn't get any publicity. Plus - No Borders Gatwick camp gets under way, a report from Ireland about the protests to stop the Shell gas refinery in Rossport, teachers in Wembley occupy site to prevent 'academy' school being built, a Norwegian whaling ship is sunk by anti-whaling activists, Faslane 365 is to end with a Big Blockade, sacked German bike workers occupy and work their factory after the company goes bust and more...
SchNEWS 602, 7th September, 2007 Click HERE for PDF version.
Aisle Be Damned - Supermarkets have stepped up the tide of greenwash, convincing consumers of their eco-credentials. Guess what SchNEWS finds that it's all complete garbage. Plus we look ahead to this week's Disarm DSEi anti-arms trade protest, there's a report back from the popular uprisings in Oaxaca, Mexico, an update from Bil'in, a Palestinian town on Israel's apartheid wall, and more...
SchNEWS 601, 31th August, 2007 Click HERE for PDF version.
Tents Stand Off - It's been a hectic week in Brighton as Smash EDO and Sussex Police once again faced off over the presence of US arms manufacturer EDO MBM in the town. Local campaigners, having appealed for a national presence of peace activists for a protest camp, pitched up in Wild Park in Moulsecoomb - cheekily situated right behind EDOs main factory site on Home Farm Rd. Also the fight continues at Shell's refinery site at Bellanaboy in County Mayo, Ireland and more...
---
Back Issues...
---
Issues 551-600
July 2006 - August 2007
---
Issues 501-550
June 2005 - July 2006
---
Issues 451 - 500
April 2004 - June 2005
---
Issues 401 - 450
April 2003 - April 2004
---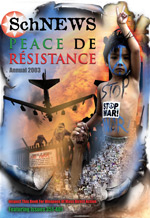 Issues 351-401
April 2002 - April 2003
'As the Forces of Darkness gather for a new attack on Iraq, they're shaken by an unexpected explosion of resistance. US airbases are invaded; military convoys are blockaded; schoolkids stage mass walkouts from Manchester to Melbourne; roads are occupied, embassies besieged, and cities all over the world are brought to a standstill by the biggest mass demonstrations ever seen. Read about the efforts to sabotage the war machine that the corporate media ignored: not just the mass demos, but Tornado-trashing in Scotland, riots across the Middle East, and train blockades in Europe. Featuring SchNEWS 351-401, this book also covers many of the past year's other stories from the rebel frontlines, including GM crop-trashing, international activists in Palestine, and the 10th anniversary of Castlemorton. All that plus loads of new articles, photos, cartoons, subverts, satire, a comprehensive contacts list, and more…'
PLUS INCLUDES FREE CD-ROM by BEYOND TV featuring footage of many of the actions reported in the book, satire plus other digital resources
"Peace de Resistance"
ISBN 09529748 7 8
£7.00 inc. p&p direct from us.
Contact SchNEWS for distribution details
Order This Book
---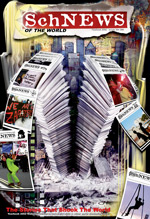 Issues 301-350
April 2001 - April 2002
The temperature goes up a few notches as the earth's climate has its hottest year on record - and the corporate carve-up lifts its tempo in the paranoia and madness of September 11th. Behind the haze Argentina goes into meltdown. Israel reoccupies Palestine causing a second Intifada. Hundreds of thousands come out on the street in Genoa, Quebec, Gothenburg, Barcelona, Brussels against globalised institutions. Even larger numbers fight for their land and livelihood against neo-liberalism in South Africa, India, South America and the rest of the global south.
These 50 issues plus 200 other pages of articles, cartoons, photos, graphics, satire, and a comprehensive contact database are all together in...
SchNEWS Of The World .
300 pages, ISBN 09529748 6 X, £4 inc. p&p direct from us.
Order This Book
---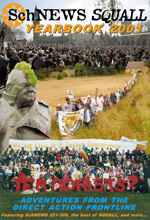 Issues 251-300
March 2000 - April 2001
The Zapatistas march into Mexico City, thousands disrupt the World Bank meeting in Prague, Churchill gets an anarchist make-over: from Bognor to Bogota, Dudley to Delhi, and Kilburn to Melbourne, resistance has become as global as the institutions of capitalism. This was a year full of stories of people at the frontline of struggles worldwide, and creating sustainable solutions to the corporate carve-up of the planet. These 50 issues of SchNEWS along with the best of Squall magazine, plus loadsa photos, cartoons, satirical graphics, subverts, and a comprehensive contacts database are available together in....
SchNEWS/Squall Yearbook 2001
300 pages, ISBN 09529748 4 3, BARGAIN - £3.00 inc. p&p direct from us.
Order This Book
---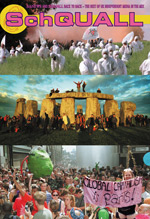 Issues 201-250
February 1999 - March 2000
Genetically modified crops get trashed, animal rights, freemasons, June 18th '99 international day of action against capitalism, Exodus Collective, Cuba, the November 30th '99 Battle for Seattle, climate change, parties and festivals, indigenous peoples' resistance to multinational corporations, the privatisation of everything in sight, crap arrests of the week, prisoner support and much more…the full lowdown on the direct action movement in Britain and abroad!
These 50 issues of SchNEWS plus the best of Squall magazine, top photographs, cartoons, subverts and much more are available together in ...
SchQUALL - SchNEWS and Squall Back To Back
SOLD OUT - You might be able to find a copy in your local radical bookshop -if you're lucky.
---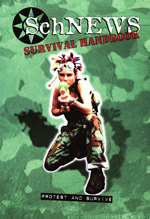 Issues 151-200
January 1998 - January 1999
Read all about it! Genetic crop sites get a good kicking; streets reclaimed all over the world; docks occupied in protest of death at work; protestors rude about multinational corporations' plans for world domination...
SchNEWS gives you the news the mainstream media ignores. Tells you where to party and protest. Tries not to get all po-faced about what's going down in the world.
These 50 SchNEWS issues are together with a set of 'survival handbook' stylee articles to help you survive into the new millenium... plus photos, cartoons, a comprehensive database of nearly five hundred grassroots organisations and more in...
SchNEWS Survival Handbook
260 pages, ISBN: 0-9529748-2-7, BARGAIN - £2.00 inc. p&p direct from us.
Order This Book
---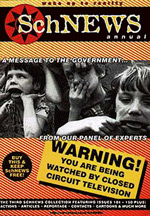 Issues 101-150
December 1996 - January 1998
"The McLibel trial ends, Manchester Airport second runway protest camp goes mad, eviction at Fairmile, the GANDALF Trial, anti-nuclear demos in Germany, the massive Reclaim The Streets that took back Trafalgar Square... New Labour breaking each and every promise they ever made.
These 50 issues are together with loads more pics, graphics and articles in...
SchNEWS Annual
230 pages, ISBN: 0-9529748-1-9, BARGAIN - £2.00 inc. p&p direct from us.
Order This Book
---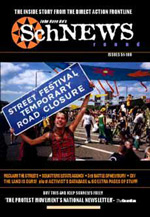 Issues 51-100
December 1995 - November 1996
Direct Action takes over England... M41 motorway gets occupied in huge Reclaim The Streets party... The Third Battle Of Newbury... plus the national SchLIVE Tour, the Liverpool Dockers go 'direct action', resistance to Jobseekers Allowance, Exodus Collective, Trident Ploughshares women go free after smashing Hawk Jet, Selar Opencast Mine protest camp, Fairmile - A30 protest camp, Wandsworth Eco-village, the Squatter's Estate Agency...SchNEWS publishes the inside story from the activists themselves!
The 50 issues of SchNEWS featuring all this stuff, plus 60 extra pages of photos, cartoons, more articles plus the 1996 activists database is available in...
SchNEWS Round
SOLD OUT - You might be able to find a copy in your local radical bookshop -if you're lucky.
---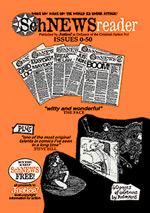 Issues 1-50
November 1994 - November 1995
Where It All Began...
From the pilot edition edition right through the first year of SchNEWS featuring the first of many Crap Arrest Of The Weeks, the Criminal Justice Act 'Arrestometer', and a running commentary of resistance as the sections of the Criminal Justice Act come in attacking Travellers, Squatters, Hunt Sabs, Ravers, Protesters, Footie Fans and freedom in general. In the news was... Shoreham Live Animal Export protests, the end of the No-M11 Link Rd campaign, Pollok Free State anti-M77 protest in Glasgow, eviction of Stanworth Valley 'village in the trees' near Blackburn against the building of the M65, opencast mining protest camps in South Wales and much more...
These historic 50 issues of SchNEWS, plus loadsa cartoons by Kate Evans and more are available in...
SchNEWSreader
SOLD OUT Rare as hen's teeth. If you missed out you can read most of the SchNEWS issues here - and if you really want to see em as they were you can download scans of them below....

SchNEWS, c/o Community Base, 113 Queens Rd, Brighton, BN1 3XG, England
Phone/Fax: +44 (0)1273 685913
email: schnews@brighton.co.uk
@nti copyright - information for action - copy and distribute!