Graphics
By Category
Campaigns
Smash EDO
Climate Camp
Home | Satire

Cameron - Torys - Con-Dem Coalition
Including Clegg, the Con-Dem coup, the austerity cuts and parliamentary politics in Britain under the Con-Dem coalition.

---

14th January 2011 | Issue 754 - FIGHT THEM ON THE BEECHES - The Tory's new Public Bodies Bill for the Forestry Commission is essentially a plan to flog off the family silver and privatise forests up and down the country. The sale is intended to raise £2bn - less than half of one years tax avoidance by Vodafone.

---

29th October 2010 | Issue 745 - FIRST CUT'S NOT THE DEEPEST - As the Con-Dem coalition announce massive cuts, the first rumblings of mass protests across the country are heard...

---

25th June 2010 | Issue 728 - THE TORIES THREATEN CUTS - but there's something a bit suspicious about George Osborne's rubbery complexion and lack of emotion as he raises the spectre of massive cuts...

---

14th May 2010 | Issue 722 - NOT A CLEGG TO STAND ON - As Britain's aristocracy proper regain control of Downing Street in the form of posh-boy double act of Cameron and Clegg.

---

14th May 2010 | Issue 722 - THE TORIES WIN - Move over And & Dec - here comes Cam & Clegg

---

23rd April 2010 | Issue 719 - THE TORY PUBLICITY MACHINE HITS FULL STEAM - But their publicity posters are providing great fodder for spoofs. A whole website is devoted to spoofs of this one (cllick here), so we thought we'd join in the fun...

---

16th April 2010 | Issue 718 - BRITISH GENERAL ELECTION - David Cameron is a caring conservative - until he is elected. We know the routine.

---

9nd April 2010 | Issue 717 - BRITISH GENERAL ELECTION IS ANNOUNCED - Maybe a hung parliament wouldn't be such a bad thing...

---

SchNEWS, c/o Community Base, 113 Queens Rd, Brighton, BN1 3XG, England
Phone/Fax: +44 (0)1273 685913
email: schnews@brighton.co.uk

@nti copyright - information for action - copy and distribute!
OTHER SATIRE
Spoofs
---
---
---
---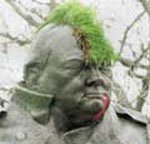 SchNEWS Worst Britain - produced for the Peace De Resistance book in 2003 (Click Here)
---
Are You Really Green? - questionnaire produced for the Big Green Gathering 2007 (not yet available)