Graphics
By Category
Campaigns
Smash EDO
Climate Camp
Home | Satire

Prisons
See also Asylum Seekers/Refugees

---

1st Feb 2008 | Issue 618 - CHANGE OF P.A.C.E.
Sweeping changes to the legal aid system are going to mean that thousands who find themselves dragged into the legal system are going to find themselves without proper legal advice: instead of being offered a solicitor of your choice, you will now be put onto a 'call centre' not answered by trained legal advisors, but often ex-police.

---

28th September 2007 | Issue 604 - Prison privatisation

---

16th December 2005 | Issue 525 - INSIDE JOB - Profiteering From Cheap Labour In UK Prisons - as the privatisation of the prison system continues, companies are using prisoners as cheap labour - to compete with outsourcing to India or China...

---

7th October 2005 | Issue 515 - IN A RIGHT STATE - as SchNEWS reviews how bad it's got in recent years as Neo-Labour continues to strip away civil liberties...

---

29th March 2002 | Issue 348 - YARL-BOO SUCKS!
Last month the Yarl's Wood Detention Centre in Bedfordshire burned in a fire. The centre for detaining asylum seekers – the equivalent to a category B prison surrounded by razor wire - opened in November 2001, cost £100 million and is run by Group 4. But ever since it opened there's been constant protests about conditions. In January nearly all the detainees, went on hunger strike for 24 hours, while on the afternoon of 14th February, the day the fire started, trouble flared after a woman was handcuffed so she could be taken to hospital. At some point later a fire started. It's not clear where, although many detainees believe it started in the reception area to which they have no access. Shocking stories from those who were inside on the day are only now emerging.

---


SchNEWS, c/o Community Base, 113 Queens Rd, Brighton, BN1 3XG, England
Phone: +44 (0)1273 685913
email: schnews@brighton.co.uk

@nti copyright - information for action - copy and distribute!
OTHER SATIRE
Spoofs
---
---
---
---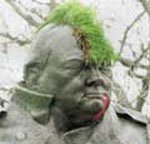 SchNEWS Worst Britain - produced for the Peace De Resistance book in 2003 (Click Here)
---
Are You Really Green? - questionnaire produced for the Big Green Gathering 2007 (not yet available)