Graphics
By Category
Campaigns
Smash EDO
Climate Camp
Home | Satire

Obama
Barack has graduated to getting his own section now.

---

20th November 2009 | Issue 700 - GOOD COP BAD COP - The COP15 UN Climate Conference in Copenhagen - considered the most important climate talks since Kyoto - hasn't even happened, but still the US and China have agreed to not make any agreements, leaving talks dead in the water before they've even started.

---

17th July 2009 | Issue 684 - GOOD PLAN, 'STAN - As the body count mounts, we look at the unwinnable war in Afghanistan, and the Obama chapter of the 'War Of Terror'.

---

24th April 2009 | Issue 673 - SUMMIT OF THE UN-AMERICAS - Leaders from countries across the Americas – excluding Cuba – meet in Trinidad, in a gathering which produces absolutely nothing. Barack Obama is met with strong criticism from Latin American leaders about the continued US imperialism.

---

13th February 2009 | Issue 666

---

30th January 2009 | Issue 664 - President Obama is inaugurated - is it the dawn of a new age or more of the same with a more appealing face? Call us cynical but the evidence is the latter.

---

31st October 2008 | Issue 653 - With the US election next week, we wonder what is the contents of the folder Obama is holding, as he embraces fellow candidate John McCain?

---




SchNEWS, c/o Community Base, 113 Queens Rd, Brighton, BN1 3XG, England
Phone: +44 (0)1273 685913
email: schnews@brighton.co.uk

@nti copyright - information for action - copy and distribute!
OTHER SATIRE
Spoofs
---
---
---
---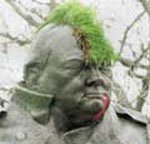 SchNEWS Worst Britain - produced for the Peace De Resistance book in 2003 (Click Here)
---
Are You Really Green? - questionnaire produced for the Big Green Gathering 2007 (not yet available)