Graphics
By Category
Campaigns
Smash EDO
Climate Camp
Home | Satire

Media
Including print media parodies

---

10th December 2010 | Issue 751 - WIKILEAKS: HACKTION STATIONS - Despite founder Julian Assange being arrested in the UK this week, the Wikileaks website itself has proved harder to conquer, and a mass direct 'hacktion' campaign of unprecedented size has booted itself up to help fight back.

---

3rd December 2010 | Issue 750 - WIKILEAKS - The Wikileaks furore develops and it becomes the topic of a media frenzy, rather than the facts it has confirmed or uncovered.

11th April 2008 | Issue 628 - MESHO Hits The Streets - A spoof newspaper 'MESHO', about autonomous spaces, squatting and homelessness has been produced for the April 11-12 weekend of Autonomous Spaces around England.

Download MESHO (16 page, tabloid size, 4.5meg, pdf format)

---

11th May 2007 | Issue 587 - The SchINDEPENDENT - 'Iraqis tear down Blair statue after regime change is finally confirmed...'

---

25th March 2005 | Issue 490 - LUNATICS HAVE TAKEN OVER ASYLUM - as the tabloid papers wind up the ignorance and xenophobia about asylum seekers - led by Murdoch-owned red-top, The Sun, SchNEWS looks at the harrowing experiences of several asylum seekers to somewhat redress the balance...

---


click for bigger image

15th October 2004 | Issue 469 - INDY - STRUCTABLE! - Last week internet servers in the UK hosting 21 Indymedia (IMC) sites were seized by the FBI, following a request by Swiss and Italian authorities. Indymedia have been unable to get any more information as to what the exact reasons are, but this is a continuation of attacks on independent media by the US Government.

---

2nd April 2004 | Issue 448 - GACK ATTACK - Children in Britain are eating gack, and it's not helped by fast-food corporations getting involved in school sponsorship and the sheer scale and persuasiveness of fast-food advertising...

---

11th April 2003 | Issue 400 - "Whose side were you on in the war Grandad - CNN or FOX?"

---

31st Jan 2003 | Issue 390 - HEARTBREAK HOTEL - Many tabloid and broadsheet newspapers are carrying strong anti-immigration messages, with The Daily Mail, predictably, being the worst offender...

---




SchNEWS, c/o Community Base, 113 Queens Rd, Brighton, BN1 3XG, England
Phone: +44 (0)1273 685913
email: schnews@brighton.co.uk

@nti copyright - information for action - copy and distribute!
OTHER SATIRE
Spoofs
---
---
---
---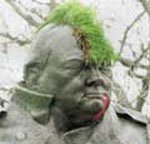 SchNEWS Worst Britain - produced for the Peace De Resistance book in 2003 (Click Here)
---
Are You Really Green? - questionnaire produced for the Big Green Gathering 2007 (not yet available)