Graphics
By Category
Campaigns
Smash EDO
Climate Camp
Home | Satire

Sweatshop Labour
Including 'fair trade' and other labour ethics issues

---

16th November 2007 | Issue 611 - At last... Fair Trade Cocaine

---

March 30th 2007 | Issue 582 - SILI-CON JOB - Is there such a thing as a 'fair trade' computer or iPod? You'll probably find that yours was put together in dire sweatshop conditions somewhere in southern China...

---

16th Feb 2007 | Issue 576 - LOOSE THREADS - The clothing industry doesn't just exploit garment factory workers - it also uses large-scale cotton farming, using heavy, toxic pesticides on the crops (because of course it doesn't need to be edible...

---

2nd June 2006 | Issue 546 - FEVER PITCH - As World Cup fever rises, we look at the frenzy for replica England shirts - sold here for £40 and made in China in sweatshops by workers on 40p a day...

---

16th Dec 2005 | Issue 525 - INSIDE JOB - Companies are using UK prisoners as cheap, ununionised labour as another option for cheap workers rather than outsourcing. ASDA, Sainsbury's and Tesco and Argos are all companies in on the act...

---

11th Feb 2005 | Issue 484 - CLOBBER - the clothes brand made from 100% sweat

---


SchNEWS, c/o Community Base, 113 Queens Rd, Brighton, BN1 3XG, England
Phone/Fax: +44 (0)1273 685913
email: schnews@brighton.co.uk

@nti copyright - information for action - copy and distribute!
OTHER SATIRE
Spoofs
---
---
---
---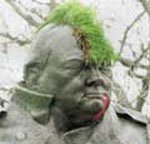 SchNEWS Worst Britain - produced for the Peace De Resistance book in 2003 (Click Here)
---
Are You Really Green? - questionnaire produced for the Big Green Gathering 2007 (not yet available)