Graphics
By Category
Campaigns
Smash EDO
Climate Camp
Home | Satire

Palestine/Israel
including Israel, Gaza, illegal occupation, and Boycott Israeli Goods

---

19th March 2010 | Issue 714 - NETAN-YAHOO SUCKS - The inverse law of political spiel states that, in order to get to the truth, simply reverse any statement made by any politician. So, when Obama says "There's no crisis in Israel-US relations" you know something weird is going down.

---

12th February 2010 | Issue 709 - CARMEL AGREXCO : SLAY IT WITH FLOWERS - Last Sunday (8th Feb 2010), two teams of activists blockaded the gates of Cargoflora and Carmel Agrexco in protest at the importation of flowers from occupied Palestine. Several of the blockaders were severely assaulted by staff at the Cargoflora depot.

---

4th September 2009 | Issue 689 - ARM-A-GEDDON MYSELF SOME OF THAT - An Isreali firm is now offering for sale its "Jumper" robo missile pack – the latest in high convenience unmanned self-powered death machines, all provided in a handy carrying case.

---

13th March 2009 | Issue 668 - TAKING IT ALL IN - The 110-vehicle aid convoy arrives in war-torn Gaza delivering medical and other aid, as well as the vehicles themselves such as ambulances and fire engines.

Saair Yildirim, a driver from Bristol acknowledged the reception in Gaza had been "tremendous", but was shocked to see the wreckage of ambulances destroyed by Israeli fire.

---

25th January 2008 | Issue 617 - WALL SHOOK UP - The Gaza Strip, which serves as an open air prison for its 1.5 million inhabitants, is abandoned by the international community as it was subjected to medieval siege tactics. So someone has staged what must be the biggest prison break-out in history...

---

2nd Nov 2007 | Issue 609 - Carmel Agrexco - Squeezing Palestine Dry.

---

19th April 2007 | Issue 584

---

11th August 2006 | Issue 555 - AXIS OF OIL -
It seems as if attempts in the UN to obtain a ceasefire between Hizbollah and Israel have failed. As Israel pours more troops across Lebanon's borders, the war's escalation threatens a cataclysm. Is Lebanon destined to play the overture to a far wider middle-eastern war? It is this fear coupled with solidarity with the Lebanese people which has sparked a resurgence in the UK anti-war movement.

---

19th May 2006 | Issue 544 - WALL OF SHAME -
as the West pushes Palestinians further into crisis

---

15th Feb 2002 | Issue 342

---

SchNEWS, c/o Community Base, 113 Queens Rd, Brighton, BN1 3XG, England
Phone/Fax: +44 (0)1273 685913
email: schnews@brighton.co.uk

@nti copyright - information for action - copy and distribute!
OTHER SATIRE
Spoofs
---
---
---
---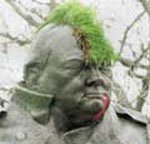 SchNEWS Worst Britain - produced for the Peace De Resistance book in 2003 (Click Here)
---
Are You Really Green? - questionnaire produced for the Big Green Gathering 2007 (not yet available)