Graphics
By Category
Campaigns
Smash EDO
Climate Camp
Home | Satire

Camp For Climate Action
This covers the 2006 camp at Drax Power Station, 2007 at Heathrow Airport and 2008 at Kingsnorth Coal Power Station. See also Climate Change

---

20th August 2010 | Issue 735 - HIGH PRESSURE FRONT - Climate Climate Camp Cymru in South Wales ends - having had to change sites midway through due to an eviction - and then climate campaigners took at site in Edinburgh to begin the Scottish Climate Camp.

---

8th August 2008 | Issue 641 - HOO U GONNA COAL? - The 2008 Camp For Climate Action begins at the Kingsnorth Coal Power Station, Kent.

---

And Finally, issue 641 - In the run-up to the 2008 Camp For Climate Action at the Kingsnorth Coal Power Station, it turns out E.ON, the energy company running Kingsnorth is also a sponsor of Legoland - and they have a Lego model of Kingsnorth Power Station - ripe for a bit of Lego direct action.

---

24th August 2007 | Issue 600 - CLIMATE OF FEAR
As cops clamp down on camper's right to protest at Heathrow.

(In this graphic the banner has been placed in the polices' hands, whereas originally it is from some rather verbose protesters whose message was 'We are armed... only with peered reviewed science'.)

---

14th August 2007 | Issue 599 - GROUND CONTROL - As fly-by-night protesters occupy Heathrow site... Climate activists caught the Met's finest flat-footed on Saturday night as they pre-emptively seized land for the climate camp. At 10pm around 150 activists poured onto the site on Sipson Lane near Harlington - just 800m away from BAA's headquarters (see map and directions). Within minutes an intricate tripod structure of scaffold tubes was erected and occupied to prevent a swift eviction.

In the event police didn't arrive in numbers until over an hour later, giving the squatters time to get vital equipment on-site to begin camping. A perimeter was secured with fencing stakes and rope, and primed with Section 6 notices. Soon after, scores of police arrived and blocked Sipson Lane - preventing vehicle access and conducting random stop and searches under Section 44 of the terrorism act.

---

27th July 2007 | Issue 598 - AIRBUSTED - Injunction taken out against Heathrow Camp For Climate Action - If you were in any doubt that the Camp for Climate Action is gonna have a big impact this year then check out Heathrow airport's reaction to having been chosen as the venue! This year the camp will be at the world's busiest airport which is a bigger source of CO2 emissions than most countries. Of course it's sheer lunacy in this time of ecological crisis but the aviation industry are pushing to almost double the airport's capacity by increasing flights and building a third runway. The battle to stop them will be one of the most important environmental battles in Western Europe.

---

18th May 2007 | Issue 588 - HOT AIR GUITAR - as rock stars are to fly around the world for Al Gore's 'Live Earth' climate-change mega-gigs across seven continents which will ifself use up the emissions of a small country's annual carbon output. NB - this event doesn't involved Elton John.

---

1st September 2006 | Issue 558 - DRAXIS OF EVIL - "Shutting down a power station isn't enough to stop climate change but it's a start." - spokeswoman for climate camp protesters.

Big up to the 600 or so residing at the Camp For Climate Action, on a squatted site set against the backdrop of the Drax power station's enormous cooling towers in north Yorkshire (See SchNEWS 546). Drax, the biggest the coal fired power station in Europe kicks out a massive 7% of the UK's megawatts and emits as much CO2 as a quarter of Britain's vehicle fleet.

---


SchNEWS, c/o Community Base, 113 Queens Rd, Brighton, BN1 3XG, England
Phone/Fax: +44 (0)1273 685913
email: schnews@brighton.co.uk

@nti copyright - information for action - copy and distribute!
OTHER SATIRE
Spoofs
---
---
---
---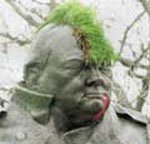 SchNEWS Worst Britain - produced for the Peace De Resistance book in 2003 (Click Here)
---
Are You Really Green? - questionnaire produced for the Big Green Gathering 2007 (not yet available)