Graphics
By Category
Campaigns
Smash EDO
Climate Camp
Home | Satire

Regimes/Despots
Including coups, dictators and other governments where the word 'democracy' doesn't come into it. See also Bush, Blair

---

29th May 2009 | Issue 677 - MOSQUITO BITE - On April 19th 2009, representatives from 360 Mískito communities declared the secession of the entire Caribbean coast of Nicaragua, also known as the Mosquito Coast. They announced that the area, which accounts for 46% of Nicaragua's territory and an estimated 11% of the population, would form the independent Nation of Moskitia.

---

21st November 2008 | Issue 656- MINGA THE MERCILESS - SchNEWS looks at the new peoples' movement in Colombia, and what they're up against - the paramilitary thugs of the government, and the guerrillas of FARC.

---

6th October 2006 | Issue 563 - I DID IT MY ZIMBABWE - Strikes, Striking and Strikers in Mugabe's Zimbabwe - Workers' resistance in Zimbabwe has been on the rise recently, with street demos, trade union action and new forms of resistance such as the 'Uhuru Street Soccer Battles'. The ruling elite is attempting to silence opposition with the usual combination of police brutality and state propaganda.

---

30th June 2006 | Issue 549 - TSARS IN THEIR EYES - Putin puts the boot in ahead of the G8 Summit meeting in Russia - One year on from Gleneagles (we can't believe it – poverty's still not history!), the G8 circus is re-forming (but almost certainly not reforming) for a St Petersburg-based shindig over the weekend of 15-17 July. As activists gear up for the most full-on anti summit mobilisation yet, the Russian state is already cracking down on those who might disrupt or inconvenience its chairmanship of the world's most powerful club.

---

21st April 2006 | Issue 540 - NEPAL OR NOTHING - In Nepal the showdown between a fat power-crazed king and a huge pro-democracy movement has shut down the entire country since April 6th...

---

3rd December 2004 | Issue 476 - UKRAINE GET IT IF YOU REALLY WANT - How the authoritarian regime in Ukraine stage-manages the illusion of a 'democracy', to quell revolutionary popular currents.

---

5th December 2003 | Issue 433 - FUEL'S GOLD - Ex-Soviet country Georgia is in a strategic location as pressure intensifies between Russia and the US to secure the oil resources in the region. Now the hands of the CIA are all over the recent electoral victory which installs a US-trained lawyer as president...

---

SchNEWS, c/o Community Base, 113 Queens Rd, Brighton, BN1 3XG, England
Phone/Fax: +44 (0)1273 685913
email: schnews@brighton.co.uk

@nti copyright - information for action - copy and distribute!
OTHER SATIRE
Spoofs
---
---
---
---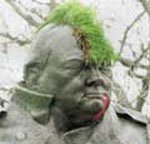 SchNEWS Worst Britain - produced for the Peace De Resistance book in 2003 (Click Here)
---
Are You Really Green? - questionnaire produced for the Big Green Gathering 2007 (not yet available)