Graphics
By Category
Campaigns
Smash EDO
Climate Camp
Home | Satire

FAR RIGHT/FASCISM
Includes Fascism, National Front, Neo-Nazis, BNP, English Defence League and battles between anti-fascists and far-right groups

---

2nd October 2009 | Issue 693 - WHO ARE YA? - Fabio Capello wonders why England always has trouble fielding a strong left winger, as SchNEWS asks just who are the far-right English Defence League.

---

14th August 2009 | Issue 687 - FASH GET THE BRUM RUSH - The far-right in Britain rears it's boney head as the English Defence League march in central Birmingham.

---

12th June 2009 | Issue 679 - Nick Griffin is showered with eggs during his 'victory' speech outside Whitehall after becoming an MEP in the EU Elections.

---

6th March 2009 | Issue 667 - AND FINALLY - To invoke the spirit of Bulldog Blighty, the BNP have used the image of a WWII Spitfire on their new campaign poster. The catch is that the markings on the plane featured indicate that it was from a Polish Air Force squadron - who in fact participated in the Battle Of Britain. Those bloody foreigners, coming here and taking our jobs...!

---

28th April 2006 | Issue 541 - ONE GOOSE-STEP BEYOND - Far-right racist British National Party are fielding an unprecedented number of candidates for the local council elections on 4th May. Their campaign feeds off the natural disillusionment people in the UK have with New Labour's cut-throat capitalist policies...

---

---

16th Dec 2005 | Issue 525 - And Finally... The BNP attempt to co-opt Mr Men by publishing a racist 'Mr Jihad' on the 'humour' page of their website - with a disclaimer saying 'if anyone is offended -tough! The essence of comedy is to have fun at someone else's expense!".

---

4th May 2004 | Issue 456/7 - BITE THE BALLOT - "The government's recent actions show that we must be cautious about claiming that only fascists use refugees as scapegoats. The truth is that the BNP has only been able to campaign so successfully on this issue because the climate is so open for it to do so. The venom of the press and mainstream politicians has normalised the message of the BNP fascists." - Kate Taylor, Searchlight Magazine

---

13th July, 2001 | Issue 313 - RACE AGAINST TIME - Last weekend Bradford became the fourth northern town this summer to erupt into rioting, with the spark once again the threat of the British National Party (BNP) marching in a town with a large ethnic population.

---

4th December 1998 | Issue 194 - JACK BOOTS-BY-SEA - This Saturday the National Front will once again march through the seaport of Dover riding on the crest of a racist wave that is sweeping though Kent...

---


SchNEWS, c/o Community Base, 113 Queens Rd, Brighton, BN1 3XG, England
Phone/Fax: +44 (0)1273 685913
email: schnews@brighton.co.uk

@nti copyright - information for action - copy and distribute!
OTHER SATIRE
Spoofs
---
---
---
---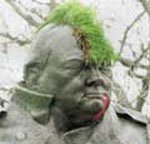 SchNEWS Worst Britain - produced for the Peace De Resistance book in 2003 (Click Here)
---
Are You Really Green? - questionnaire produced for the Big Green Gathering 2007 (not yet available)